— Could each of you tell us about your responsibilities?

Kamata Koji: Well, I do a lot of things. But basically, I've been in charge of Morning Musume and S/mileage.
Yamao Masato: I mostly work with Berryz Koubou and °C-ute.
Hashimoto Shin: You've been with them since their debut, right?
Yamao: Right. I've been there from the beginning with Berikyuu.
Hashimoto: And Taisei has worked with Mano, Melon in their later years, and…
Taisei: Also later Matsuura, SATOUMI, SATOYAMA… Mostly the non-Tsunku♂ songs. Nowadays I work on ANGERME and Juice=Juice.
Hashimoto: I was involved with pretty much everything beginning with the creation of H!P up to around 2002 — up until "AS FOR ONE DAY," I think. Then there were some personnel changes and I had a long break from that kind of thing as I worked as the chief manager of °C-ute. Recently, I'm back to being the general production manager.
— I think what the fans are most curious to know is: what exactly does the job of a recording director entail? Let's say you have the original demo, you have the arranger, and the song is nearing completion. At which point does the director get involved?

Hashimoto: It depends a lot on whether it's a Tsunku♂ song or not. But let's say first, Tsunku♂ — the producer — writes a song. He'll say, "hey, this is pretty good, right?" as he meets up with all the directors and has them listen to it. The initial Tsunku♂ demo is very simple — the average Joe probably wouldn't be able to make much sense of it. So he'll say, "this is the song and this is what I want to do with it." Then we brainstorm and discuss it. "You mean something like this?" When we can see the direction in which we want to take it in, we suggest to him who the most suitable arranger for it might be. Tsunku♂ might agree, or he might say "no, I want that person to do it."
— So you start discussing a song the minute its demo is completed.

Hashimoto: Yes. Then the arranger tries to take what's inside Tsunku♂'s head and give it a shape. When the arranger brings us his demo to listen to, the directors speak their mind, Tsunku♂ speaks his mind, and the arranger goes back to fix those things. Stuff like, "the rhythm needs to be tighter" or "the tempo needs to be faster." As the arrangement starts to near completion, we'll make some early guesses as to who might end up receiving that song — though that can later change at company meetings. And then once the arrangement is nearly complete, Tsunku♂ will write the lyrics.
— Have you always employed this method since the beginning?

Hashimoto: Up until about "LOVE Machine," it was really just constant trial and error. We only had Morning Musume at that point, so Tsunku♂ knew the songs would be going to them which hastened his lyrics writing process. And as far as the arrangements go, it was basically like with Sharan Q — like with any band really. We'd have the motif for a song and everyone would offer ideas even before the initial demo was finished. This was a time when we basically lived in the studio.
— Almost like your average band, as you said.

Hashimoto: It changed when there was a need for a larger number of songs, but back when Tsunku♂ could still write all of them, he'd make a bunch in one go so we'd have what we called our "Tsunku♂ Archive" of songs we hadn't used yet. Sometimes he'd suggest to us, "hey, I bet we could use this song for this next release," or "how about we try to merge these two songs into one?" And of course one of us would have to go, "um, yeah, that'd be a great idea — if only the two songs weren't in a completely different key and tempo!" (laughs) Sometimes it'd be one of us suggesting we try merging songs! That's how we'd try to develop the songs along with the arrangers, and at some point the song would reach a state where it would inspire Tsunku♂ to write the lyrics for it. Once he had the lyrics, he'd record the demo vocals and then we'd give it to the members — which is again where we really had our work cut out for us. Sure, it's a lot of work to record the instrumental and demo vocals and all that, but nothing is harder than to convey to the members how we want them to sing the song. Back in the days it was Tsunku♂ who did all of that by himself — he'd literally walk the members through the song as they recorded it. But eventually the workload was just too much, and that's when individual recording directors took charge of their specific groups. I mean, you'll sometimes have days when you need to record 10 different people!
Yamao: Days like that literally wear me down to the brink of death. (laughs)
— When interviewing the members, they often mention in passing the "person who records our vocals." I guess that would be in reference to all of you directors.

Kamata: Speaking of Morning Musume in particular, whenever they get new members, we always have TV cameras in the studio filming them. I think some people still like to believe that even today Tsunku♂ is there in the studio recording them like he did in the ASAYAN days. I don't want to be the one to crush their dreams — that's why I always tell the TV crews not to film me.
Yamao: Same here. Even when there are cameras there, I do my best to not appear on any of the footage.
Kamata: I think the members themselves kind of understand this, too, so it used to be that they never specifically said that it's the recording directors that record their vocals. That's how it used to be until about the 8th generation. But with the 9th generation joining, it just kind of naturally evolved into the way it is today.
Hashimoto: Well, ASAYAN is where it all started — there was less personnel those days to begin with. Tsunku♂ himself was in the recording booth, going "once more", "from the top," "no, you got it wrong."
Kamata: "Pronounce the word 'dynamite' more like 'dynamights'!" — that actually happened in this very studio. (Note: This interview was conducted at July Studio.)
Hashimoto: The reality is that while the songs are produced by Tsunku♂, they're recorded by the directors.
— It's just that we don't know how many directors there are in the first place, and I don't know if it's even okay to ask about it…

Hashimoto: Oh, yeah, I get that. (laughs) Well, here's the truth: (Kamata) Koji records Morning Musume, while (Yamao) Masato records Berikyuu — all while employing the Tsunku♂ methods of recording. That's all there is to it.
Kamata: Tsunku♂ simply got too busy to be able to record and match his hours with all the members. That's why the recording directors took his place. This, in turn, allows Tsunku♂ to perfect his demo vocals — his thinking is, "if I can't directly explain to them how I want them to sing it, then I'll convey it to them by actually singing." Tsunku♂ used to sing everything in falsetto, in the key the song was going to be in, but now with the advancements of technology he can sing the songs in his own key. And honestly, hearing him sing those songs in his key, it feels like I'm back to listening to Sharan Q. (laughs)
Hashimoto: Ah, those Tsunku♂ demo vocals… It's what they play every time there's some unfortunate announcement. (laughs)
Kamata: So we take those demo vocals, raise them to the girls' key, and have them memorize it.
— So it's almost like the members are covering Tsunku♂'s original. Was it around the time when Tsunku♂ no longer came in to record every song that he started recording those demo vocals of his?

Kamata: That played a part in it. For Tsunku♂, the most important thing he thinks about with vocals is rhythm. Tsunku♂ is all about the rhythm. For the ordinary Japanese person, it's the 4-beat that flows through their veins. A slow beat. But Tsunku♂ always tells everyone to feel the music in 16-beat. He first always has the members understand this before he allows them sing the song. It's something he's very particular about — he feels that if he keeps conveying that to the members, having them sing the song while feeling and hearing the 16-beat and experiencing a sense of rhythm they've never felt before, it might eventually help in changing the sense of rhythm in the minds of Japanese people on a grander scale.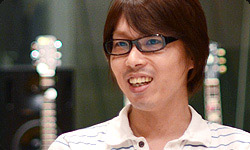 — Now that's an ambitious goal to strive for. So that's why he does his demo vocals.

Kamata: Before, we weren't able to change the keys of the songs so he had to sing it all in falsetto. But in doing so, he found that he had difficulty conveying all the little nuances he hoped to convey. With the improvement of technology and the help of Pro Tools, however, he can now sing the songs as he normally would, and he found that it's much better for conveying his message to the members. That's how his demo vocal method is today.
Hashimoto: Yeah. He used to record it all in falsetto, but like you said, that's not a good way of conveying all the little nuances. Pro Tools allows him to do it his way. "Morning Coffee" wasn't that difficult, but a song like "Daite HOLD ON ME!" was much more complex — it simply wasn't doable without some demo vocals. Back then we couldn't do use Pro Tools to do all the things we use it for today, however, so instead we had to use this Sony 48-track digital recorder called Yonpachi. But there were so many members and they weren't very good singers to begin with, so even recording just the main vocals by Abe Natsumi and Fukuda Asuka — and it was Tsunku♂ who recorded them — took 15 days.
— That long?!

Hashimoto: He wanted the members to sing even all the backing vocals by themselves — Morning Musume in the early days was a vocal group, after all. But we couldn't do all of it at once, so he'd be in one room recording his "shake it do it do it" bits while recording the instrumental in another. The best example of this was "Manatsu no Kousen" — he spent an entire day running from one room to another.
Yamao: He said he just couldn't see the song for what it was before he had both parts of the song perfected. (laughs)
Hashimoto: And that's how we kept on going, all the way until dawn.
— Did you all want to become recording directors from the beginning?

Kamata: No, I was originally a junior of Sharan Q's. I was in a band, and one day the guys from Sharan Q were like "hey, help us out with this a bit." And thus, here I am today.
Hashimoto: You moved from Osaka, bringing with you nothing but the clothes you happened to be wearing that day.
Kamata: I feel like I should apologize to all the recording directors around the world, but honestly, I never once thought I wanted to become one myself. It's more like… I was just told to learn how to operate Pro Tools, and so I did.
— You're all musicians in your own right so you can do pretty much everything, right? Say you lack a musician in the studio when you're supposed to record something — you can just step in and play those parts yourselves, right?

Kamata: Sometimes it does feel like, rather than asking for a musician to come over, explain to him the image of the song and direct them as to what I want them to play, it might be faster for me to just go ahead and play what the song needs myself — it'd be a good way of saving both time and money.
— It's easy to tell how passionate you are about making music.

Kamata: Tsunku♂ is the producer and I'm the director — I've been given a responsibility. And the work that I produce is something that ends up on the Oricon charts and things like that, and it has my name on it, too. So to me, it feels as if I was putting out a release from my own band or something — I don't want to put something sub-par out there. That's it. That's all there is to it. Tsunku♂ is the producer, he tells me he has this song he wants to do, and I simply offer him some of my ideas.
Yamao: Right. But every now and then you'll be really into it, and you present your idea to him and he'll be all, "nah, that isn't it" — a complete rejection. (laughs)
Hashimoto: Mmm. But yeah. That's pretty much how other directors ended up being involved in the recording process.
Kamata: But in fact, if Tsunku♂ only has the time, he'll personally take part in the recordings, too. Sometimes he'll be engineering and mixing it by himself — it's really all just a matter of whether or not he has the time.
— Berryz Koubou's Sugaya Risako once said that Tsunku♂ showing up one day and teaching her how to sing one song actually changed her way of singing entirely.

Yamao: During "Otakebi Boy WAO!", yeah. His influence on her that day was amazing. To this day, Sugaya says that day was a turning point for her.
Hashimoto: Her voice became a lot deeper after that.
Yamao: It must be when she really learned how to sing well. Sugaya has always struck me as as a kind of a genius. One out of ten takes, she'll be amazing. We don't even do that many takes with anyone other than her! But with her, the tracks just keep on piling up. "Maybe it's this one… or maybe the next one?!" Just waiting for that perfect take. (laughs) "This one…? This one…?! No, this one!!! Oh damn, here it is!!!" With her it happens all the time when you least expect it.
— So it's like she gets more into it with each successive take?

Yamao: It could be that she's a bit slow to get going — it's usually her fault when the recordings end up taking longer than planned. (laughs)
— She's always struck me as one of the better singers. I'm surprised to learn she has to do repeated takes like that.

Yamao: She's a genius when it comes to nuance, but not always the greatest with rhythm. She has a 10-year career behind her so she's gotten pretty good at guessing what we want from her when we're recording. And yet, she can sometimes guess wrong two or three times in a row. She sings based on feeling. She's someone very special within the lineup of Berryz Koubou — you never know what you're going to get with her.
— Another member who went through quite some change was Mano Erina…

Taisei: The very first thing I thought when I heard Mano was "you need to give up on singing." (laughs) I'd recorded plenty of amateurs before — TV announcers and the lot, people who weren't professional singers. But even with those experiences under my belt I couldn't believe what we were hearing with Mano. That's the level she was at. Let's just put it this way: recording her really tempered my emotional strength. (laughs)
Hashimoto: In the beginning we really didn't know if it was okay for us to even go ahead with her solo debut.
Taisei: We had to try it over and over and over again. But to her credit, she really did try desperately hard. It was when she started doing stage plays that she changed. She learned how to express oneself, and the many different ways of doing so. Sure, if I had to call her either a good or a bad singer, it'd still be the latter, but she learned how to express herself to the best of her ability. Though to be fair, even now when we start recording with her, it always begins with me going "… you're kidding me." (laughs) The way I work with her is, we record her once and have her listen to it. "This is what it sounds like now." So then I'll give her some tips and we'll try again, and she'll give us something completely different. In that sense it does take a long time to record her, but once she learned how to listen to her own singing critically and recognize what she needs to change about it, that's when we started getting some more interesting takes from her.
— Some of the fans did like her in those early days, too, though.

Hashimoto: Well, I don't know how to respond to that. (laughs) But I suppose it's true that that, too, is one perfectly valid type of idol.
Kamata: It's the same deal as with Morning Musume's "Namida ga Tomaranai Houkago" and the like. (laughs)
Hashimoto: Like, their inability makes your heart throb.
Kamata: But only when they're trying to sing very seriously. You have to be ready to capture that moment.
Taisei: Sure, melody and rhythm and stuff like that is important, but you also have to think about what you want to convey to the listener. That's what you need to record. That's something I've learned through doing this.
Hashimoto: We've always had our vocally-challenged members. Though I probably shouldn't name names… Ishikawa Rika, Konno Asami, Michishige, Sudo… But they give the songs such flavor, and even they can improve with experience.
Kamata: The more you sing, the better you will get. Once it's been a year after a new member has joined Morning Musume, she'll have already toured with the group twice. Once they experience that, the volume of their vocals goes up and they improve by quite a lot. Then they do that over and over again and they just keep getting better. But it's not like their actual voices change any, so it just becomes like this added spice. Take someone like Michishige for example. She has a perfect sense of rhythm — even Tsunku♂ would give her his seal of approval. Kamei, Michishige, Tanaka — all three of them completely mastered the Tsunku♂ rhythm theory. But in Michishige's case, her voice is just too different for it to be easy to use during important parts of a song. When he's thinking about line distribution, he'll often be going "Michishige would be great for this part, but…" And the part will instead go to someone like Sayashi.
— I see.

Kamata: Those three are able to sing Tsunku♂'s demo vocals to a T. They'll already have it all down perfectly when we start recording. I don't know if this is something they focus on specifically when listening to Tsunku♂'s demo vocals, but the notes they sing are exactly the same length as on the demo. It's not just about learning the lyrics for them; they know exactly how to listen to his demos. 6th gen had a lot of seniors in the group when they first joined — they received a great training. They'd always listen to the demo over and over again when they first got it so they'd already have it perfected before even stepping into the studio to record.
Hashimoto: And then we got 7th gen.
Kamata: Kusumi was all about freedom. (laughs) We weren't involved with the auditions in the least. We only learned of the results later when Tsunku♂ told us. "She's truly a miracle." (laughs)
— That's so interesting what you were saying about Michishige's perfect sense of rhythm.

Kamata: When the lines are split, they're often split in categories such as the "unison team" and the "truly talented team." But Michishige goes into the "rhythm team." She's there to support the rhythm. We pair her up with girls who aren't so great with rhythm — Tsunku♂ really trusts her in that sense. It's not like Kamei was a perfect singer or anything either. She was the same type. Meanwhile, Tanaka is generally thought of as a good singer, but that's only because she truly practices that hard.
Hashimoto: Exactly! It's hard to believe, right?
Kamata: There are times when we'll finish recording Tanaka in fifteen minutes.
Hashimoto: She feels uneasy if she doesn't practice properly. She's so innocent. She wants to practice just so she's sure she can do a perfect job.
Kamata: When they were going to do a new song live, it was always the 6th gen who went "let's try that just one more time" — even after the rehearsals had ended.
Hashimoto: I wonder who's a good example of someone who doesn't practice… Maybe Okai?
Yamao: We're going to spend the entire night talking about Okai if we go down that path. (laughs) She was completely hopeless in the beginning. "Did you practice like we told you to?!" "Yes, I listened to it lots!" "It doesn't matter if you've just listened to it or not. You could listen to it a hundred times and not learn anything. Learn this. Go home!" Stuff like that happened countless of times.
— But isn't Okai one of the most important members when it comes to singing?

Yamao: She is now, yes. But in the beginning she wasn't.
Hashimoto: Remind me: when did that girl get good?
Yamao: There were glimpses of it even in the beginning. "Oh, look. This girl can do vibrato." But she didn't get much recognition back then. It was really only once the group became five members, which meant she then had a bigger part to play in the group. She started getting praise around this time. She started working harder and now she's definitely one of the better singers overall.
Hashimoto: The strength of her voice is incredible. But she just can't learn the new songs… (laughs)
Yamao: She's not really good with the basics. (laughs) Well, it just takes her a long time to learn.
Hashimoto: The exact opposite of Suzuki Airi.
Yamao: Suzuki Airi is frighteningly good at learning new songs. She has great sense for that. She can learn melodies immediately. She could be all over the place on the first take, but try it a second time and she'll have it down. She's very talented.
Hashimoto: She can take a new song and make sense of it in her mind purely on instinct, even though she doesn't know music theory. But I'd like just a pinch more personality from her — even though she's already very good.
Yamao: Yeah. I, too, want just a bit more flavor for her.
Hashimoto: That's something Okai does have.
Yamao: That's why the two make for such a good duo. One has the deadly precision; the other the wild unpredictability. Those two elements mixed wonderfully in "Kanashiki Heaven."
— How is line distribution decided? The members all sing the entire song once, right?

Kamata: Yes. They sing it all, and then Tsunku♂ decides how the lines are distributed. He figures out who fits best for each line. So he does that once, listens to it, and then goes back to change things that didn't work. Even with Morning Musume each member sings the full song — there is not yet any line distribution when the song is just being recorded.
— It's not that you don't tell the members — you literally don't yet know yourselves who's going to be getting which line?

Kamata: Right. Perhaps sometimes Tsunku♂ will tell us something like, "I think I'll have everyone singing in unison for this bit." That's pretty much the extent of it. Sometimes what'll happen is that you have a member who's not often featured prominently, and they'll knock it out of the park in recording — they'll do just a miraculous take. So then we'll mention it to Tsunku♂ who might take our advice and try it out. One example of this is Morning Musume's "Love Innovation" — Ikuta has a solo line in that final chorus, and it's simply because she sung that line the best out of everyone. That's the reason we used her for that line.
— Is this how you've always decided on line distribution since the beginning?

Kamata: I've never had a finished line distribution to look at when recording a song… But we used to do that, right?
Hashimoto: Hmm, I wonder about that… I mean, up until about "Happy Summer Wedding" we'd have everyone in the studio and they'd all have to wait around until we'd finished recording everything.
Kamata: Even when a member had finished recording her lines, they couldn't leave because there was a chance she could be called back. Like, "Abe, why don't we give it another shot?"
Hashimoto: We finally switched to recording everyone at different times in the early 00's.
Yamao: The real work starts when we finish recording the vocals. We'll try all kinds of different combinations. "Nah, this doesn't work. That doesn't work."
— Right, because you have almost an infinite number of combinations you could try.

Kamata: Morning Musume does have a large number of members. Tsunku♂ thinks about it on many different levels — there are plenty of ways one can approach it. You can think about the members in terms of their looks, or how certain voices might fit with one another — such as pairing a girl with a lower voice with a girl who has a higher voice to create a good balance and such. If you pair everyone up with a girl who has a voice similar to theirs, the song might end up with the first half of the song sounding very shrill and the latter half sounding too dark. There are certain rules as to how you should distribute the lines. A lot of the time, you pick who fits the first line best in your opinion, and that gives you an idea as to who should be singing the following line.
Hashimoto: Besides, if you just go completely random with the line distribution it's going to create problems later on when it's time to think about the choreography.
— I see.

Hashimoto: But on the other hand, if people could perfectly predict who's going to get which line, that'd be boring, too. So we try to change it up a bit. This is something that never even crossed our minds in the early days — back then, the only thing that mattered was their voices.
— And that made choreographing the songs very difficult?

Hashimoto: No one was thinking about stuff like that when we made "Ai no Tane" — though that song wasn't actually produced by Tsunku♂. No one working on it knew the first thing about producing idol groups.
Kamata: That's why it's so fun to go back and listen to the old albums and singles and noticing how they split up the members back then. Sometimes you had certain members that they almost always wanted to pair up no matter what.
Hashimoto: And on the album songs, we'd try having someone else as the center.
Yamao: It brings some playfulness into it.
Hashimoto: We wanted to try everything.
— Morning Musume tried all kinds of different pairings on their 2013-2014 coupling songs, right?

Kamata: Yeah. And sometimes just splitting them up based on their generation to keep it simple. In some cases Tsunku♂ already had a song written and he'd go "I want Michishige and Fukumura to sing this" — that one was originally supposed to be an album song. "Suki da na Kimi ga." Other times it was only until the singers of a particular song were decided that Tsunku♂ would be inspired to write a song just for those girls. We didn't really have any set rules as to that kind of thing when we were doing it.
— You were releasing a bunch of B-sides back then.

Kamata: It felt like we had to make an album every time — every three months.
— Why did you adopt that system?

Hashimoto: If fans were going to buy several copies of the same single, we felt we had to at least change the B-sides — it wasn't easy but we thought we'd give it a shot anyway. We figured it'd be better than buying several copies of the same exact thing.
Kamata: That also allowed us to showcase all these new B-sides at concerts which I think might've been interesting for the fans.
Hashimoto: Plus, they were beginning to have a lot more events, and this allowed them to perform different songs at each one. Though that obviously meant it was a bigger burden on them because they had to learn all those choreographies. That's also the reason why there weren't that many albums released around that period — we were already putting out all those new songs elsewhere.
— I'd like to ask you about the instrumentals themselves. While in the past they sounded more "gorgeous," at some point the songs started moving more in the home-programmed direction, sound-wise…

Hashimoto: Well, to be completely honest with you, a part of it is due to production costs. But more than that, it's the fact that the quality of programmed sounds has improved so much and arrangers have all gotten better at trackmaking. And while this might sound extreme, programmed drums can be used to make beats that just sound more stimulating than real drums. It's part of the producing technique of emphasizing the rhythm. It's become possible to make music that's stimulating even when it isn't recorded by musicians who are all in the same room to record simultaneously. Plus, programmed drums just stand out more in concert.
— Every now and then you'll see idols performing at festivals and the drums on their songs will be louder than the actual bands performing on the same stage. (laughs)

Hashimoto: In the past if you wanted to make programmed sounds, you needed a manipulator and the arranger would have to bring a mountain of equipment to make it work…
Yamao: You'd have to put it together for one job, and then take it apart and build it all over again for the next one.
— Their equipment was heavier than the actual instruments. (laughs)

Hashimoto: Today it's the opposite: every now and then we'll have a song and we'll think "maybe we ought to use real drums for this one?" — not the other way around.
— Like ANGERME's "Taiki Bansei."

Hashimoto: That's not a Tsunku♂ song so it was something new. That was originally a song Nakajima Takui had written for his own album, but people in the company were going "hey, I bet this one would sound good even if the girls were to sing it." It then became the first song for ANGERME, following their turning over a new leaf with getting a new name and all.
Kamata: There's something that's so disco about it.
Hashimoto: Takui's version of it is more ska, so it was a matter of finding something that was also disco about it. And when you speak of disco or funk in Hello! Project…?
— Suzuki Shunsuke.

Hashimoto: Right. And since we got Suzuki Shunsuke to do it, we figured it might be a good idea to also have Sano Yasuo and Komatsu Hideyuki to play on it, and that's how we were able to get the song to sound a bit different. In the end, I feel like it sounds like a proper H!P song. It's all just trial and error with every song like that.
Taisei: To get back on topic: I feel like the reason we started doing more programmed sounds was simply because it served the songs' direction better.
Hashimoto: Whereas the songs used to be more club music oriented, the current EDM style is more "outdoorsy" which also fits the girls better — it sort of goes hand in hand with the outward nature of idols.
— Ookubo Kaoru's style fits the current Morning Musume perfectly.

Kamata: When it comes to EDM and Morning Musume people often say it started with "Renai Hunter," but that song was actually not really arranged with EDM in mind. By the way, even the early title for the song was "Renai Hunter." The original demo of it had Tsunku♂ mimicking a dog, going "wan wa wan wan!"
Yamao: I remember that! I was like, "what on earth?" (laughs)
Kamata: We were backstage at the beginning-of-the-year Hello Con when Tsunku♂ came over and said he'd written a new song. He had us listen to it, and there he was — barking like a dog. "Wan, wa, wan wan!" So we were like "what is this?" (laughs) So he explained: "oh, I'm going to replace this bit with me singing "renai hunter" in a low voice!" (laughs) If he'd have played that bit with a piano it would've had slight intervals between the notes, so barking "wan, wa, wan wan!" was his way of conveying that the part isn't supposed to have any silence between the notes. (laughs) The arrangement was then made in accordance to the kind of sound Tsunku♂ was taken with at the time. Same thing with "One Two Three" — by this point, he was hooked on EDM and that's the song that resulted from it. I think he was focused especially on the arrangement and sound when he wrote it: if you play it on the piano, it just repeats the same simple rhythm over and over again. Honestly, I think the average composer wouldn't have the courage to release a song with a chorus like that. (laughs) Compared to past songs, I really think he wrote that song with the arrangement and sound in mind.
— It's a song that isn't complete with just the melody — it needs the sound to be whole.

Kamata: I really doubted if we were going to be okay releasing it when I first heard the demo. (laughs)
Hashimoto: It sounded like he was reciting some sort of an incantation. (laughs) "Kimi Sae Ireba Nani mo Iranai" — that was another weird one.
Kamata: That first chord in the verse wasn't originally there in the beginning. He had the rhythm and melody, and he felt like he knew what the chord should be but it just didn't seem to fit the image in his head. He was going like, "I can hear it in my head but I can't seem to reproduce it."
— Wow!

Kamata: That "dore ga honki de~" part in "Wakuteka Take a chance," he didn't know the melody to that before recording his demo vocal. Normally, he'd have the vocal melody played with a piano before recording his demo vocal, but with that part he just said "leave this section empty." It later turned out to be that part of the song, and it was only then that I realized what he was going for: "it's kind of like a rap part, but not really."
— That's a pretty accurate description of that section. Sorry to change the topic, but how about the spoken word parts in songs, such as in "Help me!!"? Are those a part of the songs from the get-go?

Kamata: My feeling is that yes, for the most part they're there from the beginning. He'll tell us to make the intro longer than usual because he wants to have spoken lines in the intro. Stuff like that. But there are cases when they're added later, like on "Aa Susukino." I think the spoken lines on that one came after. But the fun thing about that song is, he originally wrote it having no idea that it was going to have the lyrics "aa Susukino" in it.
— (laughs)

Kamata: He had no image of Susukino while he was writing it. (laughs) S/mileage was getting their first kayou-influenced melody and I figured the lyrics would take a cool direction this time around, but then when he emailed us the lyrics and it said "Aa Susukino," I just went "huh?!" So I tried lining up the "aa Susukino~" bit on top of the melody… and it fit perfectly. (laughs)
Yamao: I really didn't get it when I first heard that song though. (laughs)
Kamata: But once it was done, it didn't sound off-putting at all. On the contrary, it felt like "aa Susukino" is the only possible lyric that could fit it.
Taisei: It's weird, isn't it?
— He's still able to surprise you with his lyrics after all this time you've worked together.

Kamata: Yes, the lyrics do surprise me more often than the songs.
— Of his recent work, I thought the Hello! Pro Kenshuusei lyrics were amazing.

Hashimoto: "Oheso no Kuni Kara Konnichiwa" and the like, right?
Taisei: I still have no idea what that means.
Yamao: It was crazy. He was going, "yeah, give it a nuance of like… "hesontoko yoroshiku~!"" (laughs)
Kamata: I was originally working on "Oheso." After I was sent the song, Tsunku♂ asked us to take a part of another song and stick it after the first melody… It just didn't have the kind of punch he wanted it to have. The working title was "Oheso" and it already had the "oheso no kuni kara~" melody, but the melody that followed was different than the one you all know. He just asked me to take a melody from a completely unrelated song and see how it'd fit — even though it was in a completely different key. (laughs) So then once I did, he was all "oh yeah, that's more like it!" To me, it sounded extremely out-of-place at first.
— Because you attached that part from another song?

Yamao: It was at that point that it was decided the song was going to become a Kenshuusei song, so I stepped in and took over. To me, it didn't sound out-of-place at all. I was going: "Hey, this is a fun one! Alright, let's get to work!" (laughs)
— So you'll sometimes take over on songs from fellow recording directors?

Kamata: Yeah. Sometimes you don't know who's going to get which song. We didn't even know Berryz Koubou's "1oku 3zenman Sou Diet Oukoku" was going to be a single at first. It was just one of the many songs written by Tsunku♂, and we worked on it with arranger Egami Koutarou basically just to save it for a rainy day. To our knowledge, Tsunku♂ hadn't written the song with the intention of making it a single or anything, so we just had him listen to it to get his take on it and he went "hey, this is pretty good." So then it turned into "Diet" and became a Berryz song. So Masato took over.
Yamao: And I just went "Alright, a diet song. Gotcha!" (laughs)
Kamata: You similarly took over with "Dakishimete Dakishimete," right?
Yamao: Sometimes the opposite can happen as well.
Hashimoto: "Diet" is such a nenbutsu song.
— I didn't know what to say the first time I heard it.

Kamata: It was supposed to be this really cool song when we were working on it with Egami. Who'd have guessed that it'd end up becoming "Diet"…? (laughs)
Taisei: That's complete betrayal right there.
Yamao: Totally out of the left field. (laughs)
Kamata: That "1oku 3zenman~" bit… I had no idea that part was going to have lyrics like that. (laughs) I figured one of the really good singers would get a chance to show off during that bit, so the second time it rolled around, instead of going to that bit or the chorus, we made the arrangement so that it went to an interlude instead, and only then it'd have that bit come on before the chorus.
Yamao: Ever since I first heard it, I always figured it'd be Sugaya and Natsuyaki singing it.
Kamata: They're the good singers, yeah. But also, those lyrics… (laughs)
— They're great singers, but having them sing that bit specifically sounded amazing.

Yamao: The girls themselves were embarrassed about singing those parts so they were having trouble conveying the right nuance, but we were all going "Go! Go at it! More!" It took a really long time to get it right.
Kamata: On a side note, at the 2014 Hello Con, we had Suzuki Kanon sing that line. (laughs) Tsunku♂ was going "Oh, don't you worry. I'm 100% sure she'll be able to sing it just fine."
— And she did, in fact, sing it perfectly.

Kamata: I remember how excited Suzuki herself was about getting to sing it. The audience was so fired-up the first time they performed it. (laughs)
— "Diet Oukoku" seemed to have been very popular among female musicians, too. (laughs)

Hashimoto: It was the final song on Hello! Project no Zenkyoku Kara Atsumechaimashita Vol.6, a compilation album with tracks selected by Oomori Seiko, Jyuusho Futei Mushoku's Yurina, and Akai Kouen's Tsuno Maisa. There must be something about it that women can in many ways identify with.
Yamao: That bridge is just crazy, too. "Itsudemo dokodemo itsudemo dokodemo…"
Taisei: It does make you question if everyone involved with the song was completely sane when making it. (laughs)
Kamata: Right, and that's why we figured it'd never be released as a single. The melody during that part never changes, and those are the songs where we get to just sit down with the arranger and have fun, trying out all kinds of things.
Yamao: Tsunku♂ will sometimes make them that way on purpose. It's not like it all just comes naturally to him. He just goes, "wait, wouldn't it be funny if we just kept it going like this forever?" It's a completely premeditated crime on his part. (laughs) "Wouldn't it be kind of strangely funny if we just did it like this?!"
Hashimoto: Like with "Uchuu de La Ta Ta."
Kamata: Interestingly though, with the modulation in the pre-chorus of "Diet," Tsunku♂ actually didn't even realize it was happening as he was making it. He just figured that was the direction the melody was going in by itself, and then it just returns to the original key before the chorus. He didn't make it that way intentionally.
Hashimoto: That's why I always call Tsunku♂'s modulations very John Lennon-esque. Paul McCartney does it intentionally, but John always said his songs just "turned out that way." That kind of thing sometimes happens with Tsunku♂'s songs.
— That kind of thing would later on influence composers like Hyadain in a major way. It's very possible that Momoiro Clover Z would never have been without Tsunku♂.
Hashimoto: It's unlike the modulations someone like Komuro Tetsuya does, for example.
Yamao: Right. "It just happened to go that way when I was writing it." "Be Genki <Naseba Naru!>" was another great example. It goes from major to minor in the verse. I don't think the members of Berryz really understand what's unusual about that song.
Taisei: I'd think anyone who was suddenly told to sing that song would feel queasy.
Yamao: Something about it does feel uncomfortable… (laughs)
Hashimoto: … We've hardly even begun to talk about the albums though.
— Oh, no worries. Thank you for this very interesting discussion so far. Well, what are some of the albums that have left an impression on you all?

Kamata: Perhaps The Best! ~Updated Morning Musume~. There was that added pressure on the arrangers to re-arrange all those old songs. Hirata Shoichiro, who was set to arrange the new "LOVE Machine," sent me an email saying his whole body felt tense. I could feel the pressure he was under just from reading it. (laughs)
Hashimoto: "I WISH" was really good, too. That was AKIRA, right?
Kamata: Right. That one actually went through one, two, three, even four different re-arrangements. In fact, before we'd even decided on releasing the album, Tsunku♂ was already thinking about "updating" some of these songs from before. It started with Ookubo re-arranging "The☆Peace!" and "Renai Revolution 21." Then, once we decided to make an album out of it, we started choosing other songs. So, Tsunku♂ went "I guess we better throw LOVE Machine on there," and we actually spent the longest time trying to decide on the arranger for it. In the end, Tsunku♂ decided on Hirata. And the result, of course, was his email. "My whole body feels tense." (laughs)
— He took it a bit heavily. (laughs)

Hashimoto: Self-covers are a tough one — there's obviously always that certain energy in the original. But upon listening to it once it was done, he'd managed to convey that energy while keeping the feeling of the original, but there was also a clear sense of a change of ownership. He took a bit of "cultural heritage" and rebuilt it into a fine, new house.
— When Morning Musume sings their old songs today, I can't help but feel that the tempo is a bit slow. The new versions certainly fixed that about the originals.

Hashimoto: Yes, it has become harder for us to include older songs in the setlists today. It's like you said: they just feel so slow.
Kamata: Some of them do sound a bit shabbier in the sound department, too.
Hashimoto: I think this album did well in fixing some of those issues.
Kamata: Also, in the past when Morning Musume recorded a new song, what we'd do at the end is have all the members come into the booth and just record everyone at once. That's something we gradually stopped doing. But back then, we were like "well, since everyone's here…" and we'd have everyone just recording banter. We'd have everyone sing into one mic on songs like "LOVE Machine" and "Sou da! We're ALIVE" — at the very same studio we use today.
— That's a great story. Prior to The Best! ~Updated Morning~, you also did the °C-ute Seinaru Best Album. Those two felt connected in a way.

Kamata: Yes, indeed.
Hashimoto: Ah, the Seinaru versions. Back then, I was still the team manager of °C-ute, so I went to Tsunku♂ and asked if we could do it. I asked him how we could do not just an ordinary best-of album, but something that represented what the group was about at the time.
Kamata: Did that one have any rare tracks?
Yamao: Hmm. Nope, it didn't.
Hashimoto: What about "Juliet Juliet?"
Yamao: They only did that version live. Suzuki once approached me about that one during their rehearsals. They'd sang it as "Juliet" before, but the lyrics changed and it became "Namida no Iro," and she was talking about how she liked the old lyrics. So I passed her message on to Tsunku♂.
Hashimoto: It didn't make it on an album?
Yamao: No, it was shelved. So anyway, Tsunku♂ was like "hey, do you remember Juliet? Suzuki said she liked that one, right?" "Oh yeah, she did." That was the end of that conversation at that point, but then later when Tsunku♂ was watching the dress rehearsal for their upcoming tour at the time, he said "hey, why don't you do the Juliet version of that song this time?" And everyone was all, "Huuuuh?! But there's only two days until the tour starts!" Everyone had to hurry to find all the data back from when they'd done that song. (laughs)
Hashimoto: They had to re-record the backing vocals and stuff, too, because the lyrics had changed.
Yamao: Right.
— How about you, Yamao? What's your favorite album?

Yamao: This is a tough one, but I might have to say Berryz' first, 1st Chou Berryz. That's the one that left the biggest impression on me. When Berryz Koubou debuted, they released three singles in three consecutive months. "Anata Nashi de wa Ikite Yukenai," "Fighting Pose wa Date ja nai!," "Piriri to Ikou!" Then, on their fourth month, they released a full album. The members — as well as all of us — were this close to blowing our fuses.
Kamata: The members were still just children, too.
Yamao: Sugaya was like a third grader. They were all just kids, they couldn't sing like we wanted them to, and they'd be doing things like tapping their feet while singing to keep the beat, which we'd obviously have to tell them to stop doing. (laughs) The album songs were really tough, too. Songs like "Semi." It was hard trying to get them to convey that snapshot of a summer day. Also, the reggae song "Kozukai UP Daisakusen." It was tough to get them to sing the song in such a listless way. We had to try it over and over and over again, and obviously everyone would get more and more tired as we did. And the song is what it is. The members just going "…kozukaaai…" (laughs)
Taisei: I mean, it's a song about getting their parents to give them more allowance money.
Yamao: It was a tough one. Sudo just couldn't seem to get used to singing with headphones on, so she wasn't able to sing in tune at all. Meanwhile, Kumai was really shy, so she was pretty much whispering all her vocals. We'd have to remind her to sing louder over and over again.
— And yet, it's one of the all-time greatest albums of Hello! Project.

Yamao: Thank you.
Hashimoto: Masato nowadays is still the same as he was when working on that album, like with the Hello! Pro Kenshuusei album, or when he's recording Country Girls and going "sing louder!"
Yamao: Huh? What am I, the recording director in charge of all the children?!
Taisei: Masato's the guy in charge of "freshness."
Kamata: When we were to start recording °C-ute's first album, Tsunku♂ was looking at Masato pretty much the entire time he was explaining what was up. (laughs)
Yamao: And I was just going "wait… ME?!" (laughs)
Kamata: It's pretty much that first look of his and who he talks to that decides who's going to work on what. (laughs)
— So he doesn't just flat-out just announce "you do it" — he conveys it with body language. (laughs)

Kamata: I think Tsunku♂ knows the individual strengths of all of us recording directors. He knows our types and our personalities. He's always looking at things from a producer's perspective.
Hashimoto: I definitely think of Masao as the "kids professional." (laughs)
Yamao: No no no…
Kamata: I was supposed to do both "Kanojo ni Naritai!!!" and "Oheso," but the moment it was decided they were Kenshuusei songs, they immediately went to Masato. (laughs)
Hashimoto: He's able to give the members some point of reference when recording vocals and stuff. (laughs)
Yamao: Yeah. Like, "See the cord going into one of the headphones? That's the left channel." (laughs)
Kamata: When Kenshuusei Ogawa Rena was recording her vocals, she was singing terribly off-sync for some reason. So then she said, "I can't hear the music very well…" When we went in to check it out, we noticed she wasn't wearing her headphones.
Yamao: How was she able to sing at all then?
Kamata: She had the headphones resting on the hook, so she just went by the tiny sound she could hear leaking out from them.
Yamao: And she's going, "I can't hear very well"? That's pretty bad. (laughs)
— That's a great story. (laughs)

Kamata: To go off-topic a bit: Miyamoto Karin was in Shin Minimoni, and that was her first time actually recording. So when she came into the studio, she was super energetic and she greeted everyone with a bright "good morning!" But she wasn't carrying anything with her, so I naturally asked "what about your lyrics?" She replied to me, all brimming with confidence: "yes, I did memorize them!"
Yamao: That's not the point… (laughs)
Kamata: She thought you were somehow not allowed to bring lyrics into the recording booth. She assumed everyone had to learn them perfectly before coming in. That's why she didn't have them with her. So I gently told her, "well, you see, us directors might have some notes to give you regarding some of the lyrics, so please do bring them next time, yeah?"
Hashimoto: Did she actually remember them all?
Kamata: Yep. Perfectly.
Yamao: That shows you how serious Miyamoto is. And she always really stands out, too, which often leads to the instructors getting angry at her. (laughs) "MIYAMOTOOOOO!!!" (laughs)
Hashimoto: But thanks to the Kenshuusei system, these girls are relatively well-trained from the start.
— They're already quite capable by the time they debut.

Hashimoto: Two of the new members in Morning Musume '15's 12th generation are Kenshuusei members, but two of them are girls with no previous experience.
Kamata: Morning Musume periodically gets news members, but starting with 9th gen and Fukumura, some of them are now Kenshuusei members which means it's less of a burden on the new members nowadays. Half of 12th gen, too, are Kenshuusei members, so it's a different kind of start for that generation — though because the choreographies for Morning Musume songs are so difficult, it's still very challenging for all four of them. And as for their singing… well, Ogata has that captivating whisper voice of hers…
Hashimoto: "Captivating whisper voice…" (laughs)
Kamata: Ogata's voice doesn't have a lot of volume compared to the other three. But then, someone like Iikubo didn't have it at first either, but people can grow through the accumulation of live experience. Now Iikubo can really belt out songs. So I think once Ogata just finds the right technique, she'll be a lot better by next year. Pretty much everyone who got into the group actually wanted to get into Morning Musume specifically, so they're all very proactive. They all want to do their best, so getting them to improve is actually not a lot of work for us.
Yamao: Makino is another hard worker. She has guts. Makino has always stood out, even when she was in Kenshuusei. It's like she has that presence. Her, Sasaki, Murota… they're all girls who you just found yourself looking at automatically.
— Aikawa is a bit of a strange one, isn't she?

Yamao: Aikawa's fun.
Hashimoto: It's like she has her head in the clouds.
Yamao: I bet she could've learned a lot more had she been in the Kenshuusei for a while longer. She was only a member for such a short period. I once caught her staring at the monitors backstage during Hello! Con, her mouth agape. "What on earth is she staring at so absentmindedly…?"
Hashimoto: This girl may be the true taiki bansei… ("late bloomer")
Taisei: … The heck kind of a way to end this topic is that? (laughs)
— How about you, Taisei?

Taisei: Hmm, I wonder…
Kamata: Something by Mano?
Taisei: Mano's albums… I don't remember anything from making her first one.
Kamata: The one with many of the songs written by KAN.
Taisei: The first album had all of her indies singles, so a lot of it was indeed KAN. He wrote all the songs up to "Sekai wa Summer Party," after which he said "I want to quit." (laughs)
— He wanted to focus on writing his own songs, right?

Hashimoto: Right — but he hasn't released one album since. (laughs)
Taisei: Even though he was supposedly quitting because he wanted to release one of his own… (laughs) "Dare ni mo Iwanaide" was actually a song KAN wrote for Mano with the hopes of making it her major debut single, but it got turned down at a staff meeting. I love that song.
Hashimoto: That's indeed an amazing song.
Taisei: I really wanted to use it. I wanted to release it as her major debut single, too, but I couldn't. So we never got to release it. But then when it was time to release an album, I said we had to release it at last. And when the time came, I actually just sneakily put it on the album myself without consulting any of the people who were opposed to it.
— Is that right!

Taisei: Well, at least we did end up getting it out there, and it did get a response. So that's good. The first album, FRIENDS, was so full of singles that I couldn't fit it in there — I think it was on the second album, MORE FRIENDS. That's why fans at the time were thinking KAN had "come back" to write her another song.
— I thought the interludes on Mano's albums were really fun.

Taisei: Stuff like "Datenshi Ellie," right? She used to do the corner at concerts and it was well-liked. (laughs) And it was fun. I remember listening to all those Matsuda Seiko and Shounentai albums back in the days, and they'd have tracks on them that weren't even songs. Doing that track reminded me of that — it felt like I was doing something very Showa era. It was great fun.
Yamao: That Showa feeling really fits her.
Taisei: Yeah. Heisei doesn't. (laughs) That sort of "cheapness" fits her for some reason.
— What about you, Hashimoto?

Hashimoto: That's a tough one. I'm inclined to say it'd be the unreleased W album… but I don't have a way to go back and make sure.
— We all want to hear it equally as bad… (laughs)

Hashimoto: Me and Taisei worked on that one. We'd finished recording about 80% of it.
Yamao: How about the unreleased EE JUMP album?
— That one was 100% complete, wasn't it? (laughs)

Hashimoto: There's a lot of history there… (laughs) But all jokes aside: one album that I really felt we'd done a good job on was Matsuura Aya's first album, First KISS. It's a miraculous album. She was the polar opposite of all the Kenshuusei members, or other kids her age. She was a genius right from the beginning. Everyone was going "who the hell is this girl?!" when they heard her — her singing was that good. She could understand everything; convey every feeling. She recorded pretty much all of her own chorus vocals — just tell her what to do and she could do it. She was called an idol cyborg. She could handle anything we threw her way in regards to singing, so it was so damn fun for us who were working with her. Throw on top of that the unexplainable sparkle of a 14 or 15-year-old, and the songs Tsunku♂ wrote that matched it perfectly… It was all so perfect — even if it was a rush job! Considering how, especially now, there are so few solo idols… Well, I won't go so far as to call it a "monumental" work, but still. That was a good one. There was even a song in there arranged by me…
— That's right — one of them was your work, right?

Hashimoto: "Zettai Tokeru Mondai X = ♥." We'd ordered an arrangement of the song, but we were having no luck receiving what we had in mind. So as me and Koji were discussing our options, I said I'd come up with the basic structure. Since I can't play guitar, I asked Koji to play, and then the two of us made a demo. Then we called up some musicians and said we'd figure out the rest in the studio. We got people like Soul Toul and Koike Hiromichi from COMPLEX to come over.
Yamao: How lavish.
Kamata: And then we just pressed record in studio and recorded it together. We hadn't even discussed beforehand who was playing what — we decided then and there. Then, afterwards, Hashimoto recorded his keyboard parts.
Hashimoto: I went "guys, do you mind if I just overdub my parts later?"
Yamao: That's so sneaky of you!
Kamata: Everything on the song was played by hand. Soul was doing Kuroyume back then, so when we asked him to just play the drums as he pleased, he gave us this amazingly aggressive performance. (laughs)
— So it was a tight schedule?

Hashimoto: We probably only had something like two months, or a month and a half — though we did of course have the singles already. But it led to such energy. None of it was calculated, and Tsunku♂ brought us these amazing songs to work with. I don't think I'll have many experiences quite like that one. Though a big part of it was also that amazing girl we had singing for us.
Taisei: I also did Matsuura's Naked Songs. The musicians all recorded their parts live at the same time with Matsuura there singing, and we then made it into an album. Everyone was on stand-by in the studio, and Matsuura walked in going "alright, shall we begin?," and they played through each song once or twice. Then she just went "see you later" and left.
Yamao: What is she — Misora Hibari?!
— That's incredible.

Taisei: It was the musicians who were all flustered. They knew they would only get one chance at it, so they had to make sure there were no screw-ups. (laughs) It was pretty amazing.
Hashimoto: She only does one or two live performances a year nowadays, but the thing is: she never has setlists these days.
— What do you mean?

Hashimoto: She just goes, "okay, next we're going to do this song" — she's literally like Miles Davis! (laughs) Well… Miles was more, "Alright, I'm going to start blowing on my trumpet now. You guys join in when you're ready." Maybe it's not quite the same. (laughs) But she just goes like, "I want to do this song next. OK?" Then everyone gets in a huge hurry to get ready for it. She's really something amazing. She's the greatest songstress of Hello! Project.
— Is there anyone like that in Kenshuusei these days?

Yamao: There's no one in there who gives me that same sort of "uoooohhh!!" feeling — though I guess some of them give me an "uoooohhh!!" feeling in a different sense of the word. (laughs) Anyway, a feeling similar to that is something I'm still waiting for.
Hashimoto: Molding these girls into that sort of talent — that's the job of a recording director.
— What a great way of summarizing this conversation. (laughs) But isn't someone like Oda Sakura pretty great already?

Kamata: You're right: she is talented. But her sense of rhythm is a bit lacking. That's something we always tax her with improving on. According to Tsunku♂'s theory on rhythm, there are some people who can feel those fine details in a rhythm and those who can't. When it comes to recording, Sayashi is someone who's good with rhythm. She listens to the demo vocal properly and she understands it, so she can also sing it well. And, though I don't want to praise her, the same goes for Sato Masaki.
— You don't want to praise her… (laughs)

Kamata: I think Sato has talent. There's something about her skill that reminds me of Fujimoto Miki — it's like she gently keeps the rhythm going via her singing. It must come to her naturally — I think she herself thinks she's just doing her best, like everyone else.
— So at the end of the day: people with a good sense of rhythm become good singers.

Kamata: At the risk of being misunderstood… Tone deafness is something you can cure. However, rhythm is about daily diligence. You have to be aware of it constantly. I think even my sense of rhythm has improved, having been working as a recording director for the past 15 years. My awareness towards rhythm is completely different now than it was back then. That's why this job is still a learning experience for me.
Yamao: Yes, there's definitely a sense that we as well are growing together with the performers.
Hashimoto: It feels like there aren't any young people these days with a completely hopeless sense of rhythm.
Yamao: Comparing to past generations, it does feel like the average sense of rhythm is improving. It's like they're quicker to get it; like they're used to listening to music with strong rhythms.
Kamata: If it's because of these girls loving Hello! Project — in effect "growing up" on Hello! Project — it could tie into what I was talking about at the beginning of this conversation, about Tsunku♂ wanting to change the sense of rhythm in Japanese people on a grander scale…
— So the seeds he planted are in fact now bearing fruit! Thank you all very much for this enlightening conversation.

Interview & text: Namba Kazumi
English translation: Henkka
Illustration: Ohashi Hiroyuki
Taisei on the web: Twitter