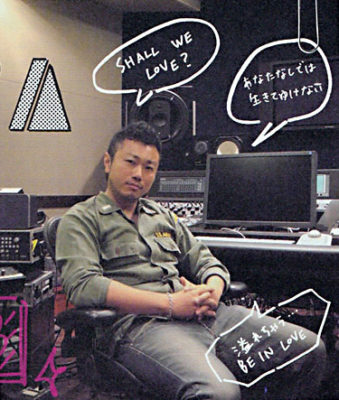 Beginning with Berryz Koubou's "Anata Nashi de wa Ikite Yukenai" and Gomattou's "SHALL WE LOVE?", AKIRA has been the biggest name in Hello! Project when it comes to R&B. Having originally come from the field of R&B himself, how does he work when it comes to the music of Hello! Project?
— Could you start by talking about how you first became interested in music production?

AKIRA: I was always a big fan of fusion music and I played bass in a band back in high school. Once I returned from studying abroad in America, I found that the new jack swing genre had become popular, and through it I got into R&B which made me get into trackmaking as well as singing. I taught myself how to do music programming as well.
— How did you become a professional musician?

AKIRA: Rittor Music was hosting this thing called AXIA Artist Audition in '96. You could take part in it just by sending in a tape — this was perfect for me since I hated singing in front of people. (laughs) I participated in it two years in a row, receiving an award both times. People who made it into the final round of the audition got their song put on a CD and sent to record labels, which is how I then joined Toshiba-EMI as a kind of a singer-songwriter. I made the move from Sapporo to Tokyo in '98 and started working as a songwriter, first receiving work from the recording directors of Toshino Yonekura and Nakanishi Keizo. Right after that, I started working with Hello! Project.
— So you first worked with Hello! Project almost immediately after you began working professionally as a songwriter.

AKIRA: Right during that initial period, yes. I was pretty much raised by Hello! Project. It was like school for me.
— And how did you become involved with Hello! Project?

AKIRA: My ex-manager had a connection to a recording director who was working with Tsunku♂. I gave him some of my work and he thought it was interesting, and that's when they thought of me when they had something that needed my kind of an arranger.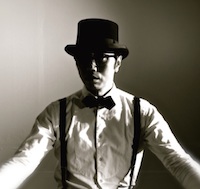 — Seeing as you come from the field of R&B, did you not have any reluctance or hesitation towards working with idol music?

AKIRA: I was actually a pretty big follower of TV and the world of entertainment in general, so I had nothing against idols as a genre — though I was initially a bit lost as to how I was to work in that genre. Still, it was a challenge I wanted to take on as an artist. Hello! Project was my first experience working with idols.
— What was the first Hello! Project song you worked on?

AKIRA: I think it was T&C Bomber's "Ai no Kaisou" (from album 2nd STAGE). Heike Michiyo's "Ai no Chikara" was from that period of time as well.
— Both of those songs were released in the summer of 2000, when H!P was starting to include more R&B influence in their music.

AKIRA: R&B in general was getting really popular around then. I feel like I started working with them right around that same time.
— When it came to arranging music for Hello! Project back then, how did the communication between you and Tsunku♂ happen?

AKIRA: Well, back then, we didn't just send data back and forth. I'd physically hand him an MD of my work, we'd listen to it together, he'd give me his input, and I'd go home and work on the bits he wanted me to change. But then — I think it was when we were making EE JUMP's "HELLO! Atarashii Watashi" — they wanted me to actually work on the arrangement in-studio. The staff was all there beside me as I worked and it was like, "wow, I'm seriously receiving an education here." (laughs)
— (laughs) So what is your personal theory as to how one should go about fusing R&B and J-pop?

AKIRA: Back then, J-pop and R&B were very, very different — starting all the way from the chord progressions. When I first started, I'd try my hardest to make the songs fit the R&B style of chord progression. But when I did that, I'd find that those melodies by Tsunku♂ that were so sorrowful would disappear. So then I'd have to spend a lot of time backtracking and fixing the chord progression. Eventually, I learned how to retain the feeling of Tsunku♂'s original composition. At the end of the day, the most important thing in a song is to let the melody breathe.
— The commonly understood way of making R&B is putting a melody on an already existing track, but working with Tsunku♂, you had to do the opposite and build the sound to an already existing melody. It must've felt like doing it backwards for you, right?

AKIRA: Right. It did. The pre-existing verse, bridge, chorus… I just tried to take it one part at a time, trying to put my knowledge of R&B into each part. I especially tried to make the intro and chorus have a common tone to create that R&B taste.
— So you weren't trying to make it sound like full-on R&B per se?

AKIRA: No. The girls singing aren't R&B singers, so I felt that the songs needed a little more sparkle than the average R&B song.
— Did you do any research as to what idol songs should sound like?

AKIRA: I did not, because I believe what Tsunku♂ himself wanted from me was a fusion of my music and his melodies. I think I was only thinking about how to best make Tsunku♂'s melodies work in an R&B context.
— I would imagine that was both fun and challenging in equal parts.

AKIRA: To be honest, it was mostly just the latter in the beginning. Those were some tough times for me. (laughs) But ultimately, the end results were interesting. Plus, I enjoyed being seen as the guy who did both R&B and idols. Like, "I bet there's no one else out there doing what I do!"
— I really don't think there was anyone else like that at the time. Did you learn anything new from doing those arrangements?
AKIRA: I think the biggest thing for me was learning about the intricate connection between the melody and the chord progression. That's something I would not have learned working on just R&B alone.
— I'd now like to ask you about your work in the context of specific songs. I feel like most people recognize you especially from arranging many of Goto Maki's solo songs, right?

AKIRA: That could well be. "Afurechau… BE IN LOVE"… that was 2001, right?
— Goto started her solo career while she was still in Morning Musume. I think Tsunku♂ was trying to push her in the R&B direction from the very beginning.

AKIRA: I think so, yes. He wanted her solo career to be a little more adult-like and sexy. There's a bit of an ethnic feel in "Afurechau… BE IN LOVE," too. I did most of the backing vocals in my arrangement. Me and Tsunku♂ recorded them by the two of us using just one mic — I think we later did that on one or two other songs as well.
— Male backing vocals by anyone else than Tsunku♂ are quite rare, aren't they?

AKIRA: I think I might be the rare exception, yes. I added some "lalala~" backing bits in my arrangement at the demo stage, and I believe after hearing those he wanted me to record the backing vocals with him. Most of the time when we were doing backing vocals, it was usually girls recording them — people like Heike Michiyo and Inaba Atsuko (Taiyou to Ciscomoon/T&C Bomber) were often in the studio recording with us. I often recorded my chorus vocals with Inaba on just one mic.
— Nochiura Natsumi, Gomattou, ROMANS… You also worked on many of Hello! Project's smaller units.

AKIRA: Most of them, yes. One of my personal favorites is W's "Ai no Imi wo Oshiete!" We were thinking techno was on its way back to the limelight, so I purposefully made it in the style of YMO. °C-ute's "Time Capsule" (from album Cutie Queen VOL.1) was a mellow song with those harp bits that were just essential to have at the time. v-u-den's "Bi ~Hit Parade~" (B-side of single "Kacchoii ze! JAPAN") had an arrangement with a hard-hitting, R&B-tinged beat.
— Is there anything Tsunku♂ has said to you in regards to arrangements that has left an impression on you?

AKIRA: It'd have to be in regards to harmony. Also, Tsunku♂ is someone who cares deeply about the bass. He cares about the rhythm of the bass — he's especially fond of bass lines that are all over the place. That's something I feel he always pays special attention to.
— He loves funky bass lines, doesn't he?

AKIRA: After working with him for a while, I tried arranging songs in a way that had the bass line really jumping at you before then falling to the background again — the best of both worlds in a sense. He really liked that, too. A perfect example of this would be a song like Fujimoto Miki's "Giniro no Eien" (from album MIKI ①). It's a song where Tsunku♂'s youthful melodies and that R&B feeling mixed very well. I really like it.
— Many of Tsunku♂'s melodies have a lot of kayou kyoku elements. Apart from the times where you brought those elements the surface, were there any arrangements where you were trying instead to push them to the background to pursue a different style?
AKIRA: I experimented with that a lot. One of the songs where I think that really worked on was Matsuura Aya's "Machiawase" (B-side of single "Dokki Doki! LOVE Mail"). I've been happy to hear Utamaru of RHYMESTER praising aspects of that song on many occasions. (While playing the song)… Man, Tsunku♂'s melodies really are great.
— What are the initial demos like when you receive them?

AKIRA: Very simple piano demos. For me, it's very difficult to predict where the lyrics and vocal melodies are going to go at that stage, but Tsunku♂ probably already has a clear vision of the song at that point. But he also lets the arrangement influence much of the song's direction, too — often times he'll only write the lyrics after the arrangement is done. I think he draws a lot of inspiration from the arrangement. And I have to say: Tsunku♂'s lyrics really are interesting.
— His lyrics must've been something very fresh even to someone like you.

AKIRA: They were. Like, "you're going to put lyrics like that on a melody like this?!" (laughs) Another thing that really surprised me were the tentative titles he'd have for the songs. For example, Morning Musume's "Tsuugaku Ressha" (B-side of "Happy Summer Wedding"). It has that modulation (転調, "tenchou") in the chorus, so his tentative title for the shop was "shop manager" (店長, "tenchou"). When he finally does come up with the actual title, it's really difficult to try to go back and find my work files of the song. (laughs)
— Another song that you're known for is Berryz Koubou's "Anata Nashi de wa Ikite Yukenai."

AKIRA: That's quite the title for a group's debut song. This was another R&B arrangement with a bit of an exotic taste. This was back in 2004. It has a lot of Tsunku♂ vocals in it, and I sing backing vocals on it as well — at this early stage in the group's career we were just trying our best to support the members' voices.
— Since the members were all elementary schoolers back then, they've afterwards talked about how they didn't understand the lyrics at all at the time.

AKIRA: Yes. But they sang it the way Tsunku♂ did on his demo, so it sounds exactly the way he intended it to. It doesn't sound off-putting at all.
— High-King's "C\C (Cinderella\Complex)" is a song that's very popular even today.

AKIRA: I remember putting everything I had into this song. U.M.E.D.Y.'s rapping gave the song a nice accent. U.M.E.D.Y. is someone Tsunku♂ often called upon when he wanted rap parts on his songs, like on "Renai Revolution 21."
— As someone who has worked with Tsunku♂ for a long time, have you been conscious about trying to incorporate new trends in your arrangements?

AKIRA: Sure. If I find new sounds I like, I'll try them out in my arrangements. Likewise with sounds that I'm just personally obsessed with. There's something universal about Tsunku♂'s melodies, so I think all of his arrangers — not just me — try to develop their arrangements and make them sound current through trial and error. Lately, there's a lot of demand for that EDM sound. One of my most recent works for him was S/mileage's "Sayonara Sayonara Sayonara" (from album ② S/mileage Sensation) which is an electro song. This is off-topic, but the first time I heard Morning Musume's "One Two Three," I genuinely thought they'd brought in a new arranger. Then I found it it was actually Ookubo Kaoru — I only then learned he's now making sounds like that as well!
— You're acquaintances with Ookubo, right?

AKIRA: Yes. Back in '98 we were both in a certain backing band, with me on backing vocals and him on keyboards. And then we both ended up doing arrangements for Hello! Project. (laughs) Years ago, we actually had a sort of a reunion at a New Year's party arranged by Tsunku♂. Also, just to elaborate on the subject of EDM, I think the EDM sounds created by newcomers are very different from those of the people who've had longer careers in arranging music. And I don't mean to say that it's a matter of which is "better" or "worse." It's just that people like me and Ookubo know how idol music used to sound, and I think that's something Tsunku♂ recognizes in our current work as well.
— You've worked on a great number of songs. Can you name one song that has particularly left an impression for you?
AKIRA: For me, my best work was this one very simple song: Fujimoto Miki's "Taisetsu" (B-side of "Boogie Train' 03"). I think in the history of all Hello! Project songs past or present, this one may be the no. 1 or no. 2 in the ranking of "lowest number of instruments used in the arrangement." I tried to make the arrangement so that there is no noticeable change between the verse, bridge or chorus, so that it's just one constant atmosphere. I was especially surprised that the very simple acoustic guitar bits were given a pass.
— It's just a very nice, transparent, clean R&B arrangement.

AKIRA: Not many people took any notice of it, but for me it was quite groundbreaking. Also, on Morning Musume's "HOW DO YOU LIKE JAPAN? ~Nihon wa Donna Kanji Dekka?~" (from album Rainbow 7) the drums were played by Funky Sueyoshi and the bass by Egawa Hoojin…
— The rhythm section of Bakufuu Slump, right? This was a very guitar-riff-heavy, rock tune.

AKIRA: This was back when I was really into Led Zeppelin. (laughs) You know, I'd never been much of a Zeppelin fan before, but I just got really into them around this time for some reason — like, "oh damn, they're actually this cool?!" (laughs) So that's why I made it into a rock arrangement. I made a hard-rocking guitar arrangement, and then I was like, "why don't we also throw in live bass and drums while we're at it?" So it got more and more live instruments. At the time we had a Neve mixer in the recording studio, one that Zeppelin had used as well, and sure enough, the drums we recorded there sounded like Zeppelin. Funky's drum set was amazing and the sound was just insane. The song wasn't originally intended to have slap bass, but since we had Hoojin there, that's what we went for. And that's how the arrangement came to be. Morning Musume's "Aki Urara" (B-side of "Nanchatte Renai") was another one of those rock arrangements of mine with heavy guitar riffs. Every now and then I'll listen to it and it's just so funky and stylish that I'll be going to myself "was this really my work?" — because it's just that good. (laughs)
— "Aki Urara" was released in 2009 — it has that signature adult-like, Platinum Era sound. But one song I was actually very surprised to learn was arranged by you is S/mileage's British pop-influenced "Asu wa Date na no ni, Ima Sugu Koe ga Kikitai."

AKIRA: It's a girly song. The moment I received an order for that song, I was told they were looking for a Tanpopo-ish arrangement, so I tried to give it a taste of my image of ELO. My original demo of it had three interwoven guitar melodies, but that made it sound way too much like "Otome Pasta ni Kandou" so I changed some of the guitar parts to harpsichord which made it less obtrusive. Since I'd gotten hooked on Zeppelin I now had a renewed appreciation for that British sound, too. I came to see The Beatles in a whole new light, and afterwards groups like ELO and Queen, too.
— I've heard that The Beatles was actually what made you and Tsunku♂ connect in the first place.

AKIRA: Yes. My parents loved The Beatles. When I told him about how I'd been listening to them since I was child, he was like "ah, so that's why your arrangements have such a poetic sentiment about them." None of the arrangements I'd made at the time had any Beatles-influenced sounds in them yet, but I remember him saying how he could hear the potential regardless.
— What's the biggest thing you feel you've received through working with Hello! Project?

AKIRA: When I'd just started working in music, I believed I had to keep a close eye on music in the West. But right around those early stages in my music career I received the opportunity to work with Hello! Project, and through them, I feel like I've learned what I have to do to get people to listen to my music in Japan. Also, Tsunku♂'s lyrics and melodies are something that I just don't have in me, so whenever I arrange one of his songs, it's always a learning experience for me. I'm a songwriter myself, so I feel like it's starting to rub off on me, too. I mean, I have worked with him for a long time now. I really feel like it's no exaggeration to say that I was raised by Hello! Project. And it's only through those experiences that I've been able to work with other artists as well. Looking back, that really is how I see it.
Interview & text: Tsuchiya Keisuke
English translation: Henkka
AKIRA on the web: website