Missed SOS Signals

I'm a singer who lost his voice.
I couldn't have imagined something like this happening to me when I'd just debuted. I don't think there's any one definite reason as to why I got sick. I suppose I simply drew the short end of the stick. With me being a singer, I obviously used my throat a lot more than the average person. This may have been one of the causes. Still, it's not like every singer out there gets laryngeal cancer. I can only think of it as being a stroke of bad luck; as fate playing a prank on me.
But no matter how much I keep telling myself that, I can't help but keep coming back to this one recurring thought of mine.
Before I got sick, during the approximately ten-year span of time between Sharan Q breaking big and being constantly busy, up to when I got married, I led an extremely unhealthy lifestyle. I believe this brought me closer to my eventual illness.
If only I'd gotten more rest. If only I'd paid more attention to my health. If only I'd gone to the doctor's all the times I should have. Of course, I always had my reasons for not doing those things at the time. But compared to losing my voice? Every one of them was trivial.
Looking back, my lifestyle back then was as if I was asking to get sick. It was terrible. The body is supposed to be the most important thing to a vocalist, and yet, I would sleep very irregularly, eat unhealthy food, drink alcohol, smoke cigarettes… everything went. I did eventually quit smoking, but while I didn't drink much when we first came to Tokyo, I gradually started to drink more heavily at the turn of the century.
I was sure my youth and my willpower would get me through anything. But although my body used to be able to take any kind of intense movement, I started to experience the occasional herniated disc in my back here, suddenly start showing symptoms of hay fever there…
My body was sending me all kinds of SOS signals, but I failed to see each one of them.
---
From The Brink Of Being Fired
To The Top Of The Charts

We arrived in Tokyo in the spring of 1992, feeling triumphant about our major debut deal.
There was a period of time in the beginning, however, when we were penniless and unable to achieve any real popularity.
When we were still amateurs, we concentrated our activities in Osaka where we played a hundred shows a year. We were starting to build some real name for ourselves. But immediately upon coming to Tokyo to pursue our major label deal, the number of shows we were playing dropped significantly. Back in Osaka we would go anywhere people wanted us, even if it was for a short, 30-minute set. But in Tokyo they wanted to portray us with a certain image, and we weren't allowed to play live too often so we would always attract a reasonably large audience.
I was a singer, yet I had nowhere to sing. I was busy, yet I had nothing to do. I was told to just sit in my apartment and write songs, but I wasn't having much success producing anything we could work with. All in all, it felt like nothing was going the way we wanted it to.
It was because we'd been through that unpleasant experience that in 1994 — as we were on the verge of having our record deal terminated — when we released our fourth single, "Joukyou Monogatari" and we finally managed to sell in excess of 50,000 copies, we felt so happy. The single ended up selling 130,000 copies in total, and little by little we were able to start playing live more.
But on the other side of that happiness, I felt frustration.
I had written neither the lyrics or the music of "Joukyou Monogatari." Up until then, I'd always written one of the two for all of our songs, but I'd had nothing to do with this one. I decided in my heart that our next hit would be one of my songs. Finally we had some work to do, so I used the resulting commute time and such to study music.
I contributed lyrics for our next single, "Koi wo Suru Dake Muda Nante," and it performed reasonably well. Finally it felt like I'd regained the confidence I'd nearly lost during our two-year period of obscurity.
At this point, we were still on our way up and our name wasn't yet widely recognized, so we did all of our commuting either by train or our equipment van. Rather than worrying about doing a perfect job all the time, this was a period of time when we were more concerned about getting our name out there by any and all means necessary, using all forms of media. Magazines, radio, TV — anything that allowed us to get the name "Sharan Q" heard somewhere even for a second.
If we were heading out of town, we'd drive our equipment van there by ourselves, take out the equipment, carry it all back in after the show, and drive back to Tokyo. Then we'd drop our performance outfits to the cleaner's, and the next day we'd be off to somewhere else. That's what our daily life was like. On my days off, I could get sudden phone calls saying something like "the radio personality of this one radio program in Nagoya is down with a cold, so get over there and host the show for him!" If they couldn't afford to send all of us, it'd usually be me heading over to represent Sharan Q alone. It was like I was spending every day commuting somewhere.
It was around this time that I'd get to bed only around sunrise, whether it be because of a late-night radio show or songwriting commitments. This is also when I first started taking sleeping pills to guarantee an effective as possible sleep before my next job.
While our sixth single, "Single Bed," wasn't initially a fast seller, by six months of its release it had sold over a million copies. Before I'd noticed it, the nature of my busyness had changed. Whereas before I'd get phone calls along the lines of "Tsunku, head over to Hakata right away!", now I would have tour schedules set well in advance, recordings for music programs, regular radio appearances… Before long, I had my schedule booked for months in advance.
We also started receiving work like photo shoots for magazine covers and appearances on variety TV shows — work that we'd never have been given had we not gotten popular. But what was different about us and the mainstream idol or the average singer was that not only did we play all the instruments, we also wrote all our music and lyrics ourselves. But this was, of course, the path we'd chosen for ourselves. That's what we wanted to do.
Still, recording all the instruments in the studio by ourselves would take time, and sometimes we'd be stuck recording until morning and then we'd immediately have to get on a bullet train somewhere and hope to catch a little bit of sleep on the way before playing a concert in the evening. We were lucky if we had one day off every six months.
We continued the string of million sellers with "Zurui Onna" and "My Babe Kimi ga Nemuru Made," and at the end of 1995, we made our first appearance on Kouhaku Uta Gassen. Compared to our situation a year earlier when we were under threat of being let go from our record label, it really did feel to us like the difference between heaven and hell.
But while our band may have finally become popular, that still didn't mean we had any free time to ourselves. Our most commonly anticipated event each day was the catering at the recording studio. I'd never been much of a drinker either — two cans of chu-hi and I was set — and rather than just loitering around drinking, I preferred to focus my attention on writing songs.
Still, as far as work was concerned, we were definitely on a roll. We released an album that sold in excess of a million copies, we were contributing songs to idols and other talents from our record label, and we were receiving increasingly varied work opportunities. Above all else, we were happy that people liked our music, and as a rule, we never declined any job offered to us. We would gladly appear on any music program even if it meant that we wouldn't be able to sleep as a result. I was so busy, I hardly even had time to think about how thankful I was to be doing what I loved for a living.
Before I noticed it, I was no longer taking the train anywhere, I wasn't going to the supermarket, and I wasn't going out to enjoy a cup of coffee in the neighborhood cafe anymore. I was no longer doing anything "normal." I was either composing music, writing lyrics, recording, or touring. Working and sleeping took up 90% of my day — during breaks in between, I was either eating or trying to relax a little bit. There was nothing in my mind aside from work. That's what my daily life was like at the time.
Our schedule was completely packed, and the thing I least wanted to happen was us botching a live performance or missing a recording session because of me. Your body is the main tool of your trade as a vocalist, and that means that taking care of it is also a part of your job. Thus, if I felt like something was a bit off with my body or that I was starting to get sick, I would go see a doctor immediately.
It was around this time that I got into the habit of going to the hospital to receive drugs or an IV drip at the slightest sign of anything being wrong with me.
Stomach ache — better get some stomach medicine.
My head feels heavy — I'll just pop some pain killers.
I feel tired — time to go get a vitamin shot.
Can't sleep — bring out the sleeping pills.
Whatever my body couldn't handle on itself, I'd make up for it with various drugs. Since I was going to the hospital so often, I actually became friendly with my doctor. Even on his off-hours he would make time for me and say "well, I guess it can't be helped — I know how busy you are" and he would prescribe me with what I needed. Even when it was something insignificant that a bit of sleep would've fixed just as well, I would go "give me a shot of something that'll cure me. I want to get better as quickly as possible!"
I was perfectly prepared for everything even when we were touring in distant locations. Antibiotics, pain killers, inhalable steroids for when my throat wasn't feeling a 100% — even on the road, I was constantly using drugs to control my body.
---
The Birth Of Tsunku♂ The Producer

But regardless of how busy we were, by 1997 our CD's had started to sell less and less — it was obvious that Sharan Q was now past its peak. It had been a quick journey to the top, but the one back down was even quicker.
We hardly even noticed before it got to the point where our schedules would start to have blank spots here and there. At first it was a pleasant surprise. I was going "alright, finally I get some me time!" and getting hooked on golf for a while. But it didn't take long for that feeling to turn into concern. I knew that if our sales kept dropping at that rate, it wouldn't take long before we were all back to doing nothing like in the beginning.
Since I'd taken up golf, there was a moment when I was even considering practicing and actually getting good at it so I could become a golf talent. I was remembering all those people I'd seen on variety TV shows back in Osaka, people like Madoka Hiroshi or Kida Taro or Takajin or Kaminuma Emiko — we've been told we look alike — and I was trying to figure out if the signs were pointing for me to try and steer my career in their direction. Half of me really was pretty serious about trying to find some other path in life besides that of a musician.
But ultimately, I said to my company president at the time: "I really don't think there's anything besides music for me! I think it would be a mistake for me to go some other route. What do you think, as the head of the company? If interest in Sharan Q keeps dwindling, I really think you would lose a great deal of talent in us." There was a period of time when I was having discussions with him, searching for the right direction to take our band in.
It was around this time we received an offer from TV Tokyo, asking if we would like to produce some young female singers on their audition program called "ASAYAN."
With Sharan Q's waning popularity, I had plenty of energy in me to take them up on their offer. It was something to do until my band bounced back up — ever since I first began appearing on "ASAYAN," I very much thought of Sharan Q as my main job and of Morning Musume only as something like a side business. But when I got started, I very quickly noticed that producing other people came with a heavy set of responsibilities, more so than I'd ever imagined.
However, I also found in it an equal amount of joy. Until that point, the only method I'd known of expressing myself was through singing. But now I had people who would take the songs I came up with and express them exactly how I wanted them to, in my stead. It wasn't just about giving them my music and lyrics — this way of being involved with music was something much more fascinating.
As musicians, it isn't possible for us to get someone to sing in our stead just because we feel under the weather or something. If you don't feel well enough to do it, then that means you're creating a break in your band's activities. If you're the type of person who asks for a day off because you've caught a cold, you're simply not suited for this line of work.
I told this to everyone in Morning Musume, too, and that meant I had to start taking even better care of my own physical well-being as well. I was in a position where I was producing girls who were complete amateurs — if I was down with something, these girls would have a hard time getting any exposure and it would lead to the schedules of lots of personnel being thrown completely off-course. Before long, I'd made myself come to believe that I must never, ever, under any circumstances miss work.
On the Sharan Q front, we'd appeared on Kouhaku Uta Gassen three years straight and we'd even just starred in our own movie and everything, but our CD sales nevertheless plummeted even further — from a hundred thousand copies down to thirty thousand. Sure, that wasn't a bad number if you think about how these days you can have an Oricon no. 1 single with sales of just fifty thousand, but still, it was obvious Sharan Q was well past its peak.
On the other hand, Morning Musume was doing very well and I was doing more and more producing work. But as far as I saw it, Sharan Q was still absolutely my main job and Morning Musume the side project. There was a great deal of pressure in my mind about Sharan Q needing to have another hit. "We have to put out another hit or else they'll forget about us!"
But in contrast to those feelings, I could very clearly see how Morning Musume was starting to sell in a big way at the beginning of '98. As a consequence, I began spending more and more time recording with Morning Musume rather than with Sharan Q. I was sitting in the recording studio until the early hours of the morning again — but this time as a producer, not as a singer.
Back then, I would usually reserve four or five days on average to record one Morning Musume song. One day for recording the instrumental, one day for recording the members, one day for recording the backing vocals (mostly my own) as well as overdubbing any other necessary sounds, and one day for mixing. The fifth day was reserved just in case, but something or the other always needed more work done, and never once was there nothing for me to do on the fifth day. On whatever breaks I could get from that, I'd be recording demo vocals for the next song — and on whatever breaks I could get from that, I'd be writing the lyrics or music for yet another song. That's what my day-to-day life consisted of.
I was involved in the whole process from beginning to end. This all varies from person to person, but from what I understand, some producers like to be there just for recording the instrumental and mixing while leaving the vocal recording to some other director, that sort of thing. But I could never do that. If I wanted to get the sounds exactly how I wanted them, if I wanted the vocals to have exactly the little nuances I wanted them to have, then my only option was to do it all by myself.
When it came to producing Morning Musume, I genuinely did every single thing by myself.
I was constantly on the search for the right arrangers to help me develop the arrangements, and the musicians and engineers who were there during recording, but I wanted only the people who understood the fine details and nuances I wanted to convey with my music. When I did find the right personnel, we would thoroughly discuss every little detail, and we'd try things over and over and over again until everything was exactly to my satisfaction. Then we would record the vocals, do the necessary edits to the vocals and instrumental on the computer, record backing vocals… And once all that was done, the very last thing would be the mixing.
And that, if anything, was an endless struggle.
Whenever I got started, I thought about how I wanted to be finished by midnight at latest. But it was completely ordinary for the process to go on until 2 or 3 in the AM. When you're listening to the same sounds over and over again, you can lose sight of what's right and what's wrong, and then you may have to start all over again from scratch. That happened countless of times. It was even commonplace that it'd suddenly be morning and we still weren't anywhere near done. Then I'd have to cancel the golf I'd scheduled for the next day, and by the third time I had to do that, that's when I realized golf wasn't for me. I said goodbye to that hobby. (Come to think of it, I haven't played a single round of golf since that day.)
I got a bit long-winded there, but in short, what I'm trying to say is that I don't believe anyone thought Morning Musume would become as popular as they did. "Sure, whatever, you just go ahead and do your thing, Tsunku." It was all very relaxed. I started out just choosing the songs, members, outfits, and the right dance choreographies, but quickly I also began to produce the concerts. Everything was decided by me, down to what they would talk about in the MC's.
When "LOVE Machine" became a major hit, I also had to start thinking about the various offers for commercial tie-ups to the group's songs, which was another time constraint for me. Even so, I was in charge of pretty much anything and everything up to about the 4th or 5th generation of members.
But gradually, more and more new units were created within Hello! Project, and soon it became physically impossible for me to attend every single recording session and concert. The members — now famous throughout the country — had become busier as well, and they had less and less time for recording sessions and rehearsals.
In fact, the thing which took the biggest hit time-wise were the vocal recording sessions. This meant that I, too, had to work very, very fast to record the members. I could no longer afford to have them capture every single nuance like I wanted them to — if it was at least somewhere in the ballpark, that was now considered an OK take. And then I had to immediately send them off to their next location. What always awaited me next was an enormous editing job.
Back then, most studios did not yet have the software called Pro Tools, but we went ahead and bought it early. We then immediately got to work on learning how to use it, and then me and the engineer would work together to fix any pitch and rhythm issues. This process took an immense amount of time — computers back then didn't perform as well as they do nowadays, and they would frequently freeze up completely. Plus, even when they did work, the actual editing was time-consuming work in itself.
So, I started to train these select people — producer's assistants — who would work by my side in the recording studio handling the technical direction aspect. Starting with the 5th and 6th generations, I created an "audition committee" to help me find the right members for the group, and trained three, four recording engineers. Around the time of the 7th generation, there were even more minds working together with me — even people to help me choose the right songs for the right groups — and now I no longer had to handle everything by myself.
However, no matter what sort of circumstances I was working under, the one thing I never compromised on was the sound. The lyrics, music, arrangements, recording, overdubbing, mixing, mastering — I always continued to be very picky about all of it. Because that's what rock is all about. Even if two chords are in complete dissonance with each other, it doesn't matter as long as it sounds cool. I refuse to compromise on anything music-related if it goes against my rock philosophy. That's why I say that I don't make idol music (even if what I make is sung by people who society may call idols.) That's the one thing I'm convinced of.
All my sound directors, too, really did their best doing their jobs within the rules of those "Tsunku♂isms." We could've never made it work if there wasn't a relationship of trust between me and them. I believe it's because the members knew that I trusted my directors that they, too, did their part properly. No doubt about it: it's thanks to the support of these people that Hello! Project has survived all these years. It's thanks to them, and to the mentality of not allowing anything or anyone get in the way of the music.
That's my mentality towards music.
---
The Days Flashing By…

As I started spending more time around the girls of Morning Musume, I became conscious of how they might take an interest in cigarettes if I smoked in front of them, so I refrained from doing so and started smoking more moderately. Compared to the Showa Era when smoking was still considered "cool," when I traveled overseas and saw different cultures it seemed obvious to me that outside of Japan it's considered anything but cool. I managed to quit smoking completely in 2000 or 2001 — I don't remember when it was exactly, but I did it.
After I'd quit smoking, I got people complimenting me for doing so. But with so many others still addicted to smoking, how was I able to quit so effortlessly?
The reason for that is because I was actually having some trouble with my throat at the time. I wasn't able to sing the way I wanted to. I felt a vague sense of unease.
It's really annoying if you have confidence in your voice but aren't able to sing the way you'd like. Sure, on some days it would sound better, but more and more I was taking inhalable steroids just before concerts, only barely getting through the shows without issue.
Work was going great for me personally, but as far as Sharan Q went, there had been some arguments regarding the band between me and Hatake since about mid-1998. In producing Morning Musume, I wanted the music to include many elements of dance music, a genre that had been very dear to me for a long time. As a band man, I personally preferred performances done with real, live instruments, but I also really enjoyed the sounds of programmed music, too. I was constantly trying out new things, and the recording methods — which I needed to know all about — kept constantly changing with the times, too. It kept me busy.
But when we were in the studio with Sharan Q, the way we worked was by coming up with musical phrases on the spot and then trying to play them together. I knew that was a perfectly "rock" way of doing things as well, but it was one that made Sharan Q's recording sessions excessively long in comparison. You could say that I had a bit of a dilemma with that recording method. I was irritated. Unfortunately, that was conveyed to the other members, too, and the mood in the recording studio was getting progressively worse.
Somehow we managed to keep going regardless — up until one of our members left the band at the end of '98. That's when we decided to go on a temporary hiatus after our 10th anniversary concert. I then divided my time between producing commitments and my solo activities, and the other members, too, all did solo work or formed new units.
From 1999 onwards, I was singing less and less with Sharan Q, but with Hello! Project I was writing around a hundred songs per year. Of those hundred, I personally recorded the demo vocals for about seventy songs. While I wasn't performing on stage as much anymore, I was still having to sing more and more to demonstrate how I wanted my songs to be sung. There was almost no time to let my throat rest. And since I was instructing girls, that meant I very often had to use my falsetto or very high pitches of my natural voice when singing. It could be that this was yet another burden on my throat.
I think for a span of about three years there, I was working so much all the time I don't really have many memories of that period. For the days in my schedule I'd dedicated to songwriting, I would write new material basically at a pace of one song per day. Otherwise I would've started missing deadlines. Not being able to produce a new song because I was in a slump was not an excuse that would have been acceptable. Besides, it's not an excuse I wanted to make. I promised myself that if it was a "songwriting day," then I would finish writing at least one song that day. And I kept that promise.
Aside from Morning Musume, I started to have more and more groups to produce within Hello! Project. Tanpopo, Minimoni, Pucchimoni, Taiyou to Ciscomoon… I wrote all of their songs and had to think about the direction in which I wanted to take each group.
By the time Morning Musume had a big hit in 1999 with "LOVE Machine" and it became a million-seller, I started doing other work in addition to that of a producer. I wrote a book, had my own columns in magazines, acted in a TV drama… There was a mountain of work for me even outside of music. At the end of each day, there was still so much running through my head that even though I knew I had to get some rest before the next day's work, I didn't feel sleepy at all. Eventually, with the help of some alcohol or sleeping pills, I'd finally catch a bit of sleep in the early hours of the morning.
However, I felt so fulfilled. Every job I did felt like a job worth doing. Every job felt like it had a purpose.
In 2000, Sharan Q released its first song in over a year and we even went on a tour, but much to my regret, we found that the directions to which we wanted to take the band were just too different. We had a discussion, and we then decided to put the band on an indefinite hiatus. To be honest, I was just so busy during this time, I really don't remember it all that well.
The biggest wave of popularity for Morning Musume began to gradually fade around the year 2004. It wasn't by much, but suddenly I found that I wasn't quite as busy as I had been in the past. That said, my work as the producer of Hello! Project continued: I had to keep writing lyrics, recording demo vocals, instructing the members how to sing my songs, planning concerts, and giving my input on the outfits, CD jackets, dance choreographies, music videos and magazine articles, just like always. And seeing as they were all young girls, I would occasionally hear out their worries, as well as the eventual questions regarding their individual graduations…
Things around Morning Musume and Hello! Project had settled down a notch compared to their most popular years. While that should've meant that I could then take a breather as well, I could not. It became part of my routine to regularly see my doctor and receive an IV drip of something to help me with the fatigue. My body was screaming for help, but somehow I kept it going with the help of various chemicals.
Still, since I did have a bit more time now, I began to think that it was time for me to reset my lifestyle and give my body some rest. I began doing my best to become more of a morning person. Well, it wasn't much: whereas before I used to only wake up at 3PM, I tried to make it so that I would already be hard at work by 1PM at latest. Still, I was very much a night person and to me it felt like I was making a pretty major lifestyle change.
Ever since I first started achieving million-sellers, I'd always have an assistant following me around everywhere. Anything I needed to get done, the people around me would do for me. My life was made as efficient as possible. I moved houses several times, and whenever I did, they not only took care of all the arrangements, but I was driven to my new place in an office car with the curtains drawn, so in the end I didn't even really know where I lived.
I was writing songs in the middle of the night. If I was hungry, I would just call up one of the staff who lived in the same building and tell them what I wanted to eat. It didn't matter how late in the night it was — they'd bring me what I wanted in no time. I was told that if I had the free time to be going to the supermarket or convenience store, I should rather just use that time to finish writing a song. But as it went on, that kind of lifestyle started to feel like the new normal to me. It felt like I was living in a box.
I don't remember when exactly I first felt real discomfort in my throat. Its condition would vary. Sometimes I'd have days when I could sing pretty much exactly like how I used to. I'd get into the studio to record my demo vocals and be done in no time. But gradually, little by little, I would start to have more days when no amount of medicine would cure the hoarseness of my voice and bring it back to normal.
Then, on September 6th, 2005, I underwent surgery to remove what is sometimes called an occupational disease for singers: vocal cord polyps.
Vocal cord polyps are these little bumps that can develop in the vibrating parts of your vocal cords. When they do appear, the opening between your vocal cords will no longer close properly and it can lead to hoarseness and various other issues when producing sound.
In my case, this polyp that looked like a blood blister the size of a sesame seed had formed on the right side of my vocal cords. While it may not sound like a big deal, just removing a tiny little polyp, it still means them having to insert a scalpel inside your throat. While I wanted to avoid undergoing surgery, it had gotten to the point where that just wasn't possible anymore. With no other options available to me, I cleared my schedule and had the polyp removed.
For about three weeks following this surgery, attempting to sing would be foolish, and even speaking is discouraged. However, as a result I got to really give my throat a good rest, and the hoarseness and muddiness of my voice improved considerably.
However, while it may not have been immediately obvious to everyone else, although the muddiness was gone, it felt to me like the springiness of my voice never fully returned after that surgery. It felt like I only got around 75% of it back. Looking back, perhaps there was something wrong besides just that polyp, like something on the left side of my vocal cords as well.
The members and staff of Sharan Q were going "come on Tsunku, do something besides just producing every once in a while! Let's play live, man! The fans are waiting! Aren't we supposed to be rock musicians?!" But if we were to restart our band activities, it would've meant not just recording in the studio where I could keep close watch on my voice, but also doing live TV performances and concerts where re-takes wouldn't have been possible. I didn't have confidence in my voice, and thus I simply kept them waiting for my answer.
Still, while it wasn't a hundred percent, my voice was still back after the removal of the polyp. So when my great senior, Horiuchi Takao — who was now active in the recently reunited ALICE — had his solo dinner show at the end of 2005, he said "maybe it's Sharan Q's turn next — what do you think?"
And so, in April 2006, Sharan Q announced it would be going on tour later in the fall that year.
---
I'm Going To Marry This Girl, Aren't I?

There was another happening in 2005 besides my surgery that changed my life in a big way.
I met my wife.
I've never spoken much about how she and I first met, but perhaps this would be a good opportunity. So let me talk a little about the peculiar connection between me and my wife.
While my work life was past its very busiest peak, I was still nice and busy as the producer of Hello! Project. I was in my late thirties. The president of my company recommended that I seek an arranged marriage, whereas Akimoto Yasushi advised me that "your producing work of someone is truly complete only when you marry that disciple."
Little by little, I started to warm up to the idea of marriage. But while the word "marriage" was dimly present in some corner of my 36-year-old mind, I simply hadn't met anyone who I considered to be "the one." Still, I figured I'd probably end up married at one point or another. "Some day," I thought to myself.
However!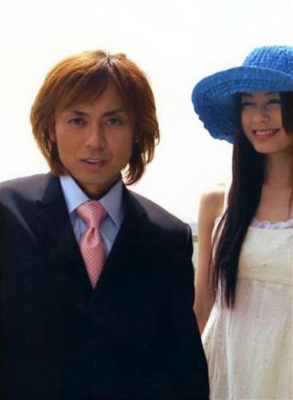 It was the spring of 2005. I was on my break at work and for no reason in particular I went on the net to see what sort of work my friends were busy with at the time. "So that's what that guy's up to these days!" "Ooh, he's working really hard. I have to do my best, too!" I was just absent-mindedly thinking these sorts of things as I net-surfed. I ended up on the website of a certain local Hakata TV program on which a comedian friend of mine was a regular.
Something in the corner of that website caught my eye.
It was a single picture, and seeing it felt like a revelation from the gods. I immediately thought to myself, "I have to meet this girl!" The picture was too small to properly tell what she looked like, but even so, I was just drawn to it. "What is this feeling…?!"
I immediately contacted my friend, told him I had to meet this girl, and he got me her email address. Me and her then exchanged a couple of emails before we spoke on the phone for the first time. My friend had of course told her that I wished to speak with her, so a lot of what she said to me in that phone call was her trying to figure out why on earth I had contacted her. She didn't quite know how to respond to me. She asked me if I'm really "that" Tsunku, and then said "I'm sorry, but I believe I may be a little too old to be joining Morning Musume, you know." It was difficult to tell if she was joking or being serious.
Well, it couldn't be helped. It's only obvious that one wouldn't know how to react if some celebrity called them on the phone out of the blue. It was a bit of an odd reaction — there was actually a certain kind of freshness to it. In any case, I was now more interested in her than ever.
Normally, the girls I would meet in work situations would be very stiff and nervous. Whether it be the girls I was producing or the women I met at the office, they would always act very respectfully towards me. But from the very start, this girl was surprisingly casual with me. She was very natural, and her voice sounded like she was a little bit excited. I felt like I would never get tired of talking to her.
Even though I'd never even met her yet, I couldn't help but feel butterflies in my stomach once the phone call ended.
I took advantage of the little breaks during my busy daily schedule to mail with her back and forth. Even on days when I was both physically and mentally exhausted from work, being exposed to her dialect and her gentle personality — benefits of her rural Fukuoka upbringing — would always make me feel better. She immediately found her way to my heart, so much so that she might even have been a little bit put-off by it had I told her at the time.
Then we had our second phone call. I believe it was late at night. I'd had a little bit to drink and was feeling nice and tipsy, and I felt like I was being drawn more and more towards her. But compared to me and my feelings towards her, she seemed more fickly, like she was still deciding how she felt about me — I don't think she was seriously considering a future with me at that point. Well, that was only obvious — we'd never even met in real life yet. But I wanted to make her mine. I wanted to capture this girl's heart.
I don't know how it happened, but suddenly I noticed the words "we're probably going to end up getting married, aren't we?" escaping my lips.
Looking back, that was insanely reckless, even dangerous, of me. If someone you've never even met asked you that, it's pretty much guaranteed that your answer would be a resounding "NO." Even if you did somewhat like that person, it might be quite a turn-off. And of course I knew all that myself. I don't know what I was thinking. I just said it. "We're probably going to end up getting married, aren't we?" Had she, at that time, replied "What are you saying? Don't be stupid!" I believe I would be a very different person today as a result. Just thinking about it now is enough to send chills down my spine.
However, what she said back to me was: "Mmm… we might."
"Yes! It's not a complete rejection!" In that moment, while I didn't know exactly how I would get there, I nevertheless felt like I knew where I was supposed to go from there. After that phone call, I forced my company to create an opening in my schedule and I decided I was going to Fukuoka. I think it was just around the end of the rainy season. While until that point I'd let my staff take care of everything in my life, this time I took control. I wanted to meet her no matter what. I had to meet her.
Of course, she, too, seemed quite busy with her work as a model and talent, and while I'm no Gian from Doraemon, I nevertheless went "I'm heading over there. You do what it is you have to do so you can meet me," sounding all self-important. And somehow she did make the time to meet with me — if I tried pulling a similar stunt on her today, she'd probably grumble my ear off with complaints. But she came to where we were supposed to meet at exactly the right time without a word of objection.
I could tell she probably had a full schedule: she came with a full suitcase and looked like she'd rushed to make it there in time. I believe she was just about to head out to do an on-location shoot somewhere else later.
When I finally saw her in the flesh, she looked completely different than in the picture I'd seen of her on the website. I'm not sure why, but I felt intensely relieved. We could only enjoy each others' company for a few hours, but that was enough time for me to make up my mind.
She is the one.
Honestly, I have no recollection of what we actually talked about. My wife tells me that: "I told you I'd bring you a bottle of nihonshu as a gift but it turns out I'd brought you a bottle of shochu instead, and I remember you painstakingly explaining to me the difference between the two. That really left an impression on me." In other words, I don't believe we talked about anything very meaningful at all.
Some time passed, and we met again in Fukuoka. After that, she came to see me in Tokyo. By that time, it was already summer. It was around then that I asked her to quit her job and move to Tokyo to live with me right away. But she of course had her work in Fukuoka, and she couldn't just take off and move to Tokyo like it was nothing. She's not the type of person who could ignore all consequences of her actions, leave her work unfinished and move to another city just because I asked her to. It wouldn't have led to a satisfying end result anyhow.
She didn't get caught in the moment. She decided she'd make the move only after she'd fulfilled all of her obligations and when the timing with her work was right. She's the type of woman who's able to make calm, rational decisions like that. She proceeded to get her affairs in order, and she decided she would move to Tokyo in November. We'd met only a handful of times up until then, and yet, she made the choice to come here. It can't have been an easy decision, and it can't have been easy explaining to everyone why she was moving to Tokyo — I knew I was asking the impossible of her, but I had to tell her that she could not reveal to anyone that the she was moving to Tokyo because she was in a relationship with me. Not being able to tell anyone the real reason must have been difficult.
With that said, though I did ask her to do this favor for my sake, she's an adult woman and deep inside I fully expected that she'd share this information with at least her closest friends. "Actually, the truth is that I'm…" But she's later told me that she really did not tell a soul about the real reason for her move. She didn't even tell her own father. "Are you really okay not even telling him?" I asked her. "Well, when he's had something to drink, who knows who he might tell? No, I'm not going to tell him." She looked like her mind was made.
In the end, it seems she explained it only to her mother in a roundabout way, but all her friends, her model agency, everyone she was involved with at work — she didn't give any of them one hint of the actual reason. She knew that if her friends were trying to call her, they were just going to ask her where she was and what she was doing. So rather than lying to them, she decided to just not take their calls. I can imagine how lonely she must have felt, being forced to do that.
I understand that this is coming much too late, but to anyone who was worried about my wife at the time of her move to Tokyo: I ask for your forgiveness. And to my wife: I really asked the impossible of you. I'm very sorry. She tried her best to look happy when we were together, but deep inside, she must have been so lonely. Thinking back on it, especially now as a father of a young girl myself, it was pretty heartless of me to force my wife to make a decision like that.
For about a month's time, from the end of 2005 until the beginning of the following year, my wife helped around at the dried foods store run by my parents. I didn't tell them that she was my fiancée. My parents are just your normal, everyday people from the countryside, so had I told them that we were seeing each other on the premise of getting married, they would've probably blabbered about it to all the neighborhood aunties and then the rumor would've spread all over the place. I introduced her to my parents by saying something like, "we're dating, but I don't know what's going to happen with me and her in the future. Anyway, I know the store is busy around the New Year, so you probably need the extra pair of hands, don't you? Take care of her for me."
Naturally, I couldn't go and be there with her, so I had the staff drive her over. She lived in an apartment I own next to my parents' house and she helped around with the customers at their store. Up until then, she'd spent all her New Years together with just her family and no outsiders; in comparison, the store my parents run is one of many inside a marketplace and they're open until quite late on New Year's Eve. When most of the customers have left, that's when they begin to clean up and it's very common that they're not finished until the year has already changed.
It couldn't have been easy for her to be just standing in the cold air of the marketplace as the year changed. Me personally, since that's the kind of family I was born in, I've always liked to keep myself busy during New Year's. Back when I still lived there, I, too, would often be making deliveries and welcoming the New Year as I was on my way back. We'd celebrate the New Year with my friends from the marketplace, still wearing our rubber boots, drunkenly contemplating on how hard we were all working. I could never make it home in time to watch Kouhaku Uta Gassen — I thought it was something people mostly listened to on the radio. I didn't think New Year's was an event that you were supposed to actually "spend" with someone, as in doing something somewhere.
But my wife had moved to Tokyo on the premise of having a future with me, and yet, we were unable to go on anything even resembling a date together as we spent both Christmas and New Year's apart — me in Tokyo, her in Osaka. Sure, we mailed and called each other on the phone pretty much every day, but still, I think a part of her may have been thinking what on earth she was doing with her life. Asking her about it later, she told me she'd often phone her mother, crying as she talked about how lonely she felt.
Meanwhile, my own mother, eager to see me getting married soon, was asking her questions like "you two are dating, aren't you? Are you going to get married?" But even then, my wife kept her promise. "Ah, um, no… I don't know. I'm not really sure."
Later on, my wife was speaking on the phone to a friend of hers. Her friend marveled at how my wife had managed to endure an experience like that. My wife replied to her:
"Back when I was still living in Fukuoka, I had a phone call with Tsunku. He asked me what I thought the most important thing in life is. I didn't have an answer to give him right away, so I said "I don't know — love?" It's the first thing that came to my mind. But he told me "no. The absolute number one most important thing in life is gratitude. It's to be thankful no matter what. No matter what happens, it's important to be grateful. No matter how big of a mistake you make, no matter what sort of bad thing happens to you in life, you have to be thankful about the lesson you learned from that experience. You simply have to live your life feeling responsible for your actions, and being grateful." That's what he told me. And you know what? Hearing that, it really changed my perspective on life. Up until that point, if I'd made a mistake or if something bad had happened to me, I'd always blame it on other people. But hearing his words… I don't know, I just really felt something important in what he was saying. Ever since that day, I've felt like I should stick by this person's side no matter what. If I believe in him, there's no way I don't have a life worth living ahead of me."
Hey, I say some pretty good things every once in a while! No, but apparently what I'd said to her that time had really supported her — during those difficult times, she'd often remind herself: "gratitude, remember?"
At the time, I had no idea that's how lonely my wife was feeling.
To me, that time of us being together but not yet having announced our relationship to the public felt very "exciting." One by one, I was letting everyone at work know I was getting married and getting everything else ready work-wise. It felt like we'd formed a two-person team who both had their parts to play — to me it was like a game we were playing together, clearing each level at a time. I just assumed she felt the same way. I was sure she was nothing if not excited about our future together. I was thinking about it all so carefreely. I was a man, thinking "what an exciting love I'm in! I'm going to take care of her forever!", unaware of the fact that meanwhile she was just waiting, barely able to withstand her loneliness.
My dear wife, I'm so sorry about that time.
I did not realize you felt so lonely. Looking back, it's obvious I was thinking only about myself.
When it was finally time for us to get married, I wanted to do everything just right. I got the president of my company to introduce me to a matchmaker from my wife's town — someone who my family still keeps in contact with to this day. With him in attendance, both our families got together on the auspicious day of April 29th, 2006, and exchanged wedding gifts. After that, we announced it to the press. Our involvement was never leaked to the media beforehand, and the fact that I could properly announce it through my office is all thanks to my wife keeping her promise of not telling anyone that we were dating.
Until that point, we'd never gone outside just for a walk by the two of us, so finally being able to do that felt very different. The first time we went out to do something together was to buy an earthenware pot. The store was just a few minutes' walk away from our house. There was nothing romantic about it, but she looked so happy. I had fun, too. And I was just as happy.
Reaching the milestone of getting married and being able to do the very normal thing of going out to buy something from the store like a normal human being, I felt like I'd finally reclaimed myself. Deep inside, maybe there was a part of me that knew how unnatural it was for me to be leading a life where I couldn't even go out and buy necessities. Perhaps something within me was telling me I needed to change, and that something led me to meet my wife.