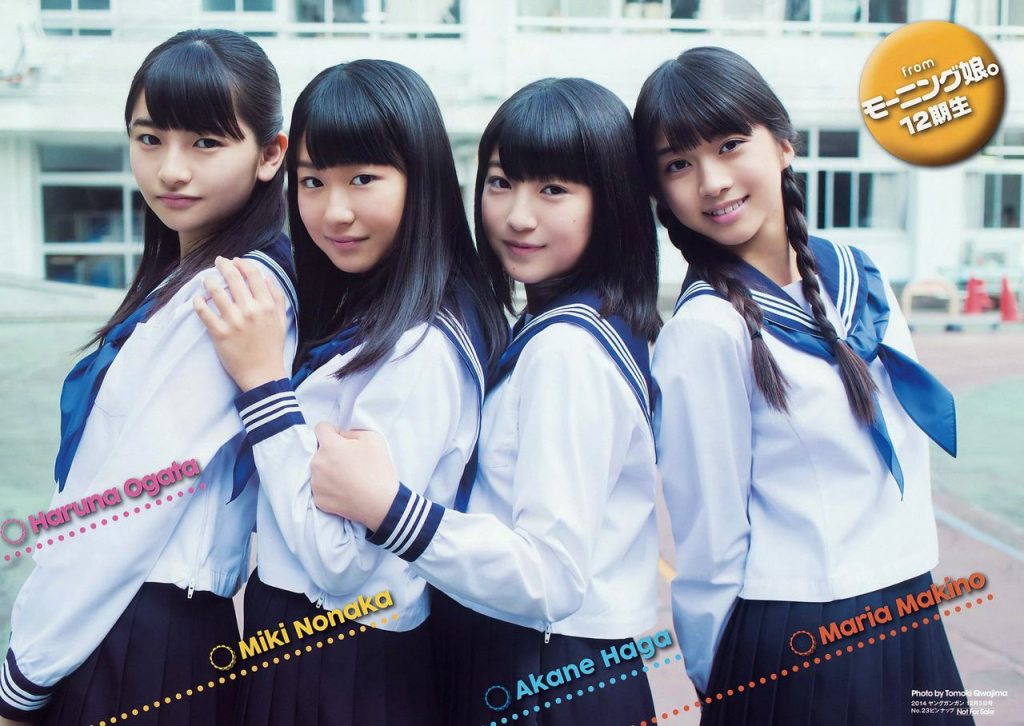 1: 名無し募集中。。。 2014/11/10(月) 16:17:09.70 0.net
Shut up, Ogata! Leave me alone!
7: 名無し募集中。。。 2014/11/10(月) 16:20:25.56 0.net
"Hey, ◯◯. Is there someone you like from our class? Don't tell me… it's me, isn't it? He he he…"
12: 名無し募集中。。。 2014/11/10(月) 16:27:06.86 0.net
"Hi there, Haga-san. Going home already?"
"Yes. Oh, I didn't know you were in the track and field club, ◯◯-kun."
"Yeah, even though his face looks like like he'd be the world's slowest runner, right?!"
42: 名無し募集中。。。 2014/11/10(月) 20:29:10.52 O.net
I got into a seat next to Haga-san, but suddenly I couldn't stop looking at that girl sitting over at the other end of the class, Makino-san.
44: 名無し募集中。。。 2014/11/10(月) 20:46:06.64 0.net
"Hey, you. You're constantly staring at Makino. You like her, don't you? Admit it!"
45: 名無し募集中。。。 2014/11/10(月) 21:02:56.94 0.net
"W-what? No, I'm… I'm not looking at her or anything…"
47: 名無し募集中。。。 2014/11/10(月) 21:45:43.77 0.net
"Apparently there's a transfer student in the neighboring class who just moved back from the States."
48: 名無し募集中。。。 2014/11/10(月) 22:37:37.15 0.net
"You mean Nonaka-san, right? She seems cute."
(Haga-san, Makino-san, Nonaka-san… just which of the three do I like the most…?)
"What're you looking all serious about? I'll lend an ear your worries!"
50: 名無し募集中。。。 2014/11/10(月) 22:47:13.20 0.net
"You and Ogata-san sure seem close, ◯◯-kun…"
Right after saying that, Haga-san stood up from her seat and walked away.
52: 名無し募集中。。。 2014/11/10(月) 23:18:42.42 0.net
(Huh?)
Before I could say anything, Haga-san had already walked out of the classroom.
She'd finally said something to me, but it was over something so trivial…
Why did she think I was close with Ogata-san anyway?
I didn't think she'd even noticed us two talking…
54: 名無し募集中。。。 2014/11/10(月) 23:44:33.13 0.net
All kinds of questions were running through my mind as I looked at the door of our classroom that Haga-san had just walked through.
"Hey, what're you spacing out about!"
…Ogata-san said to me, slapping my back.
55: 名無し募集中。。。 2014/11/11(火) 00:35:27.45 0.net
"Wh-what are you doing, hitting me all of a sudden?!"
"It's your own fault for spacing out! Well? What's up?"
"N-no, it's nothing…"
"It's not nothing, you were obviously thinking about something! Spit it out!"
Here we go again with Ogata-san leading the conversation her way as always.
Fed up, I gave her some half-hearted answer.
(Man, if only I could speak with Haga-san freely like this…)
As I was getting lost in thought, I was hit again — this time on the head.
57: 名無し募集中。。。 2014/11/11(火) 02:15:09.63 0.net
"Ow! Why do you always have to hit me?!"
"That makes it sound like I'm some bully. It's not "hitting," it's retorting to you goofing off."
"Goofing off? Yeah right. You just like hitting people, Ogata-san."
SMACK!
"Ow! There, see what I'm talking about?!"
"That was another retort. How long are you going to keep calling me "Ogata-san"?!"
60: 名無し募集中。。。 2014/11/11(火) 12:41:57.44 0.net
Ogata's character is becoming more and more established because of you guys.
61: 名無し募集中。。。 2014/11/11(火) 12:56:43.05 O.net
For better or worse, when someone passes an audition and there's a wait time before they debut, people start making them characters based purely on their image.
62: 名無し募集中。。。 2014/11/11(火) 17:09:38.68 0.net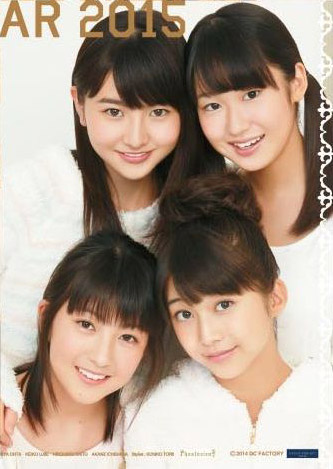 64: 名無し募集中。。。 2014/11/11(火) 20:01:30.38 0.net
"Huh?"
"I said: how long are you going to keep calling me that?! We know each other already. Okay, repeat after me: it's "Haruna"!"
"Ha… Haru… No, I can't…"
"Ugh. You're such a pain. Okay, well you come up with a nickname for me then! That's your homework assignment until the end of school!"
"N-no, a nickname is no better than–"
"Alright, I gotta go. Don't disappoint me!"
And with that, Ogata-san left the classroom.
(Just how selfish can this girl be…)
I was thinking that to myself, even as I for some reason started doing as she'd asked and began seriously thinking about the assignment I'd been given.
65: 名無し募集中。。。 2014/11/11(火) 20:38:42.04 0.net
(Haru-chan…? Haa-chan…?)
I started wondering what I was doing, spending my precious break time on something like this.
"What are you writing?"
When I turned to look towards the voice, I saw Haga-san who had returned to her desk next to mine. Before I'd even noticed it, I'd began writing my ideas for Ogata-san's nickname in my notebook.
"Ah! Nothing, I was just… doing a bit of studying…. Ha ha…"
Flustered, I quickly closed my notebook.
66: 名無し募集中。。。 2014/11/11(火) 21:45:06.87 0.net
"Studying, huh. You sure are working hard."
"Ah, n-no, not at all…"
I felt sad about how me and Haga-san's conversations would always end after just a word or two like this. I put away my notebook and decided I'd just come up with the nickname in my head.
(Her first name is Akane, so… Aa-chan…? Or maybe just Akane-chan…?)
At some point my mind had drifted and I'd started thinking about a nickname for Haga-san instead, even though there was no way I was ever going to be close enough with her to call her by one.
My original assignment remained unfinished as the school day began to draw to a close…
67: 名無し募集中。。。 2014/11/11(火) 22:42:22.29 0.net
"Homework presentation time!"
Ogata-san walked up to me just as the sixth period ended and the bell had started to ring.
"Wha–? Ah…!"
She caught me off guard. After deciding on "Akane-chan" for Haga-san's nickname, I'd been daydreaming about how our relationship could get to that level of familiarity.
68: 名無し募集中。。。 2014/11/12(水) 00:17:00.20 0.net
"Hmm? What's this? "Akane-chin"…? Pffft! What the heck is this? "Akane-chin"? Ha ha ha ha. Just what were you writing?! (laughs)"
69: 名無し募集中。。。 2014/11/12(水) 00:47:10.09 0.net
Dammit she's annoying. (laughs)
70: 名無し募集中。。。 2014/11/12(水) 01:02:43.09 0.net
I hurriedly took my notebook from Ogata-san's hands and glanced at the desk next to mine.
Phew… Thank God. Haga-san had already left for the day.
Had she overheard this, she surely would've come to hate me.
73: 名無し募集中。。。 2014/11/12(水) 03:07:48.85 O.net
"So did you come up with a nickname? … Ugh, you really have no sense. (laughs) Okay, whatever. "Haa-chin" is fine! That's what all my friends call me so I guess it'll do. So it's decided then!"
74: 名無し募集中。。。 2014/11/12(水) 04:31:43.99 0.net
What the hell are you guys up to? (laughs)
Oh. Okay.
Carry on.
82: 名無し募集中。。。 2014/11/12(水) 19:51:46.83 0.net
I got to school early, figuring I could enjoy some alone time for a while… only to find that Makino-san was already there, too. Our desks were really far apart, but since it was just the two of us, I felt kind of nervous.
(Maybe I should go and try talking to her…)
83: 名無し募集中。。。 2014/11/12(水) 20:39:22.10 0.net
"M-morning, Makino-san."
"Oh, ◯◯-kun. Good morning!"
"Do you always come to school this early?"
"Yes, I like it when there's no one else here. … Ah!"
"Oh. Well now I feel kind of guilty… (laughs)"
"Oh, no, I'm sorry. That was rude of me. (laughs)"
"N-no, not at all. … Do you want me to leave? (laughs)"
"Nooo! You don't have to do that. Please stay. (laughs)"
"Okay. I guess I will then. Ha ha ha."
"Fufufu…"
"Mornin'! … Huh? I was sure I'd be the first one! ◯◯ and Maria-chan, you two sure are early!"
92: 名無し募集中。。。 2014/11/13(木) 14:27:25.39 0.net
("Hey ◯◯, nice going. Did you confess to her already?! You lecher!")
("I don't know what you're talking about.")
Ogata, grinding her elbow against my abdomen.
Makino-san, looking at us two with a puzzled expression on her face.
Me, flustered.
And, although I didn't notice it at the time…
Haga-san, standing at the door, looking at us with a coldness in her eyes…
108: 名無し募集中。。。 2014/11/14(金) 09:39:27.56 O.net
What's with this pleasant feeling of irritation? It's almost paradoxical.
93: 名無し募集中。。。 2014/11/13(木) 14:38:48.52 0.net
Judging by what we've seen on Hello! Station, Ogata-san seriously does seem like this sort of a character. (laughs)
109: 名無し募集中。。。 2014/11/14(金) 11:46:28.93 O.net
Her desk being next to mine, I get to have lunch with her every day. I still can't talk to her, but I nevertheless look forward to this moment every day. Peeking into Haga-san's lunch box, it looks really cute and delicious. I wonder if she made that herself? If so, she's really good at cooking. Just how perfect is this girl? I'm coming to like her more and more with each passing minute.
But since it's that perfect, I guess it must've been made by her mom. But in that case, she must be loved so dearly by her parents that they'd make her lunch like this. Just how perfect is this girl? I'm coming to like her more and more with each passing minute.
110: 名無し募集中。。。 2014/11/14(金) 12:21:55.66 0.net
"Again with the yakisoba bread?! Don't you ever get tired of that stuff? (laughs)"
111: 名無し募集中。。。 2014/11/14(金) 16:39:42.64 O.net
"Let's trade!"
Ogata-san passed me a small piece of her melon bread and in exchange grabbed four fifths of my yakisoba bread before returning to her desk.
113: 名無し募集中。。。 2014/11/14(金) 18:45:21.78 0.net
Ogata-san gave me a big, self-satisfied smile as she munched on the yakisoba bread she'd plundered from me. I decided I wouldn't let her know about the piece of seaweed I saw stuck between her glowing white teeth.
115: 名無し募集中。。。 2014/11/14(金) 18:54:28.71 0.net
As the two continued messing about, Haga-san kept silently eating the contents of her lunch box.
124: 名無し募集中。。。 2014/11/15(土) 18:09:40.92 0.net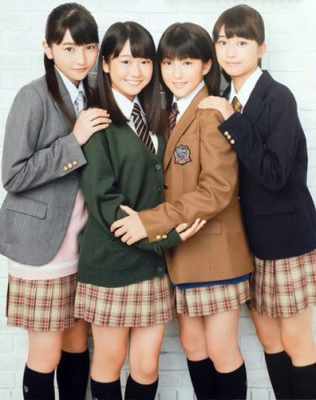 119: 名無し募集中。。。 2014/11/15(土) 09:19:00.29 O.net
The weekends are so painful since I don't get to see Haga-san…
120: 名無し募集中。。。 2014/11/15(土) 10:15:48.80 0.net
"Yo, ◯◯. Are you free right now?"
126: 名無し募集中。。。 2014/11/15(土) 20:26:25.46 0.net
Ah, man. I'm exhausted today.
Ogata kept bothering me on the phone so I had to go hang out with her all day.
131: 名無し募集中。。。 2014/11/16(日) 14:10:01.74 0.net
I didn't get a phone call from Ogata today.
(What is this strange, gloomy feeling…?)
I headed out to distract myself from having to think about it.
121: 名無し募集中。。。 2014/11/15(土) 13:28:43.94 0.net
You guys have totally chosen the Ogata end route on this thing.
154: 名無し募集中。。。 2014/11/18(火) 09:13:17.10 O.net
The briskness of Monday morning, knowing I'd be able to see Haga-san again for the first time in three days.
155: 名無し募集中。。。 2014/11/18(火) 13:56:21.12 O.net
Haga-san called in sick today…
The teacher asked me to deliver some print-outs to her after school.
Just the thought of it made me so nervous that my chest hurt…
156: 名無し募集中。。。 2014/11/18(火) 18:57:33.20 0.net
"What, are you nervous? I'll come with you then!"
173: 名無し募集中。。。 2014/11/21(金) 00:45:26.07 0.net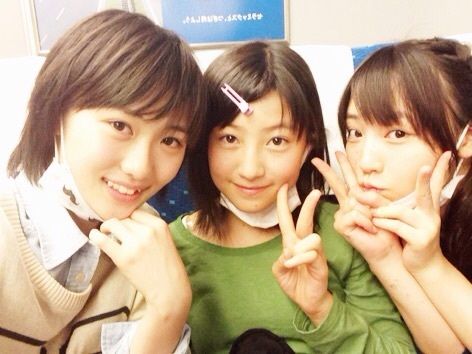 159: 名無し募集中。。。 2014/11/18(火) 23:40:00.31 0.net
Ogata-san ended up coming with me to Haga-san's house.
We rang the doorbell and Haga-san came to greet us, a tint of red on her face.
I know it was imprudent of me, but I just thought she looked so incredibly cute…
Ogata-san started talking to her, going on about what had happened at school today. It didn't look like she realized that we should probably let Ogata-san get back to rest as soon as possible.
12. 名無しさん@ハロプロキャンバス 2014年11月24日 11:42 ID:W9RZGvBI0
"Well, since it's come to this… want me to be your girlfriend then?
J-just kidding!
Ahaha… Ha ha…"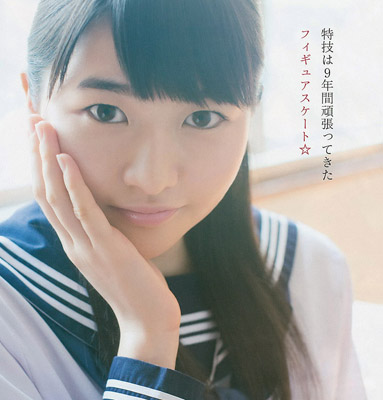 114: 名無し募集中。。。 2014/11/14(金) 18:47:27.68 0.net
"Hey, let's play figure skating! You be the ice rink!"
Henkka: I'm pretty much convinced this thread is an accurate portrayal of Ogata Haruna's real life personality. I guess that's a sign of good fan fiction.

Source: http://helloprocanvas.ldblog.jp/archives/42041117.html