It's now come to an era when you can
find girls at H!P stores like it's nothing!
1:名無し募集中。。。:2012/10/30(火) 19:42:12.96 ID:0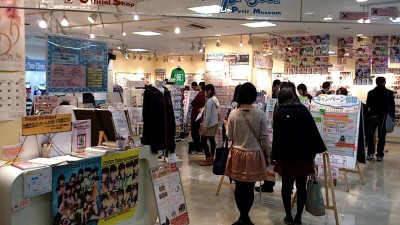 3:名無し募集中。。。:2012/10/30(火) 19:43:16.25 ID:O
Shibuya?

4:名無し募集中。。。:2012/10/30(火) 19:43:38.71 ID:P
There were even couples there.

5:名無し募集中。。。:2012/10/30(火) 19:44:27.08 ID:0
Women are so shallow. It's like, what were you all doing before the idol boom? Mountain climbing? Yoga? English conversation?
45:名無し募集中。。。:2012/10/30(火) 20:04:45.35 ID:0
>>5
Exactly. You can't trust women at all.

6:名無し募集中。。。:2012/10/30(火) 19:44:34.36 ID:0
It'd be hard to go inside.

9:名無し募集中。。。:2012/10/30(火) 19:45:18.41 ID:0
Looks like it wouldn't stink quite as much as before. I approve.

10:名無し募集中。。。:2012/10/30(火) 19:45:52.16 ID:0
Of course you can now find them there.

14:名無し募集中。。。:2012/10/30(火) 19:46:34.84 ID:0
The lesbian holy grounds.

15:名無し募集中。。。:2012/10/30(火) 19:46:58.92 ID:0
Whaaaaaaaaaaaaaaaaaaaaaaaaaaaaaaaaaaaaat!

22:名無し募集中。。。:2012/10/30(火) 19:51:31.26 ID:0
The Kudo-Sato effect, huh?

26:名無し募集中。。。:2012/10/30(火) 19:54:39.26 ID:0
Seeing them even doing a feature on the members' makeup on Hello! Channel now, it makes you realize just how much the female fans have actually increased.

28:名無し募集中。。。:2012/10/30(火) 19:57:29.47 ID:0
Around half the comments on °C-ute's blogs are by women, many of them by students the same age as the members.

30:名無し募集中。。。:2012/10/30(火) 19:59:02.29 ID:0
This is a positive trend.

31:名無し募集中。。。:2012/10/30(火) 19:59:33.41 ID:0
Women just stand still at the concerts. They're unnecessary.

34:名無し募集中。。。:2012/10/30(火) 20:00:20.59 ID:0
There's nothing there that women would want, is there?

35:名無し募集中。。。:2012/10/30(火) 20:00:22.14 ID:0
H!P really got popular.

36:名無し募集中。。。:2012/10/30(火) 20:00:34.35 ID:0
As long as they aren't bothering anyone, why should you care who's attending the concerts or what they're doing?

43:名無し募集中。。。:2012/10/30(火) 20:03:10.44 ID:0
My reaction:
"Yeah right, as if…"
…
"No way!"
49:名無し募集中。。。:2012/10/30(火) 20:09:58.76 ID:0
The 9th and 10th gen members are saying they go to the H!P store often, too, so you should look around yourself when you're visiting there.

50:名無し募集中。。。:2012/10/30(火) 20:11:06.02 ID:0
It's the girls who really love their idols. The guys in this fandom are all good-for-nothing losers.

51:名無し募集中。。。:2012/10/30(火) 20:11:40.06 ID:0
As long as the number of fans is increasing, I don't care if it's guys or girls.
I'm a solitary wota so it's not like I'm going to have interactions with anyone anyway…
57:名無し募集中。。。:2012/10/30(火) 20:15:38.47 ID:0
Was this taken on the day they held a handshake event in the Shibuya store? It was just crowded because of that. Normally it's a lot more quiet.
60:名無し募集中。。。:2012/10/30(火) 20:23:59.58 ID:0
>>57
No. It was even more crowded on the day of the handshake event.
62:名無し募集中。。。:2012/10/30(火) 20:26:10.33 ID:0
Last time I went, it was around half and half of guys and girls.
They seemed to especially favor Kuduu and Fuku-chan.

67:名無し募集中。。。:2012/10/30(火) 21:00:16.79 ID:0
The amount of female light wota have increased and the longtime male wota have decreased.
74:名無し募集中。。。:2012/10/30(火) 21:09:05.01 ID:0
>>67
Leaving aside the topic of whether H!P has actually made a full comeback or not… isn't that what's supposed to happen when someone starts selling?
69:名無し募集中。。。:2012/10/30(火) 21:03:52.13 ID:0
There were lots of couples at the Summer H!P concert!

70:名無し募集中。。。:2012/10/30(火) 21:06:01.16 ID:0
Woooooohoooooooooo!

73:名無し募集中。。。:2012/10/30(火) 21:07:52.69 ID:O
Lately there are lots of girls who don't even attend the concerts and only come by to buy the goods.

76:名無し募集中。。。:2012/10/30(火) 21:11:01.03 ID:0
A sea of lesbians.
I'm aroused.

78:名無し募集中。。。:2012/10/30(火) 21:12:06.66 ID:0
For women it's always just a passing fad. Don't raise your expectations.

79:名無し募集中。。。:2012/10/30(火) 21:12:54.22 ID:0
As soon as the idol boom is over, they'll all disappear.

83:名無し募集中。。。:2012/10/30(火) 21:16:08.75 ID:0
This past Saturday at the Shibuya store, this mother came in with her daughter who must've been around 9 or 10 years old. She only bought two sets of those 300 yen L-size photos of Sayashi-chan, but she looked so pleased.

89:名無し募集中。。。:2012/10/30(火) 21:20:54.27 ID:0
>>1
There's nowhere near this many people at AKB's Shinjuku shop lately. (laughs)

93:名無し募集中。。。:2012/10/30(火) 21:24:30.56 ID:0
It's crazy how much the number of female wota has increased lately.

94:名無し募集中。。。:2012/10/30(火) 21:25:44.73 ID:0
The other day when I went, there were five people aside from me and they were all women. Then afterwards on the train, there was a woman standing nearby who was carrying a H!P store bag.

95:名無し募集中。。。:2012/10/30(火) 21:26:23.26 ID:0
9th and 10th gen members are probably getting the most media exposure from that age range of idols.

96:名無し募集中。。。:2012/10/30(火) 21:26:46.72 ID:0
I'll be honest: I feel uncomfortable with so many women around. Am I the only one?

97:名無し募集中。。。:2012/10/30(火) 21:31:09.35 ID:0
I honestly just feel glad.

98:名無し募集中。。。:2012/10/30(火) 21:35:56.74 ID:0
When there are more girl wota, even the members look to be in a good mood. It's a good thing.

99:名無し募集中。。。:2012/10/30(火) 21:37:05.17 ID:0
I'd be happy if it was just normal girls, but at concerts there's this type of fan that's constantly trying to get the members' attention with strange voices and stuff. Honestly those are even more of an eyesore than the freaky male wota.

100:名無し募集中。。。:2012/10/30(火) 21:37:49.37 ID:0
I bet they're all ugly.

117:名無し募集中。。。:2012/10/31(水) 01:53:54.48 ID:0
>>100
A lot of H!P's girl wota are the ones who didn't make it through their auditions. Looks-wise they're way better than average.

110:名無し募集中。。。:2012/10/30(火) 22:27:45.25 ID:0
It's always surprising to see a female wota wearing a Michishige hitosuji shirt* or something.

(* TL note: Below is the original 2011 Michishige hitosuji T-shirt, released for her 22nd birthday. The text translates to "I am devoted to Michishige. I will not fall for younger girls."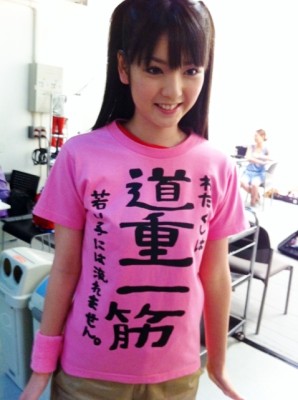 She followed it up next year for her 23rd birthday with the shirt below. Text: "After all is said and done — Michishige. I fell for a younger girl but I'm back now.")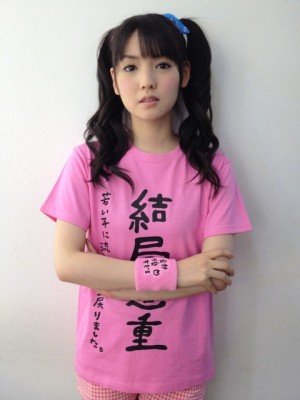 111:名無し募集中。。。:2012/10/30(火) 23:34:48.34 ID:0
I was looking at a handshake event happening in Ikebukuro and it was clear that girls don't get any preferential treatment from the staff or the members. Preferential treatment is reserved only for the kids.

Henkka: >9 is definitely one of the huge bonuses that female fans bring.

Source: http://oha2.blog.fc2.com/blog-entry-504.html (jp)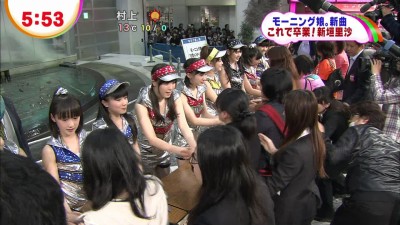 Terada: "The increase in the number of
female wota is thanks to 9th and 10th gen"
1:名無し募集中。。。:2012/05/13(日) 12:12:07.71 ID:0
Tsunku Boy:
"The number of female fans suddenly increased a whole lot with 9th and 10th gen joining the group. Feels like a sign of the times."
5:名無し募集中。。。:2012/05/13(日) 12:13:56.03 ID:0
I bet there are also women like Michishige who just like little girls.
10:名無し募集中。。。:2012/05/13(日) 12:15:23.02 ID:0
"Suddenly increased"… how did he confirm that?
14:名無し募集中。。。 :2012/05/13(日) 12:16:42.13 ID:0
There has definitely been a surge in female wota.

23:名無し募集中。。。 :2012/05/13(日) 12:19:15.31 ID:0
The auditions are a big part of it. It's a chance for them to get in the group.

25:名無し募集中。。。:2012/05/13(日) 12:19:17.02 ID:0
One reason must've been the popularity of their blogs.

34:名無し募集中。。。:2012/05/13(日) 12:21:46.11 ID:0
There's definitely been more and more women ever since 9th gen.
37:名無し募集中。。。:2012/05/13(日) 12:22:46.21 ID:0
You all saw them on Hello! Pro TIME when it showed last year's Budokan or the Mobekimasu event at Yomiuri Land, right? I really have no clue what brought them here all of a sudden.

40:名無し募集中。。。:2012/05/13(日) 12:22:54.76 ID:0
It's thanks to the Platinum Era.

42:名無し募集中。。。:2012/05/13(日) 12:23:35.19 ID:0
There have been more fans ever since around Rival Survival. Why's this guy only bringing it up now? (laughs)

44:名無し募集中。。。:2012/05/13(日) 12:24:36.28 ID:0
They'd already increased by the time of Takahashi's graduation concert. Terada's late to the party. (laughs)

46:名無し募集中。。。:2012/05/13(日) 12:24:44.01 ID:0
The first time I really thought there was starting to be more of them was at the Kame-Junjun-Linlin graduation concert. Ever since then they've never really went away either.

52:名無し募集中。。。:2012/05/13(日) 12:26:34.40 ID:i
Yesterday at the Osaka performance there was a young girl wearing a Sayashi T-shirt in the seat in front of mine.
56:名無し募集中。。。:2012/05/13(日) 12:27:27.06 ID:0
>>52
Sayashi has lots of young girls as fans. She must have that admirability factor.
61:名無し募集中。。。 :2012/05/13(日) 12:28:00.75 ID:0
Sayashi, too, was talking about how there are recently more girl wota.

67:名無し募集中。。。:2012/05/13(日) 12:29:16.11 ID:0
Let's get along with the female wota.

70:名無し募集中。。。:2012/05/13(日) 12:29:34.23 ID:0
At Nakano Sunplaza, there was a girl nearby swinging nothing but orange glow sticks. Must've been a Kudo wota.

75:名無し募集中。。。:2012/05/13(日) 12:29:53.91 ID:0
I wonder how women look at idols who are younger than them.
77:名無し募集中。。。:2012/05/13(日) 12:30:27.03 ID:0
>>75
Lovingly. Like how they would look at their own children.
80:名無し募集中。。。:2012/05/13(日) 12:30:56.27 ID:0
Just stating the obvious: Musume getting new fans does not equal to this board getting any more users.

82:熊五郎 ◆KQuXvLdrz2 :2012/05/13(日) 12:31:14.41 ID:0
Popularity calls even more popularity upon itself, creating this sort of popularity bubble. Likewise, unpopularity calls even more unpopularity upon itself, and those that are unpopular get even more hate than they normally would. It feels like H!P has finally managed to escape from that. (laughs)

84:名無し募集中。。。:2012/05/13(日) 12:31:39.19 ID:0
You mean to say that the number of male wota has gone down so the percentage of women has gone up.

89:名無し募集中。。。:2012/05/13(日) 12:31:59.72 ID:0
>>84
No, they're attracting new fans.
101: 忍法帖【Lv=40,xxxPT】 :2012/05/13(日) 12:33:28.12 ID:0
They picked exactly the right girls.

105:名無し募集中。。。:2012/05/13(日) 12:34:19.28 ID:0
It feels like all the wota jokes aren't getting across to many people in the 9th and 10th gen members' threads. I wonder if it's because they're all girls?
133:名無し募集中。。。:2012/05/13(日) 12:37:10.64 ID:i
I became a fan with 9th gen joining, too.

138:名無し募集中。。。:2012/05/13(日) 12:37:39.42 ID:0
There were definitely young women becoming fans with 9th and 10th gen joining, but there were already lots of female fans before that — they just weren't young.
157:名無し募集中。。。:2012/05/13(日) 12:39:30.58 ID:0
What's amazing about Sayashi is how the young women admire her, the older women feel affectionate towards her, the old guys like her almost without exception and the younger guys don't seem to mind her, either.

160:名無し募集中。。。:2012/05/13(日) 12:39:39.89 ID:0
>>1
Don't misunderstand, Tsunku: no matter which way you look at it, this is all thanks to the Platinum Era. The results are only just finally starting to appear.

176:名無し募集中。。。:2012/05/13(日) 12:41:21.88 ID:P
What surprises me lately is seeing girls at fan club events, other events with limited access, and all these things that you actually have to blow lots of money on in order to attend.

178:名無し募集中。。。 :2012/05/13(日) 12:41:26.08 ID:0
It's not because of the new members. It's because AKB made idols something more acceptable which has just led to more women at these kinds of events. Takahashi's graduation had nothing to do with it either. Just a coincidence.

194:名無し募集中。。。:2012/05/13(日) 12:42:32.49 ID:0
Even before the AKB boom you could already start seeing girls in social media saying they like H!P.

200:名無し募集中。。。:2012/05/13(日) 12:43:00.89 ID:0
These same girls who just a while ago were saying they like Hamasaki Ayumi or Koda Kumi have just moved on to idols. In short, women are just following a trend.
216:名無し募集中。。。:2012/05/13(日) 12:44:24.47 ID:0
>>200
The women who are just following a trend are the AKB wota. (laughs)
The female H!P wota aren't the type who run after the newest fads.
210:名無し募集中。。。:2012/05/13(日) 12:43:56.05 ID:0
Sooner or later the boom is going to end. It'll be interesting to see how many of them will be left after that.

235:名無し募集中。。。:2012/05/13(日) 12:46:11.81 ID:0
I don't think it's because of the members. With Yokohama Arena and Budokan they've started playing bigger venues more, making it easier for women to make their concert debut. The first day at Budokan last year must've had the highest percentage of women in the history of H!P.
259:名無し募集中。。。:2012/05/13(日) 12:47:39.42 ID:0
>>235
This. Even if they were fans of 5th and 6th gen, during the Platinum Era it was hard for women to attend the hall concert — which was all that the group was really doing. There's this certain atmosphere…
282:名無し募集中。。。:2012/05/13(日) 12:49:45.87 ID:0
>>259
Yeah. If it's a big venue and a graduation concert even, that's the easiest type of concert for new fans or first timers to attend. If it's just a regular tour concert or an event, there's this sort of mood that's already in place which makes it hard to join in.

248:名無し募集中。。。:2012/05/13(日) 12:46:50.21 ID:0
Budokan definitely had a lot of women.

261:名無し募集中。。。:2012/05/13(日) 12:47:44.50 ID:0
The female wota increased thanks to Terada.
281:名無し募集中。。。:2012/05/13(日) 12:49:43.06 ID:0
>>261
That's what it comes down to, yeah.
297:名無し募集中。。。:2012/05/13(日) 12:50:59.37 ID:0
Takahashi's graduation concert had a crazy amount of female wota wearing yellow T-shirts. Where were you all hiding up until now?

298:名無し募集中。。。:2012/05/13(日) 12:51:02.60 ID:0
I'm an ex-Ishikawa wota and it's been ages since I last attended concerts or anything, but sometimes when I happen to pass by Musume or °C-ute events, I'm always surprised by how young and not disgusting the wota nowadays are. In my time it was nothing but the elite left, so I thought there'd be folks even more disgusting at this point.

315:名無し募集中。。。:2012/05/13(日) 12:52:26.73 ID:0
S/mileage has lots of new fans, too. The young guys are increasing in number, too. Just what happened here?
346:名無し募集中。。。:2012/05/13(日) 12:54:48.77 ID:0
If Terada had any analysis capability, he wouldn't have so disastrously failed with Musume going straight from the Golden Era to the Eclipse Era.

358:名無し募集中。。。:2012/05/13(日) 12:55:37.73 ID:0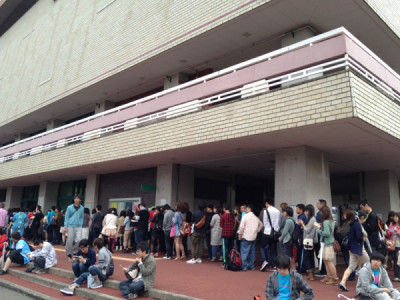 The number of girls at Musume events has really increased. Little by little it's been going up ever since '09.
372:名無し募集中。。。:2012/05/13(日) 12:56:59.42 ID:0
>>358
This still looks so unreal. Appearance-wise, they all look like normal girls, too. Just what could've caused this?
391:名無し募集中。。。:2012/05/13(日) 12:58:24.44 ID:0
>>372
You must not underestimate the power of girls' word of mouth.
408:名無し募集中。。。:2012/05/13(日) 13:00:36.62 ID:0
>>391
Right. You constantly see people on this board going on about how female fans don't earn H!P any money, but that's just not true. Most importantly, many of them bring their friends along, too.
399:名無し募集中。。。:2012/05/13(日) 12:59:27.74 ID:0
>>358
So there's still people wearing happi coats.
411:名無し募集中。。。:2012/05/13(日) 13:00:50.23 ID:0
>>358
So many girls…
369:名無し募集中。。。:2012/05/13(日) 12:56:38.85 ID:0
Female wota like watching those live videos from Platinum 9 DISCO and stuff, but there were almost no women attending that show. Because women only follow the latest fads, there was a time lag in them noticing it.
388:名無し募集中。。。:2012/05/13(日) 12:58:10.86 ID:0
>>369
There are definitely lots of comments on YouTube going "why didn't I notice how great Musume were back then?"
426:名無し募集中。。。:2012/05/13(日) 13:02:25.17 ID:0
>>388
They couldn't have noticed. It's like Musume were doing their thing behind closed doors. If I hadn't seen Michishige on London Hearts, I probably still couldn't tell you the name of any other Momusu member aside from Yaguchi.
383:名無し募集中。。。:2012/05/13(日) 12:57:48.04 ID:0
Girls blow quite a lot of money on things they like. On the other hand, if it's not something they particularly like, they don't pay a dime for it.
393:名無し募集中。。。:2012/05/13(日) 12:58:41.60 ID:0
>>383
In that regard, they're a lot more unforgiving than men.
392:名無し募集中。。。:2012/05/13(日) 12:58:30.09 ID:0
Judging by the quality of customers at the Yomiuri concert, you wouldn't believe it was a H!P event.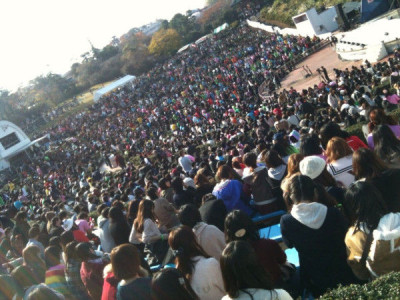 401:名無し募集中。。。:2012/05/13(日) 12:59:41.50 ID:0
Women get bored of stuff fast. They won't remain fans out of habit like you guys.
410:名無し募集中。。。:2012/05/13(日) 13:00:47.47 ID:0
>>401
What? It's the opposite. Once women start cheering someone on, it takes a lot for them to get bored. Even washed-out visual kei bands are able to go on because their fans never stop supporting them.
471:名無し募集中。。。:2012/05/13(日) 13:06:20.54 ID:O
Autumn of 2007 was when there were the least female wota.

481:名無し募集中。。。:2012/05/13(日) 13:07:33.38 ID:0
>>471
Yep.
486:名無し募集中。。。:2012/05/13(日) 13:07:55.83 ID:0
>>471
That much can be definitely said.
503:名無し募集中。。。:2012/05/13(日) 13:09:19.09 ID:0
After six years, I'm thinking I might make my return to the fandom. Who do you recommend?
530:名無し募集中。。。:2012/05/13(日) 13:10:58.81 ID:0
>>503
Sayashi and Kudo are the aces. If you like eccentric girls, Ikuta and Sato are for you.

619:名無し募集中。。。:2012/05/13(日) 13:17:47.23 ID:0
>>503
All of them, though personally I like Sayashi.
514:名無し募集中。。。:2012/05/13(日) 13:10:01.57 ID:0
The number of fans has increased because they want to see the newbies of 9th and 10th gen trying once again to reach the level of what was the absolute pinnacle of the group — the Platinum Musume.
630:名無し募集中。。。:2012/05/13(日) 13:18:44.19 ID:0
While female fans have increased, more than anything I feel that the young male audience has increased as well, though of course H!P's fans still have an image of consisting mostly of older guys. But the male fans that are junior high school, high school or university students have really started popping up, too.

638:名無し募集中。。。:2012/05/13(日) 13:19:09.16 ID:0
I can't begin to imagine what type of idols the female wota like.
647:名無し募集中。。。:2012/05/13(日) 13:19:58.55 ID:0
>>638
It used to be that they mostly liked the type they could look up to, but now there are lots of fans that support the girls who they can just relate to.
640:名無し募集中。。。:2012/05/13(日) 13:19:21.10 ID:0
Yanakana has been talking on radio about how cute the new members are and how it feels like she's raising 9th gen herself. Maybe the new members tickle the maternal instincts of single women who don't have kids of their own?
763:名無し募集中。。。:2012/05/13(日) 13:31:31.97 ID:0
>>640
That might just be true. Kuduu's just too cute.
777:名無し募集中。。。:2012/05/13(日) 13:33:00.41 ID:0
>>763
There seem to be considerably many single women who are in their thirties. It could be that many of them think of 9th and 10th gen as their own daughters, too.

658:名無し募集中。。。:2012/05/13(日) 13:21:10.49 ID:0
They should do more events exclusive to women. That's especially the kind of thing that'll spread by word of mouth, increasing the number of female fans even more.
681:名無し募集中。。。:2012/05/13(日) 13:22:25.13 ID:0
How can I attend Morning Musume's concerts? Do I have to join a fan club?
707:名無し募集中。。。:2012/05/13(日) 13:24:52.57 ID:0
>>681
No, you don't. You can if you want to.
718:名無し募集中。。。:2012/05/13(日) 13:26:03.28 ID:0
>>681
You can buy tickets at any ticket outlet, just like you would with any other singer's concerts.
719:名無し募集中。。。:2012/05/13(日) 13:26:05.68 ID:0
>>681
You only need to become a member for fan club exclusive events.
771:名無し募集中。。。:2012/05/13(日) 13:32:22.64 ID:0
>>681
You know those ticket machines they have at convenience stores? Just buy your ticket from those. You can check all the concert dates and stuff at the official website. If you suddenly decide you want to go like the day before the concert or something, check Yahoo Auctions. You can also try asking ticket shops about same-day tickets and then go buy them there just before the concert (although lately they're often all sold out).
Really, what happened to H!P all of a sudden? They weren't this popular around last year's Winter H!P concert.
722:名無し募集中。。。:2012/05/13(日) 13:26:09.20 ID:0
I still remember when all of Yoshizawa's female fans disappeared with her graduation.

727:名無し募集中。。。:2012/05/13(日) 13:27:01.35 ID:0
I think there might be feelings of maternal instinct especially for the Takahashi wota who are now watching over Sayashi's growth.
761:名無し募集中。。。:2012/05/13(日) 13:31:30.47 ID:0
>>727
This!
731:名無し募集中。。。:2012/05/13(日) 13:27:22.35 ID:0
The other day when I went to Yoshizawa's solo event, more than half the audience were women.

751:名無し募集中。。。:2012/05/13(日) 13:30:41.10 ID:0
>>731
That could mean that while men instantly gravitate towards younger girls, once women come to like someone, they never let go.

770:名無し募集中。。。:2012/05/13(日) 13:32:12.57 ID:0
There were female wota four or five years ago as well, but appearance-wise they all looked like female wota, too. Lately there are more fans who just look like normal girls.

786:名無し募集中。。。:2012/05/13(日) 13:33:49.55 ID:0
I moved over from Ai-chan to Sayashi without issue. Damn the office for making everything go exactly according to their plan.

791:名無し募集中。。。:2012/05/13(日) 13:34:37.70 ID:0
There are female wota that wear wota T-shirts, but it's nice how there's also lots of girls who wear cute ordinary clothes.

823:名無し募集中。。。:2012/05/13(日) 13:39:42.85 ID:0
The other day at the Nakano concert, this rather pretty girl was at the seat next to mine. I couldn't concentrate on the concert at all.

824:名無し募集中。。。:2012/05/13(日) 13:40:02.33 ID:i
If you go to their concerts, you'll notice that especially on the second floor there's lots of girls the same age as 9th and 10th gen cheering them on.
937:名無し募集中。。。:2012/05/13(日) 14:16:53.28 ID:0
Tsunku's analysis is always completely off.
941:名無し募集中。。。:2012/05/13(日) 14:17:37.24 ID:0
>>937
Hopelessly so.
955:名無し募集中。。。:2012/05/13(日) 14:21:54.96 ID:0
Those of you who are denying what he's saying just haven't been to their concerts in a while.
979:名無し募集中。。。:2012/05/13(日) 14:27:53.94 ID:0
I admit that female fans have increased. I'm not denying that. It's just that if Tsunku doesn't understand why that is, he risks losing those new fans because he doesn't know how to keep them happy.
962:名無し募集中。。。:2012/05/13(日) 14:24:12.36 ID:0
Terada's never reflected on anything once in his life.
Henkka: While 2ch seems to be appreciative of the increase in female fans for the most part — aside from the usual set of comments about girls just running after fads of course — they never reach a conclusion as to what makes women tick; why do girls like H!P?
Well, obviously there's no one single answer that holds true for everyone. But what about you women that are reading this now? Why H!P and why female idols? Do you look up to them, or is it more of a thing of being able to relate to them? Are there those aforementioned feelings of maternal instinct? Or is it simply because of Tsunku's irresistibly sexy music?
Source: http://oha2.blog.fc2.com/blog-entry-181.html (jp)