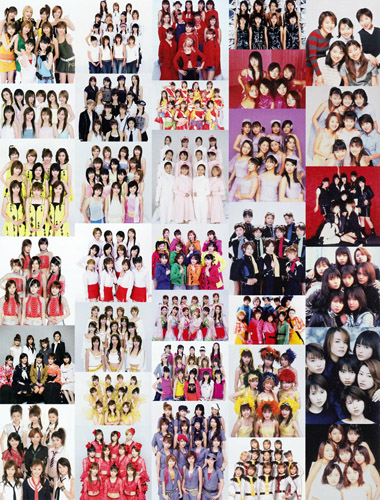 Into the Golden Era!
The Aesthetics of a Producer

Tsunku♂: "Morning Coffee" was a success based purely on cuteness. Up to "Daite HOLD ON ME," Morning Musume had been a successful idol group among males as well as the female viewers of ASAYAN. There were some difficult times after that, but thanks to "LOVE Machine" I could now see what it was that I needed to do. Office ladies, grandpas, grandmas, children — everyone liked Morning Musume. They had become successful. FM radio, cable radio, karaoke — every day you could hear the support for the group. It made me happy.
Now then, here's where it gets interesting…
— The momentum immediately spurred you into creating a new unit: Pucchimoni.

Tsunku♂: People calling Abe the "mother ship of Morning Musume" now felt only like a fleeting moment in memory. Goto had arrived. The group was gaining in popularity fast with Goto in the center of it all. By the time her summer vacation ended, Goto had already changed her hair — she was back to being a normal, black-haired junior high schooler. I decided to create a new unit with Goto, the focus of everyone's attention; Ichii, who was as dazzling as always; and Yasuda, who was plain but happy-go-lucky.
When the main group is doing well it suddenly starts to feel like it might be dangerous to try out certain things with it, and so my thinking was that I could get away with trying those things if it was a sub-unit instead. If Morning Musume was curry rice, then Pucchimoni was like the pickled onion on the side. In my mind, the way I saw it at the time was similar to Mazinger Z and its small pilders — they're usually together, but the pilders can also operate by themselves. (Though don't ask me what Mazinger Z gets up to during that time. (laughs)) But it was because of "LOVE Machine" coming first that "Chokotto LOVE" could materialize — both the music and the music video.
— But really, those lyrics… I would imagine that girls all over Japan were nodding in agreement. They were very easy to identify with.

Tsunku♂: Even now when I read them back I feel like I did a pretty good job. (laughs) While I did throw away a couple of initial song ideas before arriving at that one, I'm pretty sure the final idea didn't take me more than an hour to write — and it was all because my theme for the group was "tiny Morning Musume."
Among the abandoned ideas was this one song called "Konya wa Chicken Rice." I even recorded my demo vocals for that one. But after having done that and hearing it back, I just thought, "ahh… no, this isn't it." Unexpectedly for us, "LOVE Machine" actually turned out to be popular with kindergarteners and preschoolers as well, and I felt that we shouldn't let go of that audience either. I thought that I should write a song that would attract them, too. That's why I tried making it about food that children all love. But that's when I came to learn something: you shouldn't make music that plays down to kids. It was the same thing in our youth — even back when we were just tiny little kids and we'd be constantly made to listen to all this music aimed at children, even then we knew that stuff like Finger 5 was way cooler.
And yet, I could now see that I myself was trying to do something to curry favor with the kids. That's not what music is supposed to be about. Music should be more dignified; more pointed. It needs to be something everyone will think is cool. That's how I felt. So when I was recording my demo vocals for the song, that was fun enough in itself. But it wasn't rock'n'roll. So after I'd recorded my demo vocals, I immediately started writing another song. The group itself was to be like a tiny version of Morning Musume, so I thought… "LOVE Machine… okay, so then I'll go with just a tiny bit ("chokotto") of love!"
I was reading this student survey and it seemed so unbelievable, I almost thought I was reading satire. The question asked from them was "what is the most important thing to you?," and so many of the students had answered "friends" or "family." It really left an impression on me. I remember thinking that I wanted to incorporate something like that in the lyric. Still… me actually coming up with a lyric like "koi to iu ji wo jisho de hiita zo / anata no namae soko ni tashiteoita zo" ("I looked up the definition of the word "love" in the dictionary / and added your name to it")… That was a miracle. I must've been more busy than I even realize. (laughs)
— To the members it must've felt that you could see their true nature; like you were putting what they were feeling at the time directly into your lyrics; as if you were sending them a kind of a message.

Tsunku♂: It's not like I was constantly observing girls their age. (laughs)
— No, I'm just saying it's such a strange thing how you're able to put those particular details of girls that age in your lyrics.

Tsunku♂: The thing is that, on some emotional level, it feels like I'm standing right there on stage with them. It's like I'm playing a simulation in my mind where I'm the singer and I'm trying to figure out what it is that I want to convey.
— Did you always feel that way ever since you first started writing lyrics?
Tsunku♂: As a rock musician, the extent to which I could sing about what I truly felt inside was largely determined by how much was "cool" and how much wasn't. Up until "Single Bed," I'd always just tried to play it cool. I was constantly thinking about my style — the way I wanted people to perceive me and think about me. The most important thing to me was that I wanted people to think I was a good lyricist. I wanted to be respected. Because someone like me, someone with no backbone or credibility, how could someone like that ever demand respect? I'd risen to a place where I was like a stray dog, wanting to establish myself as some sort of a brand. But of course something like that was never going to happen.
However, I happened to come upon "Single Bed" right as I was standing at that crossroads in life. That was the exact moment I changed the way I approached lyrics.
The song ended up becoming a million-seller, my way of writing lyrics kept changing, and I came to realize why the musicians of the world tend to reach a dead end. Had I remained solely in Sharan Q forever, I'm sure I too would've eventually reached a dead end, not knowing what to sing about. I'm sure I wouldn't be the person I am today. But through having met Morning Musume and all the other groups, I could have protagonists other than me singing my songs. That's why I could write all kinds of lyrics using all kinds of words. In that sense I'm grateful for having met those girls. I can make idols sing about my true feelings, while still using the same rock'n'roll formula. I think that's very important.
— Another thing that the role of a producer requires of you is the ability to see inside the hearts of the members and offer them encouragement when necessary, right?

Tsunku♂: The longer a member spends in the group, the more tiresome it becomes to keep playing that role. That's why you have to keep constantly letting them blow off steam. They're not like the idols of the past. It's no longer an era when idols claim that they "never go to the toilet" or that they "never kiss." That's why in the lyrics I always have them experience love, and I have them experience unrequited love. Sometimes they get sweaty, and sometimes they'll have snot running down their noses. I don't see anything wrong with that.
— As Morning Musume was entering the 21st century, the group then consisted of three original members, three 2nd generation members, and one 3rd generation member. Did your relation to the members change at all?
Tsunku♂: In the very beginning, me and the members both still had some free time so they would come in early and we would practice together. During recording, some members would be constantly watching me work, while others would be eating their box lunches or doing their homework or something. Everyone was just doing whatever. It was a very cozy atmosphere. Certain members being all happy when they heard their vocals that had been improved from a mere 60% to a full 100% thanks to our editing… (laughs) But as they became more popular, they started coming in to the studio just barely before we were supposed to begin, and once they were done they'd leave immediately. It became more difficult to match our schedules.
— I feel like I now understand what the original members meant when they were saying how you were like the sixth member of the group — or perhaps even more than just another member.
Tsunku♂: We would sing together. Remember, I'd only just started in the field of producing, too, so I felt just as strained as they did. There'd be times when I was writing one song while Sharan Q was on tour, and then going into the studio the very next day to record a whole other song with Morning Musume. I would never allow them to feel like they were busier than me, and I would never show them a tired expression. And neither would they. They could see me being busy, and they knew that I would take 100% responsibility for the music; that I would deliver the results. So I think it was this feeling of mutual trust. Like an unspoken inner bond.
---
Enter the Greatest Monsters of Them All:
Tsuji & Kago

— There was a string of hits following the release of "LOVE Machine," and it seemed that no matter where you went or what you were watching on TV, one simply couldn't avoid seeing Morning Musume everywhere. Did you have any sort of idea about where you wanted to take the group next?

Tsunku♂: I think I had a strong sense of wanting to prove I could do something I hadn't been able to perfectly achieve with Sharan Q. After "LOVE Machine" came out, I decided I wanted to do a trilogy of songs — not three songs that were exactly same, but in the same style nevertheless. So rather than thinking about sales figures, I thought we'd just try to respond to what the fans wanted. Sure, they might be a bit bored of it by the end, but it was like… "Let's just give them what they want." I felt like it was important to do that seeing as it was popular music after all.
— Everyone always wants to be an innovator.
Tsunku♂: Right. Artists have a tendency of betraying their fans. "Look, I can do this kind of music, too!" When I was still an amateur I would see this kind of thing in the industry and there was just something so lame to me about it. So I was conscious of trying to do better in that aspect — compared to what I'd done in Sharan Q.
— Was "Koi no Dance Site" part of that plan?

Tsunku♂: I felt that I wanted to try and see just how far I could change all those old dance classics into sounding like the current era. I think "Koi no Dance Site" came to me quite effortlessly after "LOVE Machine." I played with the melody a bit, changed it into something more major key, tweaked the rhythm a little bit… but I didn't make any major changes. I was trying to be very adamant about the "not betraying the fans" thing up to and including "Happy Summer Wedding." You might say that I was just riding the wave.
— The sudden wedding song was a surprise though. That was the last song for Ichii, as well as the first for 4th generation. It felt like you were quite mindful of Nakazawa's age, too. (laughs)

Tsunku♂: No, I wasn't thinking about her age in particular, but it did feel like having Nakazawa do the spoken lines gave the song a good balance. My thinking with "Happy Summer Wedding" was… Sharan Q would sometimes be asked to play at weddings of our friends or business acquaintances. But even when we were, we didn't have a song among our best-known ones that would've been fitting for an event like that. So I wanted to release a wedding song with Morning Musume while they were still on top.
— Even today the members are still singing the song at each others' weddings.

Tsunku♂: Yes. I'm glad to have done it. (laughs)
— And this is where the monsters — Tsuji and Kago — come into the picture. It felt like a new kind of Morning Musume was about to emerge. It was a different kind of shock compared to how it had been with Goto.

Tsunku♂: Who's calling them "monsters"?! See, for us they didn't come across like that at all at the time. Looking back, it felt like the scope of girls who wished to join Musume Morning widened with Goto joining the group. Girls would admire Goto for her edginess or her coolness, and while some of those girls hadn't taken part in past auditions, thinking "this group isn't for me," many of those same girls would now instead think "I want to be in this group!" and send in their applications. Of course, the number of applicants — both children and otherwise — grew, just because the group had become such a huge success. Even girls who would normally try to act tough would now be going, "I want to be in that group with Gocchin!"
— It felt like even the girls who had previously felt cynical about Morning Musume were now starting to pay attention to them.

Tsunku♂: Yes, girls like that began taking part in the auditions as well. And that would lead to us meeting those four…
— The 4th generation was comprised of two members who were still complete children, as well as two members who were around the same age as Goto. But character-wise it was quite varied: there was the "beautiful girl character," the "quiet character"… Was this also part of you trying to maintain a good balance within the group?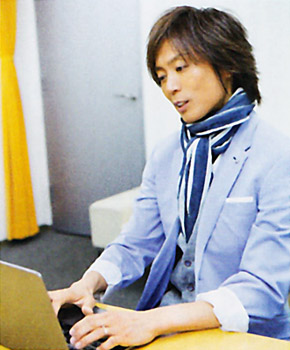 Tsunku♂: Looking at the group as a whole, it was perhaps starting to feel like Goto alone was playing too many roles in the group. It was at a time like this that we did the auditions. The president of my company at the time told me to "just keep it to two" before immediately leaving for overseas. My thinking, too, was along the lines of, "yeah, I'll just take one or two if there are any good ones." But as the auditions progressed, I came to think that if I only added one or two members in 4th generation, they would be unfairly compared to Goto. Thus, I remember deciding on the final four to lessen each member's respective amount of responsibility and attention that would surely be placed upon them. While I'd been told to keep it to two members, I got the TV show to announce it as being four people just so it'd already be an established fact — there were going to be four.
Ultimately, that number of new members turned out to be correct.
— Tsuji and Kago were both still elementary schoolers at the time of the auditions — they felt like a very unexpected decision based on the image of what Morning Musume had been up until that point.
Tsunku♂: Kago was tiny but she already had sex appeal, whereas Tsuji was just a tiny bit more mature. They were very much the moodmakers. Tsuji would follow Kago's example — not wanting to be outdone by her — and get everyone fired up. They were noisy — I'm not going to deny that. Compared to the two of them, the other two came across as quiet. But both Yoshizawa and Ishikawa managed to find their respective positions within the group. All four of them had loads of personality.
— Since after the release of "LOVE Machine," it had felt like Goto's radiant presence in the group was just overwhelming.

Tsunku♂: They had kept running at full-speed for two years, and by then her presence in the group was to the point that even girls like Abe and Yaguchi were mentally just taking a break. It was all Goto, all the time. But with Tsuji and Kago joining, they made it so that even Goto could sometimes relax. What with Nakazawa's graduation, it must've felt to the fans like the first chapter of Morning Musume was ending. It certainly got people in the group talking. Despite her looks, Goto is actually a very sensitive person and so she'd been forced to really strain those nerves of hers. But when the 4th generation came into the picture, she could finally feel somewhat at ease. And with the arrival of Matsuura and everything, it was a time of all these roles being distributed to a larger group of people.
— Do you feel that it isn't good to focus on only a single person by making them the "ace" or "center"?
Tsunku♂: If we think that idols reach their peak after the first three years, in that sense it would've been possible for us to push through with just one center. But skill-wise, they just weren't discplined enough to have the endurance to be able to do it. You have to keep changing it up — if you don't, the person in question will end up breaking apart. That's why we never had any permanent centers. Ultimately, that also tied into how Morning Musume has been able to go on for 20 years now. You distribute the responsibility to more people, and as the consumers also have their own likes and dislikes, there are more members for them to choose from, thus broadening the group's audience. I think that must also be why they don't get bored of the group.
— Is this something you discovered through your producing work?

Tsunku♂: Yes, through trial and error. It's true that it's easier to create new works when you have a center. It's good to have an ace pitcher when it's just a one-off match. But when it's an ongoing, long-term season, and you happen to lose your one ace pitcher, then it's game over.
---
Like Producing an Entire Era…

— Releasing one hit after the other, this must have been a fun time for you as a producer.
Tsunku♂: It was. I do feel that I was in "the zone." I knew everyone was paying attention and it felt like each time I reached in and pulled out something that had been accumulating within me, it would always get a response. That's why when we did the one-off shuffle projects, I would always use the opportunity to try out some new style of music. With the shuffle units, I would also make heavy use of new members to get them warmed up and to give them some experience. That's why I decided to try out the oldies sound with Kago, Matsuura, and Ishikawa — 3nin Matsuri. It just seemed like a fun idea, and furthermore as Matsuura had already started her solo career, I think it also became a learning opportunity for her. "It's thanks to everyone that I'm able to perform solo like this. I didn't realize how difficult it is to work in a group."
— It was also a very fun time for the fans as they got to wait in constant anticipation to see what you might be coming up with next.

Tsunku♂: There's something about the sub-units and the shuffle units that lets me challenge things that are more personal than what I can do with the main units. Take someone like Ishikawa Rika, for example. The general consensus among fans was that she was a bit of a late bloomer when compared to the rest of the 4th generation members. Yes, it's true that she was behind the others in terms of her singing and her voice. But her character, her balancedness, her personality — she was someone I put a great deal of trust in. But the most important thing about her was her power of absorption. It was like, I could knock her down a thousand times and yet she would always get back up and say "please let me try again!" What I wanted to do was to show this about her to everyone to push her to the next level. That's how I felt.
I made Tanpopo into a four-person group, first to have Kago stand out. Next, after Ishikawa had gotten used to things a bit in Tanpopo, she became the central point of Country Musume as its supporting member. She had good results in Country Musume as well, and she started to stand out in a good way on TV shows and magazines as well. As she did, her whole expression began to change. Up until then, she'd always spoken with this tiny little voice… but suddenly, her speaking and the expression on her face had become like the definition of "self-satisfied." It was almost like Ishikawa was biding her time until taking the center in "The☆Peace!" And when she did, it felt like she was saying to me, to everyone around me, and to all the members: "no one has any objections… right?"
Previously, if she'd suddenly been chosen to feature on a song that way, she might've drawn back in fear, going "I can't do it!" But because she already had all these experiences under her belt, she was able to say "I'll do my best!" The fans seemed to approve, and to me it felt very much worth doing as I watched her develop. Of course, had I felt that she was failing or just being too plain in Country Musume (that is, had she not gotten to the point where I expected her to get), she would not have received the main part in "The☆Peace!" I feel like the sub-units and shuffle units were important for developing both the individuals as well as the main groups which they were part of.
— "I WISH," "The☆Peace!," "Mr. Moonlight ~Ai no Big Band~"… it almost felt like you were giving each of the 4th generation members their turn in the center role.

Tsunku♂: No, that's not the case. Every day it was like they were engaged in a silent war. When Yoshizawa had first joined the group, it felt like she was constantly just following Goto around. But once they were in Pucchimoni together, I suppose that's when Yoshizawa found her opportunity to improve herself. Afterwards, Goto entered this kind of a mental state of rest, and that's when Yoshizawa took her chance. Just as I was thinking about how I wanted to make the next song sound like a musical, I decided to give it a try with Yoshizawa — as one of the taller members in the group — in the male role. And she fulfilled my expectations perfectly. She'd come up with her own story for it and everything.
— Did the members all become the way you had hoped for them to become?
Tsunku♂: No, not 100% according to my ideals. For starters, Fukuda's withdrawal and all the new members joining after that, none of that was planned — I couldn't have anticipated any of it. So any hopes as to what I wanted the group to become would fall flat in no time. If anything, had the group become exactly like how I wanted it to be, they probably wouldn't have become a huge success in the first place. I believe it's actually the group straying from my expectations and hopes for them that creates this kind of energy; becoming an accelerator for them; giving them that explosiveness. You expose something to too much gravitational force and then it's under so much pressure that you run the risk of breaking it — or downright destroying it. But being exposed to that same gravitational force is also what gave all of the members unity and fortitude. Even now I feel that that's something they deserve respect for.
— Was it those four girls in 4th generation finding their personalities and characters that made Morning Musume even bigger?

Tsunku♂: The 4th generation was great all around. In a way, we'd already won the moment those four first joined the group. Had that generation not worked out, I don't think the group could have gone on to last for 20 years.
— Honestly, were you at a loss as to how to handle Tsuji and Kago?

Tsunku♂: You know, I really didn't feel that way. Those two could still pay mind to others to some extent. And their whole "look at me!" thing became something of a hint for me as well. Of course, they would also be merry and fool around when I was with them, but when I said "alright, time to start recording," they were able to switch into recording mode. So while they would mess about, they also recognized the act of recording as being something that deemed respect — which would calm them down well enough. Their manager might've had their work cut out for them though. (laughs)
— You're very understanding. (laughs)

Tsunku♂: Fundamentally, there's always the music between me and the girls. We'll talk about things relating to the music — sometimes about trivial things, sometimes about more serious topics. Apart from that, we'd also talk about line distribution or their position in the group, things which I'd be deciding based on the particular girl's ability and the manner in which she fit in the group at any given time. But while those decisions were always made by me after careful consideration, I do think that the members always understood my decisions. "Okay, yeah. It has to be this girl now." That's why I would never throw someone a bone just because they were a child and they were acting sulky, nor would I ever invite a favorite member of mine out to lunch, or anything like that. Sometimes you hear rumors about other agencies… they'll have members who are in such a bad mood that they won't even come out of the dressing room. There was never a member like that. Not even one.
---
After the Matsuri…
Starting Anew With the 5th Generation

— What with constant producing offers of all kinds coming your way from the idol and entertainment industries, did you have any big concerns at the time?

Tsunku♂: There wasn't anything I was constantly worried about 24/7, 365 days a year. Not in relation to work. I didn't have a private life, but work was fun so it was doable. Recording certainly beat golf. Sure, I'd be tired and stuff — it wasn't all fun — but my work would lead to direct results and it gave me a sense of fulfillment. And of course the members would respond to my wishes. So there was the collaboration between me and the members, as well as all the positive feedback — not just the sales numbers. There was a lot for me to be happy about.
— Your actions had so much power, they would influence society as a whole. I would think it was also in some ways scary for you.

Tsunku♂: It was. Looking back on it now, if only I could've seen myself a bit more objectively, I feel like I could've done things a little better. I could've been stronger. Maybe I spent too much time at work. But I guess it can't be helped — I did like doing it, after all.
— So you're saying that had you been able to take a more bird's-eye view, things for both you and the group might've been different, both then now?

Tsunku♂: Yes. But then it's all connected — had anything been different, I'm not sure I could've produced those same works; if all the organizational changes within the groups would've happened. The one thing I know for sure is that I felt fulfilled, so I have no regrets.
— The 5th generation then joined the group. But while the 4th generation had been very colorful, the 5th generation had a strong image of being more subdued. Before long, Goto's graduation was decided upon, too. It felt like Morning Musume's star was gradually beginning to fade.

Tsunku♂: That had nothing to do with the 5th generation. It's only to be expected that people will eventually lose interest. I think they did very good. Konno — who really couldn't sing — became an announcer, and Ogawa was the person to first create the path for graduated members to go to study abroad. It was Ogawa who made a song like "Hajimete no Rock Concert" as good as it could be, whereas it was Konno who did the same with "Namida ga Tomaranai Houkago."
— So those particular members being there was something that led to those new songs being born. Looking back on that period of time now, however, do you feel that there was anything you neglected to do?

Tsunku♂: To be honest, it was around this time that I should have created something like the Eggs or Kenshuusei. I wanted to create a system — implemented into the audition system itself — for girls who had the potential but weren't quite ready yet; a place where we could've developed them while also maintaining their motivation. But due to circumstances with the office also running a music school at the time, it was difficult to create such an organization at the time. It was just grown-up, business stuff — but through me pretending to be an adult by just accepting it that easily, I might have actually made a creative obstacle for myself.
— Still, the hits kept coming until the 6th generation joined the group.

Tsunku♂: It would've been nice to get another really big hit, but I didn't want it to seem like I was specifically trying to do so… Looking back, this was a time when I was sort of trying out all kinds of different songs. Although, of course, I'd always been thinking about what I could do with both the music as well as the group as a whole.
— What was actually your impression of the 5th generation? Whereas Goto Maki and the 4th generation had had the power of changing the color of the group as a whole, with the 5th generation it kind of felt that you hadn't been trying to find characters that the group hadn't seen before — they came across more as girls who would fit right in to Morning Musume.

Tsunku♂: There had been a sort of an audition committee formed around this time — there were now meetings with several people getting their say in the matter. So during these auditions, I would be receiving outside opinions. "This girl's great." "Please let this girl through to the second round." It was a strange time, but we got through it. But in any case, I still had no intention of picking girls who seemed "fitting" or like "safe choices" for the group. I was always looking for explosiveness.
The group was about to enter a certain long-term period — like the Edo period had been for Japan. It's a name the fans came up with all by themselves: the "Platinum Era." The members who sustained the group through that era were 5th generation members Takahashi and Niigaki. The group as it was in its "Platinum Era" — named after the Platinum 9 DISC album — was a group known for its high-quality performances. Takahashi is someone who stood out from the beginning. Niigaki, being the youngest, didn't stand out as much initially, but she made the 5th generation so much brighter with her A+ smile that she had from the very start. And all out of nowhere her singing would improve as well — hearing her sing a song like "Sukiyaki" for the first time, it just shocked me. It was around that time that her dancing suddenly got a whole lot cooler as well. I would depend on Takahashi a lot, but Niigaki too later became an indispensable part of Morning Musume. She did a good job playing the role of the group's "sister-in-law" just before her graduation.
— The members themselves were quiet and subdued — they had a tendency to think negatively of themselves, so they didn't dare try to push their way to the front. But behind the scenes, they were steadily getting stronger and stronger.

Tsunku♂: With that sort of thing, it was their manager at the time instilling that feeling in them. I'm sure that whenever they were commuting or waiting at the concert venue or whatever, the manager would always be grumbling to them about that kind of thing — even while they were trying to eat. After all, if someone is responsible for them, it's their producer. But really, those girls always did their best no matter what the era. Even if Takahashi really just couldn't seem to lose her accent. (laughs)
— While Tanaka would go on to bring a breath of fresh air to the group in the 6th generation, she was actually already a participant in the 5th generation auditions.

Tsunku♂: That's right. She came to the 5th generation auditions, but she was under our age limit at the time. I was going "who cares about that?!," but as there were lots of small children watching the show and refraining from applying as per the age limit, we decided that we, too, had to obey the rules in this instance. But I did get the staff to convey to her the message that she definitely needed to come and apply again the following year. So when we did the 6th generation auditions, I remember thinking "I wonder if she's going to come…?"
— What drew you to Tanaka Reina?

Tsunku♂: First, her singing. In her audition video, you could see her little brother and stuff in the background. I kind of liked that, too. You could see her home — even her mom and dad looked cool. She was rock'n'roll.
— Ah, that strange feeling of rock'n'roll that only you can sense. I would bet that to the average person she must've looked like just another countryside delinquent. (laughs)

Tsunku♂: I'm sure there are lots of delinquent families like that. But there was a kind of sex appeal about her entire being. And to be honest, even when she first came to the 5th generation auditions, I remember thinking that she was already good to go. In my mind, she'd already passed the audition back then.
As for Michishige, I first saw her at the 6th generation auditions, and despite me thinking that I was satisfied with picking just Tanaka, she just hooked me. Her singing wasn't good in the least, and yet I was just so curious about her. At the auditions I used the expression "master" to describe her. Even now when I look at her, I feel the same way. She was only 13 years old, yet she was already so complete. Look at her before her debut and just before her graduation — it's amazing how nothing at all had changed. Kamei, on the other hand, was the type who would keep developing more and more. In the beginning it seemed like she was always just following the other two around, but there was this one particular moment when she truly got the hang of dancing. It was from that point on that both her expressions as well as her singing began to change, too. She lost that image of carelessness that she'd had, and by the time of "THE Manpower!!!" or so, she was starting to be shockingly great.
— "Shabondama" was the 6th generation's debut song, and that was when the group had the largest number of members. Moreover, it brought in Fujimoto Miki who had previously already had her solo debut.
Tsunku♂: What actually happened with Fujimoto is that she'd made it to the final stages of the 4th generation auditions. Ultimately she ended up getting a solo debut instead, and she'd achieved good results and considerable popularity. She definitely had a powerful voice, but her character wasn't like that of someone like Matsuura — I felt that if she was to keep going at it solo for an extended period of time, she wouldn't be able to handle it well. So, I thought I'd try putting her in a larger group and take some time to think about what to do with her in the mean time. Thus, she became a 6th generation member.
To the other 6th generation members, it must've felt like they were in a high school club and they'd suddenly been put in the same team as their senior who was having to repeat a year. It must've been a bit awkward for them in some ways. (laughs) But being lumped in together with the 6th generation like that, I'm sure there were things the others could learn from her, and I feel that Fujimoto herself was able to give another go at being a newcomer — this time with a bit more composure.
— Still, going from being all by yourself to being in such a large group… She must've had various feelings about it all.

Tsunku♂: While that was the largest the group had ever been, when you think about how big groups like AKB48 are today, perhaps I should've added even more members — just to make it more neutral. But perhaps not doing so is actually one of Morning Musume's strengths.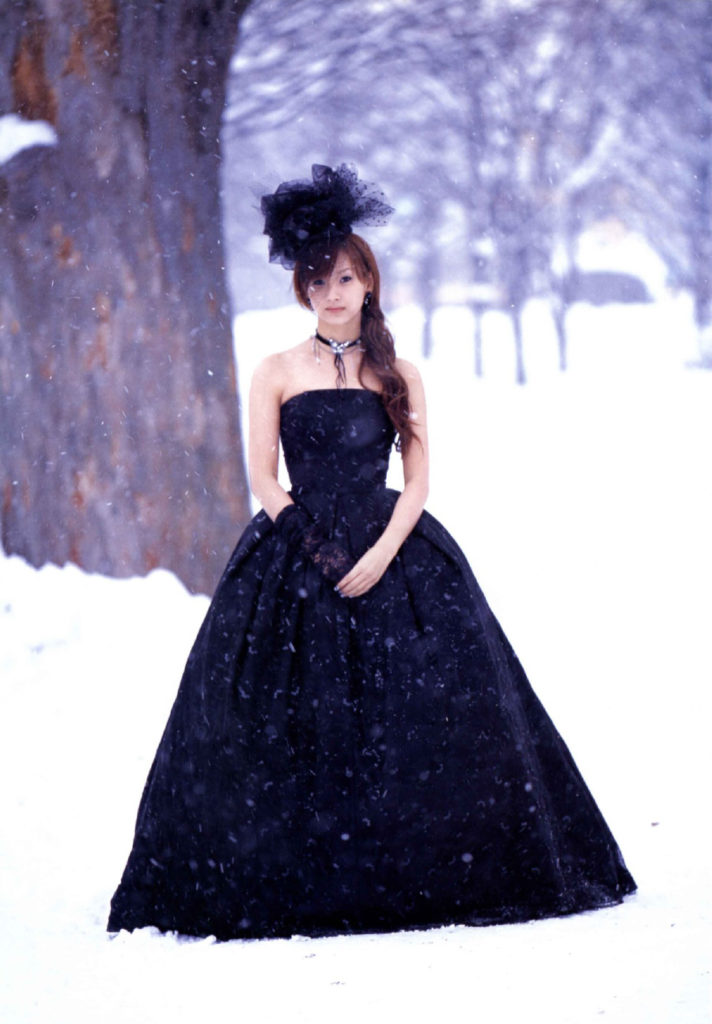 — Do you feel that that number of members is around the maximum number of members you can have if you want to properly show their individual personalities and abilities?
Tsunku♂: No, I don't think that to be the case. I knew all of the Kenshuusei even when there were 50 or 60 of them. I think it would be more of a problem in terms of costs and management.
— When the group was at its largest, it was split into two: Sakura Gumi and Otome Gumi.

Tsunku♂: This was also the office's strategy — the idea of "what would happen if we had them tour while split into two separate groups?" It's definitely true that if you split them into two teams, you get twice the revenue from ticket sales. If the Giants was to split into two, I'm sure the fans would feel like going to cheer for both halves. It's the same thing with Morning Musume. I wonder why that didn't last…? It was a good idea.
— How were you feeling musically at this time? "Shabondama" continues to be sung to this day — it's a song that once again had a bit of a different taste to it.

Tsunku♂: I had been paying lots of homage to Western music, but I had run out of ideas. Or rather, I had gotten bored with it. As I was trying to think of what might be interesting to do next, I started thinking about what makes all those golden oldies and Japanese kayou kyoku so good. I'd be re-listening to older music from the 70's and such, and analyzing to the best of my ability the songs that I thought were cool. I'd be going back and listening to Godiego and Twist, trying to figure out what made Sakurada Junko so good, analyzing the coolness of Yamaguchi Momoe… before finally arriving at Shin Gosanke.
Shin Gosanke — Noguchi Goro, Saijo Hideki, Go Hiromi. They all have something that makes them good, but I realized that Hideki is the one who also had the coolness in his sound. Although it wasn't a huge hit, Hideki had this song called "Jaguar" where he does some spoken lines. I really liked that. I felt that it might be interesting if I could do something similar, and so I made "Shabondama." At the time, I expected people to go "hey, wait a minute… you stole this idea from "Jaguar!"" But surprisingly, they never did. Thus, I'm now forced to reveal this information myself. (laughs)
Also, "Koko ni Iruzee!" was like a pogo song from our band boom days. When we first debuted in that whole era of street bands, the people who would follow those street bands would decide in an instant whether they liked a song or not — they wouldn't give you the opportunity of listening to your song a bunch of times to figure out whether it's actually good or not. I wanted to write a song with that same kind of energy.
— Would you say that it's not so much the specific members or the times that effect your music, but rather these personal cycles that you go through despite all of that?

Tsunku♂: I wasn't brought up in a musical household so I don't have extensive musical knowledge, but when I listen to the radio and I happen to hear a song that I once used to listen to a lot during an emotional time in my life, I always think "ah, this song really is great." That makes me think about how my sense (that is, my feelings in regards to music) really hasn't changed. That's why I'll do things like listen to songs that I used to think were cool in the past and see what happens when I take the good parts of those songs and try to turn them into present-day versions.
However, what allows me to be able to reach into that pocket of what I know are the members that are there at each particular moment — there are lots of songs I'm sure I wouldn't have been able to write had it not been for those specific members being there. So ultimately, it does feel like I'm writing the songs for them. "What kind of song would fit Takahashi?" "This song might go well if Tanaka's there." "If it's Michishige, it's got to be this."
---
Morning Musume Loses Its Mother Ship

— The graduation of Abe Natsumi — an original member as well as someone who had since the group's formation been considered the "face of Morning Musume." To the general public, this truly felt like the end of an era. It was you and the company who first announced her graduation, right?

Tsunku♂: When Goto was quitting, I remember telling Abe to think about what she wanted to do.
— Goto parted ways with the group unexpectedly soon.

Tsunku♂: I wanted to get Goto started on her solo career fast — I felt like I wanted to show her character to more and more people while not constraining her to any framework. That's why my thinking was that I wanted to have her graduate early. In Abe's case, I told her near the end that if she was going to stay in the group much longer she was going to get too comfortable, and so she should start thinking about her graduation sooner rather than later. (laughs)
— So that's how it was. I thought you might've been trying to get her to stay in the group for as long as possible just to avoid the group losing its "face."

Tsunku♂: I didn't feel that way at all. I was constantly telling her how the longer she stayed in the group, the harder it would be for her to quit. (laughs) It gets to be comfortable, but it must also be annoying seeing all the younger members taking your position. It might've been fun to have one member who chose to remain in the group even at age 40, but at the time it felt like… if they hadn't decided to graduate somewhere between 5 to 10 years after their mid-teens, they'd end up blaming others.
— Did you not feel like having her be an active solo artist while she was still a member of the group?

Tsunku♂: Maybe, had it happened sooner. But by then we'd entered the era of CD's not selling as much. If you go and do a half-assed attempt at a solo career and you don't get the results you're hoping for, it just feels like you're done for.
— So you personally didn't feel very strongly about the public reaction to "Abe Natsumi graduates!" — you just wanted to create a new kind of Morning Musume.

Tsunku♂: Either way, I knew it wouldn't be the same as it had been during the group's peak. I just felt that it was much better for everyone to find their own paths in life.
— You didn't feel that you wanted to go back to how things had been right after the release of "LOVE Machine"?

Tsunku♂: More than that, I just felt that as long as this thing called "Morning Musume" existed, I wanted to find new resouces — new people through auditions — and develop them. At the end of the day, I want to make music. I was constantly searching for people who could sing my music. But I felt like I wasn't having much luck finding those people, and that was one of my concerns at the time. It was making me feel impatient.
— The group, centered around members of the 5th and 6th generations — a time which would later go on to be referred to as the "Platinum Era" — was joined by 7th generation member Kusumi Koharu and 8th generation member Mitsui Aika. Then, turning Morning Musume into a global group were the "exchange students" from China, Junjun and Linlin. It became a group with infrequent member changes — a group that was extremely focused on their performances. Were you aiming to make the group this way?

Tsunku♂: No. I was constantly aiming for change and evolution. That's why there were no winners in the first 7th generation audition — I didn't have any real reason to be so greedy, but I just felt that there had to be something better out there. I suppose that's why there was no one chosen. The second time around I chose Kusumi, and then the group was four members of the 5th generation, four members of the 6th generation, and Kusumi by herself. It must've been quite lonely for her. We were so busy on the production side of things around that time, with so many different units and such, that I may not have been able to watch over her quite to the extent that I could have. Same goes for Mitsui. By that point, Morning Musume had such a large catalogue of songs that even to someone with a bit of experience it would've been impossible to learn all of them in just a couple of short months. So to those two, having come from outside of Tokyo, they might've had it even tougher than I thought at the time. That's why the both of them were able to stay so strong-willed until the end.
Looking back, Junjun and Linlin crossing the sea from China and never uttering a word of complaint… They really did their best. Linlin was so small, and yet she was such a skilled and powerful singer. I feel like that girl really raised the vocal level of Morning Musume at the time. I believe she was thinking "I can't lose to Takahashi-senpai!," and yet she was easily the better singer. And she learned Japanese so fast, too. That's the sort of hunger I would've wanted to see in the rest of the members, too.
And if it wasn't for Linlin, Junjun would've been one of the better singers of Morning Musume, too. While there are some Chinese lyrics in the song "Ame no Furanai Hoshi de wa Aisenai Darou?," I believe she didn't fully understand the meaning of the Japanese lyrics when she was singing them. I remember this one time when we were at a concert rehearsal and I got an interpreter to explain to her how I wanted her to sing the song with more feeling. Through doing that, she came to understand the meaning of the lyrics in the second verse* and when she did, she just started crying her eyes out. She'd never shown such weakness to the other members ever since the day she first moved to Japan, and yet, it felt like on that day I first saw Junjun for who she really was.
It took time watching those girls grow, and thus we simply didn't hold any auditions for a while. It just happened naturally without me even thinking about it.
* (Note: excerpt from the lyrics of the second verse of the song: "kokyou ni wa ima mo toshioita ryoushin ga genki ni shiteru / tama ni wa denwa no sekkyou mo nandaka kokochiyoi" ("your parents back home, while older, are still doing well / sometimes, it doesn't feel all that bad even when they're giving you a good scolding on the phone.")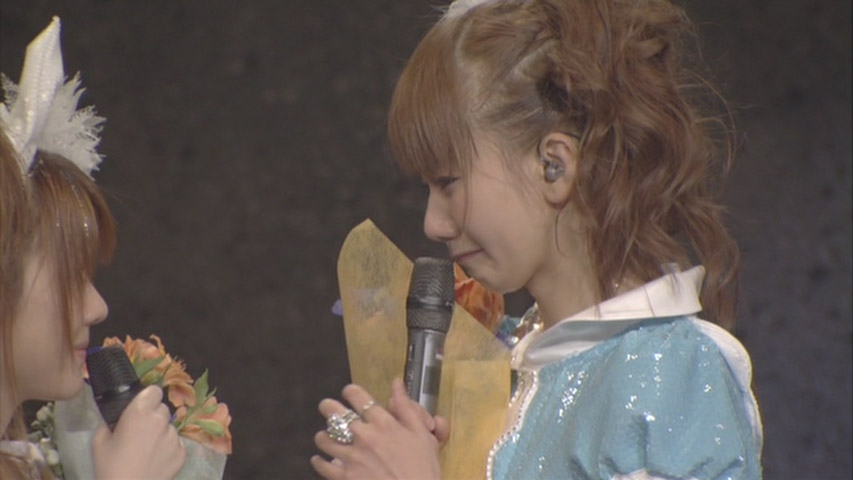 — Before all these other idol groups appeared on the scene, it felt as if Morning Musume was like the definition of "idols." And yet, at the same time, it almost felt like idols themselves had become a thing of the past. Morning Musume lost its TV show, too. However, you telling the members to "just concentrate on your performances" is apparently what reminded the members of how they had to keep their eyes on the goal.

Tsunku♂: I'm sure the members were feeling very pressured. But it's like… think of groups Takarazuka Revue and Yoshimoto Shinkigeki. They have passionate fans who keep supporting them in a major way. That's how groups like that can continue to exist.
— Both of them come across as groups who have always closely followed their own traditions.

Tsunku♂: I started going to Akihabara in around 2006. The times were changing. That was right around the time that maid cafes were becoming popular. Up until then, it had felt like Akihabara was mostly known as this place filled with electronics, with a little bit of figures and manga thrown in for good measure, and yet it had suddenly become this haven for the otaku. There were these tiny stages at cafes, at the event spaces of electronics stores, at just random places all around the area, and they'd be singing Morning Musume songs and the like. There'd be five or ten fans gathered around, all excited. Now, while I was pushing aside thoughts about how and to whom exactly they were paying royalties for doing this… (laughs) It made me excited to discover that there was something like this happening.
Meanwhile, Morning Musume would be on tour, putting out new releases regularly, and while their TV appearances were getting scarce, they would still instantly sell out three consecutive days at the Nakano Sunplaza. As far as the office was concerned, there was no problem on the performance side of things. I told them that if we were to learn from groups like Takarazuka or Shinkigeki, the performances is what we had to focus on. It doesn't matter if it's Takarazuka or Shinkigeki: even if someone who doesn't know anything about them goes to see them live for the first time, they don't just not get bored watching them for two hours — they'll be going "wow, this is amazing!" Meanwhile, there are lots of idol groups who aren't entertaining in the least. Sure, they might be popular and their fans might be filling seats at their arena performances, excitedly shouting at the members on stage. But if one of their friends who doesn't know anything about them goes to see their concert just to keep their friend company, they'll be going, "How much longer? I can't take this anymore…"
If someone who is a first-time customer comes out to see a Morning Musume or Hello! Project concert and they think, "I don't know most of the songs… but there's something amazing about these girls!," then we've won. That's what I was trying to convey to them.
— You're saying that as long as you have real strength, you can go anywhere and feel confident about yourself.
Tsunku♂: Abe wasn't a good improviser, and so while she was no match to someone like Yaguchi when they'd be appearing on TV talk shows, she'd make up for it by building up her strength at stage plays and musicals. Meanwhile, someone like Nakazawa would make the best of her "older sister" character, carving out a good position for herself.
You need to always have a sense of wanting to improve yourself by yourself — if you don't have that, you're always going to be blaming others for your failures. "It was because Tsunku♂ said this thing to me that one time." "It couldn't be helped because it was a different time." You'll always make excuses for your losses. The 6th generation was especially naive and they were brought up in an environment where it would've been so easy for them to make excuses like that, so it made me worry about them. But the overseas reinforcements, Junjun and Linlin, were so incredibly positive that it really helped. It was thanks to those two that the Japanese members of the group realized that they couldn't act soft like that.
— That goes beyond a producer — that's what a parent might say of one's children.

Tsunku♂: If I was their parent though, I might say "don't run off and get married," feeling all lonely about a daughter of mine leaving the nest. But seeing as I am not their parent, I can think, "go out there and get married." But more importantly, I also know that getting married is not their only goal in life. "It's your life. All of it." Especially once they graduate, I can no longer watch over everything they do. I am no longer able of producing them. That's all the more reason that they have to be able to take control of themselves.
— Not only do you think of them when they are in the group, looking after them, producing them… You also think of how they will do once they're gone. It really does feel like you think of each and every one of them individually.

Tsunku♂: Mmm. We are, after all, talking about the lives of members that I personally chose. I wouldn't ever want them to think, "Why did I have to be chosen? I would've wanted to have a youth that was more fun." Saturdays, Sundays, summer vacations, Obon, New Year's, Christmas — they sacrifice all of the most fun times of a young person's life. At the end of the day, I want them to feel that they made the right choice by staking their youths on this.