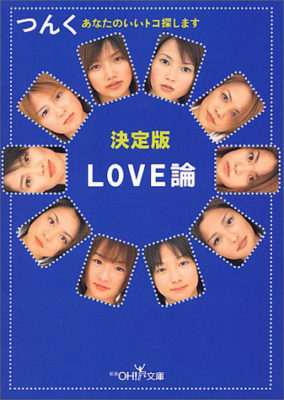 Synopsis
"I will find the good in you."
"Love Theory" (2000) is a book about women — more specifically, it's about what constitutes a "good woman" in the mind of Tsunku♂. His message is simple: everyone loves cute girls, and happily, all girls have their good sides; their own variety of cuteness. The only question is: how do you discover the good parts in yourself and make the best of what you have?
This book was written especially for women lacking in self-confidence; women unsatisfied with their current selves; women with complexes. It's not a love manual — the book is about coming to accept yourself for what you are. That said, it's also a fun read for men, as well as for anyone with an interest in early Hello! Project: Tsunku♂ makes frequent mentions of the members of Morning Musume and Taiyou to Ciscomoon, circa 2000, sharing valuable behind-the-scenes episodes. Even at such an early stage in Hello! Project's history, Tsunku♂ shows a clear understanding of its members — his talent for observing girls and their personalities was already perfected.
Tsunku♂'s writing is youthful and brazen: he wrote this book as an unmarried man in his early 30's. Due to this, it might be slightly off-putting for certain readers: 15+ years after its release, some of the things he writes may not be appreciated by all in the current era of political correctness. Just glancing at its contents, you'll notice chapter titles such as "The Ugly Woman," "The Thick-Armed Woman" or "The Easy-Looking Woman." In his writing, Tsunku♂ obviously paints with a broad brush as he does with his Osakan sense of humor.
To everyone else, however, "Love Theory" should read like a breath of honest, fresh air. At the end of the day, it's simply one man saying he loves women. While I'm not sure what Tsunku♂ thinks of his first book today, I feel quite confident that an unconditional love of women — all types of women — continues to fit his worldview and philosophy even today.
Contents