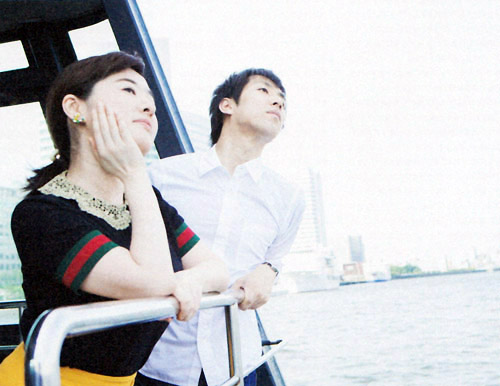 Part Six: "Homerare Sakura"
Writers Yuzuki Asako and Asai Ryo
profile the lyrics of Hello! Project songs!
Songs #1~3:
Morning Musume '16 – "Utakata Saturday Night"
(Tsuno Maisa/Tsuno Maisa/Suzuki Shunsuke)
Morning Musume '16 – "The Vision"
(Tsunku/Tsunku/Ookubo Kaoru)
Morning Musume '16 – "Tokyo to Iu Katasumi"
(Tsunku/Tsunku/Ookubo Kaoru)
Yuzuki: What an amazing single!
Asai: I love it!
Yuzuki: Last time, we ended on the worried note about what was going to happen to this serialization. But having heard this single, I now feel completely revived. (laughs)
Asai: I'm glad. The first step for us coming back was seeing the live performance of "Tokyo to Iu Katasumi" from Hina Fes 2016.
Yuzuki: These days the whole concept of actually taking responsibility for yourself is so often criticized. And yet, the lyrics go: "uragirareta toka kekkyoku iiwake de / wow wow Crazy beat / suki ga attan da ne" ("saying you were betrayed is ultimately just an excuse / wow wow Crazy beat / it's your own fault for having a weak spot").
Asai: So great. ♪ Uragirareta toka kekkyoku iiwake de wow wow Crazy beat… ♪
Yuzuki: ♪ Suki ga attan da ne~ ♪
Asai: That's scary!
Yuzuki: It's the one thing you most shouldn't say!
Asai: Just the bite of them saying "it's your own fault for being betrayed" has pulled me back to H!P in no time.
Yuzuki: And "Utakata Saturday Night!" was the finishing blow.
Asai: It's not even a Tsunku♂ song and I'm still completely hooked.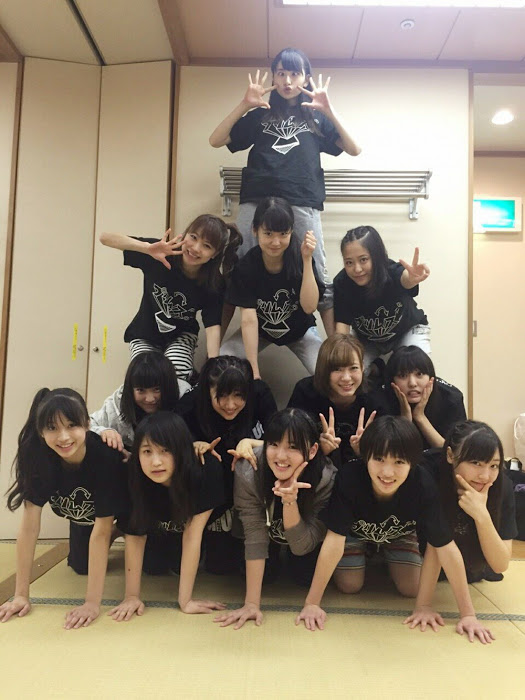 Yuzuki: This song really showed me the direction I should be headed in my life, too. Yes, Tsunku♂ truly is a genius and outdoing his works would be a challenge. But this song is the result of someone studying his classics and giving them an update. People are always talking about how the entertainment world in general is over-saturated and how it's all been done before, but this song reminded me that as long as you really study the classics and put in the work, you can create something that is of high quality.
Asai: Younger generations will study Tsunku♂'s works and keep on updating them. It's the "Disney method."
Yuzuki: Even Disney movies now have more accurate portrayals of topics like feminism and gender, whereas previously it was all movies like "Snow White." "Utakata" is like "Zootopia."
Asai: In the world of H!P, though, the debate is still ongoing. "Tsunku♂ would've done this song differently." "It has no flavor." There are still people commenting on it like that.
Yuzuki: It's a song that gets even fans of the classics heated up — at the very least it shows you that it's great enough for people to get out there and complain about it.
Asai: That ties into what we were talking about as we were watching the music video before. I wrote a little bit in "Budokan" about what exactly it is that people seek. Do people want to see others being happy, or others being unhappy? Watching the music video and seeing Zukki and the rest of them singing with all smiles, it convinced me: it's other people's happiness that we want to see.
Yuzuki: I for one do! This song makes me happy.
Asai: Sometimes you see these leaked videos of idols that have more views than even the official music videos. But the thing is: the energy you receive from that sort of unhappiness fades so quickly. "Come on! Give us the next one!" "More! MORE!" But the energy you gain from happiness is long-lasting.
Yuzuki: It makes me happy even now when I listen to the song.
Asai: I want to believe that humans are the kind of creatures that prefer to see the happiness of others rather than their unhappiness. It's something I think about whenever I listen to this song.
Yuzuki: Everyone's praising it.
Asai: There's that nuance that was also in "LOVE Machine." "Dare mo kare mo ga Nippon no shuuyaku da" ("anyone and everyone is the leading actor of Japan").
Yuzuki: But it's not like I don't understand the thoughts of people who feel that it lacks something. It doesn't have any of those elements that just make you go "huh?", like with the "shachou-san mo" ("even the company president") line in "LOVE Machine." Or "atashiya honto nice body body body" ("I have a really nice body, body, body"). When I first heard that, I was going "who are you — Suizenji Kiyoko?" (laughs)
Asai: Thinking back on it now, those were some pretty weird lyrics.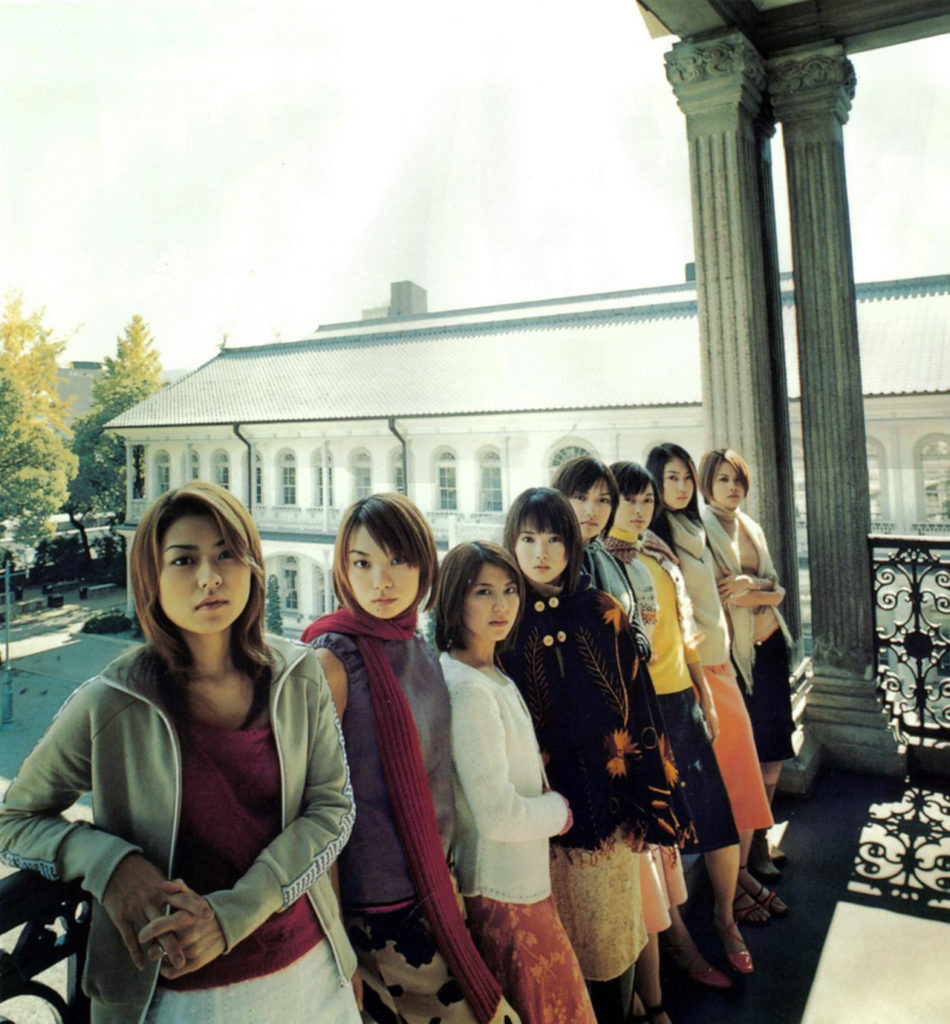 Yuzuki: Even a song like "The☆Peace!" that was just full of euphoria had lots of parts that made you go "huh?" In comparison, "Utakata" doesn't have those. Both the things they're saying and the way they're worded are very direct in this song, so like I said, I do get the feelings of people who say there's something lacking with it. But even so: that feeling of euphoria in it is the real thing.
Asai: There are no "huh?" bits, but on the other hand it has that sophistication to it — like how it doesn't specifically use the words "computer" or "smartphone," instead replacing them with "blue light." Another thing I really like is how it plays with the rhyming in the line "hibi wa suresure wasuresatte." I feel like Tsunku♂ doesn't really engage in wordplay very much.
Yuzuki: Does "GET UP! Rapper" not count?
Asai: "GET UP! Rapper" was more like… It's like he specifically said, "alright guys, listen, I'm going to try some wordplay with this song!" (laughs) I feel like the people looking for something equally as "heavy" would be disappointed with "Utakata."
Yuzuki: I don't believe that even the Tsunku♂ fundamentalists really hate this song.
Asai: I think one of Odasaku's lines is amazing. "Hontou wa motto sugoi no yo" ("I'm actually much more awesome than this"). It's like, yeah, we all think that about ourselves…
Yuzuki: That's a good lyric. That really is what everyone thinks about themselves.
Asai: To me, it almost felt like it was directed at society as a whole. "H!P is way more awesome than you think!"
Yuzuki: Also, I like how it's a strong protagonist — it's evident from the words like "furimawashite" ("string me along") and "nameru na" ("don't screw with me").
Asai: Wait a minute. Did it really have that lyric? "Nameru na"?
Yuzuki: Well, no, but it had: "hade ja nai dake de jimi na ko toka otonashii toka wakattenai ne" ("just because I'm not flashy, you mistake me as a "plain" and "obedient" girl — you don't get it all").
Asai: Oh. Your summary of that line is quite something.
Yuzuki: "Watashi dake ni shika kitto odorenai sonna beat ga aru" ("I'm sure there's a beat out there to which only I can dance to"). That's another good lyric.
Asai: I wonder if that's in relation to Maa-chan's rhythm practice tracks.
Yuzuki: Maa-chan sure is an amazing girl.
Asai: Maa-chan really shines in the chorus of "Tokyo to Iu Katasumi."
Yuzuki: She's so pretty!
Asai: She's getting prettier by the day. But it's because "Utakata" is thought of as the leading single that a song like "Katasumi" shines even brighter. I think it's great that they come as a set.
Yuzuki: Why is that though?! (laughs)
Asai: I was really surprised the first time I heard "Katasumi." I was already pretty much addicted when I was saw the choreography of the intro and thought "did Odasaku just break her neck?!" "Utakata" is a song everyone would feel like copying, choreography and all. But "Katasumi"? Not a chance. That's what makes it so great. I don't see any high school girls singing a song as scary as this in karaoke.
Yuzuki: "Kono yokubou darake no mannaka nya bukiyou ni shika ikirenu yatsu datte" ("in the midst of all this desire, there are some girls who can only live their lives awkwardly"… ♪ Iiiiiruuuuuu~ ♪ (laughs)
Asai: They hold it for a couple of seconds and just when you're starting to wonder what's coming next… ♪ Iiiiiruuuuu~ ♪
Yuzuki: "Shigarami karamiau mannaka nya" ("while everyone else is tied down")…
Asai: Oh, that is one of my favorite recent H!P lyrics. "Sururi to kawashite waratteru yatsu datte" ("there are those who manage to slip through the cracks while laughing at everyone else")…
Yuzuki: ♪ Iiiiiruuuuuu~ ♪
Asai: The balance between this song's madness and the straight-forwardness of "Utakata" is wonderful. "Utakata" is like what beckons you: "come on in, it's fun in here." Then it says "alright, I'm locking the door now," and then it starts playing you "Katasumi." And "The Vision" is wonderful, too. It's rated very highly even amongst wota.
Yuzuki: I like the line "warubireta furi nante mou hayaranai" ("pretending to be timid is no longer fashionable").
Asai: "Tanoshimu koto wa ningen no gimu nan da yo" ("enjoying yourself is your duty as a human being") is another good one. Enjoying yourself — that's a thought that seems to get a very harsh reception in today's society.
Yuzuki: Here we go again… (laughs)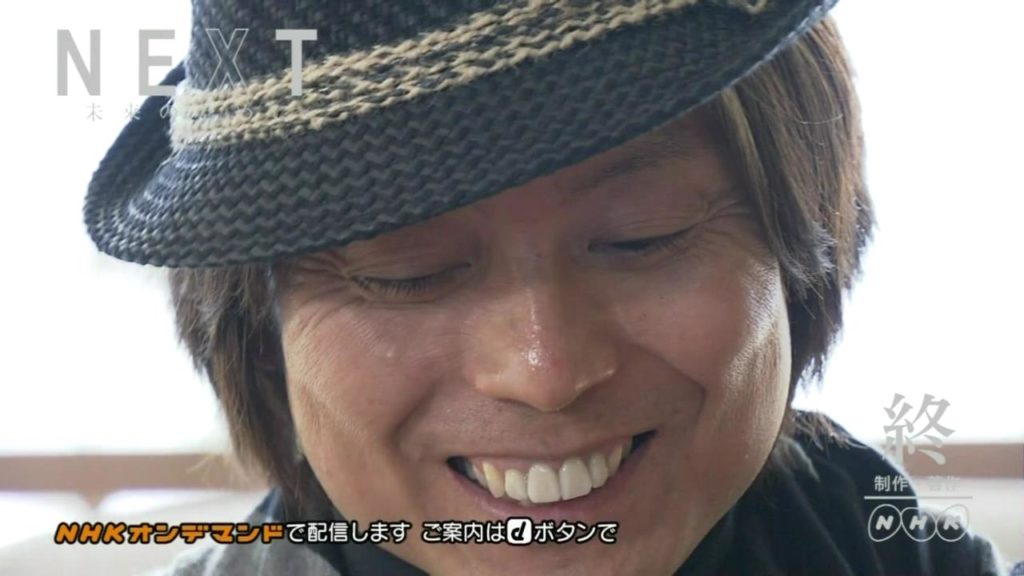 Asai: No, but seriously: don't you feel that everyone is way too harsh on people who are happy? On a societal level.
Yuzuki: Yeah. But "pretending to be timid is no longer fashionable…" I do feel like this trend of saying mean things to people just because they're happy is going to end soon. Because it's just lame, isn't it? It's like that whole metathinking thing — I feel like that trend, too, is dead.
Asai: It definitely is.
Yuzuki: I just mentioned "Zootopia." That film is set in this city of animals that all coexist together without any discrimination — until it's revealed that discrimination is actually running rampant. That's where this rabbit with a strong sense of justice comes in, determined to set everything right in their society. But then, just near the end, she's actually the one to discriminate against someone — and that someone is her closest friend. That's when she realizes: she, too, discriminates — just like everyone else.
Asai: Wait — the movie was about something that heavy?
Yuzuki: But that's when the unexpected story development happens. Sure, the movie ends with all of them happily dancing together, but before they do, it reaches a certain conclusion: everyone out there has discrimination in their hearts. Everyone hurts one another. That's why we all have to work as one, making mistakes as we go along, and think things through together. The movie says that no magic spell is going to fix things, so we simply have to tackle these problems with the help of one another. The idea in the movie, about how this tiny, cute little creature could also be the bad guy is such a fun idea, and it's like an update on the stereotypical story about discrimination. It states in a very clear way that it's not always the weak person who's the victim, nor is it always the strong person that's the perpetrator.
Asai: It definitely does sound like an update.
Yuzuki: That last scene where they're all dancing is so cool. They're all animals, so naturally they dance in their own, unique ways — the slow animals dance sluggishly and so on. That was so nice, too. And now, because it's a period in time when a movie like that can become Disney's biggest hit ever, surpassing even "Frozen," you'll have average people watching it and gradually disrupting the norms of Japanese society… Although Tsunku♂ has never shied away from doing that either.
Asai: Tsunku♂ never changes.
Yuzuki: Right. He's like Toraya.
Asai: He's always there.
Yuzuki: Maybe the times have finally managed to catch up with him. It's like "odorou ze wai yai!" is upon us more.
Asai: My ultimate motto!
Yuzuki: I feel like maybe that unspoken rule of "only cool people get to dance" has gradually changed into "hey, it's actually kinda cool when it's the non-cool people dancing."
---
Song #4: °C-ute – "Summer Wind"
(Tsunku/Tsunku/AKIRA)
Yuzuki: "Odoroita you na kao de / watashi no koto / nozokikomanaide / kyoumi hon'i de / oshitsuke / shimetsuke / zenbu ai ja nai / ego da yo" ("don't act all surprised when it was your curiosity that made you look at me / your impositions and restrictions / none of it has to do with love / it's all about your ego"). Truly wonderful lyrics.
Asai: It feels like everything I wanted to say with "Budokan" is encapsulated within those lines. "Egao to tameiki / nee docchi mo watashi yo" ("my smiles and my sighs / they're both equal parts of me") — that, on the other hand, feels like what I wanted to say with this thing I wrote that had over 10,000 characters that was about a divorced mother and stuff… but conveyed in 14 characters.
Yuzuki: That kind of thing happens to me constantly with H!P songs.
Asai: This song is about this girl singing about her boyfriend, but it also sounds like it's °C-ute singing to the wota. That's what's great about it. These days fans are no longer all that shocked over the romantic scandals that happen to H!P members, and I feel like it could be because they're periodically exposed to lyrics like this.
Yuzuki: "Sonna dekigoto hodo de honki de hekomanai yo / tada sukoshi wa shogeteru kao shiteru hou ga anshin surun desho / sewa yakeru hito" ("it's not like I'd feel seriously torn up about something like that / I just figure I need to put on a bit of a sad face for you for looking after me"). I wonder what happened to her?
Asai: They were on a date. The shop they were planning on visiting was closed or something to that effect.
Yuzuki: Really? Don't you think it was something a bit bigger than that?
Asai: No, Tsunku♂ himself wrote in the liner notes that they're on a date. "Something has gone wrong with their date! The guy talks about it with her, expecting her to feel sad along with him — or that's what it feels like to her anyway. She's looking down on him again. But in her heart, she's just sighing out loud. Deep down inside, she's thinking further along this summer; about someone new she might get to meet."
Yuzuki: I see. I must've read too deeply into it. Right now I'm actually writing this serious short story about revenge porn and this story has been my theme song when writing it… so I wasn't expecting that answer. (laughs) But whenever you hear something about revenge porn, it's always depicted how like the girl's life must now be practically over — it's a common theme you see in fiction. They're put in this box of women who will never be able to climb out of the hole created by the wounds of their sexual humiliation. But while it's true that this is a type of despair that only the victims could ever know, I wish every narrator didn't just flat-out decide that life for these women is now over. Why can't it ever be about the path out of that hole? There was this victim of revenge porn in Denmark some time ago, and do you know how she decided to deal with it? She teamed up with a cameraman and had nude pictures taken of her. And these were artful nudes, the kind even old grandmas would smile at. So here you had someone who was saying, "I took back my own body," and everyone applauded her for it. This girl became a symbol for the empowerment of women everywhere. I loved the way she chose to handle it. A person's life doesn't end just because they're sexually victimized. There are ways to reclaim yourself, and people who will help you do so. I'm going to go a bit off-topic here, but: there are way too many people out there who are always going "this person is done for!" when it's a girl who's had a scandal.
Asai: On that point, I liked how Minegishi Minami and Sashihara Rino handled it. Everyone around them was saying they were done for, but they stayed strong and went on to find the next great thing for them. They handled it in a very "Summer Wind" kind of manner.
Yuzuki: True! I like girls who have that "Summer Wind Feeling" about them.
Asai: And yet, people are always so quick to claim how this or that girl is "finished" just because they had their picture taken with a guy or because they gained a bit of weight or something.
Yuzuki: They're not finished.
Asai: These girls are stronger than people like to think.
Yuzuki: The more beautiful or popular they are, the more criticism gets directed their way. But no matter how many times they're told they're "finished," they always get back up again.
Asai: That "sonna dekigoto hodo de…" bit is my favorite part. She describes him as a person who "looks after her," but it's obvious she's just got him eating out of the palm of her hand. She lets him look after her.
Yuzuki: "Joshuseki ni wa suwaru kedo / nani mo kimecha inai" ("I may be sitting in the passenger seat beside you / but don't take it to mean that I've decided anything").
Asai: That's so scary but awesome. I wonder about the kind of expression this girl has on her face when she thinks that…
Yuzuki: It's not like they're even dating.
Asai: "Watashi no ii kaori yo / kono natsu todoroke" ("oh, my sweet fragrance / resonate throughout the summer") is wonderful, too. Her fragrance resonating in the summer… that's such a beautiful expression.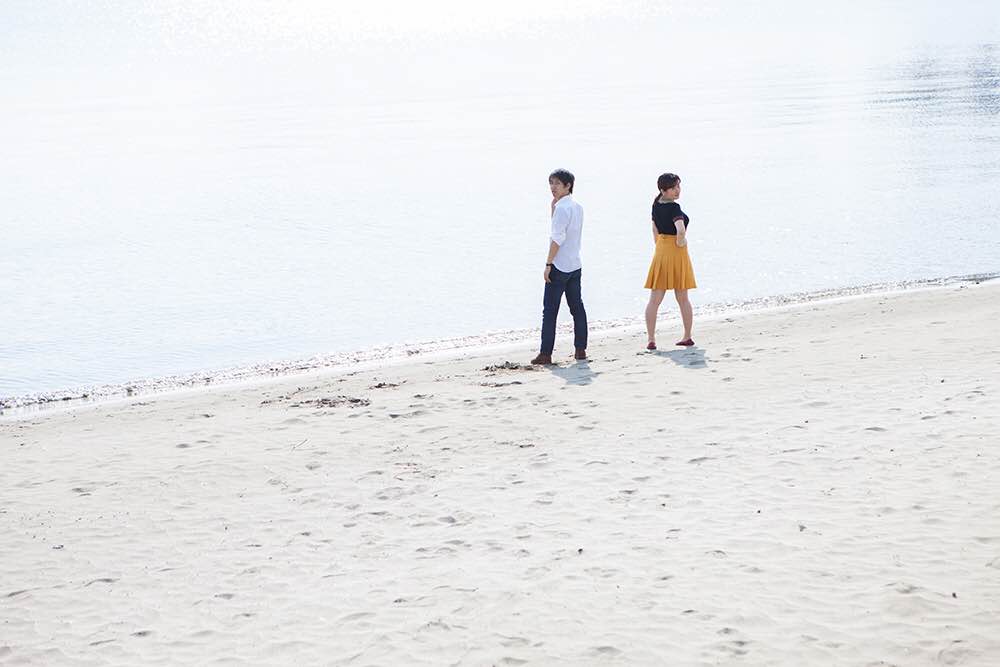 Yuzuki: "Oshitsuke / shimetsuke / zenbu ai ja nai / ego da yo" ("your impositions and restrictions / none of it has to do with love / it's all about your ego").
Asai: To me, that line is literally "From: °C-ute. To: all idol fans."
Yuzuki: Well, if they're actually °C-ute fans, I don't expect anyone to be hurt by this lyric even if they are some pretty serious wota. (laughs)
Asai: Right. Because they've already heard "The Power" loads of times — the song that orders them to explain what the basis is for them to hold their "ill-advised" ambitions…
Yuzuki: I bet they mostly think "yeah, I'm alright with this. I get it." I also like "Jinsei wa STEP!" It starts with that gramophone-like sound — it's kind of like that jazz sound of the Great Gatsby era.
Asai: "Heel no takasa / omoiegaita mokuhyou (yume)" ("the height of my heels / and the goals I'd set for myself")… Word choices like these are quite rare for H!P. (Lyrics written by Tsunoda Takanori.) It's quite a surprise when you're listening to an H!P song and you're suddenly hit with a surprisingly clever turn-of-phrase like that.
Yuzuki: True. It's like… like if you were reading a novel and it suddenly changed into a completely different kind of novel, mid-sentence.
Asai: Whenever I'm meeting up with friends lately, I'm always reciting to them the lyrics of "Summer Wind." They already know I'm an H!P wota and none of them really care, but I just say: "Listen to this just for a minute. You don't hear lyrics like this in idol songs a lot." Then when I read them the lyrics, maybe about two in every five people will go "ooh, that actually is kind of amazing." Then, once I find people like that, I have them listen to "The Power" next. The people that are still standing after that? Those are the ones who go on to get hooked on H!P.
---
Song #5: °C-ute – "Homerare Nobiko no Theme Kyoku"
(Tsunku/Tsunku/Suzuki Daichi Hideyuki)
Yuzuki: "Praise me" — the kind of idol song theme you only get with H!P.
Asai: They're the only idols who will say it themselves.
Yuzuki: By far the thing that idol songs these days lack the most is the protagonists' self-professed desire for attention.
Asai: That's because the ideal woman for men doesn't include any such desire for attention. But that's where "Homerare Nobiko no Theme Kyoku" ("Theme Song of Someone Who Improves When Praised") comes in.
Yuzuki: I wonder how it'd work out if you were to announce that at a job interview? "I'm the type of person who thrives on compliments. I love praising others, too — I strongly believe that depending on one another is what makes the world go around!" Is it just me or would that not be a surprisingly effective thing to say in order to get hired?! (laughs) "The service industry is based around praise. I improve when I'm praised, and when I improve, so will the performance of your company." "That does make sense…" So then when she's hired and she brews you some tea, you remember "oh, I have to praise this girl!" and so you say "this is delicious." That'll make her go "Really?! Thank you! I'll put a tea stalk in your cup next time!"
Asai: People who thrive on compliments are the best.
Yuzuki: They're always such nice people, and I feel that they're always popular with both men and women.
Asai: The great thing about Tsunku♂'s lyrics is how they don't say "I did something for you, so now you do something for me, too."
Yuzuki: "Shite moraccha inai kara shite agerarenai nante / sore ja ai nante zettai umarenain ja nai" ("unable to do something for someone's sake just because they haven't done something for you / how could love ever be born if you live like that?") ("Busu ni Naranai Tetsugaku").
Asai: I like how the word "bentou" ("lunch box") appears in the lyrics.
Yuzuki: Right. Because it could've been something cuter.
Asai: Like just… "lunch."
Yuzuki: Or "cookie." Or "muffin."
Asai: Though instead of "bentou," it's pronounced more like… "BUEntou."
Yuzuki: H!P has lots of emphasized syllables like that in their songs.
Asai: This song included.
Yuzuki: Things like that are so pleasing for the people listening, too, right?
Asai: When I first heard "Sukatto My Heart" and the line "homete homete yo, homemakutte yo paradise" ("praise me, praise me, shower me with praise, paradise"), I was glad for them for getting such a wonderful line to sing. I didn't yet at the time know about the existence of "Nobiko" and how we already had an earlier prototype of the same type of thing. When I discovered it, it made me go "man, Tsunku♂ is just unwavering in his stance!"
Yuzuki: And we only discovered "Nobiko" just before "Utakata" when our hearts were in that state of like… nothingness, just a while ago. We found someone on YouTube who had made a playlist of all the H!P funk songs. Through it, we also discovered Ongaku Gatas…
Asai: I wasn't into H!P when Ongaku Gatas was around.
Yuzuki: Same here. At most, I might've been like "huh… I guess they're playing soccer now."
Asai: But as it turned out, their songs were awesome. Songs like "Aisaretai Aisareitai" and "Seishun no Custard" and stuff. And then we started listening to all kinds of older songs, and in doing so, we discovered "Homerare Nobiko." It was like… "What is this?! They still have a bunch of amazing songs we've never even heard before!"
Yuzuki: Also, Tanpopo's "Sentimental Minamimuki." What an amazing song, that. It's like it fully expresses Yagucchan's orientation towards romance.
Asai: Isn't it quite rare of a song in how "convenient" of a girl the protagonist is though?
Yuzuki: "Koibito ga waraeba watashi mo waraou / koibito ga naitara watashi mo naichau / suki dakara!" ("when my lover laughs, I laugh with him / when my lover cries, I cry with him / because I love him!"
Asai: It's like, "huuuh!?"
Yuzuki: It's a bit rough.
Asai: Her voice fits perfectly though. The protagonist is more indecisive than she lets on.
Yuzuki: Scaryyy.
Asai: I was once again struck by Tsunku♂'s wonderful sense with words in how it changes from "kaze wa sentimental minamuki" ("a sentimental, south-facing wind") to "natsu wa mysterious ichiji ame" ("a mysterious, momentary summer rain").
Yuzuki: The girl inside Tsunku♂'s heart was just bursting with energy. I like songs such as this one.
Asai: It's a song great enough that I wish they'd sing it again.
Yuzuki: I want Odasaku to sing this one.
Asai: Yes!
Yuzuki: If it was someone like Fuku-chan, it'd just be like "oh, that's cute," but…
Asai: Odasaku would give it a different kind of feel.
Yuzuki: Praising others really is a great thing. And so I want to take this opportunity now to praise Odasaku. Her new photobook, "Sakura Moyou," is being released soon and I can't wait until that bomb is dropped on us… The cover of it actually looks exactly like the cover of a certain book from (adult novel publisher) France Shoin Bunko. (laughs) One called "Saikou no Mamahaha" ("The Greatest Stepmother") by Kou Tatsuya. Actually, it looks like most of the covers from France Shoin Bunko.
Asai: It really does.
Yuzuki: Everyone's always saying the covers look like Dan Mitsu, but they're wrong. They're totally based on Odasaku.
Asai: There's almost too much of a resemblance…
Yuzuki: I actually know my France Shoin quite well. Basically, none of their female protagonists are ever the "slovenly" type. Most of them are high-class women who think about the people around them and live their lives as best as they can. But they have a bewitching charm about them that they simply aren't able to hide, and then they fall into a trap set for them by bad people…
Asai: Bad people…
Yuzuki: That's the template. The bad guy is pretty much always the same exact person. They all think the same way. Odasaku is perfection. She's earnest, she's a hard worker, she's brave, and she's pure. But she also possesses a beauty of which she's unaware of. That's the kind of thing she has in common with the typical "company president's daughter" or "female ninja" character you see depicted in the novels of France Shoin.
Asai: "Bijin Kunoichi" (written by Hoshino Houjaku) was also like the spitting image of Odasaku. That whole "beautiful female ninja" idea was pretty exciting in itself, and then the fact that she also looks exactly like Odasaku…! I was like, "so even female ninjas can get married?!"
Yuzuki: She also looks similar to the drawings of Yuzuki Hikaru.
Asai: There was something crazy even about the previews they released of her photobook…
Yuzuki: Odasaku, just like the female ninja, both have a duty they must fulfill.
Asai: I wonder if all female characters start to look like Odasaku when you draw them in such a "vivid" manner?
Yuzuki: The "vivid" drawing style, the classical clothes… I don't mean this in a bad way at all, but it's amazing how big the resemblance is even if they weren't aiming for it. So many of the women on France Shoin's covers tend to wear clothes like this, and they're showing their foreheads like Odasaku, wearing slightly curly, mid-length, black hair. Odasaku previously wore her hair in cornrows and I remember being amazed how lustrous it looked regardless. You could use that as a title for a France Shoin novel: "The Young Wife With Cornrows."
Asai: "Cornrow Mom." I like it. She'd be the one solving all the problems at PTA meetings and stuff.
Yuzuki: I don't know why, but whenever someone starts praising Odasaku it ends up going in this comical direction. I think there just aren't enough words to praise her highly enough.
Asai: Homerare Sakura.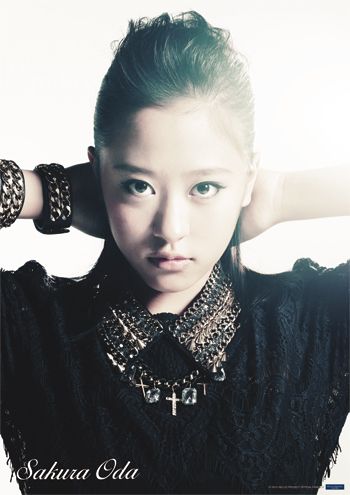 Yuzuki: People should praise others more. The great thing about this song is how it says that wanting to be praised is not something unattractive.
Asai: Well, ours is a culture that sees humility as being a virtue.
Yuzuki: So many lyrics these days are along the lines of… "let's all become like flowers blooming in a place untouched by people!" I hate everything about those kinds of lyrics. (laughs)
Asai: What's difficult, though, has to do with something Karin-chan once said to me in conversation. H!P likes to sometimes posts videos of its members practicing behind-the-scenes. She told me that she doesn't like that. She doesn't see value in being praised for something like that — she'd much rather be praised when they're performing it on-stage once they've perfected it.
Yuzuki: It's like the thought behind "Tsuru no Ongaeshi."
Asai: I also want Karin-chan to sing "Homerare Nobiko."
Yuzuki: I want to make Karin-chan something to eat. Make her some brown rice and vegetables or something.
Asai: She really would do well to eat more, considering how hard she's working… but I bet she'd hate being told something like this. Zukki made it to the top of Yahoo! News just for saying she wants to eat meat!
Yuzuki: They loved Zukki over at Yahoo! News. I feel like everyone in the group has it so much harder now that Zukki's gone.
Asai: Someone was talking about that in an interview. "When everyone's opinions over something were clashing, Suzuki-san was always the one who found the middle ground. Now that she's gone, when there's a clash opinions it just never ends." Zukki really was great. It's so important to have that someone in the group who's always smiling.
Yuzuki: It really sucks. I'm not at all over my Sayashi Loss either…
Asai: I'm constantly watching things like those medleys from '14.
Yuzuki: She was so cute…
Asai: She's cute. And she's great. We really should've praised Sayashi more. Had we done that, she would've improved even more.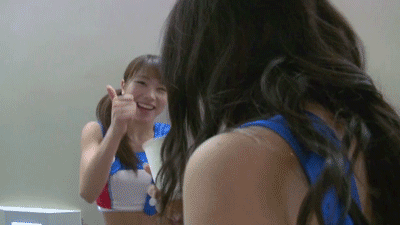 Yuzuki: Japanese people tend not to praise anyone unless they're the type who just keep quiet. "Well, aren't you nice and obedient." I really wish we could move more and more into the direction of a "praise culture."
Asai: "Onna ga Medatte Naze Ikenai" ("Why Shouldn't Women Stand Out?"), right?
Yuzuki: I also like this lyric from ANGERME's "Koi Nara Tokku ni Hajimatteru." "Saikin hon no sukoshi medatte mitai kimochi ga ookiku natteru" ("lately, I find myself feeling just a tiny bit more like standing out"). Those spoken lines by Meimei! "Datte mou tokku ni hajimatteru" ("…because it's already started quite a while ago").
Asai: It's awesome how Meimei makes every song she sings sound like a musical.
Yuzuki: More and more, the people in the media, too, need to start praising these girls out loud.
Asai: Because that's how they will improve.
Yuzuki: Right. And their feeling of wanting to be praised, wanting to be appreciated, becomes stronger. Oh, to praise — what a lovely thing it is indeed.
Interview & text: Takaoka Hiroshi
Photography: Katano Tomohiro
English translation: Henkka
Asai Ryo on the web: Twitter
Yuzuki Asako on the web: blog, Twitter