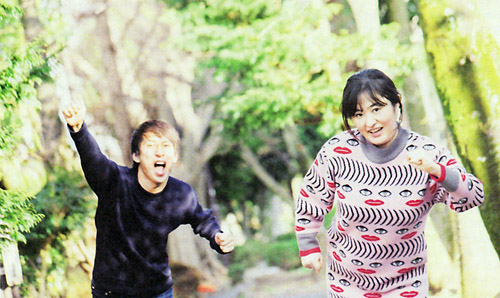 Part Eleven: "Onda Riku! Kaedy! w-inds.! Wooow!"
Writers Yuzuki Asako and Asai Ryo
profile the lyrics of Hello! Project songs!
Song #1: Tsubaki Factory – "Just Try!"
(Tsunku/Tsunku/Ookubo Kaoru)
Asai: Thinking about recent things that have moved me, the first thing that pops to my mind has to be "Just Try!"
Yuzuki: Amazing song. It made me laugh when I heard it.
Asai: "Samui samui iitatte atsuku mo naranu" ("doesn't matter how much you complain about how cold it is — it's not going to get any warmer") — I must've told that to myself a hundred times this winter.
Yuzuki: "Shiranu ga hotoke na no ni yo no naka jouhou darake" ("ignorance is bliss, yet the world is full of information") — did she see something unpleasant online or something? "Tanoshii toki wo sugosu houhou kimochi wo kirikaeru shika nai" ("the only way to have a good time is to change your attitude"). ♪ Hoooraaa hoooraaa… ♪
Asai: ♪ Fuuushiiigiii deeeshooo~ ♪
Yuzuki: That's such a scary part of the song. (laughs) It sounds like the beginning of a nightmare.