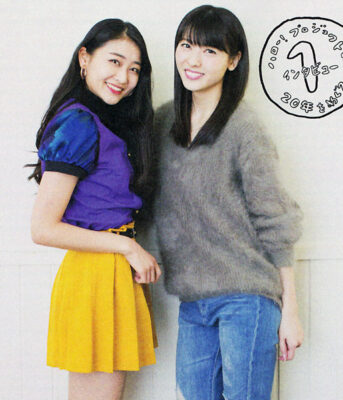 — I would like to take this opportunity to talk to you two about the position of the leader of Hello! Project. My first question is to Yajima. How do you see Hello! Project now, a year after your departure? Does it seem different to you now as compared to while your were still a member?
Yajima: It does. I couldn't see it objectively when I was a member. It was really only after my graduation and going to see Hello! Con that I came to realize how amazing it is. It's very moving.
My fellow °C-ute member, Nakajima Saki, co-starred in a musical with ANGERME and she was telling me about how they were busy with all kinds of other work so they didn't have a long time to rehearse for it. So then when I went to see the musical, I remember thinking about how great of a job they'd done in such a brief period of time regardless. And maybe it was the same with us when we were members, but it's really only now, looking in from the outside, that I realize how amazing it is that they're able to do all that.
— The speed at which they can learn things?
Yajima: Yes. I think if I was put in that situation now, my head would explode. But they can all pull it off. Same thing with Hello! Con — the quality is just so high. Even the girls in their teens are so much better at singing than we were at their age. I'm so much looking forward to seeing how they all develop in the future.