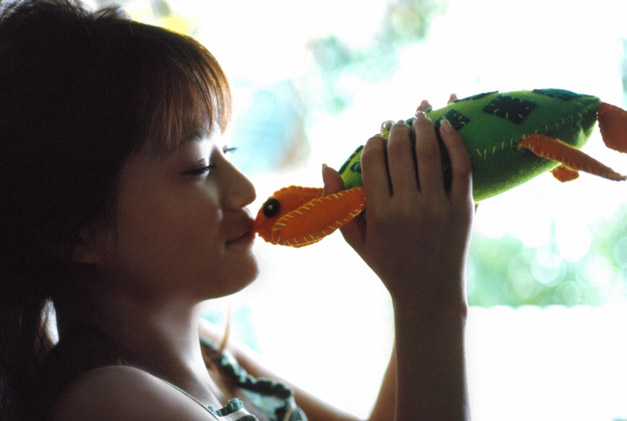 Sanma remembers Eririn!
1: 名無し募集中。。。 2019/11/04(月) 08:05:40.86 0
Even though it's been years he still remembers her.
imuniy @samadoulovekr
22:53 – 2019年11月2日
Sanma (talking to Yokoyama): "You don't look anything like Kamei."

僕です! @moukattakatta
22:52 – 2019年11月2日
Akashiya Sanma remembers Kamei Eri-chan!!!!!!
18: 名無し募集中。。。 2019/11/04(月) 08:36:57.28 0
Well, I mean… Eririn is cute.
13: 名無し募集中。。。 2019/11/04(月) 08:24:26.16 0
Lots of people have even said that she looks like IMALU (Sanma's daughter), so of course he remembers her.
16: 名無し募集中。。。 2019/11/04(月) 08:33:31.04 0
If anything, she was George's favorite. When they were talking about Kamei always having holes in her socks, Sanma said he'd never want a girlfriend like that.
17: 名無し募集中。。。 2019/11/04(月) 08:36:50.09 0
She was appearing on Young Town a lot back then. Sanma was laughing his ass off when Kamei told the story about her dad having thrown her phone at the wall because he was so angry at the bill she'd racked up with it.
21: 名無し募集中。。。 2019/11/04(月) 08:49:19.65 0
Kamei was appearing on Young Town a lot just before her graduation. She was talking pretty openly about everything, including things like her atopy as well as the office.
22: 名無し募集中。。。 2019/11/04(月) 08:51:07.96 0
Kamei was the one who created that whole trend of soon-to-be-graduating members appearing on Young Town.
37: 名無し募集中。。。 2019/11/04(月) 22:21:32.37 0
It was always funny when Platinum Era members came on as guests. They all had such strong personalities. The two Chinese members especially made for a lot of great banter with Sanma.
32: 名無し募集中。。。 2019/11/04(月) 18:21:38.03 0
I want to marry Eririn.
3. ℃-uteな名無しさん 2019年11月05日 05:26
Eri's manner of speech is too cute.
9. ℃-uteな名無しさん 2019年11月05日 09:50
I wonder what Kame-chan is up to nowadays? We don't know anything about her since she appeared on Koharu's Instagram, having coffee with her and Junjun about two years ago.
10. ℃-uteな名無しさん 2019年11月05日 12:29
She often comes up in their conversations on the show even after her graduation, just because she's so close with Michishige.
12. ℃-uteな名無しさん 2019年11月06日 15:09
Are you doing well, Eririn?
Fukumura Mizuki:
"I've never even once forgotten about Kamei Eri."
1: 名無し募集中。。。 2019/05/06(月) 21:20:01.57 0
えん?? @yottingam
20:21 – 2019年5月6日
Fuku-chan's last MC to the audience was lovely. Having inherited her beloved Kamei-san's part in "Naichau Kamo," she said that whenever they perform it, she's never once forgotten about her. She always thinks of her as she sings it…
6: 名無し募集中。。。 2019/05/06(月) 21:22:41.46 0
As expected.
8: 名無し募集中。。。 2019/05/06(月) 21:25:14.39 0
Sorry for asking, but why is Fukumura going on about Kamei so much?
Wasn't she a Michishige oshi?
51: 名無し募集中。。。 2019/05/06(月) 22:05:02.44 0
>>8
Sayu isn't so much her oshi as she is the senior who she was most influenced by.
9: 名無し募集中。。。 2019/05/06(月) 21:27:18.77 0
She likes both.
39: 名無し募集中。。。 2019/05/06(月) 21:45:03.51 0
Who did she like first, Kamei-chan or Momochi?
42: 名無し募集中。。。 2019/05/06(月) 21:46:14.74 0
>>39
Before joining the Eggs: Momochi.
After joining the Eggs: Kamei.
12: 名無し募集中。。。 2019/05/06(月) 21:28:51.05 0
If I remember correctly, Fukumura's mother was originally a Kamei fan.
18: 名無し募集中。。。 2019/05/06(月) 21:32:32.72 0
I wonder if her feelings have reached Kame?
23: 名無し募集中。。。 2019/05/06(月) 21:34:20.99 0
>>18
I don't know whether or not she knows how much Fukumura likes her, but they have taken a picture together at least.
24: 名無し募集中。。。 2019/05/06(月) 21:34:24.69 0
The final secret weapons that the office hasn't yet used for the 20th anniversary:
Matsuura Aya
Kamei Eri
Maeda Yuuka
…It's pretty much just those three, right?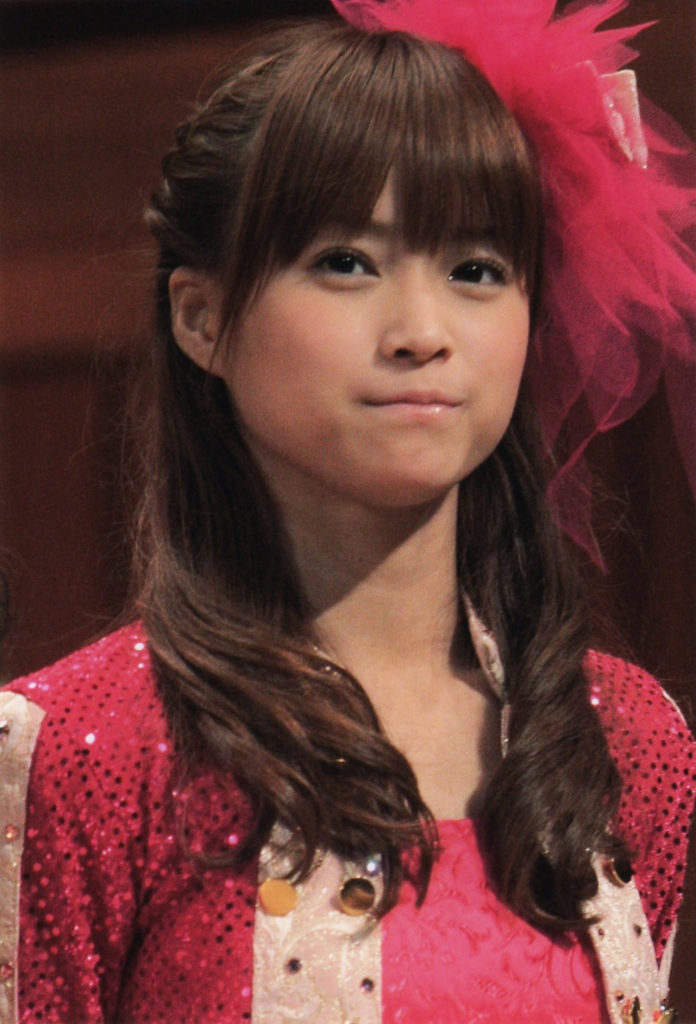 44: 名無し募集中。。。 2019/05/06(月) 21:50:26.74 0
Talking about Kamei:
Fukumura: The song she did with Natsuyaki-san at Hello! Con, "Telephone GOAL," was so cute! I liked how she would always try out so many different hair styles — isn't her hair in "Kimagure Princess" especially just too cute? There's also a cover of "3, 2, 1 BREAKIN'OUT!" where she's really cute.

We didn't get to be in Morning Musume at the same time, but I always liked admiring her from behind at the Hello! Con performances. To me, she's the eternal idol.
1. ℃-uteな名無しさん 2019年05月06日 23:49
I'm a stay-at-home wota so I'm just glad I get to hear about episodes like these.
This made me like Fuku-chan even more.
2. ℃-uteな名無しさん 2019年05月06日 23:57
"Kaiwa no naka de nandomo timing miteta kedo~"…
That phrase does have such a strong image of Kamei about it. (laughs) I bet even if one wasn't an ardent Kamei fan like Fuku-chan is, they'd still think of her when they were singing this line.
9. ℃-uteな名無しさん 2019年05月07日 12:43
Ishida Ayumi-chan, too, was saying how she likes that "kaiwa no naka de nandomo~" line.
I just can not forget about this song…
Eririn…
3. ℃-uteな名無しさん 2019年05月07日 00:08
Fuku-chan has been a fan of Kame from way before.
I love how this kind of thing preserves the traditions within H!P.
13: 名無し募集中。。。 2019/05/06(月) 21:29:09.64 0
Well, it can't be helped.
Eririn is cute.
10. ℃-uteな名無しさん 2019年05月07日 18:44
Doesn't matter what anyone says.
Eririn is the best and the greatest!
Henkka: Happy birthday, Eririn. Come back whenever you feel like it.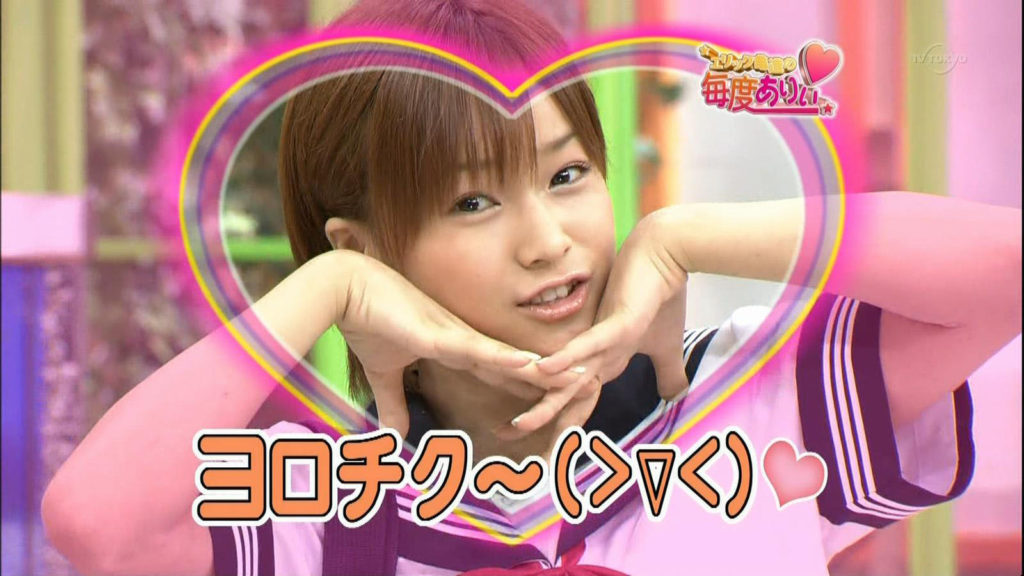 Sources: http://c-ute.doorblog.jp/archives/53984486.html, http://c-ute.doorblog.jp/archives/53334173.html