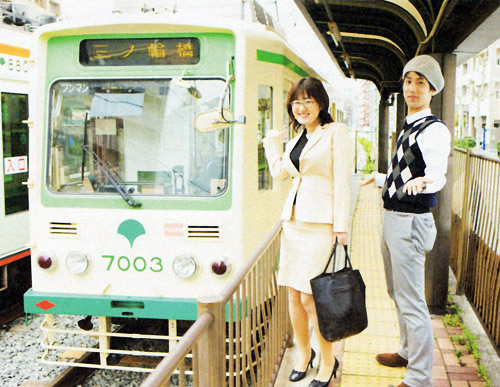 Part Five: "I Wanted to be Raised on Tsunku♂'s School Song"
Writers Yuzuki Asako and Asai Ryo
profile the lyrics of Hello! Project songs!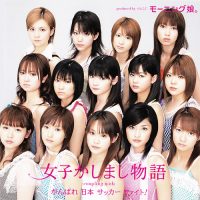 Song #1: Morning Musume – "Joshi Kashimashi Monogatari"
(Tsunku/Tsunku/Suzuki Daichi Hideyuki)
Asai: Please let me say this before we begin. The both of us are absolutely reeling right now. Sayashi is gone, and now with Zukki just having announced her graduation… we're in a complete state of shock.
Yuzuki: Even Ishida Ira was tweeting about it.
Asai: Just when I thought I'd gotten over my Sayashi Shock, learning that Zukki will soon be gone, too… it just tore open those wounds.
Yuzuki: It's so painful, it's almost affecting our love of H!P as a whole. That's why we want to take this opportunity today to talk about "Joshi Kashimashi Monogatari" to get us fired-up again. This song was released in the summer of 2004, at a time when Morning Musume was about to take their next step as a group. Anyway, there was this issue back then — and I guess it's still an issue today — with some people being unable to put names and faces of the group together. This song was an attempt to fix that. I've always liked introductory songs, but what I really like about the lyrics of this song is the worldview they present. They don't just talk about themselves in the song; they also make real life comparisons, like mentions of OL's and stuff.
Asai: My favorite lyric is Tsuji's line about the mixer party.
Yuzuki: That's a good one. These days an idol lyric about mixer parties would be what earns you the maximum amount of hate.
Asai: "Goukon nichiji ga kimatta hi" ("on the day when they set the date and time for the mixer party")… not only does this lyric make it sound like there's nothing wrong with going to a mixer party, but it's even phrased in a way that you'd just come across as an idiot if you were to take issue with it. And then it goes: "ninzuu afurete yobenai / okuccha ikenai sono ko ni soushin shita rashii…" ("there were too many invitees / seems like she messaged one girl too many").
Yuzuki: And then it's: "hekomu~" ("I've really done it now"), "aru aru" ("yeah, it happens…") So the fact that even the others are sympathizing, saying "it happens," that means…?
Asai: I bet there are some H!P wota who were shocked by that lyric when they first heard it. But I'm the type of person who can't help but feel like it's one of their best lyrics ever.
Yuzuki: I think it's fantastic, too. It depicts these girls in a very real way, and "kashimashi" — well, that's basically just another word for "noisy." It's about the ordinary lives of this group of noisy girls… And basically, my favorite songs are the ones that simply depict everyday life. One thing that strikes me about it is, you know how when you have a group of girls and one of them is so pretty it makes everyone feels envious about it and that can then lead to some drama? In the song they're singing about Rika-chan's cuteness, saying how it makes "girls around her jealous"… but they all just accept it. They acknowledge it, but they're able to move past it. I like that. They all have their individual characteristics, but they also have respect for each other and they're able to keep a balance within their in-group. That strikes me as a very real kind of group of girls, and it gives them such life. I like it.
Asai: Mikitty's part is so good, too! She's playing the role of that idealized, lovable girl.
Yuzuki: "Suekko da ka nanka shiranai ga namaiki ni utsuru onna / joushi to jouzu ni oshaberi isshu no sainou kamo… / "oishii cake-ya-san mitsuketande, tsuretette kudasai yo~ / OI!" ("don't know if she's the youngest child or what, but she just comes off as a cheeky girl / I guess being able to sweet-talk your bosses could be considered a kind of talent… / "I found this great cake shop the other day — you've gotta take me some time~" / HEY!")… I bet this girl is an OL who always takes the Arakawa Line. And although she works at a pretty fancy company, I think at her core she's actually one of the "common people" who's very approachable by nature. That "great cake shop" she found? I don't think it's like some well-kept secret of a place; some cake shop only for the "people in the know." No, it's just some random cake shop you occasionally see at train station buildings — some cake shop most people would already know about.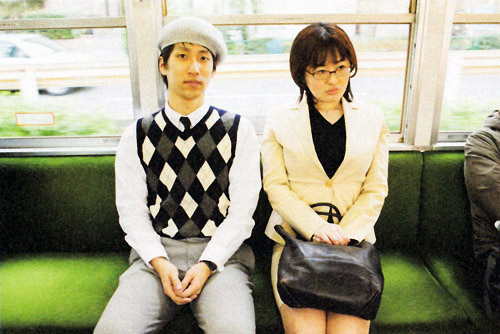 Asai: If it's somewhere on the Toden tram route… maybe it's somewhere around the Waseda area. It must be a pretty cheap place, too.
Yuzuki: There could be trouble if a girl as cute as her was to ask her superior to take her out drinking. But the fact that it's a "cake shop"? That's smart.
Asai: Plus, it's not too expensive.
Yuzuki: Right. This way she gets to fawn on her superior and become friendly with them, but it also doesn't introduce any weirdness to their relationship.
Asai: Whenever there was a member change, they'd update the lyrics accordingly. I wonder if it's still really Tsunku♂ writing them as of late…? The original lyrics really do a wonderful job of representing the girls' personalities. The fact that they took on like these alternate personalities, with Mikitty going "you've gotta take me to that cake shop" and it still manages to capture her real personality so accurately… That's some high-level writing.
Yuzuki: I prefer those alternate personalities. And not only that, but some of those lyrics predicted their futures as well. Yagucchan's "hatachi wo sugita wa ii keredo / doushite iroke ga nai no?" ("okay, you're past 20 now / but then why don't you have any sex appeal?") I feel that lyric was there to sort of hide her excessive sexiness — like wrapping around a woman's chest. "Hontou no sexy beam itsugoro derun da!!" ("when is your real sexy beam going to come out?!") Looking back now, it was the kind of sex appeal she had to keep hidden. If I was to go back in time in a "Back to the Future" manner and tell the members what awaits them, I feel like they would mostly agree with those lyrics.
Asai: True. Overt comicality can mask a person's true nature. It's a common technique in character shaping when it comes to writing novels, too.
Yuzuki: I'd tell Konno Asami how she's going to become a TV announcer, and everyone would go like "ahh, that makes sense." And then there's that thing about Kamei hesitating over which character to choose for herself. That suggests she wasn't all that obsessed about the world of entertainment.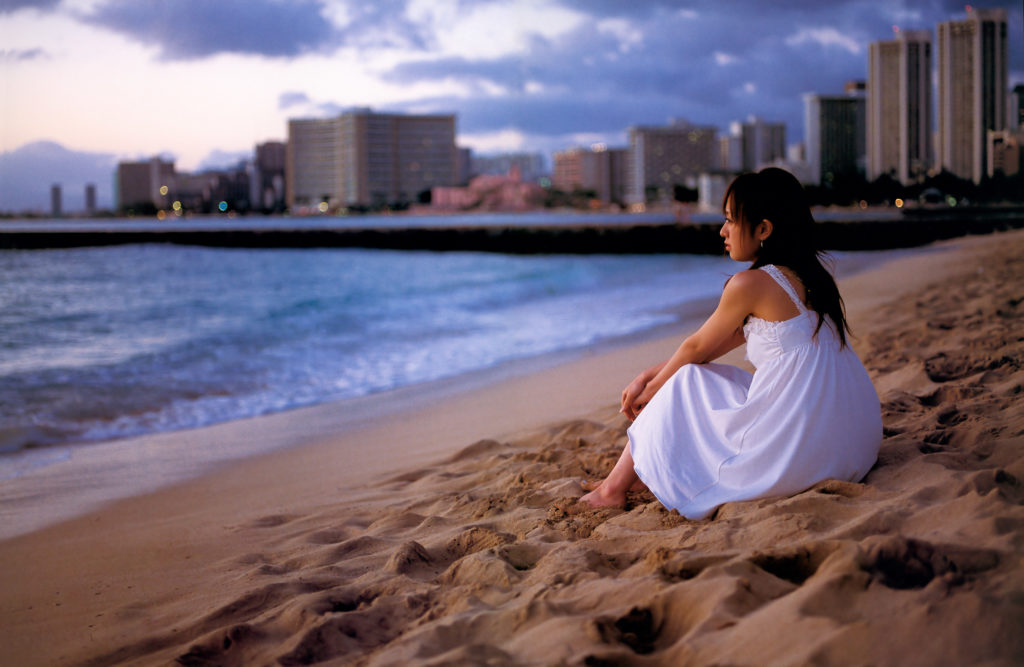 Asai: On the other hand, there's Makoto-chan's part… which actually didn't say much anything about her at all.
Yuzuki: Yeah, I thought her bit was the worst. (laughs)
Asai: But if you listen to the so-called "'15 ver." of this song… wasn't that version in its entirety pretty similar to Makoto-chan's part?
Yuzuki: Yes. Especially Odasaku's bit. "Watashi hitori dake 11ki / hoka no ki minna yonin na no ni / honno sukoshi samishii kedo / yonbai ouen shite~!" ("I'm the only 11th generation member / even though all the other generations have four people / it does make me feel a bit lonely / so cheer me on four times as much~!")
Asai: Rather than getting to the core of their personalities, it's like they're just listing all these facts about themselves. Sayashi's part, too: "Hiroshima onna no konjou etto oshietarukee" ("shall I tell you about how much guts us Hiroshima women have?!") We don't want stuff like that. We want something that shows her from the inside — something like how, although her performance abilities may be perfect, there are other things that she lacks.
Yuzuki: Something about how her plants always die, or how she's always late to things. (laughs)
Asai: Odasaku's part could've been something more fascinating. Something like an incantation even.
Yuzuki: "They call me a Showa era woman~" or something. (laughs) Ikuta's part could have an allusion to "Eri can't," Fuku-chan could talk about the apartment wife thing, and although Kuduu's bit does mention the "handsome" thing, they should've pushed it to where she literally calls herself an ikemen. And while Makino Maria sings about baseball, that isn't what the fans want to hear about.
Asai: Maria-chan's part should've just been about how big of a princess she is!
Yuzuki: Right. Stories of how she's like the madonna of her school; how there are hordes of boys always waiting at the school gates just hoping to catch a glimpse of her. I'd want them to push it to that whole Charmy (Ishikawa Rika) domain. Like, "I'm number one!" "Whaaat?!" But I do think Zukki's part is good. "Futottenai desu, pocchari desu / kenkouteki da to omoimasu" ("I'm not fat; I'm just chubby / I think it's healthy"). That was really well put. Haa-chin's is good, too. She's singing all happily with that tone-deaf voice of hers, going on about how figure skating has shaped her. And I like Chel's English part. She gets to show off her specialty.
Asai: But really, none of them hold a candle to Tsuji-chan's part. Or even Makoto-chan's line for that matter. "Koi ni shiro shigoto ni shiro genki ni ikimashou!" ("whether it's love or work, let's just go about it happily!")… the word "love" is used like it's nothing special.
Yuzuki: It's like they had no rules; no words that couldn't be uttered. I mentioned how Yagucchan's lines are scary, but Kago-chan's part is pretty amazing, too. "Shortcake toka detekurya wakariyasuku HIGH!" ("whenever there's shortcake around, you can tell she gets high!")
Asai: Now that right there is hiding one's sexiness. It's like she's saying "I'm a child! I'm still a complete brat!"
Yuzuki: Mikitty and Rika-chan stood out because they're so pretty. But deep down, they're very serious people, and you can sense that they're both people who've chosen to live their lives in a manner in which they aren't a menace to anyone. That's why they got those lines. But they must hide their femme fatale ways of seducing everyone.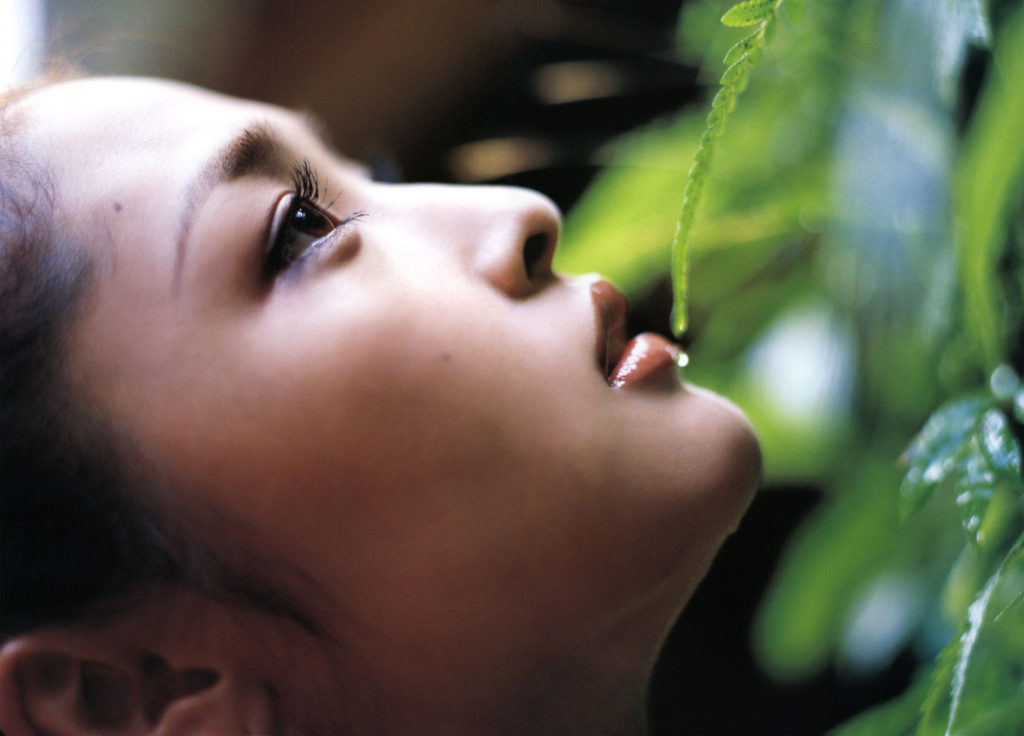 Asai: When you think about it like that, I think they really held Odasaku back with those lyrics. She's singing these lines about how she's supposedly this girl who can't even stand up straight unless you support her, but in all likelihood, Odasaku is someone who could stand up for herself no matter where she was. With bare feet.
Yuzuki: In preparation for this discussion, I started thinking about Mikitty a lot more. When I went to the hairdresser yesterday, I asked them to give me a shaggy haircut. When I did, it was like everyone at the hairdresser's was in a complete state of shock.
Asai: Oh, come on. No they weren't. You're exaggerating.
Yuzuki: No, seriously! They were like "Huh? Shaggy? In the current year…?" I got my bangs done, too. This song has a lot of allusions to hair, right? "She can't get her bangs in order," "straightening her unruly hair is her life," "she's so happy about having cut her bangs"… Hair is one of the most essential things in H!P lyrics. Showing your forehead, problems with getting your bangs looking right, all that stuff.
Asai: Odasaku took on the role of someone who always has her forehead showing — something all the other members hate doing — and she introduced herself by like pointing to it and going "remember me by this forehead!" That was really scary.
Yuzuki: Having just gotten my hair cut… it reminded me how it really is all about the bangs.
Asai: The way it's phrased in Gaki-san's part is so clever, too. "Maegami kitta no ureshikute / furete hoshisou na kao de / egao de chikazuite kuru no" ("she's so happy about having cut her bangs / she approaches you, all smiles, looking like she wants you to comment on them"). It's such an average-sounding episode of daily life, but the way the words are ordered in the lyrics makes it so cute. It's like you can instantly see that scene play out in your mind's eye. And that's why I'm just so unsatisfied with the recent versions of the song. Perhaps it's just that back in 2004 people still knew who most of the members were so they could make the lyrics a bit deeper, whereas these days they have to assume that most people don't know them and they're forced to make the lyrics as accessible as possible.
---
Song #2: "Waga Kiboutachi ~Fuse Chuugakkou Kouka~"
(Tsunku/Tsunku/Suzuki Shunsuke)
Yuzuki: Another thing that plays a huge part in our love of H!P diminishing is how we aren't able to hear Tsunku♂'s songs anymore. The other day I saw the internet news articles about this school song written by him, and it just made me go "huh?!" It made me try to imagine how the school officials might've felt when they first learned about it. (laughs)
Asai: There are those paperback anthologies… Like, you'll have the Valentine's anthology with like seven or so collected short stories centered around Valentine's Day, written by different authors. Things like that. So we've been talking about compiling an anthology book with the theme of: "the day when they distributed the school song written by Tsunku♂."
Yuzuki: In the first story, you would be in the group of like those carefree guys in class, whereas I'd be in the book club group or something, and they'd distribute the song around school and we'd both be going "…huh?"
Asai: I love the expression "hagendashi" ("you made an effort") in the third verse. I think this phrase might become popular in class. Someone gets a failing grade on a test and they cheer themselves up by saying "well, at least I made an effort." Some girl who's just going through a bad case of unrequited love will have her friend consoling her: "but at least you made an effort, right?" It's an expression that should really help them. One of the main characteristics of Tsunku♂'s lyrics is how he uses words that can have a bit of a rough edge to them. But those are the words that can help all kinds of people in all kinds of different situations.
Yuzuki: "Gamushara to hachamecha no chigai kurai wa wakaru darou" ("you at least know the difference between being "vigorous" and "reckless," don't you?")… I can picture some of the students chuckling over this lyric. That is, until some young, beautiful, overly serious teacher hears them and…
Asai: … Gets all angry at them, like "don't laugh about music!" But although the students just don't seem to be learning any of those classical compositions, no matter how the teachers might try to expose them to that music, this school song alone they'll learn like it's nothing. And seeing that will affect the teachers' worldview and way of thinking, too. "They never learned a thing about the opera I tried so hard to have them listen to, and now they're walking around the hallways singing "♪ gamushara to hachamecha no~♪"… Is this the kind of thing that's able to capture these students' hearts…?" That'll be the second story in the anthology.
Yuzuki: The third story will be set some years later when a graduate of this school learns about real, adult love…
Asai: It'll be about a couple on the verge of breaking up. One day, he's just thinking "is this the end of the road for us two…?" when suddenly the girl starts humming something. "What's that?," the guy asks. "Just this song I'm hooked on lately," the girl will answer. And then he'll start start talking about his past, mentioning how the school song for his junior high school changed midway. "What kind of a song was it?" "It was written by this guy called Tsunku♂. We'd all sing it like, "hito wo netamuna~" and stuff." "The heck is that?! I wanna go see what your junior high school is like." So then they go there for a quick visit, and in doing so, they vaguely notice their love being revitalized.
Yuzuki: I came up with a different story. There's this guy who's just slept with this easy woman. "Our school song back in junior high was really weird." When he starts humming it, the girl is suddenly wide awake. "Hey, that's a song Tsunku♂ released in 2016…!" "Wait, don't tell me you're a…?!" "Yes! I'm an H!P wota!" That's how my story would go. (laughs)
Asai: In the first verse, it's: "habatake, furikaeruna" ("spread your wings, don't look back"). I get that. In the second verse, it's: "habatake, yuuki wo mote" ("spread your wings, be courageous"). I so get that. In the third verse, it's: "habatake, hikisagaruna" ("spread your wings, don't back down"). Don't back down! Ahh, so good…
Yuzuki: It's a dog-eat-dog world…
Asai: It could also be made into a story about a female protagonist who's just been hired at some company. Someone's getting angry at her every single day and she's achieving terrible results, but one day during negotiations she remembers that line: "don't back down." That gives her the courage to keep going, and as a result, she secures a big order for her company. You can imagine so many different scenarios of these lyrics saving people in all sorts of situations. But there's no one to write those stories besides you and me… (laughs)
Yuzuki: We've been discussing the title. Should it be "Waga Kiboutachi" ("Our Hopes")?
Asai: We couldn't possibly pitch this idea to any other writers. "Hey, do you want to take part in our anthology?" "What's the subject matter?" "It's an anthology about the day this junior high school received the school song written for them by Tsunku♂." "What? What the hell kind of a setting is that?!"
Yuzuki: "Kagayake, chijikomaruna" ("shine, don't stay down")… It's all about Fuse Junior High School.
Asai: "Hito wo netamuna" ("don't envy others") — it's great to think that they're all singing this together, the school faculty and all the students included.
Yuzuki: While I'm someone who tends to feel envious of others, H!P songs really do have a lot of lyrics discouraging you from being like that. Tsunku♂ strikes me as someone who has it all, so how is it that he's able to think the way he does…?
Asai: He constantly reminds us that the grass is always greener on the other side.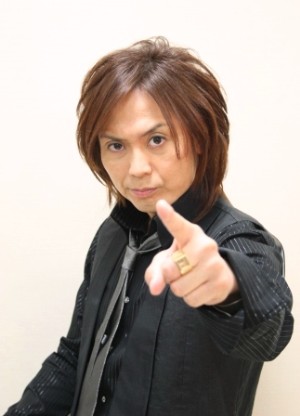 Yuzuki: It's pointless to feel envious of others… I guess it's something that just needs to be reiterated again and again.
Asai: Surely it just goes to show you how quick people are to feel envy. But think about it: it's 12 or 13-year-old kids singing this song. That's awesome. I'm sure they're going to be looking back on this song when they grow up. Whenever they feel the first pangs of envy towards someone, they'll suddenly remember: "wait, I almost forgot… I shouldn't envy others!"
Yuzuki: The other day I was talking to this person who I was meeting pretty much for the first time. They asked me: "what is it that you like about H!P?" So I said: "I like how their songs are full of simple honesty." But then they said: "Isn't that scary, though? Their lyrics are scary… Their dancing is scary… Their songs are scary…" So I was like, "what, you mean like this?" and I danced and sang like "don't envy others, help one another, don't be lazy~!" I added, "… because that's like what all of their songs are about." And this person said: "Right, exactly! I just start to feel sick when I'm listening to their songs." (laughs) But I'm quite certain that that's the opinion shared by most of the general public!
Asai: No way. That's just a case of that person being too naive!
Yuzuki: They were saying, "I want something more comforting from the music I listen to."
Asai: Well, okay. I don't doubt that.
Yuzuki: "It just tires me out when I have to listen to all the "don't envy others, help one another" stuff…" When they said that, it made me realize that that must be how most people out there think.
Asai: This might be kind of related to what you're saying, but it used to be completely normal for some amount of movies to have bad endings. Nowadays, it feels like the clear majority of new movies all have happy endings. So many people already feel exhausted from their everyday lives, I think most of them don't feel like becoming even more exhausted through fiction.
Yuzuki: But take something like "don't envy others" — that's such a great message, and I think it rings true. But I guess there are some people out there who just feel tired when they have that message shoved at their faces.
Asai: Yes. That's why it's such a great idea to have these 12-13-year-olds — who aren't yet accustomed to the rigors of life — sing that song!
Yuzuki: That's an age when some of those kids are still innocently going "what does the word "envy" even mean?"
Asai: Definitely. "Suki na koto wa tsuzukerareru sa" ("you'll surely be able to keep doing the things you love") — that's another line I'm sure they'll remember when they get older.
Yuzuki: The funny thing about school songs is that they really do shape your mentality. My alma mater's school song is just this crazy battle theme. As the school is Protestant — which stands for persecution and resistance — the lyrics are like: "geni shouri no kimi no sakidachi tamau dai shingun ni wareware mo tsuzukan" ("we shall follow you in your footsteps to absolute victory"). That lyric definitely lives within me. (laughs) So I'm sure the students of Fuse Junior High School, too, will have their hearts permeated by these Tsunku♂-isms, to varying degrees.
Asai: School songs usually begin with a mention of a local landscape or something to that effect. Famous nearby mountains and the like. But the thing I like about this song is how it has none of that. It starts off with: "sore de iin da / jibun no koto ga kininaru koto wa atarimae darou" ("you're fine just as you are / it's only natural to feel curious about yourself"). There was no room in the lyrics that could be spared to describing sceneries or the like — it was so much more important to express that thought of "don't envy others." But man… since we haven't been able to hear Tsunku♂ songs in H!P at all as of late, I guess my only choice is to enroll in this junior high school myself…
---
Song #3: Berryz Koubou – "MADAYADE"
(Tsunku/Tsunku/Hirata Shoichiro)
Yuzuki: And speaking of "don't envy others"… One song that's pretty incredible is "MADAYADE." "Aitsu wa hora yuumei / ano ko wa bijin de kanemochi / urayamashii jinsei" ("That guy's famous / That girl's beautiful and rich / I'd love to have their lives").
Asai: It's 100% envy!
Yuzuki: Perhaps even too much envy, don't you think?
Asai: Everything about this song is just incomprehensible to the average person. Why those lyrics in the chorus? What's up with the music video? Why are they at an office when there's not even a story to go along with that setting?
Yuzuki: One running theme in Tsunku♂'s lyrics is that youth is something that's always a part of you, no matter how old you might be. Pucchimoni's "Seishun Jidai 1.2.3!" is a good example.
Asai: It was a great period in time when a song this incomprehensible could be released as the A-side of a single. There's even a "BIYOON!" ("BOING!") there in the lyrics — how amazing is that?!
Yuzuki: Similarly, "Joshi Kashimashi Monogatari" ends with the words "shoubai hanjou / warotoke warotoke!" ("business will thrive / so laugh, laugh!") That phrase has the feeling of all those good old, Showa era comedians, right? Ah, I guess that explains why Tani Kei appeared in Seishun Bakachin Ryourijuku.
Asai: I'm pretty sure there's absolutely no connection there…
Yuzuki: Really? Well, anyway. The title of the song is written in roman letters — for the humor aspect, I guess.
Asai: So much of it just makes you go "wait, what?" It's something Ishida Ira has talked about: Tsunku♂ always throws in these words to his choruses that no other songwriter would ever think of using. It always makes you go "why this word?," but the more you listen, the more you come to understand it. That's why nothing but "mada mada mada ya de" could've worked for this song.
Yuzuki: "News mo hora kininaru / muzukashii koto wa wakannai" ("I'm curious about the news / even though I don't understand all the difficult things they're talking about") reminds me of LoVendoЯ's song "Futsuu no Watashi Ganbare!" It has a lyric that goes: "sappari tonchinkan / news wo mite mo / yotou mo nantoka mo ojisan to obasan" ("it's totally absurd / watching the news / you see how the people in power are all old men and women"). Also, after she'd cooked something by herself: "when I posted about it on my blog / there was hardly any reaction!" When I heard that lyric, it felt to me like Tsunku♂ has finally taken a real interest in the world of social media. (laughs)
Asai: Akimoto Yasushi wrote HKT48 their song "Kidoku Through" in no time. It was out so fast.
Yuzuki: As well as songs like "Chicken LINE" or "Setsunai Reply." He's really good at incorporating all the current trends of society. That's why their music sells. And yet, it's songs like "MADAYADE" that I'd want to be singing at the year-end parties and stuff. Why can't people at work or in school circles get excited over songs as exciting as this?!
Asai: "Seishun to wa ano ko no kareshi to hikakushitari kurabetari" ("youth is all about comparing your boyfriend to that other girl's boyfriend"). I love how it's like completely obvious that the protagonist has a boyfriend — it's the same mentality as with Tsuji-chan's line in "Kashimashi." Like I said, the lyrics are constructed in a way that you'd just come off as a complete idiot if you were to react to them by saying "hey, idols can't be in romantic relationships!"
Yuzuki: She just strikes you as this fun-loving if a bit easy-going girl, right? Yeah, I like how the worldview in the song is that it's normal to have a boyfriend. Do you think that by talking about this we'll shock some of the readers and have them going "wait, the protagonist in this song has a boyfriend?!"
Asai: Oh, for sure. They'll be asking, "What does the protagonist have to complain about then? Does she have low self-esteem?"
Yuzuki: My answer to that would be just… Do you really think having a boyfriend will solve all of life's problems? I was doing this talk show and someone asked: "It seems like the protagonist in your story doesn't have any interest whatsoever when it comes to romance. How are things in her love life?" So I answered: "well, while this is only a backstory I didn't write about, I like to think that she does have a boyfriend." And that made everyone go all "huuuuh?!" (laughs) So they asked "why?," and I was just like… "Why not? Everyone either has a boyfriend, or they don't. It's no big deal."
Asai: I wrote a story about this university student guy with rather low self-esteem who has a girlfriend. The response I got for my story was: "why does this guy do nothing but worry about stuff all day when he even has a girlfriend?" Who the hell doesn't worry about things?! Like, if anything, when you start dating someone you begin worrying about all kinds of things that would've never even crossed your mind before!
Yuzuki: Right. It's so weird how some people seem to think that as long as you have friends and a significant other, you've effectively solved all your problems in life.
Asai: I guess those people just think that the folks who have actual real lives never have to worry about anything at all. It's like they're making light of people like that. Anyway, I still want to hear many more songs like "MADAYADE."
Yuzuki: I want them to do more songs like that, too.
Asai: But does H!P have any group right now that has the caliber to be able to pull off songs like "MADAYADE"?
Yuzuki: There was just this indescribable kind of messiness about Berryz Koubou. You know, doing songs with monkey outfits and stuff.
Asai: "Yuke Yuke Monkey Dance."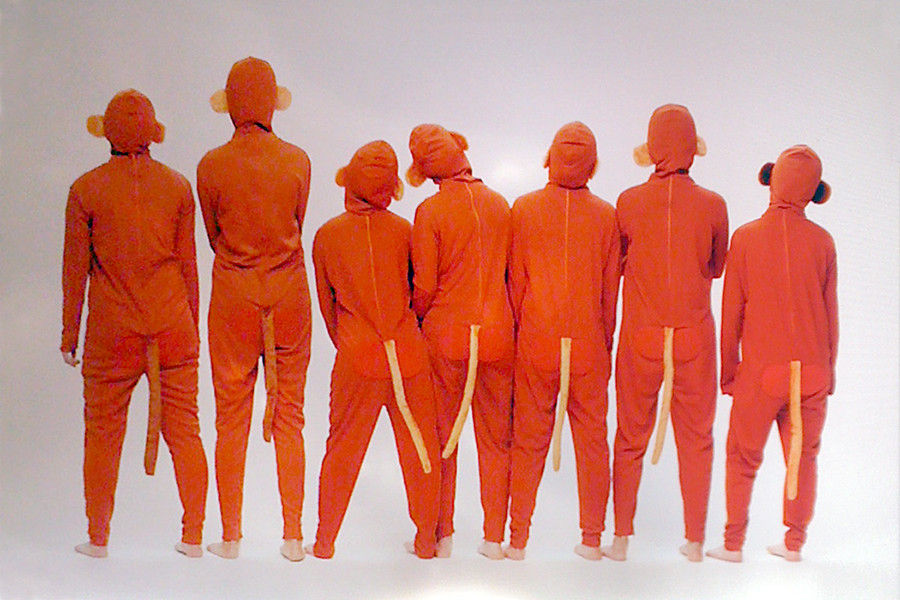 Yuzuki: What an outrageously crazy song. "Gohan wo tabemasho / nihon no okome wa sekai de ichiban" ("let us eat rice / Japan has the best rice in the whole world")… I wonder if this was when Tsunku♂ was hooked on onigiri dieting?
Asai: I really do love all the crazy songs.
Yuzuki: I think "THE Manpower!!!" really marked a watershed moment in H!P history. Up until that point, they were still someone it was easy to check out even if you weren't all that into idols.
Asai: And it was a Rakuten Eagles support song, too.
Yuzuki: The fact that they came out with "Manpower!!!" at that very moment… it really changed something about them as a whole.
Asai: "The day they announced how "THE Manpower!!!" would be the Rakuten Eagles' new support song" — we could write a whole other anthology book on that subject.
Yuzuki: "What? This?!" From that point on, H!P's originality suddenly became a whole lot more distinctive.
Asai: It shocked me the first time I heard it, but now I just love it. I wonder if it was simply a matter of me having to do a bit of growing up before I could really come to appreciate it…?
Yuzuki: I think it was probably "Manpower!!!" that marked the beginning of what I was just talking about with the average person listening to an H!P song and finding it scary.
Asai: It's a song that just strikes you at the DNA-level.
Yuzuki: It had such impact back then. Now, it just feels like this really, really cool song.
Asai: Tsunku♂, too, has said it's one of his personal favorites. He's apparently very pleased with it sound-wise, but I guess the general public just wasn't ready for it yet.
Yuzuki: Tsunku♂ does have a tendency of being ahead of his time.
Asai: "MADAYADE" is a good example of that.
Yuzuki: It is. I really did like Berryz Koubou…
Asai: I'm glad they kept singing songs like this throughout their run. I remember how surprised I was when I saw a TV commercial early in the morning for "cha cha SING." I was like, "wait, this is the song you're placing your bets on?!" It's certainly not the stereotypical idol song you'd hear everyone humming along to. That's what I thought was so great about how they were airing commercials for it.
Yuzuki: It might be a song that'd catch a lot of people off-guard. I really like it though.
Asai: "MADAYADE," too, definitely isn't your typical "representative song" you'd expect to hear from a group.
Yuzuki: And on that note… Yeah, our "H!P fire" has been waning as of late. I don't know what we ought to do. But it's not like this kind of thing has never happened to us before. For me, it was back when I was still in university.
Asai: For me, it was when the members were all getting crazy into futsal.
Yuzuki: I, too, drifted from H!P around that time, getting back into them when they were led by Gaki-san/Michishige-san, during the Colorful Era.
Asai: Still, things are pretty bad right now.
Yuzuki: They really are. Is my love of H!P going to disappear entirely…?
Asai: It's going to become another one of those "back in the good old days…" things for us.
Yuzuki: I bet we must sound like a couple of real jerks right now to fans who are supporting the current H!P with the same undying love as they always have…
Asai: We're just two old people complaining. We're like that boss you have at work who can't use the computer properly. "Hand-written resumes are better! That's the only way you can really put your heart and soul into it!"
Yuzuki: It's not like my love has changed. It's just Sayashi and Zukki quitting as well as the fact that we can't hear Tsunku♂'s songs as often anymore that it just feels like we've reached a dead-end.
Asai: But that's not to say they don't have other great songs! Songs like "Chototsu Moushin" are fantastic!
Yuzuki: That's a good one. I also like "Boogie Woogie LOVE." And I really like Kobushi Factory.
Asai: But… What are we going to do with the next part of this thing?
(What's going to happen to Yuzuki?! What's going to happen to Asai?! What's going to happen to the next part of this series?!? Stay tuned…)
Interview & text: Takaoka Hiroshi
Photography: Katano Tomohiro
English translation: Henkka
Asai Ryo on the web: Twitter
Yuzuki Asako on the web: blog, Twitter