Note: See here before reading.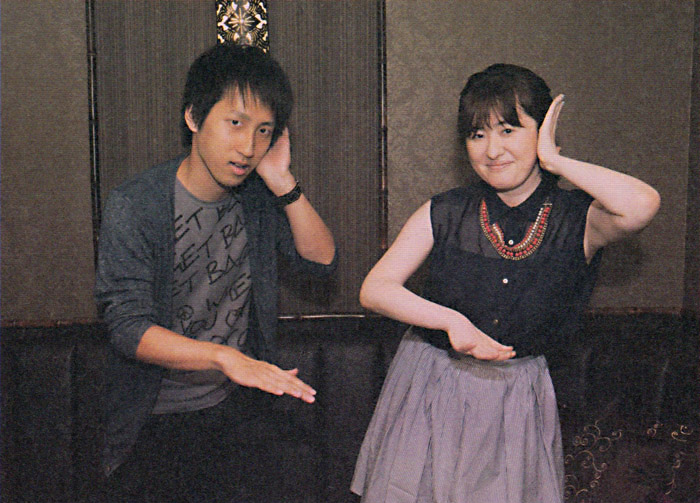 Part One: "Incessant Praise Paradise"
Picking up from where they left off in their highly praised feature in the
Hello! Project COMPLETE ALBUM BOOK!
In this new, bi-monthly series, writers Yuzuki Asako and Asai Ryo
profile the lyrics of Hello! Project songs!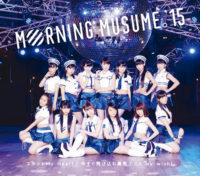 Song #1: Morning Musume '15 – "Sukatto My Heart"
(Tsunku/Tsunku/Suzuki Shunsuke)
Yuzuki: So the A-side for this single was "Oh my wish!" What did you think about this release?
Asai: Honestly, for me, I easily liked "Sukatto My Heart" better. Hands down.
Yuzuki: Same here! Whereas "Oh my wish!" was all about the protagonist telling herself to "go for it, go for it, go for it!," in "Sukatto My Heart" she was going "praise me." I think what it comes down to is that the two of us tend to like lyrics where the protagonist is making demands. "Love me. Praise me. Look at me. Hang up on me."
Asai: "Homete homete yo homemakutte yo paradise" ("praise me, praise me, shower me with praise, paradise") — that sounds like what a writer thinks when they're Googling themselves.
Yuzuki: "Bukiyou paradise" ("awkward paradise") is an incredible phrase.
Asai: Why would anyone think to put those two words together…? It's genius.
Yuzuki: It was the first lyric in a while that just really hit home with me. Like, "this is what I wanted!"
Asai: This protagonist really likes the word "paradise." There's also a "lonely paradise" in there.
Yuzuki: I was out shopping yesterday and I asked the cashier for a receipt, but the look on the girl's face was all "r-receipt?!" — she looked like a part-timer who'd only just started working there. She was all flustered, trying to get a coworker to help out, but I guess they were all busy doing inventory or something because no one was available. Before I even noticed it, this long line had started to form behind me. The girl looked like she was practically about to break down in tears, so I just said "never mind." But she firmly said said "no, I will get it for you!" I was just thinking to myself, "oh no, what have I done to this poor girl…?" At the same time, that lyric was playing in my head. "Awkward paradise~ ♪." (laughs) She must get so many different requests in her job. It can look like you're practically flailing all over the place, desperately trying to get it all done. That girl to me really looked like the definition of "awkward paradise."
Asai: So to you, that lyric is about part-time cashiers in training.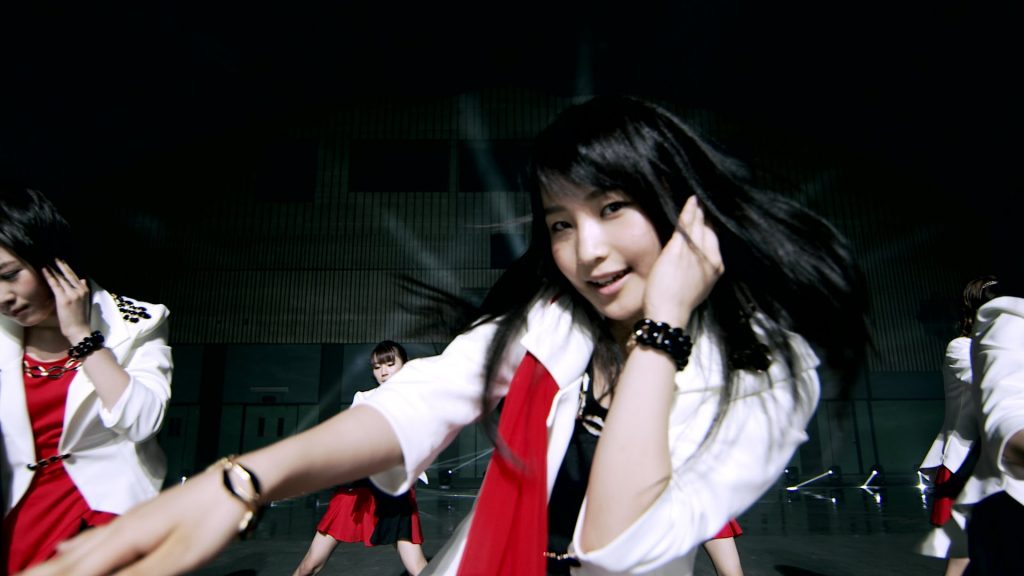 Yuzuki: But at the same time, it's also a song about Sayashi. We went to see their stage play, TRIANGLE, together, and at some point I noticed how you weren't looking at the stage at times. I sometimes do coaching at girls' schools, and so to me, seeing the members — who don't have much actual experience being around guys their age — trying their best to act like guys was–
Asai: There were times during the play when it was just too unnatural. I couldn't watch.
Yuzuki: No, but see, that's really what all girls their age are like at all-girls' schools. They don't yet know what guys are really like. Whenever they create a new play in the drama club, the male characters are all purely cool with no imperfections — like statues. I'm talking specifically about Sayashi's role, Lieutenant Kiri.
Asai: There were some scenes that were supposed to be comical, and I'd be getting all nervous as the viewer because I'd realize: "oh, Sayashi is trying to make the audience laugh in this scene…"
Yuzuki: You pretty much stopped talking about Sayashi after that day.
Asai: I love Sayashi so much and it feels like her abilities are going to grow exponentially from hereon, but sometimes that can make me nervous about watching over her… She had a silly moment during an MC at Budokan, too. She was talking about this fancy raclette cheese and she made this silly joke, asking if the members hadn't all gone to buy it at the supermarket. All ten thousand people in the audience of Budokan ignored her question — even the members offered no reaction. That was another perfect "awkward paradise" moment.
Yuzuki: For sure. And how about the lyric "hajimete au hito ga ireba mou ochitsukanai" ("if there's someone I'm meeting for the first time, I just can't seem to calm down")… isn't that pretty great, too? Like, just how awkward are you?!
Asai: Have you ever heard a lyric like that in any other idol song? The usual summer songs for idols are all about feeling merry: fireworks, swimsuits, swimming pools, "just you and me"… and suddenly we get "if there's someone I'm meeting for the first time, I just can't seem to calm down!" That's got to be a first for a summer song protagonist.
Yuzuki: Family gatherings, mixer parties, cram school… this girl wouldn't be able to handle any of these things! This song definitely isn't about someone like Ikuta — even when she's meeting people for the first time, she's the type who just casually goes "oh, hey." No, this song is about Sayashi. I'm sure of it. Most summer singles are all "we're all friends" or running on the beach or whatnot… but this girl wouldn't even be able to go to the beach! A public swimming pool is as far as you could push her! And, like, summer is all about meeting new people. Isn't meeting new people usually considered something positive?!
Asai: Seriously, try listening to some summer singles from other idol groups. The protagonists are always, without fail, just hyper.
Yuzuki: That's because most idol songs are about pampering to the wota. But with H!P, it's… "chimata de uwasa no sexy, fuwa fuwa" ("the sexiness rumored about around town") ("SEXY BOY ~Soyokaze ni Yorisotte~"). They're saying they like cool guys. In "Atarashii Watashi ni Nare!," too, they're going "ikemen mo idol mo daisuki nan da na" ("I love good-looking guys and idols"). And yet, H!P wota aren't driven away by that stuff.
Asai: Well, H!P wota have been tempered by these lyrics from way back. After all, we're the guys who support the girls who wear "sungee sungee sungee swimsuits" as they head out to their "sungee sungee sungee battles" ("Yeah! Meccha Holiday")…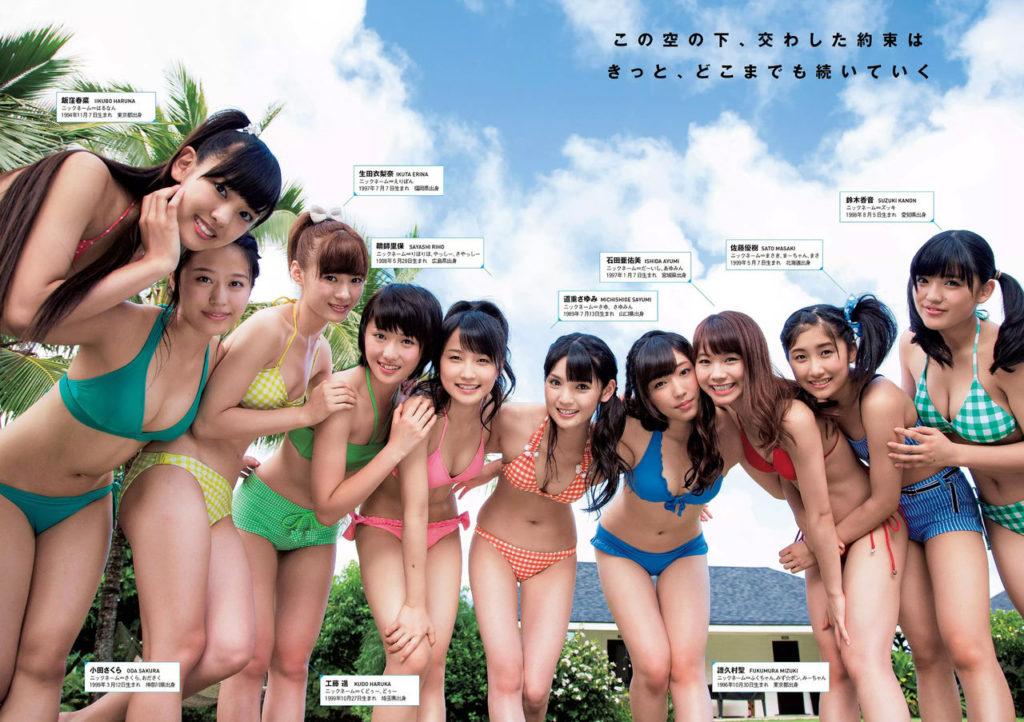 Yuzuki: H!P wota are so strong-willed! I love H!P fans! H!P doesn't suck up to anyone — the boys or the girls.
Asai: Before the chorus, the protagonist is going "mou nigedashitari wa shinai" ("I'm not going to run away anymore"), but I just want to tell her "it's okay even if you do." Also: "hitori no hou ga raku da / hitori wa saikou da / suki na eiga mirerutte / ijippari!?" ("it's so much easier to be alone / being alone is the best / I can watch exactly the movies I want / am I being stubborn!?" It's like she's speaking as Eita's character in the drama "Saikou no Rikon."
Yuzuki: You don't think it's directed more generally at 30-something guys who go to the movies by themselves when their partners are having girls' nights?
Asai: Well, that's exactly what he's all about. And really: Eita's character from "Saikou no Rikon" is exactly like me. (laughs) "I can watch exactly the movies I want" — isn't that what you'd expect someone who enjoys being alone by themselves to say?
Yuzuki: And notice the "!?" in "am I being stubborn!?" An exclamation mark and a question mark.
Asai: Same thing with "Ijiwaru Shinaide Dakishimete yo." "Sappari sweets mou ikko ii deshou!?" ("can't I have just one more of those refreshing sweets!?")
Yuzuki: She's not asking while being all cutesy. It's more, "I can have one more. RIGHT…?"
Asai: She's angry. She just wants assurance.
Yuzuki: She does. And then when she keeps repeating the phrase: "I'm not going to run away anymore. I'm not going to run away anymore. I'm not going to run away anymore." I think this is a girl whose grades at prep school have been dropping as of late. She's very smart, she does her best at studies, she hardly ever goes out to play — she's not even in love. And yet, for some reason, her results have been getting worse. Her peers at school see how she conducts herself and they'll praise her. "You're doing your best." But it's a different story in prep school where they only see the numbers. No one is there to compliment her. She's staring at the results posted on the wall, feeling annoyed with herself. I think it's that kind of girl. Like, the kids who go out and take a breather during their summer breaks turn out to actually achieve higher results than those who don't.
Asai: Stop it. Don't recommend that Sayashi take a breather. She's just not the type who could could.
Yuzuki: Why not? Nothing wrong with taking a little breather. Come on, let's compliment Sayashi more! You haven't been talking about her at all as of late.
Asai: Yes I have! I talk about her every day!
Yuzuki: No you don't! Maro is like all you talk about now! It's like you're going… "Sayashi is the overly serious, elite member. She'll be fine even without me. I'm more curious about Maro…"
Asai: We can talk about Maro later. But another lyric that I really liked was "asagata no real na yume ga tanoshisugita" ("the realistic, early morning dream I had was so much fun").
Yuzuki: What sort of a dream did she have? Sayashiii!
Asai: She must've been in a shallow sleep for a long time since she only had that dream in the early morning hours. Then she finally managed to fall into a REM sleep for a couple of hours and she woke up, going "ah, that was nice."
Yuzuki: This girl is definitely a student preparing for her entrance exams…
Asai: That mantra she keeps repeating before the chorus is amazing. "Dareka no sei ni shitakunai, dareka no sei ni shitakunai, dareka no sei ni shitakunai" ("I don't want to put the blame on someone else, I don't want to put the blame on someone else, I don't want to put the blame on someone else").
Yuzuki: She's trying to tell that to herself. It's not the exceeding seriousness of a thirtysomething — it's the exceeding seriousness of a teenager.
Asai: She's still so young. She has zero composure in her heart.
Yuzuki: "I'm going to go to the beach and blow off some steam." "I'm just going to sleep early today." There's none of that for this protagonist. Even when she gets praised at school, she doubts herself. It's a perfect portrayal of the feeling of hopelessness that real teenagers today experience. But even so, this overly serious girl won't say something like "I will not lose!" No, she says "praise me." She's depending on others. I really like that. I mean, depending on others is so frowned upon in today's society — it's almost like it's not allowed for people to just help one another. Like… rather than the results you achieve through your hard work; rather than actually bringing in the results… it's like what matters more is how much you suffered in the process. Being the kind of person who asks to be praised, in that sort of society? That takes real courage.
Asai: She's working so hard, just a couple of simple words of praise would refresh her completely.
Yuzuki: Similarly, the protagonist in Sonim's "Tsugaru Kaikyou no Onna," rather than saying "come back to me" or "tell me you love me," is saying "chiyahoya shite yo / nee, chiyahoya gurai dekiru desho?" ("Fawn over me / can't you at least do that much for me?") I like that sort of thing. "The least you could do is fawn over me — the two of us are dating, after all."
Asai: Even you were hoping they'd be praising you if you received an award…

Yuzuki: I was. The day I received the Yamamoto Shugoro Prize, it really was like that. I got a crazy amount of praise and it did, indeed, refresh me. I want to be praised more!
Asai: Same here. They use the word in "Oh my wish!" as well. That second chorus: "Oh my wish! Ikiro / Go for it! Warae / Oh my wish! Jibun wo homero" ("Oh my wish! Live / Go for it! Laugh / Oh my wish! Praise yourself"). Having "live!" and "praise yourself!" in there side-by-side like that… awesome. Everyone just wants to live their life while being praised.
---
Song #2: ANGERME – "Nana Korobi Ya Oki"
(Miura Yoshiko/Hoshibe Shou/Yamada Yuusuke & Hirata Shoichiro)
Asai: It's a bit unfortunate for Maro — who is graduating — that "Nana Korobi Ya Oki" became the A-side of the single. She has a bunch of solo lines in "Gasshin Shoutan."
Yuzuki: Which do you like better: "Gasshin Shoutan" or "Nana Korobi Ya Oki"?
Asai: That's easy: "Nana Korobi Ya Oki"!
Yuzuki: Same here. No question about it.
Asai: Maro's very much a dancer in this one. She keeps having to smash her knees against the floor throughout the music video!
Yuzuki: Here we go again. You're seriously only talking about Maro as of late. You're like the typical Maro fan — you like complaining about everything concerning her!
Asai: That's not true! Just to give you a recent example: I'm very excited about her becoming a lyricist, which is what she said she'd do.
Yuzuki: You keep sending me these lyrics that you think might be something Maro could write. And you're taking it seriously when you write them!
Asai: Just thinking about the first song they release with Maro on lyrics duty, I can't help but feel really nervous…
Yuzuki: Anyway, this song begins with the lyrics "mawaru, mawaru yo, kazaguruma da yo" ("A spinning, spinning pinwheel") — already we're off to what feels like a historical drama. (laughs) The lyric about how that red and white pinwheel starts to look pink when it's spinning so fast… that's a really good way of describing that visual.
Asai: But it feels like if it was Tsunku♂, he wouldn't write the lyric as delicately. He'd probably make it about someone holding a pinwheel and running so fast that the wings blew off and it became just a stick.
Yuzuki: And Ayacho's hussy way of singing that line… doesn't she sing it almost in a way like Kaji Meiko might in a Stray Cat Rock film?
Asai: The great thing about this song is how it has a melody that makes the members all sound like good singers. It's like their voices are all so "open."
Yuzuki: I get that. Like during the "life is full of ups and downs" bit and stuff.
Asai: Or on the "mawarimichi demo" line — I didn't even know Ayacho could sing like that. Or the seriousness in which Meimei sings her line "ashita no koto yori mo ima ga daiji." So awesome.
Yuzuki: The choreography is cool, too.
Asai: It kind of sounds like it could also be a song about someone who keeps repeatedly losing the Naoki Prize…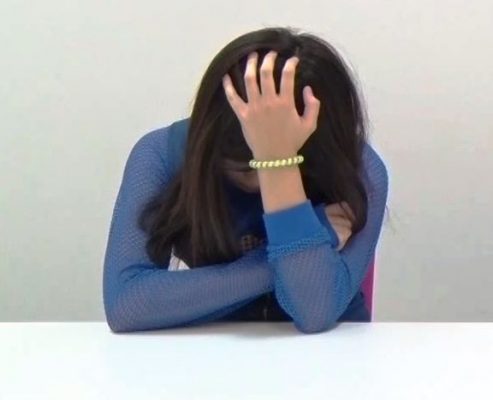 Yuzuki: That's certainly one of those things that could fit both the description of "absolute pinnacle" and the "absolute worst moment" of my life. I liked the line "saigo no saigo ni waraeba" ("if you're the one getting the last laugh"). "Soko kara soko kara haiagatte misero yo" ("crawl your way back up from the deepest depths"), "manjou icchi de kimi ni gunbai" ("you're declared the unanimous winner") — those lines have such a strong feeling of victory. Another line that made me happy was "ashita no koto yori mo ima ga daiji" ("rather than what tomorrow may bring, today is more important"). When things aren't going well for you, you tend to hope for a better tomorrow, right? But rather than doing that, make today enjoyable instead. I, too, have fallen seven times — but maybe on my eighth try? … Actually, no, it's still ways ahead for me…
Asai: A lot of people tend to get it (the Naoki Prize) on their sixth try, right? So to me it's a song about when you don't succeed in getting it on your sixth try and you feel like dying, and then you fail again on your seventh try and you feel like dying even more… but then you bounce back and think, "No, I can make it on my eighth try. I can do this. I can win the Naoki Prize."
Yuzuki: I like how it's a song about people struggling and yet they don't really put those complaints into words — "I'm struggling." It's really a song about outsmarting life. "Aseri kinmotsu" ("impatience is forbidden"), "reisei chinchaku" ("calm, cool and collected") — it's obviously not going as well for the protagonist as she might hope, but at least she's bold. I really like that.
Asai: But it also feels like it's not the person talking about themselves — it feels like the viewpoint of someone who's already passed away as they watch from the heavens.
Yuzuki: Maybe it's Kikuchi Kan? (laughs) (Note: Kikuchi Kan established the Naoki Prize.) In any case, I want to always remember the importance of staying persistent, so I think I'm going to keep listening to this song forever.
Asai: There's that bit in the music video where Takeuchi Akari sings "ima ga chance da yo!" and Meimei and Murotan sort of collapse out of her way when she does. Meimei during that part is so great. Isn't Meimei incredible?
Yuzuki: It's pretty amazing.
Asai: Murotan has a really good sense of rhythm and she's always a very steady dancer, so even when she falls, her body is still in perfect form. But the way Meimei does it is, she just lets her upper body strength go so her head is the last thing to drop. It looks crazy. I do hope you all rewatch it.
---
Song #3: Morning Musume – "Egao YES Nude"
(Tsunku/Tsunku/Matsui Hiroshi)
Asai: Reading about the reception to our Hello! Shop event ("Hello! Show Deluxe," a talk show event held on June 21st at the Akihabara Hello! Project Official Shop), when we were talking about "tadayou blackberry" ("a floating blackberry") and one of us uttered the word "female genitalia," that apparently really shocked the audience. It would appear that the word "female genitalia" had never been mentioned before at Hello! Shop.
Yuzuki: We have to be careful about stuff like that. But I honestly think that's what the lyric is about!
Asai: Yes. It's referring either to nipples, or to female genitalia.
Yuzuki: It's like when people on the net were going on about how Hoshino Mari has "disappointing boobs," and in response she made a blog post where she mentioned it in passing like "even if I do have disappointing boobs…" Everyone thought that was super adorable and she got a huge popularity boost in response. A girl who's capable of calling her boobs "disappointing" — I think our "Blackberry Girl" is similarly easy-going. But I guess it just wasn't OK to say at Hello! Shop. No dirty talk allowed!
Asai: It was a bit too specific, you know? I mean, talking about the color of female genitalia…
Yuzuki: But I have to say: the fact that the protagonist is so mindful of what someone else might think of her naked figure, she's obviously a virgin, right? This heroine is definitely checking herself in the mirror and stuff, in preparation for her "big night."
Asai: And that lyric "afureru hikari" ("overflowing light") is obviously in reference to the guy not turning off the lights.
Yuzuki: Really, what a brute! Refusing even to turn off the lights when it's the girl's first time… She thinks, "I'm not going to worry about society's expectations." But the thing is, society's expectations tend to be pretty accurate — and you're a part of that same society. (laughs) Her friends and the older girls from her neighborhood were even trying to warn her to stay away from the guy…
Asai: And so she was examining her private parts before her first time and suddenly seeing something that made her think "… blackberry!"
Yuzuki: But this heroine has only seen her own parts and thus she's made up her mind that she's inferior for whatever reason. There are so many girls in H!P songs who compare themselves to everyone else. Like in "Gatamekira." "Mou chotto mashi na kao nara" ("if only my face was a bit less objectionable").
Asai: What a way of expressing it! She's not saying she wishes she was "a bit cuter" or something — she literally wants a face that's just a little bit less objectionable. It's pretty incredible how common it is for people who consider them inferior to others from the get-go to think like that.
Yuzuki: She's obviously a girl who'll look at her own naked body and just sigh in disappointment — but that's what everyone does. With all these H!P protagonists who think "I'm not cute," there's a part in all of them that does believe they are cute. But they lack the self-confidence and the certainty, so they want to be told how cute they are in exact terms: "kono yo no naka ni kurasu onnanoko de watashi no ranking nani darou ka?" ("Out of all the girls living in the world, what would my ranking be?") ("Shabondama").
Asai: And even if you answered, they'd probably ask for even further details still. You tell them their exact position and they'll go "… of how many people in total?"
Yuzuki: That's why there's that feeling of relief when you find yourself in a place in life where you're actually busy. I so get that. I only felt like I could breathe normally once I was 25 or so. (laughs) And now this similarly pure girl has started dating a guy who society deems no-good — the kind of guy who won't even turn off the lights when it's her first time having sex!
Asai: "Ocha shite mitari / oshare na bakery" ("having tea / going to a stylish bakery")… Why would he take her to a bakery if they've already had tea? What's up with this guy? What is there to do at a bakery besides having some tea and whatnot?
Yuzuki: Want me to tell you? It's because the protagonist is the guy's "daytime girl." He's meeting up with another woman at night…
Asai: Stop it! Stop it!
Yuzuki: If that's not true, then why doesn't he take her to a bar or something instead? Why does the protagonist, a girl who's free to be in a relationship with anyone she chooses, decide to date a guy who society opposes so much? Why does she call their relationship a "Romeo and Juliet" type situation?
Asai: "Doushite konna ni tanoshii no? / Manatsu ga matenai ja nai" ("Why is it so much fun? / I can't wait for the midsummer to be over"). The guy must be on a vacation somewhere with the other woman. The girl is spending all of midsummer alone by herself…
Yuzuki: "Anata dake no watashi dakara enryo sezu ni tsuyoku shite yo" ("I belong only to you, so be as forceful as you want with me; don't hold back") — that's the same as that one line from "Ai no Sono": "dekisou ni nai kurai na koto onedari shite kurete ii yo" ("you can coax me into doing something I'm nearly unable to do"). That's how girls think when they've just become sexually active. "I can do anything."
Asai: Even though the reality of it is that this girl would be in complete panic mode if some guy really did with her as he pleased. Now that's "awkward paradise" for you…
Yuzuki: Right. It's just that she's never met a real, proper pervert yet. That's why she has the false confidence to say she could do "anything."
Asai: If she keeps saying that, she really is going to end up getting it…!
Yuzuki: Oh, god! No! Not by this guy!
Asai: But she's saying "YES" to him! "YES Nude!"
Yuzuki: To hell with "YES!" Take better care of yourself, girl! That's another thing: I want to warn her about revenge porn — never, ever send this guy your nude pics! Please don't tell me that the meaning of the line "Egao YES Nude" is actually the guy messaging him "I want to see you naked" and the girl replying "okay… LOL." I'm telling you, if you send him your nude pics, this guy is going to show all his no-good drinking buddies and then they're going to end up on the internet! For crying out loud, do not send him your nudes!
Asai: It's too sad to even think about…
Yuzuki: But the thing is, this girl is having fun, right…? She's so in love and she's so happy, but it's so sad, isn't it? I think this is the saddest song they've released. "Doushite konna ni yasashii no?" ("why are you always so kind to me?")… it's because he doesn't actually love you!
Asai: Suddenly it's like with the "grandmother" in Little Red Riding Hood all over again…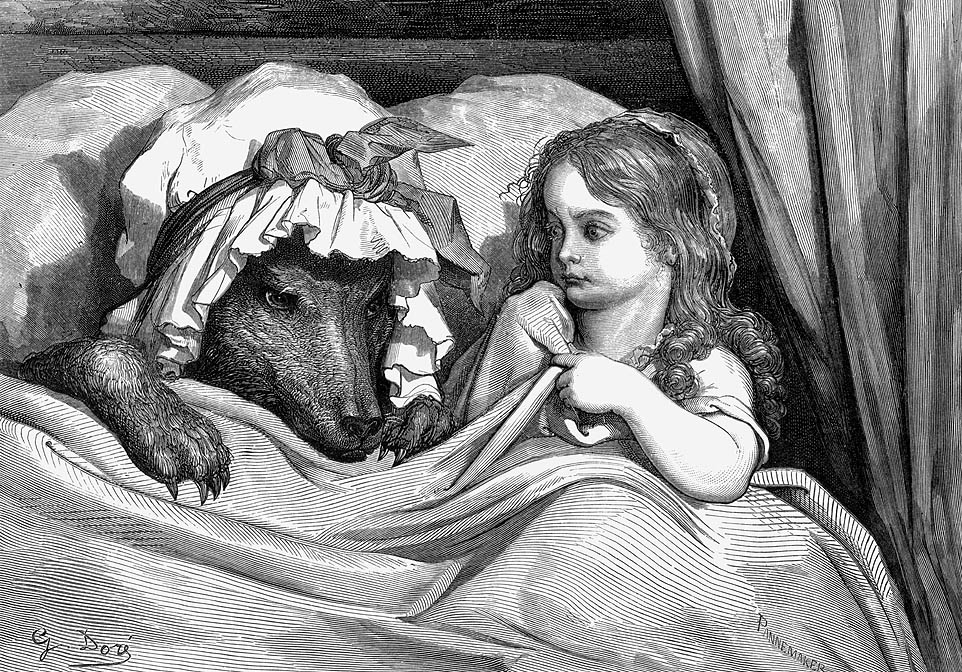 Yuzuki: I love the way Tsunku♂ depicts loneliness in his lyrics. Usually in J-pop, loneliness tends not to be described as such a terribly bad thing, right? It's a chance for you to work on improving yourself; an opportunity for self-growth. But the loneliness depicted by Tsunku♂ is the kind that everyone truly wants to avoid. "Being alone is so sad. Being alone is painful. I don't care who it is — just someone please connect with me. Even if it's some no-good guy, please be with me." No one truly gets the meaning of loneliness like he does! It's only once you're past 25 or so that you can look back and think a period like that was simply what you needed to go through at that point in your life. But to girls the same age as the protagonist, they detest that type of loneliness — they think it's something they absolutely must not allow themselves to experience. So, I believe that… "Dakara, dakara, sukoshi kowai" ("that's why, that's why, I'm a little scared") — she's definitely thinking that just as she's sending her nudes to him. Because god, that must be scary!
Asai: I can't say I've ever sent my nudes to anyone.
Yuzuki: Neither have I, but I can imagine it feeling scary. The guy must be in his 30's — he's definitely no boy anymore. I'm also sure that it's set in the Kamakura area. They're flirting over at Enoshima Island Spa, surrounded by other people who look like they might be budding couples… except, I'm sorry, but dates at Enoshima don't really mean a thing.
Asai: It's one of those places where you go and it turns into a date almost automatically. You don't have to do any research or anything.
Yuzuki: Right. But this girl is still on cloud nine. "Me and him went to Enoshima together. This must mean we're officially dating!"
Asai: I think the bakery they went to in Enoshima was the "midi a midi" — it's even close-by to Enoshima Island Sea.
Yuzuki: Anyway. When you think of it like that, although they may seem diluted as of late, at least the Tsunku♂-isms are still there to make up for it. It's like they're ingrained in Hello! Project songs. I think that's something the fans appreciate as well.
Asai: Wait, when you think of what? What are you talking about?
Yuzuki: The lyrics. I'm summarizing all that we've just talked about. I really think Tsunku♂'s songs are like a magic cure.
Asai: Ah. While I thought disc two of Juice=Juice's First Squeeze! was great, it makes me worried when I hear people talking too much about how great it was… I mean, don't get me wrong. It's great! It really is. It's really good… but do you guys still remember all those Tsunku♂ songs? Like… man, I was already surprised when Melon Kinenbi released "Saa! Koibito ni Narou." That was the only non-Tsunku♂ song, and it was so easy to listen to and it sold very well…
Yuzuki: I prefer "MI DA RA Matenrou" and "Nikutai wa Shoujiki na EROS."
Asai: Even Momochi as of late has been talking about how she likes all those non-Tsunku♂ Country Girls songs. Whenever they make statements like that, it just kind of hurts me for some reason…
Yuzuki: We'll be going to the August Hello! Con together, both "DISCOVERY" and "CHALLENGER." A whole day spent at Nakano Sunplaza. (laughs) Anyway, it'll be interesting to see the current state of things…
Asai: It's possible that like half of the entire two setlists will be non-Tsunku♂ songs.
Yuzuki: I guess at the end of the day, the two of us just like the indecent songs.
Asai: I think so. That, and the songs where they're shouting. Maybe that explains why we like members such as Kobushi Factory's Hirose Ayaka and ANGERME's Kananan.
Yuzuki: Shouting indicates anguish — isn't that what funk is all about, too?
Asai: I wish they'd do more funk songs!
Yuzuki: I often like to make up my own lyrics to the songs, and the reason why it's so easy to do that is because the original lyrics have so much power behind them.
Asai: You can change the lyrics but the strength behind the message of the song remains the same — that's the amazing thing about Tsunku♂.
Yuzuki: That's also the reason why even listening to the songs can be tiring — with H!P, even the fans get exhausted. (laughs)
Asai: That must be the reason the fans ignored Sayashi talking about her raclette cheese: they were too tired.
Yuzuki: Right. If they had the energy, they would've been yelling back at her about how cute she is. That's what I think I'd like to do more of from now on. H!P is asking fans to "shower them with praise," so it's our duty as fans to do that for them.
Asai: With that, please make that the title of this first part in our series: "Homemakuri da yo Paradise" ("Incessant Praise Paradise").
Interview & text: Takaoka Hiroshi
Photography: Katano Tomohiro
English translation: Henkka
Asai Ryo on the web: Twitter
Yuzuki Asako on the web: blog, Twitter