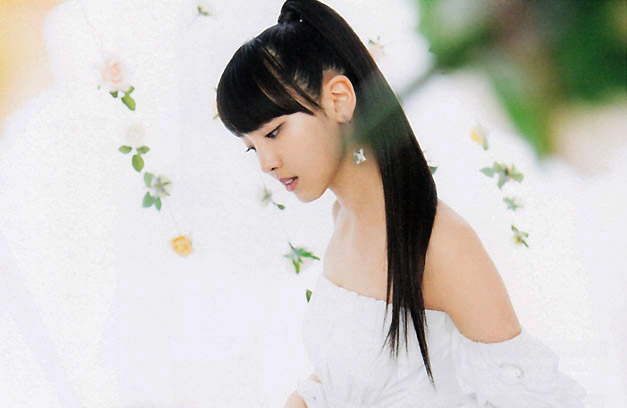 Iikubo Haruna
November 7, 1994 — Tokyo
2011/09/29 ~

Iikubo: Even now I still have no idea why I was accepted. (laughs) Tsunku♂ listed a couple of reasons for picking me. "You have a pure personality, an aura that stands out, and your singing is good." None of those descriptions feel like they quite fit me… (laughs)
10th Generation's Eldest Daughter

— He may have gotten that from your gentle way of speaking and that unique atmosphere you have about you.

Iikubo: I used to not really understand what people meant when they said things like that about me. But looking back on our old footage now, I suppose it is quite rare to come across a 2nd grade high schooler from Tokyo who's that naive. Maybe that's what he meant by "pure."
— Was that due to the environment you were raised in?
Iikubo: No. I believe I received a perfectly normal upbringing, and I did have those gyaru-types around me, too. We had a strict curfew in my household… but that's pretty much it.
— You were aspiring to get into the entertainment industry from a very young age, weren't you?

Iikubo: I had taken part in auditions before Morning Musume and I had worked with other agencies. I first learned about the 10th generation auditions through Michishige Sayumi's blog. I was in my 2nd year of high school which meant that, age-wise, it was my last chance to to apply… I remember very strongly believing that I would be accepted.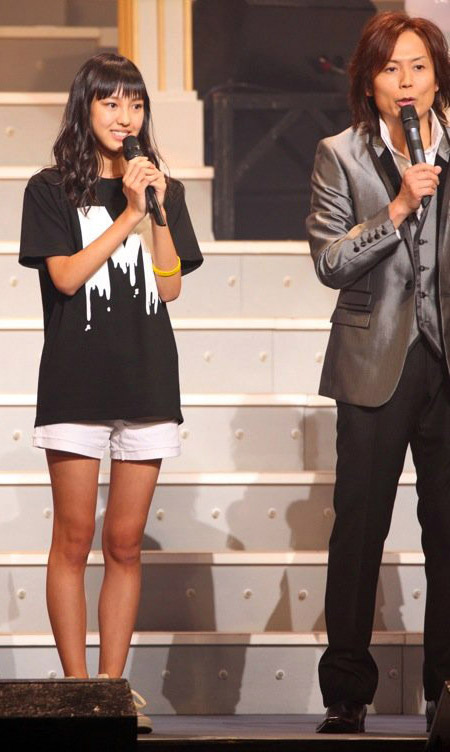 — Do you remember seeing the other members at the auditions?

Iikubo: I do. Especially Sato Masaki — even then she already stood out. (laughs) I mean, we're talking about a girl who made the officials at the audition get angry at her because she was playing a game of tag! I was like, "is this person okay…?"
— And this was when everyone else there was just earnestly trying to do their best with their audition?
Iikubo: Yes. We were having lunch, and she actually touched the fried chicken of this girl that was sitting next to her — with her bare hands. When I saw that, I just snapped at her. "Don't touch other people's lunch boxes!" So you can imagine how surprised I was when I learned how that same Maa-chan had passed the auditions.
— I think it's amazing that you were able to properly warn her like that despite the situation you were in.

Iikubo: There were songs they wanted us to sing at the audition, but Maa-chan couldn't read the English words or the kanji characters, so I would have to write her the furigana to help her read them. I had to look after her like that from the very beginning.
— What with so many elementary schoolers and just generally young kids joining the group in your generation, perhaps it was necessary for there to be someone in your position, too.

Iikubo: The 9th generation members are like rivals and they all have strong personalities, whereas with the four of us in the 10th generation it felt like we could always do our best together by instead combining our strengths. So right from the time we joined the group, it just naturally happened that I took on the role of the "mediator." I was the oldest of us, too — it felt like I was the eldest of four sisters.
Face-to-Face with a Living Legend

— What was the hardest thing for you upon joining Morning Musume?

Iikubo: For me, it was my complete hopelessness at singing and dancing. It was tough. Prior to me joining Morning Musume, I didn't even know that music had such a thing as "rhythm."
— So you were starting literally from zero.
Iikubo: Up until that point in my life, I had just been listening to the voice of the person singing the song. I wasn't at all conscious of the melodies or the sounds of the instruments, so I was completely unable to feel the rhythm. I didn't even understand when they counted the rhythm for us out loud at dance rehearsals. I couldn't sync with any of the others.
— Was rhythm something you would go on to learn through your diligent training?

Iikubo: It wasn't something I was accustomed to at all, so in the beginning I was just constantly trying to keep the beat in my head. But it wasn't easy. I was trying desperately hard especially for the first three years. My mind would be working in overdrive during our concerts — it was to the point where I wasn't so much enjoying the concerts as I was just trying not to make a mistake. "They'll be angry at me if I mess up." That was the only thing I was thinking about.
— How long did it take until you could finally see some change in yourself?

Iikubo: It was something Michishige said to me that allowed me to change. She told me that while she wasn't good at singing or dancing either, it was still important for one to feel confident about themselves. She told me that even if I recognized that I wasn't good at it, if only I got up on stage while feeling confident that I had practiced properly to do just that, then I would be fine. And it was a load off my mind.
— Encouragement from one's senior can make a world of difference.

Iikubo: From that moment on, I became able to see the audience's faces during our concerts. I became able to enjoy performing. Before that point, I had forgotten how to feel confident the way I did at my auditions.
— With 20 years of history behind the group, you must have learned a lot from your seniors.

Iikubo: I'd heard about all these legendary stories of the past… We got to collaborate with the original members on "Morning Coffee," and there was something that happened when we were shooting the music video for it. We were all there on-location, noisily talking about stuff, when Nakazawa Yuko suddenly clapped her hands together and said "right — let's begin!" When she did, the whole atmosphere in the room instantly became tense — and not just among the members, but among the staff as well. Even Abe Natsumi stopped what she had been doing just moments before and took to her position. I was just so impressed by how compelling her leadership was.
— That's the birth of yet another legendary story!

Iikubo: It felt to me like that was probably what the atmosphere used to be like in the group all the time. These days, the group is nothing like that. Whether that's a good or a bad thing, I don't know. But I do wish there was someone like Nakazawa in the group today. (laughs)
— That sounds like a role you could take on! You are a subleader, after all.

Iikubo: I'd have to start by learning how to clap my hands as powerfully as her. (laughs) And that's easier said than done — that was a sound that could change the atmosphere of an entire room. But I do feel like even though everyone in the group today is friendly with each other, it would be good to sometimes have that kind of tension in the air.
— You've also said you were glad you got to perform "LOVE Machine" together with Iida Kaori.

Iikubo: That look in her eyes when she did the opening "DIAAAAA!"… that was the real thing. She even knew about my "good-at-compliments character." I was touched to know that she actually watches what we do.
— Is there anything you feel Morning Musume should be doing differently today?

Iikubo: Everyone in the group has her own charm points, so what I think would be important is for all of us to take those strong points of ours and try to have each of us stand out more as individuals. Another thing I suppose would be that spirit of rivalry… As it stands, we keep most of it between ourselves even though we should be trying to be more open about it.
— Those in-group rivalries were especially prominent in the early days of the group.

Iikubo: And they were something that made the group more motivated, too. Also, personally, I would like us all to be more mindful when we're speaking to the outside world. We have to think about how the people watching will perceive us, and we have to listen carefully to what the commonly-held opinions are. The fans are of course always kind to us… but I'd like the members to all open their eyes to the reality that that is not at all guaranteed when we take even one step outside of that arena.
— You're saying they shouldn't be satisfied with staying put where they are right now, just because it's comfortable?

Iikubo: Yes. It's also the reason I try to be the most beauty-conscious member of the group. These days we're often being noticed for our dancing and our performances, but I'd also want us to be a group that catches your eye with our looks when we're appearing on TV or elsewhere.
— It's important to be mindful of one's appearance, too.

Iikubo: Yes. That's why I want to always use moderation even in my daily life, and quickly fix any problems with my health if there are any. Some girls such as Ikuta have no issues even without having to pay special attention to anything at all, but in my case, if there's something wrong with me it becomes immediately obvious on my face. Makino is someone who is always spreading the Morning Musume name through her gravure work and she, too, is always mindful of these things. So even though there are girls like her who are genuinely doing their best, when you see other members who will just eat anything without a second thought… it sort of makes you think.
— I suppose this is something we've been seeing happen before in the history of Morning Musume…

Iikubo: Sometimes it can also be because one is going through a growth period, and our lessons can be so intense that it's no wonder we'll have huge appetites. Two months before Kuduu's graduation, I suggested to everyone that we all try to get in better shape physically. But now, even though her graduation concert has already passed, some of the members are still keeping at it. So that just goes to show that everyone can do it if they have an objective. That's something I'd like for all the members to be careful about in the future, too.
— So your message is: if you're going to be appearing in front of an audience, you should at least be doing the bare minimum.

Iikubo: Yes. That's true not only for one's looks, but also things like our performances and our understanding of the lyrics and interpretations of the songs. If you can interpret the songs properly, then you can convey them to the audience, too. That leads to the performance as a whole becoming more beautiful. I feel that being able to properly do that is what makes us Morning Musume — the group created by all our successive seniors.
— You yourself; the group as a whole; the other members — you think about things from many different perspectives, don't you?

Iikubo: I think that's just something I have to do to compensate for all the many things I lack. I mean, I don't have any of that idol-ness — that sparkle — to begin with! (laughs) I can only speak what I really feel — I can't make myself something I'm not. Michishige is my ideal form of an idol… but I don't think I could ever become someone like that myself.
— But you've been able to overcome difficulties in regards to singing and dancing to some extent. Don't you feel that that is something you could overcome with similar levels of effort?

Iikubo: No. It just feels like something I could never accomplish, no matter how much hard work I was to put in.
— What makes you say that?

Iikubo: I guess I would say that it's something that comes down to one's innate talents. But don't get me wrong: I'm not saying I need to be the "ideal idol." I feel that, seeing as I was chosen, it must mean I have something that was wanted of me. So I'm just doing what needs to be done — maybe out of a need for approval.
Dreaming of the World at Large

Iikubo: I once sent an email to Tsunku♂, seeking his advice. "I've just realized how fortunate and protected I am to be in my current situation. But the other day when I was just laughing with the other members backstage as usual, there was this moment when it just felt like our laughter didn't mean anything… It just felt as if we were in school. It made me feel so empty."
Tsunku♂ replied to my message. "Well, Morning Musume is but a microcosm of society after all." That surprised me. Until then, I'd only thought of Morning Musume as if it were a small school, or like a single class in school. But his message made me feel like I had to start looking at the group from a wider perspective and have more meaningful conversations with the members.
— So Tsunku♂'s words really changed your thinking.

Iikubo: I've asked Tsunku♂ for help many times, but he never gives me any direct advice like, "maybe you should do this." Instead, he gives me these little hints and makes me come to some kind of a realization myself. He has always watched over all of us individually — both now and in the past — and it's like he's always encouraging us to keep going forward through his words.
— Did the graduation of your generation mate Kudo make you give any thought as to your own future graduation?
Iikubo: I do think about the timing. I think all the OG's who graduated when they felt they no longer had any more unfinished business left in the group are so amazing. But I think in my case it would be difficult to aim for doing the same. If that was my objective, I'd probably never be able to graduate. (laughs) But it's just so much fun being in the group… I'm always finding more and more things I want to try. Ultimately, I think I'm just going to have to put an end to it myself at some point.
— It must be difficult trying to find the right timing.

Iikubo: Perhaps I'm going to graduate simply when I've found the next path in my life that I feel confident about. Through my activities in the group, I've gradually become closer to setting myself a dream for the future. Once I've managed to make it a little bit more definite, I think that's when I'll be able to determine the timing of my graduation.
— Lastly, what is Morning Musume to you?

Iikubo: It's a dream. After joining Morning Musume, I've been able to visit many foreign countries where I've had the pleasure to eat their many delicious foods and see their many beautiful buildings. It's taught me how the world has all these places I didn't even know existed, and in visiting places all over the world it's given me a dream of wanting to see even more new places. But that's a dream I was able to find for myself because I initially got to join Morning Musume. So not only was Morning Musume my first dream, but it has also given me my next one.
My Song
"Style of my love"


Iikubo: I'd like to think of this as my favorite song — it's the first song where I was the center. It's a song about an adult woman who has experienced all kinds of loves in her life, but as I haven't had experiences like that myself, it's so much fun just imagining them. As I sing the song, I always picture myself as being a similarly cool woman. (laughs)