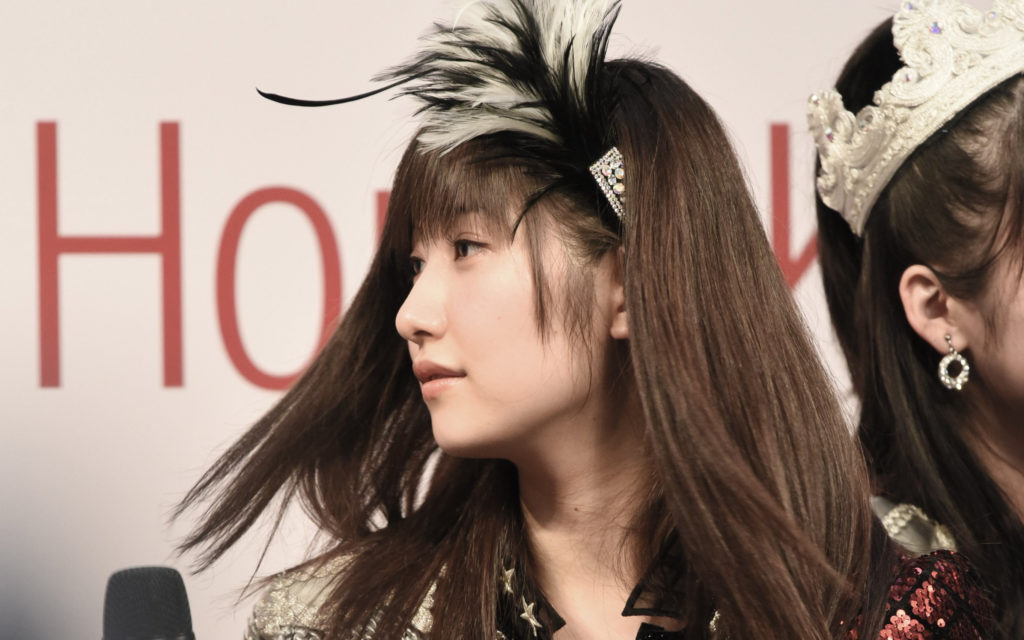 1: 名無し募集中。。。 2018/01/23(火) 17:35:16.80 0.net
There's never been a time in the past when someone of her type has become the most popular member. I feel like until now it's been either the more calculative or just the very self-confident members who have become no. 1 in popularity.
5: 名無し募集中。。。 2018/01/23(火) 17:37:55.68 0.net
Abe → Goto → Matsuura → Takahashi → Airi → Michishige → Sayashi → Sato.
I guess the closest thing to her would be Abe?
15: 名無し募集中。。。 2018/01/23(火) 17:42:21.99 0.net
>>5
Sato: "I want to become Tanaka-san."
20: 名無し募集中。。。 2018/01/23(火) 17:44:15.16 0.net
>>15
But Tanaka used Abe as her blueprint.
10: 名無し募集中。。。 2018/01/23(火) 17:40:32.56 0.net
Abe Natsumi and Sato are made from the same mold.
22: 名無し募集中。。。 2018/01/23(火) 17:45:23.40 0.net
On the surface she comes across as Tsuji, but on a deeper level she's actually closer to Kago. Sato actually has elements of both Tsuji and Kago, on top of which she picked up components of Tanaka and Takahashi. That's her current form.
36: 名無し募集中。。。 2018/01/23(火) 17:51:37.35 0.net
>>22
What? She's nothing like Kago.
How exactly do you perceive her?
41: 名無し募集中。。。 2018/01/23(火) 17:54:42.38 0.net
>>36
That genius-like quality that Kago had in the beginning is similar to Sato.
30: 名無し募集中。。。 2018/01/23(火) 17:48:26.68 0.net
The scary thing is how she's become the most popular member despite the office doing nothing in trying to push her. In the past, the second and third most popular members weren't really that far behind the top member — who was of course pushed by the office. And yet, it's not like Sato is exceptionally cute, or exceptionally good at singing, or exceptionally good at dancing. That's why you could say there's never been a no. 1 most popular member like her in the past.
33: 名無し募集中。。。 2018/01/23(火) 17:50:09.53 0.net
What's incredible about her is her nonchalant expressiveness. And that's not something anyone can teach you. She's simply the kind of girl who possesses that ability by her nature.
37: 名無し募集中。。。 2018/01/23(火) 17:51:44.87 0.net
Rather than Kudo, I think it's Sato who's more suited to becoming an actress. I really do feel that if she was to become an actress, she's someone who all the great directors would be giving unanimous praise to.
43: 名無し募集中。。。 2018/01/23(火) 17:55:46.77 0.net
You can't find anyone else like her so it's not even possible to constrain her into any one type.
45: 名無し募集中。。。 2018/01/23(火) 17:55:49.29 0.net
Her looks, her singing and her dancing skills are all beyond average, and on top of that she has originality and a very unique worldview and power of expression. You don't see outstanding talents like that every day. It almost makes me admire all the H!P wota for actually recognizing that talent and making her the most popular member.
75: 名無し募集中。。。 2018/01/23(火) 18:06:41.56 0.net
It's nice how she respects Tsunku and says things that tug at the heartstrings of H!P wota.
81: 名無し募集中。。。 2018/01/23(火) 18:07:47.34 0.net
Kouhai A: "The senpai I most look up to is Morning Musume's Sato-san."
Senpai B: "Wow! That's quite the pick…"
She's a girl who elicits reactions like this. But if the kouhai instead answers the question with like Airi or Sayashi, there's never a reaction like that.
257: 名無し募集中。。。 2018/01/23(火) 19:37:31.16 0.net
>>81
Well, in Sato's case, even if you do look up to her it's not like you could imitate her in any meaningful way.
90: 名無し募集中。。。 2018/01/23(火) 18:11:29.41 0.net
Ai-chan had the same sort of humility about her. "I know I'm good-for-nothing, but I'm still doing my best as the leader of Morning Musume." It's that modesty.
133: 名無し募集中。。。 2018/01/23(火) 18:26:13.68 0.net
She isn't a manufactured ace.
140: 名無し募集中。。。 2018/01/23(火) 18:29:44.25 0.net
Abe, Goto, Matsuura, Takahashi, Airi, Sayashi… They were all people who the office made into the no. 1 most popular members. Michishige and Sato might be the only ones to go against that.
164: 名無し募集中。。。 2018/01/23(火) 18:42:37.09 0.net
But even with someone like Michishige who also became the no. 1 most popular member later on, she was a person who always desperately wanted to be popular. That's not the case with Sato.
149: 名無し募集中。。。 2018/01/23(火) 18:35:27.55 0.net
When I saw how Sato started crying after the filming of the Gosenfu music video, I just thought "ah… that's Maa-chan for you."
163: 名無し募集中。。。 2018/01/23(火) 18:41:29.74 0.net
Sato herself though is aiming for Tanaka. She herself previously proclaimed that she'd become Tanasa-tan's successor.
28: 名無し募集中。。。 2018/01/23(火) 17:47:15.83 0.net
Even now Sato still asks Tanaka for advice on LINE.
177: 名無し募集中。。。 2018/01/23(火) 18:47:54.79 0.net
I'm a female wota of another member, but I do get why Maa-chan is so popular. Right when you start thinking she's just an airhead randomly spouting out whatever, she suddenly moves you by saying something really passionate. She seems like a natural genius, yet she's actually a hard worker who shows visible improvement. If I was still in the midst of puberty and I was reading a manga with her as a character, she's who I would pretend to be. That's the kind of charm she has.
181: 名無し募集中。。。 2018/01/23(火) 18:50:56.33 0.net
I'm certain Maa is going to end up going down the music creator path in the future.
185: 名無し募集中。。。 2018/01/23(火) 18:53:15.72 0.net
That devastating amount of cuteness she had at the time of her audition and that strange personality combined with her performance ability that keeps improving by the day… You could say she has nothing but things that would make her popular.
1. カラフル名無しさん 2018年01月24日 14:18 ID:qjEJp0ia0
The Maa wota are always going on about how she became popular "without any push from the office"… but they've easily pushed her the most out of anyone since Sayashi's graduation.
2. カラフル名無しさん 2018年01月24日 15:28 ID:mwuumBBN0
Sato? Getting any push? If anything, it feels like it's Ishida and Makino they've been pushing.
6. カラフル名無しさん 2018年01月24日 23:30 ID:ZV06oxl10
She's the kind of girl who could captivate even a rock fan like me. The first time I saw her, she just made me go "oh, she's cool!" Then once I went on to learn about all the things that makes her so different from everyone else, I had to surrender myself to her completely. I'd think most of her fans are like me in that way, no?
7. カラフル名無しさん 2018年01月25日 01:17 ID:9oFODsIv0
She isn't even the type of girl who seems like she'd want to be in an idol group. The work of an idol is all about doing as you're told (in terms of singing, choreography, etc), so in that sense being an idol doesn't suit her at all. If it was anyone else, the person judging her at the audition would've probably dropped her, thinking "… this girl just feels like trouble…"
The fact that she hasn't already quit Musume and the fact that Terada was there to discover her at the 10th gen auditions… The stars were aligned.
8. カラフル名無しさん 2018年01月25日 05:02 ID:2YtmTP6G0
It's fun to be a Maa oshi because it feels worth it to support her.
It's never boring to be a wota of hers.
Source: http://colorhello.blog.jp/archives/1069443492.html