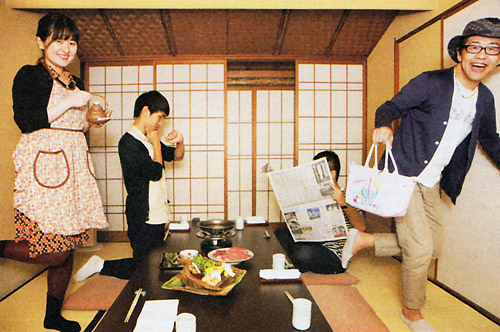 Part Eight: "Sukiyaki × Conveyor Belt Sushi = Preparedness to Live"
Writers Yuzuki Asako and Asai Ryo
profile the lyrics of Hello! Project songs!
Song #1: Morning Musume – "Sukiyaki"
(Tsunku/Tsunku/Takahashi Yuichi)
Henkka: Seeing as there doesn't seem to be an English translation of the lyrics to this song online, let me give you a summary.
"Sukiyaki" is a simple, heartwarming lyric about a girl who is bringing her boyfriend over to meet her family for the first time. It depicts the picture-perfect family as they wait for the boyfriend to arrive. Mom's busy preparing for dinner — sukiyaki — in the kitchen, the little sister's running out to buy ingredients that Mom forgot to buy, Dad nervously pretends to look busy reading the newspaper, and the boyfriend misses his train due to absentmindedly worrying if everything will go smoothly. Meanwhile, the protagonist is trying to figure out if her boyfriend would be mad if she was to chicken out and introduce him to her family as merely a "good friend" of hers.
When the boyfriend finally arrives, the whole family immediately takes a liking to him. Despite the dad's earlier feigned disinterest, he takes a lead in excitedly running their little house party. The boyfriend quickly wins over the mom as well, by eating not two, not three, but four bowls of their dinner. The song ends with the protagonist thinking about how she loves her boyfriend and how reliable he is, while contemplating on how sukiyaki actually represents the "heart of Japan."
---
Asai: This month, to show our gratitude towards our editor-in-chief Kawakami and everyone else at CDJournal, we've come to Ningyocho Imahan's Yurakucho location to pretend like we're characters appearing in "Sukiyaki."
Yuzuki: I was at a festival in Setagaya and I happened to overhear some Okinawan folk music while I was there. It made me think "wait, I feel like I've already heard this somewhere before…" That ended up being the reason we're covering this song today. Why did they pick Okinawan folk music as the theme of this song?
Asai: And what came first? Did Tsunku♂ hear some Okinawan folk music and think "hey, I ought to make this into a song about sukiyaki!," or did he already have lyrics like "Niku ya negi ya / Ah! Ito konnyaku toka" ("Meat, green onion… / Ah! And konnyaku noodles and stuff") and then just figure "hey, I bet this would go well with Okinawan folk music!" It's just such an unlikely combination.
Yuzuki: It's like how they mixed Russian folk music with lonely office ladies — just these completely off-the-wall combinations. H!P has a lot of those. Well, not so much as of late though.
Asai: They won't have any more of that kind of thing as long as Tsunku♂ isn't there. But if, if it was the case that he first heard some Okinawan folk music and then thought of the lyrics "meat, green onion…" then that'd just be insane. If that's the case, then he's just too big of a genius.
Yuzuki: You forget that we're now talking about the same person who instructed Taiyou to Ciscomoon to sing the line "yubi de" as "you'll be there."
Asai: I wouldn't have the courage to face someone as big of a genius as that. Anyway, one thing I love about this song is how the protagonist's pronoun for herself is "uchi."
Yuzuki: Ah. Girls who call themselves by "uchi" even though they aren't from the Kansai area…
Asai: That's why I figure that, age-wise, she must be quite young.
Yuzuki: Speaking as a fan of Tanabe Seiko's literature, I'm going to say that it's Kansai-style sukiyaki they're singing about.
Asai: Browning the sugar, cooking the meat, adding soy sauce… it's probably really, really sweet.
Yuzuki: They use a lot of sugar in Kansai. The other day I actually had some homemade sukiyaki in Kansai. The person who made it said "our sukiyaki isn't actually very Kansai-like," but even so it was still pretty sweet.
Asai: I, too, once had Kansai-style sukiyaki with browned sugar in it. It was good.
Yuzuki: In Tanabe Seiko's short story "Ninjou Sukiyaki Tan," there's this guy who is the son of a family running a long-established paper wholesale company. He gets married to this woman from Tokyo, and she's beautiful and capable of anything, but her cooking just doesn't fit his palate, so to say — her sukiyaki is so spicy he can't even eat it. So then he goes and has a secret reunion with a girl he used to date, and the sukiyaki this woman makes for him tastes sweet and delicious… It's that kind of a story.
Asai: That's just lewd…
Yuzuki: Maybe it's that kind of sweet sukiyaki in this song, too.
Asai: I think the girl's only about 19 or 20 years old, while her boyfriend is older than her and he's already a working adult. I just love the song's nice, respectable setting…
Yuzuki: I know you do. You love the whole "dinner with the family" thing.
Asai: I do. That image of a proper Japanese family… Even if it's also kind of painful to me as a single guy…
Yuzuki: You just don't see this kind of thing a lot these days.
Asai: You really don't. A family that actually gets along — everyone acts like it's the most unremarkable thing in the world when really it's the highest ideal of all.
Yuzuki: This song would get bashed if it was released today. Even something like "Sazae-san" is constantly bashed in today's world. The whole family archetype no longer really exists.
Asai: The times sure have changed…
Yuzuki: Even the family's thought of choosing sukiyaki as tonight's dinner because the girl's boyfriend is coming over for the first time is so… proper.
Asai: It's fun to make, it's delicious… even the preparations for sukiyaki don't take all that much work.
Yuzuki: You know, I think this girl has to be pretty. Same thing for her little sister. And because they are, they're always going "I don't need dinner tonight" or "I can't finish this" even though their mother loves to cook for them, and that makes the mother feel like all that hard work of hers is going to waste. Her husband isn't a big eater either, so it adds up to her feeling a bit frustrated. But then! Here comes the boyfriend of her daughter, and he's well-built so he eats a lot which leads to her love of cooking being awakened once again. I mean, he eats four bowls!
Asai: "Ano hito ganbatte yonzen mo" ("he did his best and ate four bowls")… He really did do his best. I can picture him thinking "I can still keep going!" and eating everything that's put in front of him, but then when he stands up to go to the toilet, he thinks "oh man… I think I ate too much…"
Yuzuki: He comes back and right away he's asked "would you like some more?" I think the mom has taken an immediate liking to him.
Asai: She's probably offering him like croquettes and other stuff that has nothing at all to do with sukiyaki.
Yuzuki: Eventually, he ends up feeling so full, he can't even concentrate on what everyone's talking about.
Asai: But then the dad starts to feel a bit left out of the conversation, so what happens next is: "Kaiwa wa izen to sports de uchi wa hairu yochi nai mama" ("the conversation lingers on the topic of sports, leaving me with nothing to say"). The boyfriend is trying to be friendly with the dad.
Yuzuki: He's such a good boyfriend. He's not afraid to let himself be the butt of the joke if the situation calls for it, and he's a guy who treats his girlfriend like a princess.
Asai: He definitely comes in wearing a suit.
Yuzuki: Absolutely.
Asai: At the end she compliments him with "yoshi yoshi / yoiko de arimashita" ("there, there / you were a good boy")… That's something any guy would be happy to be told.
Yuzuki: It's Takahashi Ai-chan singing that line. She sounds so cute. Ah, so that means the guy must be Abe Kouji!
Asai: Why would you think that?! This guy's only just joined, like, the second company of his life or something! He's no Abe-san.
Yuzuki: He must be super nervous, right? "Kareshi mo ichi ichi denwa shite kocchi no yousu wo ukagatte" ("he keeps calling me to check on the situation at the house")… He doesn't even have the patience to just text her!
Asai: Of course he's nervous! There's another line I find intriguing. "Nichiyou no yoru no sukiyaki / makafushigi da yo sukiyaki" ("sukiyaki on a Sunday evening / sukiyaki — a complete mystery"). Why does she call it a "complete mystery"?
Yuzuki: There's nothing mysterious about sukiyaki.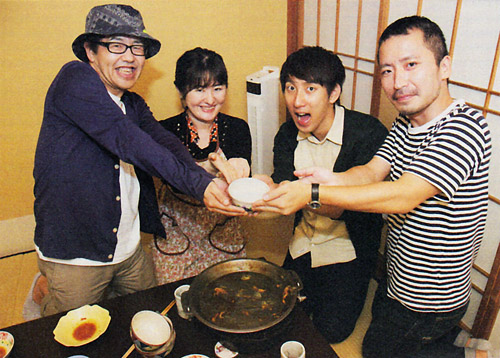 Asai: Using a descriptor like "complete mystery" right here — that's Tsunku♂ for you. The single released right before this was "Namida ga Tomaranai Houkago," but I'm a way bigger fan of this song over that one.
Yuzuki: Me too. "Namida tomaranai wa / shiawase ga sugiru kara" ("I can't stop crying / because I'm so happy")… Someone feeling like that just doesn't strike a chord with me. (laughs) But someone grinding their teeth after being dumped? Now there's a lyric I can enjoy!
Asai: After Inuyama Kamiko announced her pregnancy, we were talking about how you can now choose the music you'd like to have playing in the background during childbirth, and she was saying how she'd choose "Shabondama." Paipai Dekami said that there'd be nothing more awesome than being born to the lyrics of "kono yo no naka ni kurasu onnanoko de watashi no ranking nani darou ka?" ("out of all the girls living in the world, what would my ranking be?") We'll all shout out, "YOU'RE NUMBER ONE!" She'll grow up to be a genuinely strong woman!
Yuzuki: It's now an era when lots of H!P wota are becoming parents. Just this past year, one after the other the Morning Musume OG members themselves are getting married and becoming mothers. I suppose the members of H!P are mostly supporters of the family unit, too.
Asai: The "sometimes the old way is the best way" approach. Right?
Yuzuki: They're conservative.
Asai: They're trying to follow other people's examples of happiness that they've seen to have worked for them. Tsuji-chan's family for example… "Appare Kaitenzushi!" fits her family perfectly.
Yuzuki: As a frequent reader of her blog, I've noticed that they're constantly going to kaitenzushi (conveyor belt sushi) places — it's like they're always either at Kurazushi or Kappazushi, eating salmon.
Asai: Good for them. Ogiyahagi were talking on a radio show about how when you go to a cheap conveyor belt sushi place, you should eat salmon. Why? Because there is no such thing as "high quality salmon." That is, even if you went to a high class restaurant, you wouldn't find salmon there that's of better quality than what you would get at the conveyor belt sushi place. So props to Tsuji-chan for getting the most out of the conveyor belt sushi experience with her whole family!
---
Song #2: Muten Musume – "Appare Kaitenzushi!"
(Tsunku/Tsunku/Takahashi Yuichi)
Yuzuki: This protagonist's first-person pronoun is "boku."
Asai: That's quite rare for H!P. The protagonist must be a young boy.
Yuzuki: There's the big sister, the dad, and the mom — it's yet another ideal family.
Asai: There's the line "imasara donata ni apiru no yo" ("who are you trying to impress at this point?") in regards to the mom taking so long to do her make-up, so at first I thought it was a girl for sure. But then at the end it's "onaka ippai ni nattara boku wa…" ("once my belly's full…") This is just speculation on my part, but I think Tsunku♂ first started writing this song from the viewpoint of a girl, but then halfway through he realized: "wait, the order was to have the protagonist be a mischievous little boy…" In any case: seeing as you are a conveyor belt sushi enthusiast, which particular sushi place do you suppose this is?
Yuzuki: I wonder? There's definitely something a bit crazy about Kurazushi — in a good way — that is similar to H!P in a sense. I mean, they even have on their menu their own brand of curry, curry bread, and cola!
Asai: Recently, the Asahi Shimbun serialization "Sakka no Kuchifuku" was made into a book. I was reading it and while the other writers mostly listed their favorite foods they'd eaten abroad, you had a list of five items you'd had at conveyor belt sushi places. I was amazed.
Yuzuki: I love conveyor belt sushi.
Asai: That's why I was wondering which conveyor belt sushi place this particular one is…
Yuzuki: Probably Kurazushi or Hamazushi, no? They're both well-loved by children.
Asai: They're singing "akai no ga yattekuru" ("something red's coming this way")… Hamazushi's tuna is something one could only describe as "something red."
Yuzuki: That's true. It's just red something. I love the craziness of conveyor belt sushi. That Kurazushi curry they have, it reminds me of the Tsunku♂-ism of mixing sukiyaki and Okinawan folk music.
Asai: And they had the guts to ask for a tie-up with Momusu who were in a bit of a slump at the time! Oh, and did you know that this is the only song they've released on the same date as AKB released a single, too?
Yuzuki: Wow!
Asai: What's more is that their single was "Beginner" — which is a song that they obviously went all-in with.
Yuzuki: Oh man! "Beginner" versus "Appare Kaitenzushi!" (laughs) But I prefer "Appare Kaitenzushi!"
Asai: In "Beginner," they're singing something like "bokura wa ikiteiru ka?" ("are we living to the fullest?") (BOOM!) They literally ask you that question, and yet I feel like the protagonist in "Appare Kaitenzushi!" is way more alive.
Yuzuki: "Onaka ippai natta boku wa nandaka nemuku natta yo / tou-chan no ude dakkosarete shiawase no mama nemuru" ("My belly full, I start to feel sleepy… / Carried in my father's arms, I happily fall asleep"). Now that's being alive. Anyway, what genre would you call this song?
Asai: According to Tsunku♂'s liner notes: "This is a funky dance number with a rock taste and […] ultimately it just sounds funky. […] Even the choreography is so funky!" He emphasizes that it's a very funky dance number.
Yuzuki: It really is funky.
Asai: The melody's so great, too. I was moved by how they had no qualms about using such a great melody for a mere tie-up song that wasn't even a regular single.
Yuzuki: I enjoyed Sayashi's version of this song. Anyway, I like this line: "Osushi ga naze suki ka otona ni wakaru kai? / Suwarya sugu taberarete sugu ni manpuku" ("Could an adult even understand why I like sushi so much? / It's because I can start eating from the moment I sit down, and I'll be full in no time!") He doesn't say the first thing about how it actually tastes. (laughs) But this makes sense when you think of it in terms of how sushi was in the Edo period — the entire concept of fast food didn't exist yet. Another line that really sticks out to me is the "sekaijuu healthy" ("healthy all over the world"). Sushi is nothing but protein and carbs! (laughs) It sounds like something that some American who doesn't know any better would say.
Asai: Well, he's always eating at places like Bikkuri Donkey and stuff — I suppose sushi is healthy if that's what you're comparing it to.
Yuzuki: The B-side, "Kurazushi Bikkurapon!," is also good. "Kurakura kicha~u Kurazushi wa / ten ten tenka no mutenzushi" ("Kurazushi spins, spins, spins around / the best, best, best sushi with no additives").
Asai: "Suki na no tanomu zo touch panel" ("ordering our favorite things on the touch panel"). That line's probably there because they wanted to brag about them having acquired that touch panel technology.
Yuzuki: "Touchan sude ni gokigen / Kaa-chan mo mata gokigen" ("Dad's in great spirits / as is mom")… This is probably a really young couple, right?
Asai: Definitely.
Yuzuki: Around 32 years old or so?
Asai: Yeah, around the same age as the couple in Crayon Shin-chan. We already touched on this subject earlier, but don't you feel that it probably hurt this song because it depicts this picture-perfect family?
Yuzuki: I don't know… Maybe it didn't offend anyone because it's just so in-your-face on this song?
Asai: Rather than simply taking in the meaning as it is, I feel like listeners might compare it to their own lives… It's like that blog post Murotan made where she showed her dad's arm. When the male H!P wota saw that, some of them might've been sullenly thinking about how maybe in another life they, too, could've been strong fathers with such cute daughters…
Yuzuki: True. Murotan's dad's arm is so hairy and thick… Size-wise it's like the arms of Lum's father. (laughs) You're right though in saying that those average family stereotypes don't go over well with people these days…
Asai: When the stereotype is this on the nose, it actually becomes kind of refreshing in my opinion. This is completely off-topic, but the "okkawari shiyou ze!" line reminds me so much of EE JUMP's "Ottototto Natsu da ze!" that it hurts.
Yuzuki: That's such a good song! Why haven't we sang that together? That was a guy-girl combination, too…
Asai: Back in junior high school people used to say I looked like Yuki. Just because I have a big nose.
---
Song #3: ANGERME – "Kakugo Shite!"
(THE☆FUNKS/THE☆FUNKS/THE☆FUNKS)
Asai: Music-wise "Kakugo Shite!" is a bright, happy sounding-song, but lyrics-wise I do think it would be classified as a song that is hurtful towards wota.
Yuzuki: Really? Oh, by the way, this song was only included on the Limited Edition A version of S/mileage / ANGERME SELECTION ALBUM "Taiki Bansei." Even so, it's a great song.
Asai: The relationship between wota and idols is frictionless. It's just an exchange of money for services. But those words "kakugo shite!" ("resign yourself!")… It flat out says that in actual human relationships, you're required to resign yourself to face all kinds of things. I mean, this song is totally about one's first sexual experience, right?
Yuzuki: You think so?! I thought it was a song about what this class is going to do at their school festival.
Asai: What!? School festival!?
Yuzuki: It's a class where the majority of the students are girls and they're excitedly talking about how they're going to make a haunted house for it. 80% of the class is in favor of this idea… but the boys alone are quietly grumbling about it amongst themselves. So then this girl who's like the leader of the class approaches them. "If you have something to say, then say it!"
Asai: But then what's with the "aishichatten ja nai no!" ("you're just in love with us!") line?
Yuzuki: That's just to indicate how they think the boys must like them.
Asai: That's quite an analysis for the eighth part of this series!
Yuzuki: Guys looking visibly displeased about something but not actually voicing their opinions… It's been known to happen, you know.
Asai: That kind of thing happens even with first sexual encounters. "No, wait! I've never done this before. I might be totally crap at this." "Shut up! Resign yourself! Of course we're going to hurt each other, but it'll probably be fun anyway!"
Yuzuki: Guys definitely rely on others in that their mindset is "you should know what I'm thinking even without me saying it." The silent, unsociable father — the type who no one can tell what he's thinking — dies. Then, later, they find his diary, or his old videos or something, and they discover that he actually really loved his family from the bottom of his heart. That's my least favorite story plot in the whole world! I absolutely hate it! Tell them how you love them while you're still alive! And what's more is, that usually leads to the people who are left behind to blame themselves. "Why didn't we realize sooner…?" God, I hate that so much! What the hell is up with that?! That… that… awkward sort of "dad kindness."
Asai: So that's a weak point of the song is what you're saying.
Yuzuki: Wataya Risa says the same thing in her novel Install!
Asai: Well, there are a lot of guys out there who basically modeled their personalities after Takakura Ken's "bukiyou desu kara…" ("because I'm awkward…")
Yuzuki: But Takakura Ken was the complete opposite of "awkward!" He was a great man who absolutely excelled in his work! He's only saying he's awkward out of humility! "Kakugo ga nai nara oyashinasai" ("if you don't have the resolve, then don't do it"), "seiseidoudou to yarimashou / kowakute atarimae desho" ("we'll do it fair and square / of course you're scared")… That's a good message.
Asai: It's awesome. The whole… "we're all scared" thing.
Yuzuki: I like how it's not saying that it's somehow wrong to be scared.
Asai: Every couple who's about to have their first sexual experience together should listen to this song.
Yuzuki: How come you make it to be about sex?
Asai: I mean, I really think it'd give them courage. The guy's a virgin, too, and he's going "I don't know what I'm supposed to do…" But if he heard this song, he'd realize: "oh, she's just as afraid as I am."
Yuzuki: Well, it's true that there's also the line "kaikan wa inochigake de choudo ii wa" ("you have to risk your life for the sake of pleasure")…
Asai: That, as well as "hen ni nacchatte ii yo" ("it's okay to go crazy") and "shinken nara itai kurai demo ii wa" ("if you're serious about it, I don't mind even if it hurts").
Yuzuki: "Nanami no joshi ni wa kanawanai" ("you're no match for a girl of flesh and blood"), "keikenbusoku nante mondai nai / yuuki wo misete hoshii dake" ("it doesn't matter if you're inexperienced / just show some courage")… Okay, I can see it…
Asai: This line, though… "Manjouicchi nante mondai nai / yuuki wo misete hoshii dake" ("it doesn't matter if it's not an unanimous vote / just show some courage")… I want to believe it depicts the preliminary rounds of the Newcomer Novelist of the Year Award. Even if the selection committee doesn't give one vote to you at that stage, you can still go on to win the whole thing.
Yuzuki: DANCE☆MAN really is cool though. (Note: this song was written and composed by THE☆FUNKS, a unit comprised of DANCE☆MAN and his "big brother," Dorry aka Yasuoka Yutaka from The Gospellers.) But I wish the lyrics to this song had actually been written by Maro. (laughs)
Asai: Yeah. I want to go back in time like in Kimi no Na wa and make it so that Maro wrote them.
Yuzuki: I loved this thing DANCE☆MAN used to do where he took all those world-famous disco songs and put misheard Japanese lyrics on top of them. He renamed "September" as "Seppun no Theme" and sang it in all-Japanese.
Asai: That was amazing. Could we make it so that it was actually Maro who wrote those lyrics, too?
Interview & text: Takaoka Hiroshi
Photography: Katano Tomohiro
English translation: Henkka
Asai Ryo on the web: Twitter
Yuzuki Asako on the web: blog, Twitter