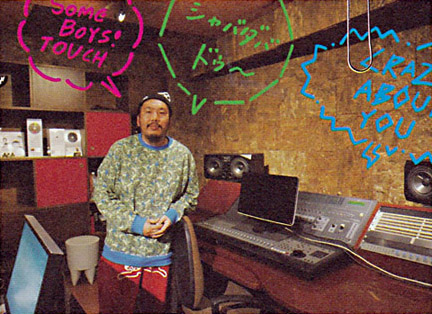 Tanaka Nao is known for his numerous arrangement works incorporating the trends and mannerisms of American R&B, including Minimoni's "CRAZY ABOUT YOU," Goto Maki's "SOME BOYS! TOUCH," Morning Musume's "It's You" and High-King's "Destiny Love." We talked to him about his career thus far — which also includes some more eccentric works such as °C-ute's 4/4 disco tune "Disco Queen," Berryz Koubou's very Japanese-styled "Kacchoee!" and Michishige Sayumi's "Shabadabadoo~."
— I want to begin by asking you about the origins of your career in music.

Tanaka: I was already doing piano in kindergarten — but only learning how to play it. I became interested in actually listening to music only when I came to like SOUTHERN ALL-STARS and one day realizing I could cover their songs on the piano. This was back when I was in junior high school. I also started playing the guitar around then. In high school, the popular stuff everyone was listening to were bands like BACK DROP BOMB, KEMURI and SCAFULL KING, and so I formed one of those sorts of "mixture rock" bands similar to them.
— I feel like R&B is one of the cornerstones of your arrangements, so I'm surprised to hear you were in fact previously playing in mixture rock bands — of all things.

Tanaka: Well, see, through playing in those bands, I realized that what appealed to me most were the riffs. The riffs were cool. Then I also started listening to hip hop and R&B with similarly strong riffs. The first thing that blew my mind was Noreaga's "Superthug," produced by The Neptunes. The whole song consists entirely of rapping, the drums, and a clavinet — nothing else. I was going "what the hell is this?!" (laughs) Around those days, there were quite a lot of producers like the Neptunes or Timbaland whose material was a bit "out there." So I figured, if it was okay for them to do that kind of sound and have a battle of ideas like that, then maybe I could give it a shot, too. That's when I started track making myself.
— With the rise of Swizz Beats and all, hip hop really started to get more stripped-down, simpler, and distorted right around '98, didn't it?

Tanaka: Yeah. I loved the feeling of "incompleteness" some tracks of those had, even though they were still proper songs. Like, "wait — this song doesn't even have bass?!" (laughs)
— So you in fact started with track making, right?

Tanaka: Yes. When I applied for my my current company, I sent them some tracks of mine — not original songs.
— How long did you spend working as an amateur before that?

Tanaka: Hardly any at all — I first started at my current company when I was 18 or 19. I already knew I wanted to do music for a living. I heard Hirai Ken's "Rakuen" and was shocked to learn of a Japanese singer that good doing R&B. Then, when he released his masterpiece of an album, gaining through losing, some of the songs on it were composed by Matsubara Ken, the president of my current company. That's when I decided I wanted to one day work with Hirai Ken myself, and I sent a demo tape to my company.
— What was the first work you did for Hello! Project?

Tanaka: I think it was Minimoni's "CRAZY ABOUT YOU." It has a very Tsunku♂-like, catchy R&B melody, but I just went nuts with the track — it's pretty amazing that they decided to release it as a single. (laughs)
— The song is filled with all kinds of bleeps and bloops, and so listening to it, it's easy to mistake it for being double the tempo it actually is. Perhaps that's why the dancing in the video looks sped-up at points. (laughs)

Tanaka: Well, I suppose you could dance to the song at twice the tempo if you wanted to. I think that's what Tsunku♂ liked about it as well. Working with Tsunku♂, it often feels like I have to locate and flip a switch inside my mind that I don't normally use. Or, like… I have to loosen two or three screws in my head somewhere before I can do it. (laughs) It feels like I often get offers for songs that they want me to make a bit playful, and that makes it fun for me to work on them, too.
— Berryz Koubou's "Kimi no Tomodachi" evolves into a double-speed, drum and bass song, Morning Musume's "Take off is now!" turns into reggaeton… there are all kinds of strange song progressions in your arrangements. On the R&B side of things, you worked on many of the R&B songs on Goto Maki's album How to use SEXY.

Tanaka: After "SOME BOYS! TOUCH," they asked me to work on some of her album songs, too. This was when she was going the sexy route. I remember being mindful of making arrangements that were sexy… and I do believe they sound erotic.
— This was right around the time when American R&B was starting to employ more electro sounds, right? I think a lot of that sort of electro, 4/4 thing can be heard in your sound, too.

Tanaka: I think one of the trends in black music then was to put synths on that 4/4 beat. I was definitely influenced by that.
— In that sense, one could say your sound draws from all those major, American Billboard R&B artists.

Tanaka: Maybe. I've always liked stuff that's popular. I'm a sucker for fads, you know? That's why I put dubstep and stuff like that in my arrangements.
— "Shabadabadoo~" is a good example of that, isn't it? In essence, it's a French pop + jazz song, sounding very stylish what with Michishige Sayumi's whisper voice and all. But then after a while, it breaks into that very "grimy" bass…

Tanaka: I could be wrong about this, but I think originally we actually meant to make "Shabadabadoo~" into an EDM song. I think that bass might be one of the leftovers from that idea. But as I kept discussing the song with Tsunku♂, I gave a shot at giving it a more jazzy beat pattern… and in the end, that's what he ended up using. To be honest, so much of what I do with Tsunku♂ is through exchanges like that, it's always hard to say how much of it is actually my idea and how much of it is his. (laughs) I used such a ridiculous amount of sound kits on "Shabadabadoo~"… It almost felt like I was working on multiple songs at once.
— It's very colorful sound-wise, but it also has so many intervals and room to breathe that it doesn't feel jumbled-up at all.

Tanaka: I do think, though, that normally this kind of arrangement wouldn't fly. That's why it's important to keep the length of a song like this somewhere in the ballpark of three minutes or so — with a song like this one, you can adjust the volume of information that's passed on to the listener with the length of the song. "CRAZY ABOUT YOU" is another great example of that kind of thing. It ends just after three minutes, so even if it is so full of everything, you don't get sick of it. You really have to think about how to make sense of the sound, fraction by fraction.
— On a personal note, I really love everything about "3,2,1 BREAKIN' OUT!" The feel of the drums in the opening, the overall "boogie pop" of the song, and that balance of how subdued it sounds in the verses compared to how it becomes so rich in the choruses.

Tanaka: I love it, too — even in comparison to all my other work. I did most of my work for Hello! Project in my early twenties, back when I knew no fear and would do pretty much anything in my arrangements. From those early, almost childlike arrangements, I do feel my arrangements now have become a bit more mature, like on that song. This song really shows nicely that choppy effect you can achieve with an MPC sampler.
— You used an MPC on that song?

Tanaka: I still do when it comes to the drums. I use MPC60/3000/4000/5000/STUDIO.
— Honestly, I think it might be pretty rare for an arranger to be heavily using MPC's.

Tanaka: Yes. (laughs) But really, putting the kick and snare drum through an MPC really gives it that tone I personally like. That's why I still use them. I still mainly use a DTM on the PC of course, but most of the time I don't rely on just the PC. The majority of sounds on my arrangements actually come from the "outside" (meaning, actual instruments).
— Oh, so you don't use software synthesizers?

Tanaka: I prefer to place some restraints on myself in my work. Like, "for this song, I'm just going to use this instrument and that instrument."
— When you receive an offer to do an arrangement, do you get to know beforehand which group is going to be receiving the song?

Tanaka: It's about 50/50 — though in my case, it might be that they do tell me more often than not. But I've never paid that much attention to the personality of the group when I work on my arrangements: it feels like if it's me they're asking to do it, they're expecting an arrangement that goes beyond what the group would usually sound like. I think they specifically want arrangements that sound like they would be the odd ones out if they were on the group's album.
— Are there any songs that have specifically left an impression on you?

Tanaka: Morning Musume's "SONGS" and "Moonlight night ~Tsukiyo no Ban da yo~" left an impression. I think those came out really well, including after the vocals were put on and they'd gone through the mixing process. I like how "SONGS" had so many different sounds whereas "Moonlight night ~Tsukiyo no Ban da yo~" had so few.
— "Moonlight night ~Tsukiyo no Ban da yo~" almost feels like a rock opera in places. It was an unexpected song.

Tanaka: We decided to put in the opera bit midway through the process. It's actually a place that you normally wouldn't put something like that in. I think they liked that bit to the point that they gave it even more chorus than I intended.
— So that opera part was your suggestion?

Tanaka: I think so, yes. (laughs) I'm repeating myself here, but there's so much back and forth between us that most of the time I forget what was actually my idea and what wasn't. Tsunku♂ really is a person who will not compromise on anything, so there's a lot of communication. I mean, literally to the point where we'll be going through the tone of the hi-hat, one single hit at a time. So working with him again after some time on "Shabadabadoo~" really brought me back. "Yeah, he's right. There can be no compromise." Not to say that I compromise in any of my other work either, but he strengthened that resolve even further.
— What to you is special about working with Tsunku♂?

Tanaka: To me, it might be how he doesn't ask for things from me based on just "feeling." What I mean by that is, he'll always give me precise instructions: "push that snare two beats back." Or, if it's an idea: "what would it sound like if we changed that drum like this?" He's very specific, so it's incredibly easy for me to understand him. And that's not something you see often. If it was me, I'd be saying things like: "It sounds a bit noisy as it is, but I don't know what's causing it… Is it the BPM…? Or the tone…?" Or, I'd be telling someone to make it a bit "brighter" — in other words, I'd be giving them requests based on my image of what the song should sound like. On the other hand, Tsunku♂'s requests are more tangible. People like that are rare. Also, he never asks me to "fix" something. Instead, he phrases it like: "what would it sound like if we did this?" It's like he stacks up proposal on top of proposal. As a result, the process feels more creative and rewarding for me as well.
— Is there anything you try to keep in mind when you're working on a Hello! Project song?

Tanaka: I try to be sure to throw in memorable musical phrases. However, I try to make my musical phrases, and my arrangements in general, tailor-fitted — like they wouldn't go with any other song aside from the one I was working on. And because it tends to be mostly the "weirder" songs that they give to me to arrange, at this point I've come to take that to mean that it's like they're saying: "don't arrange this just like you would any other song." It feels like Tsunku♂, too, doesn't expect me to make something that sounds like "idol music" — he wants something that sounds "different." And that's what I try to do.
Interview & text: Takagi "JET" Shinichiro
English translation: Henkka