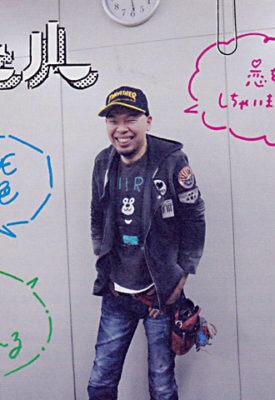 Beginning with Tanpopo's "Koi wo Shichaimashita!," Watanabe Cher has since gone on to arrange songs like Matsuura Aya's "Tropica~l Koishite~ru" and "LOVE Namidairo," Fujimoto Miki's "Sotto Kuchizukete Gyutto Dakishimete" and Minimoni's "Himihamuzu no Ai no Uta," among others. Originally known by the name of WATA-BOO, the keyboard player in DANCE☆MAN's band — where he played a large role in his arrangements as well — he went on to becoming an accomplished Hello! Project arranger in his own right. What has this masterful musician learned after having had a hand in such a lengthy succession of important works for Hello! Project?
— The first song you arranged by yourself was Tanpopo's "Koi wo Shichaimashita!," right?

Watanabe: Right. That was a bit over a year after I first became involved with Hello! Project — right around the time "Renai Revolution 21" had just been released. Hashimoto Shin called me up and asked "would you like to do Tanpopo's next single for us?" I was going, "you're going to let me arrange a song for a group that's selling like crazy right now?" I loved the sound of "Otome Pasta ni Kandou" and so I was thinking "oh no, they're going to make me go after Nagai Rui…" I remember feeling quite under pressure because of that.
— The group's lineup and image had changed quite drastically with their previous single. Did they tell you that they wanted to keep it pretty much similar to that style with the next song?

Watanabe: They just told me they wanted something 60's-like. No… actually, the first thing they said was that they wanted something Motown-like. Like, "Otome Pasta was British… so let's go to America with this one!" It's not like that genre was my strong suit or anything, but more than having that actually be the foundation for the whole song, I figured they'd asked for me just because of the stuff I'd done in the past — like the strings in "Renai Revolution 21" for example. So that's the kind of thing I tried to give them.
— How detailed were the discussions prior to you beginning work on the song?

Watanabe: Hello! Project is always very thorough about that. They have a clear image of how they want the sound to be, but also things like how they want to do the visuals and how they want to present the song. Although it does evolve when the song is completed and the lyrics are finished and so on. I think I remember them wanting to present this song in a more Motown kind of way before the lyrics were written. Tsunku♂'s image of the song will often change as he works on it, and I think by the time he'd finished writing the lyrics, that's when the image of the song was finalized and it became more European-influenced, as you can see in the PV.
— Is Tsunku♂ the one who always gets the final say when it comes those things?

Watanabe: Him and Hashimoto. I guess the way I'd explain Hashimoto's position is, he's the one who listens to what Tsunku♂ wants to do and thinks along with the arranger about how they can realize that in a concrete way. Tsunku♂ comes up with a crazy amount of ideas, and his approach can always change midway. It's Hashimoto's job — as well as the job of us arrangers — to try and answer to his expectations. That's why this song, too, took quite a while to bring into completion.
— That "baby baby ooh" in the opening left a big impression on me.

Watanabe: That wasn't in my arrangement. In fact, it wasn't there even when they went into recording, nor was it in Tsunku♂'s demo vocal. I think he came up with it as they were deciding on the visuals. I seem to remember it was more the strings that were in the forefront at first, but once they decided how they wanted the PV to look, it also changed how he wanted to record the vocals. I think that's when he got that idea. That sort of thing can happen quite often. The vocal things are pretty much always all Tsunku♂'s ideas.
— Was it a difficult process, what with it being your first time working as the arranger all by yourself?

Watanabe: Having seen all those discussions between DANCE☆MAN, Hashimoto and Tsunku♂, I was going, "I'm going to have to do all that by myself now…? This is going to be rough…" I was thinking I'd have to be pretty damn serious about it if I wanted the song to be a hit. I felt nervous about suddenly having to cover all the bases by myself — having to get everything done like DANCE☆MAN had done previously. Also, all four rhythm instruments on the song were to be played live. Since I was doing it for the first time, it felt like I was a bit removed from the process. The people called in to play weren't even acquaintances of mine — I only met them for the first time at the recording sessions. The rhythm section consisted of Hiroki (bass) and Ogu (drums), who were in 7HOUSE, as well as Takahashi Yuichi on guitar. I'd met Yuichi once previously by chance and we'd gone to have dinner together, but for the other two in the rhythm section, we'd literally never met before that day. So I had no idea how all those parts I'd programmed by myself in pre-production would turn out in recording.
— And how was it?

Watanabe: Well, first of all, I wasn't expecting the bass in the song to sound that heavy. (laughs) It sounded very distorted from the get-go, and yet Hashimoto kept saying "let's add more distortion!" so I figured, "okay, maybe that's what the song needs then." But with that kind of tone on the bass, I wasn't sure how I even wanted him to play that bass line… It was pretty much trial-and-error. It was also difficult to know when it was enough to say "OK, that's good" and move on to the next thing. Anyway, I'm very stimulated when I hear stuff that's not in my own musical vocabulary, and there's a lot in this song that's not really "me." That's to say, the musicians put a lot of their own personality into the song. In fact, I think amongst all the songs I've done for Hello! Project, this one is especially interesting because of how unlike me it became. When it turned out that people had liked it, I actually felt very pressured. "Only something like 30% of the ideas in that song were mine… what am I going to do if they ask me to make another similar arrangement…?" (laughs)
— What you did next though was keep those concerns to yourself, as you moved on to arranging a number of Matsuura Aya songs.

Watanabe: I saw the music video to "Dokki Doki! LOVE Mail" and I just marveled at how great her singing was, so I jokingly asked Hashimoto to let me arrange the next one. And wouldn't you know it, that's exactly what they did.
— "Tropica~l Koishite~ru" has a house-influenced 4-beat, something completely different from "Koi wo Shichaimashita!"

Watanabe: Everything on it aside from the guitars was programmed. They didn't particularly want it to sound like live instruments either, so my intention was to make it sound like an 80's idol song. The lyrics, too, were based in this holiday resort-like world, so everyone was completely on-board with the idea from the start. I think we all wanted a hard-hitting 4-beat. The surface sounds aren't very noisy; it's more the strings that are emphasized. Like I said, I feel like I was first approached because they'd liked the string work I'd done with DANCE☆MAN, so I was throwing a bunch of strings in pretty much every song around this time. (laughs)
— You then took another step forward with "LOVE Namida Iro," with its wonderful arrangement merging idol-ness and coolness.

Watanabe: We had a lot of trouble reaching a consensus on that arrangement. The lyrics were completely different at first — initially, they were similar to those of "Yuugure," the B-side of "Tropica~l"… It was like about this girl on her way home from school, unable to convey her feelings to the boy she likes. I was trying to have the arrangement fit those lyrics. But they were telling me it was no good and I had no idea what I was doing wrong. It turns out that the lyrics had been changed without my knowledge, so I kept going at it by trial and error for about a month. Finally, Hashimoto started talking to me about how he wanted it to have live bass. That's when I finally realized "ah, okay, so they want me to make it groovy." That's when I first started making some progress. We recorded the bass and the guitars and started playing with the secondary melodies… They showed me what were probably the near-finished lyrics and that's when it finally clicked for me. I remember that moment well. This was Matsuura's third single and everyone was really excited about it. That meant there were lots of ideas coming from lots of different people, so it was at times hard to find common ground. But ultimately, I feel like we went in a good direction with it. It felt like doing a session in a way… The song was changing drastically even as we were already working on it — it was like everyone was polishing up the lyrics and the whole worldview of the song. That's the only time that has ever happened in my music career.
— It was one of the most important points in Matsuura's career. Everyone was giving it their all.

Watanabe: I remember there being all these higher-ups from the company there, watching the guitarist and bassist as they recorded their parts. I was worried whether they'd actually be able to work under such pressure. While I personally really like it, there's this certain bit at the end of the guitar solo before the final chorus when it modulates… The guitarist really bended those notes — to the extent where the final notes sounded slightly off-pitch. (laughs) I was going "oh no…" and there were some people in there who were listening to it disapprovingly. But in the end, we decided to go with that take. When I heard that part with the vocals on top, I realized we'd made the right call. The guitar really emphasizes the modulation and gives the song that oomph.
— I, too, feel like that modulation is what made that song so great and memorable.

Watanabe: If I remember correctly, it didn't even have that modulation at first — I think it was only once the worldview of the lyrics changed that we decided to put it in. Thanks to that, the song actually kicked-off Kouhaku that year. It became something very memorable.
— While your arrangements for Hello! Project feature a lot of strings, have you ever recorded actual live strings on any of the songs?

Watanabe: For the most part, no. Pretty much the only exception would be Matsuura's album song "Hajimete Kuchibiru wo Kasaneta Yoru." That was actually supposed to be her fourth single — apparently it was the plan all along to have her fourth single be a ballad. It's a good song, but the decision was made that it was a bit too heavy and too soon for her fourth single; for an idol in her teens.
— She's just so talented, I suppose it's easy to forget about all of that and have her sing everything you want… (laughs)

Watanabe: Speaking of Matsuura's talent: she's really fast at recording her vocals. When I was recording the guitars for "Tropica~l," Matsuura was in the other studio recording her vocals for "Yuugure." Afterwards, when I was done, I popped into their studio figuring I'd say a quick hello, but she'd already went home — a song of that level had only taken her an hour or two to finish recording.
— Hearing you talk about all these episodes concerning "LOVE Namida Iro" it sounds like everyone could hear the potential in her, which made them give their utmost in creating the best material possible for her to work with.

Watanabe: Yes. It feels like the whole company felt that way. That's why there were so many opinions from everyone — and why it felt like things were always in a state of flux.
— Fujimoto Miki's "Sotto Kuchizukete Gyutto Dakishimete" is another arrangement of yours with the strings in a leading role.

Watanabe: Oh, my "Strings of Melancholy" were definitely on duty in that one. (laughs) They were originally more detailed on the chorus, almost making it sound like the song was double the tempo that it really is. But when we had her sing it, it didn't really fit, so we ended up changing it to what it became. By this time I was actively listening to the melodies and I could for the most part understand what was wanted from my arrangement just by listening, so my arrangement was quite close to the finished product from the get-go. Aside from that sudden shift during the chorus, that one was a smooth process for me.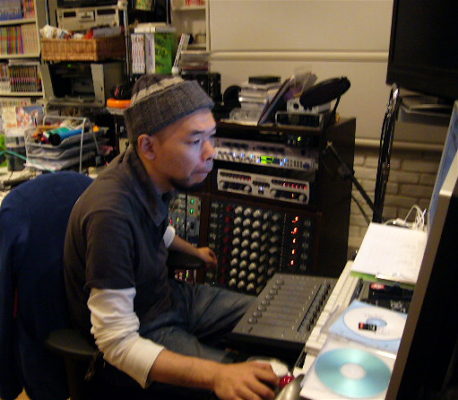 — What would you say is something that makes Tsunku♂ stand out as a songwriter?

Watanabe: Tsunku♂'s songs have very unique verses. I have many memories of listening to a song of his, and it'd only be up to the third or fourth measure and I'm already going "how'd he come up with that chord progression?!" He always has those kinds of unexpected things pop up in his verses early on. To return to the topic of "Koi wo Shichaimashita!"… There's like this tiny modulation in the second measure of the song. The song is in the key of E-flat, but you suddenly get this sound that isn't included in that diatonic. In response to the C minor — which is within the bounds of E-flat — you get a G minor seventh chord. He's already bringing out this hugely emotional chord like that in the second measure of the first verse. In your average arrangement, you'd start by holding back and keeping it "normal" the first time around, and then do that sort of thing when the melody repeats. And so that's what I did as well: I took that chord from his demo and changed it to what was in my initial arrangement, thinking I was doing the song a service. But then Tsunku♂ got back to me and said, "No, I really thought about this one a lot. Please change it back to how it was originally." He told me he'd written it that way because, in that song, he wanted to grab the listeners' hearts as soon as possible. That's one thing I learned from working with Hello! Project. It was a big lesson for me.
— I see. He figured that, if he doesn't succeed in capturing the listeners' attention instantly, they're just going to go and listen to something else.

Watanabe: Songs that become hits always have a little something that stands out; a little something that's a bit abnormal. Tsunku♂ likes to put that something at the very beginning of his songs. But having it sound too prominent within that song would've made it sound weird, so I really tried my best to sort of "blend" it in… though it's still pretty striking regardless. The modulation in the second part of the chorus was my idea — I figured if we already had one in the second measure, we might as well throw in another one! (laughs)
— What are the demos like when you first receive them?

Watanabe: They're very simple: it's just a basic rhythm track to convey the tempo and the chords, plus the melody line played on a keyboard. It's great from an arranger's point of view: you get to build the song from scratch without having to worry about anything.
— You were also involved with a lot of Minimoni-related work.
Watanabe: Minimoni were appearing on the TV show Oha Star and I had been in charge of the music on that show since its inception. Thanks to that, I had a good relationship with Shogakukan. And so, when they first made Tottoko Hamtarou into a film, they wanted me to be in charge of its music. I remember very well the process of making music for the film Minimoni ja Movie: Okashi na Daibouken!. It was a dream of one of the higher-ups at Shogakukan to create a CG anime that could hold up in quality even against some of the greats like Pixar, and it was also the first movie of Higuchi Shinji, one of Japan's representative directors. Having been involved with a project like that is still something I'm proud of. We were in close contact throughout the process: they'd keep sending me videos of the scenes they wanted me to do when they were still at the polygon stage, and I'd carefully place sounds on top of them, making sure they fit the length of the scene exactly. It's often the case that you'll have to shorten the background music when a scene is finished, and they'd send me new versions of the scenes whenever they'd changed them even slightly. I really appreciated them involving me in the process to that extent until the very end. I was also free to use Minimoni songs to my heart's content, so the background music has loads of Minimoni melodies. I'd wanted to try developing background music from vocal melodies like that for the longest time.
— Could we ask you to share a little bit about your musical background?

Watanabe: My background is mostly in instrumental music to be honest. I remember first becoming interested in music through the background music in shows like "Space Battleship Yamato" and "Taiyou ni Hoero!" Then, in junior high school, I adored fusion. I didn't care much for lyrics — I felt that lyrics tended to overshadow everything else, so I preferred music without any lyrics at all. One exception of course was stuff with English-only lyrics, obviously because I didn't understand what they meant. Honestly, I never expected to move in the direction of arranging music with vocals. When I was a student, I felt I'd be satisfied if I could just play the keyboards and earn barely enough money to put food on the table. The only problem was, it turns out, that it didn't put food on the table. (laughs) Just around that time, Ijichi Hiromasa — who I was playing in a band with — was going to have his solo debut, so I went over to check out the place where he was working on his debut album and it was there that I became interested arranging. It was so interesting to me how you could take a simple demo with just the piano and demo vocals and make it sound like a song we could be playing with our band. There were two arrangers there. One of them I was a huge fan of: Nakamura Satoshi, once keyboardist of the band PRISM. He was all about getting the instrumental to sound equal to the vocals. The other one was Kashiwara Nobuhiko, and he was the complete opposite: he felt that the vocals were the most important thing. I thought that difference between their two mindsets was really interesting. Although, to be honest with you… (laughs wryly) I only really understood the importance of lyrics once I began working with Hello! Project.
— How would you define the job of an arranger?

Watanabe: The job of an arranger is to convey the appeal of the song and its melody. Most songs that have been decided to be worthy of being released to the world are good songs, and the arranger has to always be seeking for the optimal way to convey the "good" in each song. For that reason, it's best if the arranger is capable of doing a multitude of things. That's why I personally started listening to all sorts of different music. As a result, I now love all kinds of genres of music that I would've never even thought to listen to on my own. Music is just so much fun.
Interview & text: Takaoka Hiroshi
English translation: Henkka
Watanabe Cher on the web: Twitter, blog