— Could you begin by talking about your personal favorite Hello! Project albums?

Tsurugi: I like Matsuura Aya's First KISS and x3. Her first album is often called a masterpiece by fans. There was something about Matsuura back then that you can only hear on that album. Idols sometimes tend to "de-idolize" — for Matsuura, that change into "singer" came rather quickly. Her debut was the only album where she was purely an "idol," but even on that release there was already a mix of both youthfulness and maturity. She had the technical skill that made her seem like the complete package, but she also had that youth and that idol-ness about her. And that expressiveness… the variation she showed on each and every song. I don't think that album has much of the so-called "Hello! Project flavor" on it. It just maintains a fantastic balance throughout. She's never going to make an album like that again. With that said, I also like her third album a lot.
— That one's great, but in a different way from the first album, right?

Tsurugi: She showed so much growth. I actually prefer the album tracks on that release more than the singles. In short, it just has so many songs I like. Back then, whenever Matsuura was releasing a new song I was always both nervous and excited, and so to suddenly receive an album with this many songs I loved… You know what I mean?
Oomori: Matsuura's singing always really stands out, so when she puts out an album, they'll have those those certainsongs on there that can be a touch weaker in the sound department — you know, the not-as-serious "album tracks." And it's actually those songs that I tend to prefer from Matsuura.
Tsurugi: "Kanousei no Michi" from her third album might be one of those songs. That album does have songs that sound fuller, too. Songs with instrumentals recorded by a proper band and stuff.
Oomori: Yeah. I mean, musically they're still very accomplished songs. I personally think the difference between Matsuura's first and third albums is like that of Shiina Ringo versus Tokyo Jihen.
— What are your favorite albums, Oomori?

Oomori: I have a couple… Matsuura's first, Tanpopo's All of Tanpopo, and S/mileage's ② Smile Sensation. The lyrics on Tanpopo's album really capture all the feelings of girls — there are so many minute details and depictions of life. It makes for an album with a very complete worldview.
Tsurugi: Tanpopo really had such a coherent concept.
Oomori: The chorus vocals on All of Tanpopo are so pretty. And Tsunku♂ was very lively on S/mileage's second album. (laughs)
Tsurugi: "Lively"… (laughs)
Oomori: Another recent album I thought the same thing about was the Kenshuusei one, but S/mileage's second came before that one. I love "Shin Nippon no Susume!" How can it sound like such a complete, whole song, even though it flies in so many different directions? There are songwriters who were inspired by it to try and write similar songs, but just as you'd expect, they always sound like they just stuck two or three different songs together. But "Shin Nippon no Susume!" feels like it's just one song. I don't know, maybe I'm just used to that sort of thing? (laughs)
Tsurugi: That Tsunku♂-ness?
Usuta: You hear quite a lot of that in idol music these days. When did that kind of thing start becoming popular?
Oomori: With Hyadain perhaps?
Usuta: People would be pissed off at me if I tried pulling something like that with my manga. It'd be the equivalent of bringing in a whole new protagonist midway without even finishing up the first story.
Oomori: Or having the story change into something else on every page… (laughs)
Tsurugi: But when you think about it, even songs like "Ottototto Natsu da ze" are just as insane. (laughs)
— How about you, Usuta? What's your favorite album?

Usuta: It all comes down to °C-ute for me. I like all their albums but if I had to pick just one, it'd have to be their sixth, Chou WONDERFUL ⑥. What a fantastic album. It has lots of classics, and the album tracks are all great, too. Even among °C-ute's overall great discography, it has to be the best one. The seventh album, Dainana Shou "Utsukushikutte Gomen ne," is really good as well. But all things considered, I still prefer the sixth more. I also like Berryz Koubou's ⑦ Berryz Times and 6th Otakebi Album.
Tsurugi: It's easy to remember which album is which thanks to Tsunku♂ putting those numbers in the titles. (laughs)
Usuta: And you can add me to the list of fans of S/mileage's second album. I like the album songs. "Shin Nippon no Susume!" is great, as is "Yuugure Koi no Jikan." This might sound weird, but I've always felt that idol albums don't need to have anything "moving" about them. For me, I get moved when I see them doing their best performing these songs live — I don't need an album that I can listen to and cry to at home.
Oomori: "Namidacchi" never did anything for me when listening to it on the album, but when they do it live you just always end up crying no matter what, right? So I do see your point.
Tsurugi: Yep.
Oomori: "So this is how good this song actually was!"
Tsurugi: And once you've had that one experience in concert, it changes your impression of the song when you're listening to it on CD, too.
Usuta: Honestly, for me it's enough to just see them singing the songs all happily. (laughs) The lyrics can be pure fluff for all I care. I love all the cutesy songs Tsunku♂ writes. "Kare to Issho ni Omise ga Shitai!" for example.
— Alright, let's move on to your favorite album tracks.

Usuta: My choices are all from Berikyuu and S/mileage. The first one is Berryz Koubou's "Yononaka Barairo" off Ai no Album ⑧. It's a huge crowd-pleaser — the second it starts, the mood in the venue changes immediately. It's great from the very first verse. Plus, you'll be busy with dancing and all the other stuff throughout the whole song, so it's a load of fun.
— "All the other stuff…" (laughs)

Usuta: I also have another one from Berryz Koubou. "Kono Yubi Tomare!" off 5 (FIVE). I quite like this one. There was that fan vote for everyone's favorite Berryz Koubou songs a while back where this song didn't even make it to the top 100, so that's another reason I wanted to choose this one.
Oomori: That's something that always comes up during conversations like this. "Why don't my favorite songs ever make it into the popularity rankings?" (laughs)
Tsurugi: You only like all the songs that other fans don't? (laughs)
Usuta: No no, it's not that. I just think it might be better to not choose the classics that the fans all know already! I have so many songs I want to name, but because "Kono Yubi Tomare!" didn't even make it into the top 100 in the fan vote, I figured it was my duty to at least highlight it on this one occasion. (laughs)
— Oomori and Tsurugi, do you have any favorites from Berryz Koubou?

Tsurugi: I love "Kozukai UP Daisakusen." It's amazing! As someone who personally works in the field of music, I've listened to lots of reggae and dub, but even so, that song really is a great piece of reggae. And authentic, rudy roots reggae at that. I've never heard another group do reggae like that. I'm actually a collector of reggae in J-pop music, and amongst all I've heard, "Kozukai UP Daisakusen" is the closest thing to the riddim of rebel music. (laughs)
— Not just within the sphere of idols?

Tsurugi: No. And Hello! Project has quite a lot of reggae-influenced material, like S/mileage's "Odorou yo," or Morning Musume's "Hosekibako" — which is more leaning towards minor dub. But "Okozukai UP Daisakusen" is just so reggae, beginning with the sound. Listen to it with a good audio system and you can really feel the lows.
Oomori: I love Tsugunaga's lower register vocals. I think it's in that song where there's this part where she sings before Natsuyaki and I just love it. I love how her voice is shaky when she sings in a low register. I mean, she can sing really well, but when she's singing it live her voice shakes just slightly as she's doing those low tones. I love it.
— But the subject matter of those lyrics…

Tsurugi: "I don't get enough allowance money!" (laughs)
Usuta: And they put that on the first album of those tiny little kids. (laughs)
Tsurugi: Yeah. 1st Chou Berryz really is great. It has "Semi," too.
Oomori: The idea of writing a song about your little brother trying to catch a cicada is so beautiful to me. That's something only Tsunku♂ could do. No woman could come up with that — it's only when a guy tries to write a song from a girl's point of view that they conjure such a wonderful summer scene. I really think he is a genius for writing that song. I mean, the chorus starts with "my little brother~." If you were to put that in your lyrics, you'd put it in the verse somewhere. But the chorus actually starting with that word… what the heck? (laughs)
— How about your favorite album tracks from Berryz Koubou, Oomori?

Oomori: Of their album songs… maybe "Succhaka Mecchaka." It's hard to imagine there being a person anywhere who both loves idols and hates that song. I also like "Aisuru Hito no Namae wo Nikki ni" in all its 80's-ishness. Songs these days tend to be more in the higher range in general, so it's great when they come out with a lower range song like that… to everyone's amazement. (laughs) "Aisuru Hito" is quite low, too — there's even a low C-flat in there. You don't hear that in a lot of songs these days. I think it's great.
— How about other groups?

Oomori: Well, there are two categories: there's the "great songs that everyone knows" zone, and the "great songs that you might not know" zone. (laughs) From the former category, my favorites are "Lalala no Pipipi," "I&YOU&I&YOU&I," "Oshare!," and "Say Yeah! – Motto Miracle Night-."
— Is "Lalala no Pipipi" pretty much guaranteed to remain on that list forever?

Oomori: It's amazing. When "Fantasy ga Hajimaru" came out, that was the first time Michishige was so prominent in a song with all the members singing. She was really good on it so I was sure she was going to get a solo song soon. And one album later, she did! I was going "thank you Tsunku♂!"
— The lyrics were very influenced by that whole "Michishige world," too.

Oomori: Who else could sound as cute with just the sounds "la" and "pi"? Also, I really like "Rainbow Pink." I think back then, the live MC's for Hello! Project were often scripted. They'd have these bits with her in the role of Shigepink and it was like… "hey, this is a part of the song!" The song itself is pretty and well-composed, too.
Tsurugi: It's a very theatrical song.
— What did you think about the unit of Shigepink + Kohappink?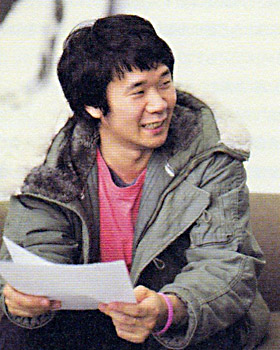 Tsurugi: For me there was this period of time when I just couldn't accept Kusumi Koharu… Like, "anyone but Koharu!" (laughs) We all have our pet peeves, right? (laughs) But I liked that song, and knowing now how the two felt about each other, you look back and wonder what they might've been thinking about when performing that song together… like, if there was any conflict or stuff. Watching the live performances now, Michishige's movements onstage were so over-the-top it kind of feels like she was overly conscious of performing with Kusumi…
Oomori: But that's what's both good and bad about Michishige. It's lovely how she always looks a bit troubled when talking about Kusumi. (laughs) Even after she became the leader, whenever anyone brought up the topic of Kusumi it was like catching a glimpse of something you weren't supposed to see; like a seam that had come apart. Other than that, Michishige was perfect — Kusumi was her only weakness.
Tsurugi: You're the type of person who enjoys spying on those kinds of strained relationships. (laughs)
Oomori: Also, Minimoni has this song called "Oshaberi Suki ya nen." It's the B-side of "Rock n' Roll Kenchoushozaichi." Just as you might gather from the title, it's about this Osakan aunties acting young and cutesy, and it has those "hai! hai!" interjections. And speaking of H!P interjections, the only ones they use as of late tend to be "fuuuuu!" and "yaaaaay!" — they've ceased the use of "hai! hai!"…
Tsurugi: You mean like in "ah, tousan, kaasan~"…
Oomori: Right. It's so lonely now that they've done away with the kind of "hai! hai!" in songs like "Happy Summer Wedding." This song, "Oshaberi Suki ya nen," has loads of it.
Tsurugi: Minimoni's albums had an image of including a huge number of songs. They were full of these short, 1½-minute songs.
Oomori: I really love the vocals of Tsuji and Kago! In "Oshaberi Suki ya nen" they're singing about being no-good housewives… (laughs) Like, stuff about seeing a swimsuit commercial on TV and buying it on impulse. I think pretty much the only person who could present that aspect of girls as a virtue is Tsunku♂. And on the topic of Tsuji-Kago chorus singing, my no. 1 favorite is W's cover of "Shiroi Iro wa Koibito no Iro." I was moved by their ability to sing that song with just the right, low amount of energy. Also, while this is off-topic, there's a video of Kago covering "Da Di Du De Do Da Di!" where she's just walking through an aquarium as she sings the song. Why do girls and aquariums go so well together? Doesn't it just make girls look that much more pure?
— By the way, you mentioned your "great songs that everyone might not know" zone. What's an example of a song from this category?

Oomori: Something like Tanpopo's "Watashi no Kao." It's just a song about going home on the train. I love how it's about such a mundane, everyday thing. It's like the protagonist is having a dialogue with the reflection of her own face in the window… I love lyrics that can give you a clear mental image like that.
— Do you have any other favorites, Usuta?

Usuta: I like °C-ute's "Otome COCORO" from 3rd ~LOVE Escalation~ as well as "Rururururu" from Chou WONDERFUL ⑥.
Oomori: They're both the kinds of songs that feel like, if they were manga, they'd be eliminated from Shounen Jump due to lack of votes in reader polls… (laughs)
Usuta: Right. I have complex feelings in regards to those songs… yeah. They would get eliminated. (laughs)
Oomori: I mean, they're still good songs though.
Usuta: They don't have that many great album songs. °C-ute, that is. Well, they have a couple, like "Time Capsule" and "As ONE" off their first album. I wouldn't feel embarrassed at all to play those two to anyone.
— What do you mean when you say you have "complex feelings" towards those songs?

Usuta: Well, I love "Rururururu" for example, but it's… I personally tend to really dislike ballads like that. °C-ute doesn't have any of those ballads with a strong sense of rhythm like "Semi." They always turn out to be these piano-accompanied, slow ballads. And I hate those — to the point where just hearing the opening notes of a song played on the piano makes me unconsciously click my tongue in disapproval. (laughs) But even so, "Rururururu" is a good song. And, while it wasn't a Tsunku♂ song, another song I liked was Maimi's cover of Moritaka Chisato's "Ame."
— Did you like the original as well?

Usuta: I didn't mind it. But it was really Maimi's voice that made it for me. It was perfection.
Oomori: You can really sense in it Maimi's affection towards Moritaka.
Usuta: Yes. It does feel like she's trying to sing it in a very respectful way. But yeah, what I mainly want is for them to write a ballad like "Semi" or "Koishiteru Toki wa Itsumo…" for °C-ute, too.
Oomori: Is it not just because young girls these days wouldn't use a word like "semi"? (Note: "cicada," in this instance perhaps hinting at the internet slang of "蝉ガール semi girl," describing girls who are quick to report any and all happenings in their private love lives to the internet.)
— They probably wouldn't, no. (laughs)

Usuta: No, I just meant what I said in the sense of the tune itself. Their ballads are always so quick to get overly mellow with the piano and whatnot. Case in point: remember the approach they took with their cover of Moritaka Chisato's "Kono Machi"?
— Are any of your favorites by °C-ute, Tsurugi?

Tsurugi: They aren't, no… I'm sort of an on-and-off fan of theirs, so I'm not even necessarily familiar with all of their album songs depending on the era. But to name one of my favorites that's also a ballad of the type which Usuta might not be a big fan of: a song from Morning Musume's sixth album, "Koe." I love that one. I think I remember that one beginning with an electronic piano, too. (laughs) The first line going to Gaki-san…
Oomori: Sayu would always be tapping her thighs, keeping the rhythm on that song… Actually, that's pretty much the only thing she did on that song. (laughs)
Tsurugi: She didn't get any lines.
Oomori: Yeah. She'd pretty much just stand there, keeping the beat, her gaze wandering about restlessly… (laughs)
Tsurugi: That was also partly because she'd only just joined the group at the time. Anyway, Tsunku♂'s songs always have these punchlines, and I think we all have our favorites. This song for me would take the no. 1 or no. 2 position in terms of good lyrical punchlines. Specifically, it's the phrase "anmari samishiku saseru to koori ni nacchau zo" ("if you make me too lonely, I'm going to turn into ice.")
Usuta: There was a line like that in there?
Tsurugi: You bet. It's a song about this girl saying that the thing she loves about her boyfriend is how his voice sounds similar to her father's. But even when her father says something close to what her boyfriend might say, it's just not the same. What a fantastic way of looking at it! The girl is unusually obsessed with her boyfriend's voice, going so far as to listening to it on her answering machine and such. And then you get that line. "If you make me too lonely, I'm going to turn into ice." And it's Fujimoto of all people singing it! Fujimoto sounds great in this song, making that part all the more believable.
— I've heard Michishige saying that she, too, likes "Koe."

Tsurugi: Even though she doesn't have any parts of her own… (laughs)
Oomori: She likes ballads. Ballads, and songs in which she has lots of parts. "Aruiteru" is her favorite single.
Usuta: I have to say, though… I'm sure °C-ute must have other great album songs that I'm just not able to recall at the moment…
— I would think so.

Usuta: Yeah. This is bad. (laughs) Please let me think about this for a minute.
— Well, while you do, could I get you two to talk about your favorite lyrical "punchlines," as Tsurugi put it?

Usuta: I'm not sure if you'd call it a punchline, but one line that I've personally always liked is from "Sekaiichi HAPPY na Onnanoko." "Otoko no ko ni motomeru jouken wa kyuushuuryoku, nebari, youryouyoku" ("what I want in a boyfriend is learning ability, persistence and competence.") Way to set the bar high, huh? (laughs) For the longest time I wasn't sure if these were the right lyrics for the song, but I've since come to realize that it's actually Tsunku♂ at his truest and I now love that line.
Oomori: Punchlines… I like the weirdness but also the earnestness of Michishige singing on "Kare to Issho ni Omise ga Shitai!" the line "pasokon no gakkou ni ikitai na, shourai ni futari de omise dasu tame" ("I want to go to school to learn about computers so I can start up a store with you one day,") Fujimoto's line "suki ni sasetoite kyuu ni inaku naranaide" ("don't disappear from my life after doing with me as you please") in "Kanashimi Twilight," Mitsui singing "ima wa watashi no miryoku ni kizukanai donkan na hito," the way Fuku-chan sings "watashi no kousui nioihajikete" ("the scent of my perfume intoxicating you")… it's Fuku-chan intoxicating you…! Not that this has anything to do with album songs…
— While Usuta is still busy thinking, do you have any other album song recommendations for us?

Tsurugi: Well, I mentioned before that Matsuura's album x3 has a bunch of songs I love. But of those many great songs, there are two in specific with their band sound that really hit the spot for me… perhaps because it was once a dream for me — that is, being in a band myself. Those two songs are "Original Jinsei" and "Koishite Gomen ne."
— "Original Jinsei" is quite jazzy, isn't it?

Tsurugi: That's Sano Yasuo on the drums on that one. Everyone could sense how high the skill level of Matsuura was around this time. She'd be appearing on TV, doing things like a trombone, baritone sax, horn, contrabass arrangement of "Dokki Doki! LOVE Mail," or performing with free jazz artist Yamashita Yosuke accompanying her on the piano. She'd frequently challenge new things like that, often times making approaches towards jazz, so a song like "Original Jinsei" really suited her. And then it's followed by "Koishite Gomen ne" on the album. That transition is great, too. I still can't forget her tours from back then…
Usuta: Like the one where she was performing sitting down on a chair?

Tsurugi: Sitting down…? Oh! That's right. That was some years later on one of her tours with a live band. I remember already thinking about how I wanted to hear her do that song with a live band when that album was released. Also, Oomori already mentioned this one, but I like "Oshare!" as well. It's a song about this girl who's of that age when she doesn't even know the real names of her friends, right? Matsuura does a great job of conveying those sorts of vague human relationships through her singing.
Oomori: Right. I love how non-serious she sounds on the phrase "tekitou ni~."
Tsurugi: Like she's given up.
Oomori: Though she exerts just a bit more energy in the "ba" sound of that "bye-bye."
Tsurugi: While I can't pretend like I know what Tsunku♂ wanted to convey with those lyrics or how he instructed Matsuura to sing it… In the song the protagonist goes, "Isn't this good enough for friends? It's fun — what's the problem?" That's the song, right? But it also feels like she's searching for something deeper than that; something more meaningful. And Matsuura through her singing is able to really convey that feeling to the listener.
Oomori: The lyrics of "Watashi no Sugoi Houhou" aren't something you would make an idol sing. Right? Lines like, "watashi ja nai to dekinai houhou wo tsukande yaru" ("with my own two hands I'll find a technique no one but me could pull off")…. it really feels like Tsunku♂ wrote it with this specific woman in mind.
Tsurugi: Exactly.
Oomori: And then Matsuura went on to develop her skills as a singer. When it comes to singing it's usually all about learning the technical aspects; if you want to convey a feeling like this, you need to sing it like that, and so on. Successful vocalists tend to know all these techniques.
— All the different means of conveying emotions?

Oomori: Right. Matsuura, having tried them all, learned a new way of doing it. So the message of the song holds true: Matsuura went on to do exactly like it says in the lyrics. It just makes me go "wow!" looking back.
— So Usuta, were you able to recall any other great °C-ute album songs?

Usuta: Yes. (laughs) I like "Shiritsu Kyougaku!" At the end of the day, I just want to hear those sorts of cute songs. In fact, that's the only thing I want to listen to. (laughs) Although, yes, having come to like °C-ute, I've also began to appreciate the cooler songs Tsunku♂ writes for them. And, to be fair, many of them are made cool especially because it's °C-ute singing them.
Oomori: I actually think °C-ute's material on a whole is quite cute. Morning Musume — when they had lineups with roughly the same age range as °C-ute — would also be doing concerts where they made me feel like I just wanted to see them smile more. Not to say that they weren't cool though.
Usuta: Does Tsunku♂ have a tendency of making the groups go in that sort of "cool direction" at one point or another?
Oomori: I think so, yeah, when the girls are all about 19 years old or so.
Usuta: In that case, weren't S/mileage a bit early to make that transition? Ayacho's an adult, sure, but the rest of them are still in junior high or high school.
Tsurugi: Yep. The only adults are Ayacho and Kanyon.
Oomori: Tsunku♂ isn't producing ANGERME though.
Usuta: ANGERME might be headed in a slightly different direction altogether.
— Usuta, how do you feel about Hagiwara Mai's solo song on Dainana Utsukushikutte Gomen ne, "Yuke! Genki-kun"?

Usuta: I love it. It was a big thing for her, Nacky, and Okai to all get their own solo songs on that album. Tsunku♂ always has this certain image of each particular girl, doesn't he? For Okai his image seems to be that she's kind of a glutton, whereas Nacky's seems to be that she can't really get serious about anything…
Oomori: Funnily enough, though, every now and then it'll feel like the members have stopped aging in his mind, right? Like, you can just tell "okay, Tsunku♂'s writing this song based on how Nacky was years and years ago." And somehow that makes him feel like their dad. (laughs)
Usuta: Right. A dad who can't keep up with how fast his kids are growing up. (laughs)
Oomori: The same kind of thing happened to me when my dad transferred jobs, so I really notice it when time just stops for Tsunku♂ like that. When I was in junior high, I'd be conscious for the longest time of the fact that my dad pretty much still saw me as an elementary school child. Every now and then I see the same thing with Tsunku♂. (laughs) By the way, when I was watching the beginning-of-the-year Hello! Con, I noticed that Maimai was having some trouble with her voice and I'm sure she herself wasn't happy with it… but she was so hot. (laughs) She had this painful expression on her face when singing the high notes. That in itself was cute.
Usuta: When Maimai has certain vocal bits that she has trouble with on the recorded versions, she tends to have trouble with them live, too. (laughs)
— What are your Morning Musume favorites, Tsurugi?

Usuta: You especially like many of the B-sides, right?
Tsurugi: Yeah. They started to have loads of B-sides around "One Two Three." Many of them they're still performing live today. Songs like "A B C D E-cha E-cha Shitai."
Oomori: I love "Daisuki 100manten" with Fukumura Mizuki and Ishida Ayumi. It's so cute.
Tsurugi: Was "Happy Daisakusen" a B-side?
Oomori: Yes. How great was it that they had solo lines for everyone in that song? Seriously. I still think about that whenever they perform it live.
— Even Ikuta Erina received a line. (laughs)

Tsurugi: Right. (laughs) And Iikubo.
Oomori: Fufufu. Ikuta did have quite a lot of parts to sing on her first tour. She even did "Rainbow Pink" with Michishige.
Usuta: What, so her lines just disappeared somewhere down the line?
Oomori: It's been a gradual decrease.
Usuta: Even when they're doing the songs she used to get lines in?
Oomori: They don't perform many of the songs that would have lines by Ikuta.
Tsurugi: The only line she gets live nowadays is pretty much the word "mail" in "I WISH." (laughs) I always feel like cheering her on so hard when I watch her. I feel like I'm paying more attention to her than anyone else. I'm just going, "do it, Ikuta!"
— Anything else?

Tsurugi: I also like "KoiING."
Oomori: That one made an appearance in your manga, right? ("Ano Koro Danjo Kashimashi Monogatari")
Tsurugi: Sorry to talk about something completely inconsequential, but around the time that song came out, I was in this band with a friend of mine. Well… we called it a band, even though we hardly performed anything. We just talked a lot and then we'd always finish by singing "KoiING." At first we actually performed it ourselves, but at some point we just started playing it from the CD with us guys singing on top of it. That friend I was in the band with later died of cancer, so I have a lot of emotional attachment to "KoiING." That same friend also loved Fujimoto Miki, and so while it doesn't get talked much about these days, I just want to say that I absolutely love Fujimoto's album, MIKI①.
Oomori: Ah! That's a great one!
Tsurugi: It has so many good songs on it. "Mangetsu" and such.
Oomori: The songs are so powerful. And I don't mean just her singing either, I mean everything about the songs. They don't have any modulations. It's just like an endless series punches, one after the other. Ah… that's such a great album.
Tsurugi: It really hits you, right? It just pierces through you. "Namida GIRL," for example, was this high tempo, almost metal-like song.
— Fujimoto has an appeal to her that's a bit different from that of Matsuura, doesn't she?

Tsurugi: I personally loved the duo of Matsuura and Fujimoto. Aya-Miki, as they used to call them…
Oomori: It just feels good watching Fujimoto, right?
Tsurugi: The funny thing is, whenever they got together, it was actually Ayaya who was the stronger of the two. The public's image might be that Mikitty is the tough one, but when it was just the two of them, Matsuura was definitely the manlier one. They did those TV bits together, right? Kotomikku Daijiten and Moero! Manner-bu and the like. It was on that late-night TV Tokyo show. (Note: both corners were part of TV show Bishoujo Nikki III.)
Oomori: Whenever they appeared on a show together it always felt like they were lightly poking fun at each other, right?
Tsurugi: Right. One time they went to an aquarium by the two of them on Futarigoto and they'd be catching each others' heads… I was watching that and just thinking to myself, "man, what a time to be alive." (laughs) I really loved the pair of Matsuura and Fujimoto. They both started out as solo artists and you can really hear in the songs how much effort Tsunku♂ put into their respective debut albums.
— Finally: what are your feelings on the future direction of Hello! Project?

Usuta: I'm curious to see the balance they're going to find with Tsunku♂ and other songwriters. I wonder about that. I'm actually quite supportive of the idea of bringing in outside people — I did, after all, first become a fan through Buono!
Tsurugi: There are people who feel Hello! Project will improve as it distances itself from Tsunku♂, and there are people who at the end of the day just love Tsunku♂. I don't know which is right and which is wrong, but as for me personally, I'm firmly in the camp of Tsunku♂ fans. I don't think there's any doubt that those Tsunku♂ qualities are essential to Hello! Project.
Usuta: I guess they're going to keep it around 50/50, gradually introducing more outside people. You have to be mindful about the burden on Tsunku♂, too.
Oomori: They used to have him be responsible for way too much.
Tsurugi: I do like plenty of non-Tsunku♂ songs, too. Like W's "Miss Love Tantei."
Oomori: I love that song!
Tsurugi: Looking at the changes ANGERME is going through at the moment, for example, you do have that sense of them having inherited those Tsunku♂-isms as they implement those changes.
Oomori: Takui, who wrote ANGERME's "Taiki Bansei," has worked with Tsunku♂ for a long time. Similarly, Ameko, the lyricist of "Otome no Gyakushuu," previously wrote lyrics for Kopink. Maybe it's just about finding people who have that love towards Hello! Project.
Tsurugi: Rather than the music, I think the issue is more about how they're going to inherit the uniqueness of Tsunku♂'s lyrics. Just like how earlier we were talking about "Semi." That song has that line about the protagonist's little brother — all great Tsunku♂ songs have that one phrase in there that sort of "dampens" it. To give you another example, Goto Maki's "Suppin to Namida" is a great song, but then it suddenly has that line about the protagonist blowing her nose. Always having that one hook in there to betray expectations… I think that's what makes Tsunku♂'s lyrics unique.
Usuta: If the lyrics are too simple, the song might not leave much of an impression at all.
Oomori: I think a part of what makes his lyrics so lovable is definitely his choice of words. He often uses words that are something like three years out-of-date. You're looking at the lyrics, going "yeah… I already saw this word three years ago." When I write lyrics, I make it a point of using words I know will sound outdated at some point. Tsunku♂, on the other hand, chooses words that are already well on their way out, like he's going "the time to use this word is now!" That in turn also makes the members look lovable when they're singing those lyrics. I love that.
Tsurugi: It probably won't be too much longer until we get a "geki oko punpun maru" in one of his lyrics. (laughs)
Oomori: Tsunku♂ has lots of songwriting techniques, but that impeccable timing of his is the most important of them all. I only hope other writers can inherit his sense of timing so we can get lots of interesting songs from them. There are lots of fun girls in Hello! Project right now, so I hope they can write them songs that get them excited, too. Me personally, I'm hoping for contributions from many more female writers. Tsunku♂'s lyrics are obviously about women seen from the viewpoint of men and I like that, but it's… How should I put this…? I don't have the same desires and hopes as men. So perhaps female lyricists could write lyrics that are closer to what I want.
Tsurugi: What with the addition of new writers and all, having been to the beginning-of-the-year Hello! Con, the thing I felt most strongly there was that 2015 will be the year of °C-ute and ANGERME.
Usuta: Really? Because I'm a bit worried… (laughs)
Oomori: °C-ute are fine. °C-ute are one-of-a-kind.
Tsurugi: They've become the most senior members of Hello! Project. I feel like their responsibilities will increase even more, and Okai will probably continue appearing on TV and becoming more popular.
Usuta: Okai has acquired a really nice character as of late — her whole character is pretty much based on taking all the things about her family she shouldn't say in public and just laying it all open. It's great.
Oomori: Hearing her talk like that was kind of difficult in the beginning though. I mean, her going on about how she sleeps in the closet and stuff. I'd be thinking "hey, that's what I do… and this girl's supposed to be an idol…?" But I got used to it. "Well, I guess it's fine if it's Okai."
Tsurugi: Okai is one of those people who's also easy for other TV personalities to deal with. It works in her advantage how she has one of those personalities that just says you don't have to treat her like a delicate flower or something. In that sense, she's the same as Michishige and Momochi.
Usuta: But we're barely into the new year and Maimi's already been talking about how she's lost weight. Could it be that she's lost weight because of the pressures of being the leader of Hello! Project? I can't help but feel worried about them…
Tsurugi: We already told you: °C-ute are doing just fine! (laughs)
Interview & text: Saito Takashi
Photography: Yamada Kaoru
English translation: Henkka
Oomori Seiko on the web: website, blog, Twitter, Instagram, Facebook, YouTube
Usuta Kyosuke on the web: website, Twitter
Tsurugi Mikito on the web: Twitter, blog