Namba: Seeing as this book is about the albums of Hello! Project, we've each been asked to list five of our favorite Hello! Project album songs.
Koide: I must begin by saying that out of all Hello! Project albums, past or present, Berryz Koubou's first album might be the best one out of any of them. I'm afraid that might be the case.
Hyadain: You're afraid? (laughs)
Koide: Berryz Koubou's 1st Chou Berryz and Dai ② Seichouki might be the best of them all — conceptually as well as in terms of their degree of perfection. Like, if you were to look at specific songs here and there, it's not like there's not a single track on there that's not a bit… you know? (laughs) But they both have overarching stories and the songs all serve a meaning. Both releases stand on their merits as concept albums. When you listen to H!P releases with that mindset, there are actually a couple of other conceptual albums like that as well. v-u-den's Suite Room No.1 comes to mind — that's a good one to listen to in order.
Hyadain: Hmm. I've never done that.
Koide: v-u-den only released that one original album which means it has all their singles up until that point. That's the main draw for most people. But the concept is that it's a "hotel" — the album actually begins with the group checking-in.
Namba (upon noticing Koide's notebook): I have to begin by saying that I'm shocked to see the amount of notes you have written in there about this subject.

Hyadain: Yeah, same here. (laughs) I've been pretty much shuddering non-stop since last year because of how cultured Koi-chan is. I remember when we went to the Idol Renaissance show together and we had some time to kill, so we went upstairs to the figure store and he could tell me things about each figure individually. "This one's from an UFO catcher." "Oh, yeah, this one you'd get if you got first prize in that one lottery"… (laughs)
Koide: Currently I'm hooked on soft vinyl toys. (laughs)
Namba: Is that so? (laughs)
Hyadain: I wonder how much information this guy is going to end up storing in his brain within his lifetime. I mean, just for the sake of this roundtable, he was saying he spent the entire night yesterday just listening to Hello! Project albums.
Namba: Scary…
Koide: I came this close to losing my mind though. Like, I can easily tell you about my favorite album songs, but trying to figure out what are actually the best albums was more problematic.
Hyadain: So? What are they? Berryz Koubou, v-u-den, and…?
Koide: Perhaps also Morning Musume's 3rd -LOVE Paradise-.
Hyadain: I like the fourth one, too. It has so much meat to it.
Koide: Ah, 4th Ikimasshoi! It really sounds like their golden age. "Ikimasshoi!" is great. Plus, it has "Suki na Senpai."
Hyadain: After relistening to a bunch of albums myself, I also liked the one that we have to thank for the name "Platinum Era" to begin with: Platinum 9 DISC.
Koide: I love it! I've liked it ever since it first came out. It was released after SEXY 8 BEAT and before ⑩ MY ME. Platinum 9 DISC is perfection. So many good songs.
Hyadain: It's amazing sound quality-wise, too.
Koide: It is. EDM wasn't yet that popular around the world prior to 2010, and neither was the hard-hitting club music. It was kind of a transitional period.
Hyadain: Yes. Musically, nothing was really that trendy around then. People always say it's because we had Platinum Era first that we now have the current group, right? I think when you listen to the album with that mindset, you can hear what they mean. With these kinds of origins, the hard, cracking EDM stuff they're doing now makes sense, too. "Take off is now!" is one of my favorites. It's sung by Takahashi Ai, Gaki-san and Tanaka Reina… who were like the biggest three entertainers of the Platinum Era. This one is so good.
Koide: They did it really well in concert, too.
Hyadain: There's something a bit reggae-like about its sound as well. Yet, it's also really hard-hitting. But within that hard shell there's that melancholic chorus melody. I think that song was one of the links to the group's current era.
Koide: Yeah, I get that.
Hyadain: There's something about it that's similar to the choruses of "What is LOVE?" and "TIKI BUN," too.
Koide: "Guruguru JUMP" off Platinum 9 DISC is one of those songs that really reminds you of the kind of era it was.
Namba: That was another Ookubo Kaoru arrangement.
Koide: Keeping to the topic of Morning Musume: Michishige and Fukumura's song on 12, Smart, "Suki da na Kimi ga" is great, too. It's one of my five album song favorites. There's nothing extraneous in the lyrics, song, nor the arrangement, and it's so simple and yet so good. "Lalala no Pipipi" appeared on the next album, ⑬ Colorful Character, but I think "Suki da na Kimi ga" was like the prototype of that song.
Namba: There were lots of Michishige-centric tracks, and they're pretty much all this type of song, aren't they? Especially all the ones after "Suki da na Kimi ga."
Hyadain: That must be how Tsunku♂ likes to employ Michishige in his songs.
Koide: "Lalala no Pipipi" was like that idea taken to an extreme.
Hyadain: Though the last one, "Shabadabadoo~," was more stylish.
Koide: I went back and watched several different performances of "Suki da na Kimi ga" to compare them, and especially now that she's graduated I truly realize how great she actually was. The way she can make those facial expressions… Everything about her from head to toe was all idol. And yet, there was something a little bit warped about her, too…
Namba: That's what makes her great.
Koide: It's like she reached completion… while still remaining incomplete. If that makes any sense at all. She's the prime example of that kind of thing.
Hyadain: Her poor singing is a necessary part of her incompleteness.
Koide: Yes. It's like, she got into the group, not being able to sing at all, and then her singing got better… even though she still can't sing at all! I mean, her singing improved while her actual skills as a singer didn't.
Hyadain: Apparently she herself never paid much mind to it. She was always just going "I'm the best!" (laughs) When people asked her how her auditions had went, she replied "there's no way I wouldn't pass." (laughs)
Koide: "I'm the best!" (laughs) But that's probably a part of what makes her who she is.
Hyadain: She thought everyone got into Morning Musume with whatever potential they had, and then — just through being in the group — they'd automatically get better at singing. When she was told she couldn't sing, that was the first time in her life she felt frustrated.
Koide: "Frustrated," huh.
Hyadain: She figured all the others just got better at it even without trying. (laughs) This is something Tsunku♂ has mentioned, but Michishige has a very autotune-like voice, doesn't she?
Koide: Yeah. It pretty much sounds that way even when she's singing live.
Hyadain: She's very… "casual."
Koide: Yes. She's already so perfect in other ways, you hardly even notice her not being able to keep in tune.
Hyadain: Well, starting from around the 7th or 8th album, yeah.
Koide: Right. In her early days it was just a bit too…
Hyadain: I saw a video of her singing "Namida ga Tomaranai Houkago" by herself in Taiwan or somewhere, and let's just say it was pretty incredible. (laughs) I'm never going to delete it! It was just lovely. Anyway, one thing I like about Hello! Project albums is how they form these sub-groups within them. Like these teams with just a couple of people. I think it's nice of them to do that.
Koide: True. (laughs) Singles don't have as many singing parts and there are certain members whose voices are hard to tell apart. Those album songs help with that.
Hyadain: Morning Musume has always been doing that, ever since their first album. And back then it was more detailed: they'd clearly write in the booklet who sang main vocals, who sang chorus, etc. I liked that. It was educational.
Koide: Morning Musume's first was also the first album of Hello! Project as a whole. This means they've been doing that kind of thing since the very beginning…
Namba: And they weren't even using Pro Tools back then.
Koide: They probably didn't up until around Morning Musume's third album, right?
Hyadain: Huh? But with "Chinmoku," off of Taiyou to Ciscomoon's first album, they pulled off a song where the members each sang one syllable at a time.
Namba: I've heard that they'd use the switcher on a yonpachi (Sony PCM-3348) to quickly change between different members, basically doing it live.
Koide: This was late 90's, right? There weren't many studios with Pro Tools back then. It was all analog. I wonder when programmed music started being more prominent, because it was pretty much still all live instruments on the third album. They had lots of foreign musicians participating, too. Oh, and by the way: Taiyou to Ciscomoon's album is really good. TAIYO & CISCOMOON 1 is a masterpiece.
Hyadain & Namba: Hear, hear.
Koide: It has that sound that just gives you flashbacks of 90's street life.
Hyadain: There's something modern about it, too.
Namba: I guess you'd call it an "urban" sound.
Koide: I feel it has something similar to Utada Hikaru's material.
Namba: That's because they were, in fact, conscious of her when making it.
Hyadain: I think I remember Tsunku♂ saying they were trying to go for something like that with Morning Musume's "Memory Seishun no Hikari."
Namba: He wanted to create something as "genuine" as Utada Hikaru, so he got all those great musicians to record the song. But the end result just wasn't exactly what he'd had in mind, so he went "nah, let's do something else." That's when he did "LOVE Machine."
Koide: It's pretty amazing to think you'd go from that to "LOVE Machine" — to full-blown disco.
Hyadain: That's when his lyrics first started to break down… and I realize "break down" is kind of a strange word to use here. (laughs)
Koide: No, I get what you mean. That's when we got the very first "Tsunku♂ breakage." (laughs)
Hyadain: Like the first cracks in the building blocks… (laughs)
Koide: I don't know whether Tsunku♂ did it on purpose or not, but his Japanese suddenly started breaking down… Pucchimoni's "Chokotto LOVE" was actually like that, too.
Hyadain: Definitely. I mean, take out the lyrics from "LOVE Machine" that everyone sings along to — "Wow Wow Wow Wow" — and suddenly what you're left with is "Nippon no mirai wa / sekai ga urayamu / koi wo shiyou ja nai ka" ("Japan's future / will be the envy of the world / let's fall in love")… It's like, "that can't be grammatically correct!"
Koide: Right. "You just completely switched topics in mid-sentence there!" (laughs) Like the whole point changes.
Hyadain: He might've had everyone fooled with the "Wow Wow Wow Wow," but when you look at it carefully you realize he's just being anarchic with those lyrics.
Koide: Same thing with "The☆Peace!" First you think it's about the elections, but then suddenly it switches to being about "the person I like." This protagonist is going through a personality crisis! (laughs)
Namba: Here's another thing you can't help but bring up when talking about Tsunku♂ lyrics: space.
Hyadain: He loves the planet as he loves space. Do you know the song "HELP!!" off Ai no Dai 6kan?
Namba: It's awesome.
Hyadain: I think that was the height of that theme. A lot of music these days ties love towards the planet — or towards space — and just plain romantic love together. But "HELP!!" took it to an extreme.
Koide: The whole theme was about the planet being in danger, after all. (laughs)
Namba: But Tsunku♂ genuinely thinks that way: he feels that even everyday love is connected to the universe.
Koide: Right. The micro and the macro. Exactly like in that film, Interstellar.
Hyadain: There's definitely that Interstellar-feeling about his lyrics. (laughs)
Koide: Honestly, when I saw Interstellar, I was just thinking about Tsunku♂ the whole time. That film explores themes like the 5th dimension as well as these very science fiction-based things, but in the end it becomes a story about love. It mixes perfectly the themes of space and love.
Hyadain: And that's exactly what Hello! Project in recent years has been all about.
Koide: Right! I just thought that film was so "Tsunku♂." I really hope Tsunku♂ checks it out.
Hyadain: On the other hand, he has lyrics that are just full of genuine femininity. Like, the first time I saw the lyrics of "Kare to Issho ni Omise ga Shitai," I couldn't believe it. Those lyrics about the protagonist wanting to do computer-related work, about having marketable skills and all that. That wasn't about the universe — that was down here. I think there's a girl living inside Tsunku♂'s heart.
Koide: Right. I actually think it's several girls.
Hyadain: Really? Because I think it's just one.
Namba: Ah, the "one girl theory." (laughs)
Hyadain: To me, it's a girl who didn't do particularly well in school, who has very average looks, who has one strong suit, and who has a bright personality. And she's just really forward-looking. But when she feels down, she feels really down.
Koide: Ah, I get that. (laughs) But see, I like to believe that there's an entire town within Tsunku♂ where lots of girls and women live together.
Namba: What the hell? (laughs)
Hyadain: During Platinum Era it was a snack bar town, right?
Koide: Because of all that unhappiness and unrequited love? (laughs)
Namba: And so you're basically zooming in and focusing on different parts of the town based on the song in question?
Koide: Yes, exactly. There's an elementary school, a junior high school, a high school, even a company where only OL's work. (laughs)
Hyadain: Ah, yes. You're referring to the company that employs Mariko. (laughs)
Koide: That's kind of how I picture it. So while some people may think of it as just one girl living inside Tsunku♂, I'm going to go with the "town theory."
Hyadain: I like to think of it as the "one girl's growth to adulthood theory." Like, "which path does she choose?"
Koide: Ah. That makes sense, too.
Hyadain: S/mileage's "Onaji Jikyuu de Hataraku Tomodachi no Bijin Mama" is one good example.
Namba: The idea behind that song is amazing. The protagonist and her friend's mom work part-time at the same store, and they're both trying to become the manager. How does one come up with an idea like that?
Koide: That's why I like to think that it's not just one girl inside Tsunku♂'s heart — it's a town with a residential area, a business district… That's the only answer that satisfies me.
Hyadain: It's certainly something to think about. Like, "maybe this ramen place here is the ramen place that appeared in "Koi wo Shichaimashita!"…?" (laughs)
Koide: Yeah. And it's more of a "town" than it is a "city." It's Tsunku♂ Town. Ah, one day I wanna go there…
Namba: Speaking of lyrics that are just way out there: I think Tsunku♂ really unleashed another flood of "Tsunku♂-ness" with ① Let's say "Hello!".
Hyadain: With songs like "Oheso no Kuni," right?
Koide: Be honest: could either of you ever have come up with the concept of "oheso no kuni" ("land of belly buttons")? (laughs)
Namba: Like, the song starts with "naa, minna, hesontoko yoroshiku." (laughs) On the first song of the album, "Say! Hello!," they talk about pimples. But by the chorus, it's suddenly "the planet is a discotheque." (laughs) It's too amazing. The way he can connect the planet and disco, and then throw stuff about pimples in there… it's awesome. It was the first time in a while when I just went, "now there's the Tsunku♂ I know."
Koide (reading through the lyrics): Oh, wow. You're right, this development is incredible. Godly, even!
Namba: It made me remember how Tsunku♂ really puts his all into the work he does for kids. It's like all the ideas that had built inside him while he had to hold back and be cool for "Cool Hello" suddenly exploded.
Koide: He was finally freed from the stress of Cool Hello. (laughs) But really, these lyrics are seriously amazing.
Namba: I think that album had the same amount of sparkle as Berryz Koubou's 1st Chou Berryz, or °C-ute's Cutie Queen VOL.1.
Koide: Let's just for a minute suppose that I'd been able to come up with the phrase "oheso no kuni kara konnichiwa." Fine. But I would've never in a million years thought of starting the song off with a "hesontoko yoroshiku!" (laughs)
Hyadain: "Table Seki Aitete mo Counter Seki" features that bright, happy girl we all know and love. The one from Tsunku♂ Town.
Koide: The one who works part-time at a cafe. It's probably next to the cake shop and the florist. Maybe it all ties into "Onaji Jikyuu de Hataraku Tomodachi no Bijin Mama"…
Hyadain: Ah, and this is where the "stylish bakery" mentioned in "Egao YES Nude" can be found! (laughs)
Namba: Honestly, I'm so hooked on the Kenshuusei album right now that when I'm asked to name five of my favorite Hello! Project album tracks, I could probably pick all of them from that album alone. (laughs)
Hyadain: Having done some research for this discussion, I have a song I'd like to name by Tsunku♂, though it's actually from NICE GIRL Project. Canary Club Eri~na's "Doki! Kou Iu no ga Koi na no?"
Koide: "Kaaaaamo ne!"
Hyadain: It's great. Why didn't they try to promote it more? It felt like it was a bonus track on the album. Is it not just an amazing song? In a way it lays down the format of the modern idol song.
Namba: With the call & response thing and stuff.
Hyadain: She had the skill needed for them to present her as a solo idol. I really liked the song so it just feels like a waste releasing it as an album track.
Koide: There are quite a lot of songs like that — songs that make you think, "couldn't they have released this as a single?"
Namba: Also, "Chou HAPPY SONG," which was made up of tracks from Berryz Koubou's album Ai no Album ⑧ and °C-ute's album Dai Nana Shou Utsukushikutte Gomen ne — that was a fun one. Making a song out of tracks from the albums of two different artists is not something you see every day.
Koide: That was something only Hello! Project could do. Or rather, something only Berikyuu could do. They couldn't have planned it if they didn't have that mutual connection.
Namba: It was great. But when I asked Tsunku♂ about it, he just went, "Well, I just tried it and it worked…" There was no deeper story to it. (laughs) He just did it based on feeling. It's pretty incredible he could come up with something like that in that fashion.
Koide: Tsunku♂'s always like that. We the fans get all fanatic about some song, and then when we ask him about it, he always just says something to the effect of "oh, yeah, that song…" (laughs)
Hyadain: When you write as many songs as he does, I guess it's only natural that you forget some. Just look at the Pucchi Best albums released every year — even those alone are amazing.
Koide: Most of the songs on those are singles because they're compilation albums, but sometimes they'll have remixes that are often really good, too.
Hyadain: One of the five songs I'm naming is a track from Pucchi Best 5: the "Jisedai remix" of W's "Robo Kiss." It's easily better than the original.
Koide: The one with the whispered vocals.
Hyadain: Right. They re-recorded the vocals, so it's not even really a remix per se.
Koide: More of a re-take. (laughs)
Hyadain: The way they sing it is really good. Lots of portamento used.
Koide: I think that's W's best song. Speaking of Pucchi Bests, Pucchi Best 15 has songs from Lilium, right?
Namba: I think it's great how in recent years they've started actually recording those musical songs.
Koide: They did a terrific job with the soundtrack of Lilium. Sure, the musical was made into a DVD that everyone should see. It's great. But the songs themselves are really good, too. Ayacho became a much better singer thanks to doing Lilium. Something about the way she sings changed there. ANGERME's "Taiki Bansei" was great, too.
Hyadain: Their performances really improved with the addition of the new members.
Namba: They're doing really good nowadays — even if everyone was all "…" when we first heard the name "ANGERME." (laughs)
Hyadain: Everyone was like, "is that the name of a bakery…?" (laughs)
Koide: Yeah. "Welcome to ANGERME, the bakery of Tsunku♂ Town." And to think Sasaki would go through such a transformation…
Namba: The "idolness" in her is now in full bloom.
Koide: It's like when Goto Maki performed again for the first time in a while some time back. The OG were occasionally performing together before then, but Goto joining in really elevated them. Goto herself was of course shining, but she made the people around her shine, too. There are some people out there like that. I guess you'd call it charisma. I think Sasaki is pretty close to that. There's something about her — just her being there is enough for people to look at the group as a whole and go, "huh, ANGERME is actually kinda good."
Namba: She immediately became the center, didn't she?
Hyadain: In a way it feels like she demolished the wall that was between 1st and 2nd gen… Um, should we get back to talking about the albums? (laughs)
Koide: I like °C-ute's albums. Cutie Queen VOL.1…
Namba: That first one really was good.
Hyadain: I also like ②mini ~Ikiru to Iu Chikara~.
Koide: "Tsuugaku Vector☂!"
Hyadain: Isn't "Natsu DOKI Lipstick" pretty great, too?
Koide: It is! They lower it by a semitone when they perform it live.
Hyadain: There's something a little Komuro-ish about the melody.
Koide: They actually have surprisingly few songs that are this aggressive. The beat, the singing, the dancing… they're in full offense mode!
Hyadain: I'm not a Maimi oshi or anything, but I do love this song.
Koide: That album also has "Bokura no Kagayaki." Today, Okai is recognized as one of the better singers of the group, but I'd argue that you could already hear her potential early on. This song is a great example. I wish there were more songs with Okai singing lead vocals. Oh, and I like 3rd ~LOVE Escalation!~, too!
Namba: If you keep going, we're going to end up listing every album they've ever released. (laughs)
Koide: This was the point in °C-ute's journey when their concerts suddenly got better, too.
Hyadain: How many members did they have when they released the third album?
Koide: Seven. They started doing °C-ute no Hi concerts, they started having those fun corners with pre-established characters, and they started to do songs like "Do Don Ga Don Ondo" that played into those characters. And when they released 3rd ~LOVE Escalation!~ they also had something of a release event for it at Yomiuri Land. That was my favorite °C-ute concert.
Hyadain: Did they release footage of that?
Koide: They did. I watched it in super-slow-motion.
Namba: Here it is!
Hyadain: The "Koide Slow!" (laughs)
Koide: In it, they perform a song called "Image Color" with just the duo of Yajima and Suzuki, and they both dance it completely differently — both equally as well, but with obvious differences.
Hyadain: That kind of thing is fun, isn't it? Having the members dancing the same song, yet doing a different take on it.
Koide: If we do an event for this book like we did for the first one, I want to show you guys some more stuff — there's so much more slow-motion material I need to show everyone. (laughs) I always tend to show people "Tokaikko Junjou" since that's what I like to watch, but there are other videos with much crazier stuff happening! Like in the music video of "Dot Bikini" where they're dancing in an indoors-studio… Do you remember how they have those little animated illustrations appearing on top of the members as they're singing and dancing? Like, a girl surfing on top of Wada's arm and stuff? While it may seem like a good-natured music video at first, did you ever notice how near the end there's actually a scene with a UFO abducting a freaking gorilla?!
Hyadain & Namba: What?!? (roaring from laughter)
Koide: It's true! These girls are just singing "ka ka ka ka," and meanwhile there's all this crazy stuff going on behind them! You should all give a look at the music video in slow-motion!
Namba: I didn't know that. (laughs) Maybe it's because Nakanishi likes gorillas?
Hyadain: She does, doesn't she?
Namba: The funny thing is, the other members all say she's only saying that for "fashion" — that she just wants people to think of her as the "gorilla character." (laughs)
Koide: Another great album is Mikitty's MIKI ①.
Hyadain: That one feels like a proper album.
Koide: It has so many good songs… "Let's Do Daihakken," "Mangetsu"… I wanted to include "Mangetsu" on Hello! Project Zenkyoku Kara Atsumechaimashita! Vol.4, but that damned Okite Porsche had already beaten me to it and chosen it for his.
Hyadain: That little scoundrel… (laughs)
Koide: Also, I really like Goto Maki's solo albums. I listened to 3rd Station a lot — that's the one with "Ekizo na DISCO."
Namba: You chose that one for your compilation, too.
Koide: Then after that she released her sexy album, HOW to use SEXY. I like that one, too — songs like "Glass no Pumps."
Hyadain: That's a fantastic arrangement!
Namba: One album that I listened to a lot was Ongaku Gatas' 1st GOODSAL — you get to hear both the songs Matsui Hiroshi arranged for them.
Hyadain: That's why it's such a cool album.
Koide: Songs like "Dakishimete… Namida" and "Seishun no Custard" are really good. GAM's album is great, too — 1st GAM ~Amai Yuuwaku~.
Namba: GAM, Ongaku Gatas… there are a lot of units that only got to release one album.
Koide: Oh, and there's Buono! I listened the crap out of all their albums!
Hyadain: The "crap" out of them… (laughs)
Koide: Cafè Buono! is great, Buono!2 is great, We are Buono! is great… but if I had to pick just one, I guess it'd have to be their best-of. The Best Buono! was actually remastered by a guy called Don Bartley who's active in the States and stuff — it sounded so good, I actually had to check the credits to see who'd been behind it. (laughs) The guitar on it is a lot more prominent than on the original songs, and the lows are so much heavier, too. And since their concept is to be rock idols, it really fits them.
Namba: Buono! is a weird group. At one point Tsunku♂ started writing songs for them, but then the fans were going "Buono! is better if it's not Tsunku♂!" — the opposite of how it usually goes with all the other groups.
Koide: They also changed record labels midway: they started with Pony Canyon but switched to Up-Front. The best-of collected songs from their Pony Canyon years.
Namba: I'm not sure if it's accurate to call it their "later years," but I really did like the material from that era, too.
Koide: I wish they'd get back to doing Buono! again.
Hyadain: Speaking of outsourced material: I actually wrote a song for Kikkawa Yuu back when she was still involved with Tsukishima Kirari.
Koide: That's right!
Namba: Back when she hadn't yet figured out her character…
Hyadain: Right, when she had yet to discover her innate "explosiveness." It's pretty incredible to think she was once in a unit with Kusumi Koharu.
Koide: That was such an insane unit. (laughs)
Hyadain: The song was called "Hana Hatena" by Hanasaki Kobeni starring Kikkawa Yuu.
Namba: At this rate though, we're probably never going to be able to finish the conversation. Let's try to wrap it up!
Koide: We haven't even mentioned Mano!
Namba: It has to be the singles when it comes to Mano, right?
Koide: When I listen to the original version of "Manopiano" and then compare it to the album version, it makes me cry. You can really sense how she'd had her "awakening" somewhere between the two recording sessions.
Hyadain: Mano always looks like an emoticon or something in her CD covers — her face is always so perfect.
Koide: There's definitely something portrait-like about her looks.
Namba: When I asked KAN why he stopped writing songs for her, he said he would've never agreed to do it to begin with had he known about the pace of how often he'd have to deliver songs. (laughs)
Koide: Alright. To wrap this up, let's all of us just list our five favorite album songs!
Hyadain: Mine are Morning Musume's "Take off is now!," W's "Robo Kiss (Jisedai Remix)" from Pucchi Best 5 — can I have this one, Koide?
Koide: Go ahead.
Hyadain: Also, Hanasaki Kobeni starring Kikkawa Yuu's "Hate Hatena" — let's throw that in, too. I personally quite like it myself. Also… Koide, can I have Yajima Maimi's "Natsu DOKi Lipstick" as well?
Koide: Fine. I have my backups.
Hyadain: (laughs) And finally… To name a song that had the most influence on me as I am today: a track from First Time, Morning Musume's first album: "Usotsuki Anta." I loved that they had Nakazawa Yuko be the center in this song. She's a good singer now, but back then she wasn't very stable — and I loved it. This was when they were still heavily relying on girls like Fukuda Asuka, so suddenly having Nakazawa singing all unsteadily for a change was just great. So those are my five.
Koide: I'm going to have to go for a bunch of Berryz Koubou and °C-ute songs — though I already picked quite a few for Zenkyoku Kara Atsumechaimashita! Vol.4.
Hyadain: You have more?
Namba: We haven't even talked about "Semi" yet.
Koide: Obviously that's one that goes without saying. If I had to pick specific songs… "Semi" and "Ground Demo Rouka Demo Medatsu Kimi." These two are amazing.
Hyadain: The latter is similar to "Table Seki Aitete mo Counter Seki," right?
Koide: Their stories are alike, yes. (laughs) It's sung by Kumai and Sudo, and there's this lyric about how the protagonist felt the boy's muscles. Brushing against the boy's arm and feeling the muscles — the lyrics are like about the difference between boys and girls going through puberty.
Hyadain: Could it be that Tsunku♂ is…?
Koide: No, no, it's just a story about a girl. Just read the lyrics and you'll understand.
Hyadain: But who actually comes up with lyrics like that? (laughs)
Koide: Feeling someone's muscles… Yeah, you don't see that in lyrics every day. (laughs)
Hyadain: His femininity levels are off the charts!
Koide: And as for the other songs… I want to include Morning Musume's "…Suki da yo" from their album 3rd -LOVE Paradise-. And… What else? This is so hard. Let's throw in "Suki da na Kimi ga" as the fourth one. One more…
Hyadain: "HELP!!"
Koide: Well, I do like "HELP!!" (laughs) It's fun. But just to balance it out, I'm going to say °C-ute's "Tsuugaku Vector☂."
Hyadain: Are you okay not picking anything from Guardians 4?
Koide: Ah! Guardians 4 should definitely be up there.
Hyadain: This book will also cover Nacchi's Hikari e -classical & crossover-. Did you listen to it yet?
Koide: I did. I was going, "just when did she get so good?" (laughs)
Hyadain: I know, right!
Koide: She got so, so good — though I guess she was always one of the better ones, like Honda Minako.
Namba: I was talking to Nacchi about this in an interview. She just said that her singing had become that way as if by accident, after doing musicals for around ten years. The singing instructor for each musical would be different, and she simply listened to what they all had to teach her. She was quite surprised by my question, going all "has it really changed that much?" (laughs)
Koide: Well, a big part of singing is physical practice and education. I mean, if you want to learn how to run fast, all you need to do is practice hard enough and you'll get there. But in order to become an Olympic-level runner, you need to have been born with the right foundation for your eventual muscles, as well as the ability to truly understand what you're taught about running. In this sense, your vocal cords are similar to all your other muscles. She surely had the right foundation and understanding to become a good singer.
Hyadain: As well as the necessary curiosity; an inquiring mind.
Koide: Once you discover those things, you will improve. In that sense, I feel like Ayacho might have those qualities, too — she might succeed in going down the same route.
Hyadain: You should let Ayacho know directly.
Koide: No, no. I don't want to meet any H!P members in person. I never go and greet them even after concerts. I like them too much to do that. But it's also that being around that many little girls would just cause me to shut down completely — the traumas from my school years would come flooding back… (laughs)
Hyadain: So you're saying, what, that you'd mentally lapse back to their age, causing you to re-live those past experiences?
Koide: Exactly.
Hyadain: Now that you mention it, you did have that kind of a look on your face back then… (Note: Koide, Hyadain and Namba previously appeared on a radio show together with Yajima Maimi and Nakajima Saki.)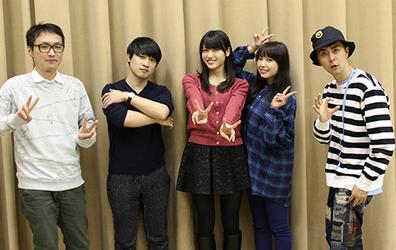 Namba: He did! (laughs) Lastly, it's my turn. Hmm. Alright, my five favorites are tracks 1 through 5 from the H!P Kenshuusei album!
Koide & Hyadain: Huuuuuh?! (laughs)
Hyadain: But if you make it tracks 1 through 5, that means "Oheso no Kuni Kara Konnichiwa" isn't among your favorites. (laughs)
Namba: Oh no! But even so, I really like all the songs on this album so that's what I'll go with!
Illustration: Naka G
English translation: Henkka
Koide Yusuke on the web: Twitter, Base Ball Bear
Hyadain on the web: website, website, Twitter, blog
Namba Kazumi on the web: Twitter, blog