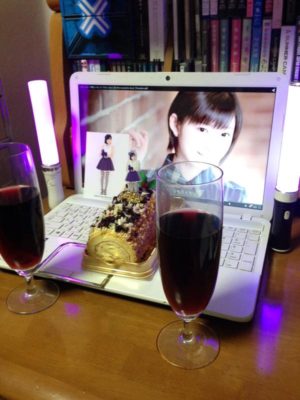 1: 勝田里奈 2015/10/11(日) 07:05:25.72 0.net
Idol wota = 94,738 yen.
By the way: anime wota = 25,096 yen.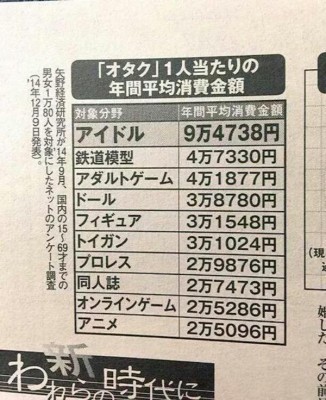 1. Idols
2. Model railroads
3. Adult games
4. Dolls
5. Figures
6. Toy guns
7. Pro wrestling
8. Doujin manga
9. Online games
10. Anime
2: 名無し募集中。。。 2015/10/11(日) 07:06:34.92 0.net
I spend 2,000 yen a year. iTunes.
4: 名無し募集中。。。 2015/10/11(日) 07:07:35.04 0.net
Well, there are many definitions of the word "wota," too. For the average, stay-at-home wota on 2ch, it's 0 yen a year.
8: 名無し募集中。。。 2015/10/11(日) 07:11:46.13 0.net
It's completely different, too, for the people who live in Tokyo and the people who don't.
10: 名無し募集中。。。 2015/10/11(日) 07:14:15.20 0.net
Is that with or without travel expenses?
21: 名無し募集中。。。 2015/10/11(日) 07:29:40.53 0.net
I'm from the countryside so I spend way more than that.
11: 名無し募集中。。。 2015/10/11(日) 07:21:47.49 0.net
Um, I spend roughly ten times that amount (with traveling and lodging expenses included).
14: 名無し募集中。。。 2015/10/11(日) 07:26:19.88 0.net
>>11
I kinda feel jealous, and I kinda don't.
13: 名無し募集中。。。 2015/10/11(日) 07:25:25.38 0.net
Well, if it's just the ticket prices, this seems about accurate — assuming you're not an H!P fan.
22: 名無し募集中。。。 2015/10/11(日) 07:30:02.56 0.net
I easily spend more than a million yen yearly.
37: 名無し募集中。。。 2015/10/11(日) 07:50:19.04 0.net
Hello Con, Nama Tamago, Countdown Live — assuming I get tickets to all three, that alone pushes me over that amount.
38: 名無し募集中。。。 2015/10/11(日) 07:52:30.83 0.net
I spend about 30,000 a month, so that makes about 360,000 a year. Probably the same amount for traveling costs. So let's say 720,000 yen for me.
39: 名無し募集中。。。 2015/10/11(日) 07:53:24.71 0.net
>>38
This plus goods for me, so that comes to just about one million yen.
42: 名無し募集中。。。 2015/10/11(日) 07:54:59.54 0.net
How much income do all you guys who spend a million a year get? 10 million or something?
52: 名無し募集中。。。 2015/10/11(日) 08:03:04.35 0.net
If you can get 200,000 after taxes plus bonuses, you can easily spend a million a year.
53: 名無し募集中。。。 2015/10/11(日) 08:04:00.27 0.net
This can't be accurate. I mostly sit at home and I still probably spend half a million per year.
59: 名無し募集中。。。 2015/10/11(日) 08:12:56.93 0.net
You're forgetting that AKB wota don't spend any money.
62: 名無し募集中。。。 2015/10/11(日) 08:18:04.48 0.net
AKB wota don't spend money on concerts, but on the flip side, they spend a frightening amount on handshakes.
110: 名無し募集中。。。 2015/10/11(日) 09:00:26.09 0.net
>>62
Even if they wanted to spend money on concerts, they couldn't — there's nothing to spend it on. You hardly ever get lucky with the theater shows, and resale of tickets isn't allowed. There are hardly ever tours, and when there are, the resale of tickets is again not allowed.
63: 名無し募集中。。。 2015/10/11(日) 08:18:09.27 0.net
I'm surprised by how little money the otaku of other things spend.
64: 名無し募集中。。。 2015/10/11(日) 08:18:38.44 0.net
The fact that the individual handshake tickets are random really hurts the wallet. I never seem to get my oshi, instead getting tickets for members who are so unpopular no one wants to trade for them.
69: 名無し募集中。。。 2015/10/11(日) 08:24:29.40 0.net
Being an idol wota just costs a lot of money. This explains why it's mostly just older guys at the venues.
182: 名無し募集中。。。 2015/10/11(日) 14:15:07.04 0.net
Rather than your salary, what matters is if you're still living at home or not, if you're single or not, and if you live in the Kanto area or not. Even if you have a high salary, if you're married with kids, living in a rural area, and you're financially independent… unless you have a very understanding wife, you're probably not going to be spending a lot of that money on hobbies.
3. 名無しプロジェクト 2015年10月11日 19:37 ID:pk08jLrt0
The people in this thread are all loaded. (laughs) I go to concerts maybe twice a year, so that comes to about 20,000 yen.
5. 名無しプロジェクト 2015年10月12日 14:57 ID:8vo2CztU0
I buy one copy of CD's when it's a song I like, and I really don't find it necessary to be able to have physical contact with the members. I don't attend the same concert multiple times, and I have no interest in the goods. And I only go to nearby venues. So yeah, I'm just a pretty average wota, and for me it's probably less than 50,000 yen.
122: 名無し募集中。。。 2015/10/11(日) 09:50:13.27 0.net
I still haven't spent a single yen to this day. Sorryyy.
Source: http://matomeldo.doorblog.jp/archives/46549371.html