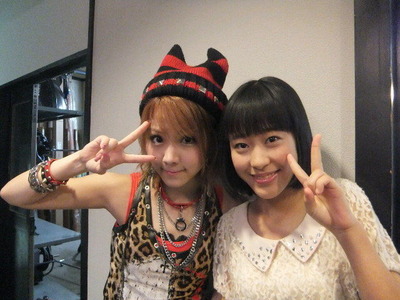 1: 名無し募集中。。。 2014/01/21 18:17:56
"CD Journal" 2014 2nd issue Morning Musume '14 Oda Sakura interview (excerpt)

── Would you like to talk about anything that's been on your mind lately?
Is it okay even if it's quite technical?

── Sure.
May I? I've realized the importance of consonants. When singing in unison, I was someone who tended to leave it up to the others to make it work — I used to think that since there were so many of us singing, there was no need for me to emphasize my own presence. But when we tried singing again after Tanaka-san's graduation, I finally understood the extent to which she had been taking the lead even when it came to singing in unison. All of us used to figure out the rhythm and intervals by listening to Tanaka-san's voice, so when she was gone, it made me further realize just how big of a role she'd played within the group. But when I went back and listened to Tanaka-san's singing, I noticed how she was singing the consonants really distinctly. Like, she would put emphasis to her pronunciation of the "s" in "sa" or the "k" in "ka." She pronounced things like even a simple "come on" more like "KYAmon." That's when I came up with the idea of singing everything while paying mind to the alphabet inside my head. That's what me and Sato-san have now started doing.

── Oh, Sato-san, too?
Sato-san doesn't want to be like Tanaka-san, she wants to be Tanaka-san.

── Ahaha. She wants to become Tanaka-san herself? (laughs)
Her singing, her way of getting the audience fired up, her way of creating facial expressions, her fashion — she's going for all of it. Anyway, I've started hearing how clearly Sato-san sings the consonants and it's made me think it's now her who's leading everyone vocally, so that's motivated me to work harder.

── So highlighting the consonants makes the rhythm more defined.
It gives it liveliness. It gives it "bite." That's why I'm using Tanaka-san's way of singing as reference and always keeping the consonants at the back of my mind.

── So when you're singing, you're always thinking of the lyrics in the context of the alphabet?
Conveying the message of the lyrics is the number one most important thing of course, but yes, that's right. Sato-san, too, is very conscious about it. One day when our singing instructor praised her vocals, she told me she had been singing while thinking about the lyrics alphabetically that day. Having it recognized like that, I thought it must be important.
2: 名無し募集中。。。 2014/01/21 18:20:44
Holy shiiiiiiiiiiiiiit.
6: 名無し募集中。。。 2014/01/21 18:23:24
As expected.
5: 名無し募集中。。。 2014/01/21 18:22:50
Oda-chan sure is a hard worker.
10: 名無し募集中。。。 2014/01/21 18:27:22
That's pretty amazing.
15: 名無し募集中。。。 2014/01/21 18:29:52
Their voice training teacher gave Reina as an example, too, when telling Okamari to put emphasis on consonants.
38: 名無し募集中。。。 2014/01/21 18:35:47
>>15
I wonder if Odasaku saw it, too.

69: 名無し募集中。。。 2014/01/21 18:41:18
The successor of Reinaism.
70: 名無し募集中。。。 2014/01/21 18:41:21
Oda-chan is clever. It's amazing being able to analyze something that far at her age.
78: 名無し募集中。。。 2014/01/21 18:42:38
I read all the members' parts of this interview and I have to say, I thought Oda-chan was seriously amazing being able to consciously change something about herself and then explaining it in a clear fashion like she did.
506: 名無し募集中。。。 2014/01/21 20:24:47
>>78
I get you. I didn't read the other girls' parts, but Oda is always really detailed on topics like this.
85: 名無し募集中。。。 2014/01/21 18:44:38
Fuku-chan checking with Ishida that they were on the right octave before a show, Sayashi practicing the nasal resonance technique… these girls are beyond the level where amateurs could complain about them.
91: 名無し募集中。。。 2014/01/21 18:46:30
>>85
Everyone's doing some pretty high-level stuff. (laughs)
95: 名無し募集中。。。 2014/01/21 18:47:31
Leave the vowels up to Fuku-chan.
119: 名無し募集中。。。 2014/01/21 18:51:57
Once again I was reminded of Reina's greatness.
125: 名無し募集中。。。 2014/01/21 18:53:05
What a professional…
262: 名無し募集中。。。 2014/01/21 19:21:49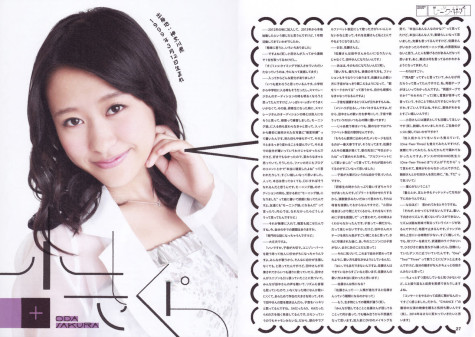 153: 名無し募集中。。。 2014/01/21 18:56:24
"CD Journal" 2014 2nd issue Morning Musume '14 Suzuki Kanon interview (excerpt)

── Has there been something that you felt was particularly challenging lately?
Lately, it's been realizing the differences in our levels of skill. Sometimes we go into recording with four of us or something, and there are times when I can't do something and Sakura-chan just comes in and pulls it off with no problem whatsoever. Things like that are tough, but previously at times like that I used to think "oh no, I can't do it, what do I do…" whereas now I think "I can't do it — I have to work harder at this."

── You sound so serious, it's hard to believe I'm talking to a junior high student!
Well, I'm not the average junior high schooler so I think it's only natural I would be different. I have to do my best not as junior high school student Suzuki Kanon, but as Suzuki Kanon of Morning Musume.

── Do you have any rivals in the group?
Yes, in all areas. (laughs) I want to become a better dancer than Riho-chan, a better singer than Sakura-chan and funnier at verbal comebacks than Harunan. But Ikuta is a great business partner, or rather, she's very easy and pleasant to work with. We're also good friends in private. I can talk to her about anything.
156: 名無し募集中。。。 2014/01/21 18:57:26
>>153
Ooh. I like the synergy of this group. Feels like we have something great to look forward to.
186: 名無し募集中。。。 2014/01/21 19:01:48
Oda has grown quite a lot this past year.
350: 名無し募集中。。。 2014/01/21 19:49:30
It's awesome how Oda-chan — through a theory that she derived herself — and Sato — through instinct — both reached the same conclusion.
652: 名無し募集中。。。 2014/01/21 21:14:22
They did a good job finding good raw talent like her.
844: 名無し募集中。。。 2014/01/22 07:01:50
"I want to become someone who is unlike anyone seen in Hello! Project before."
Anyone remember when she said that here?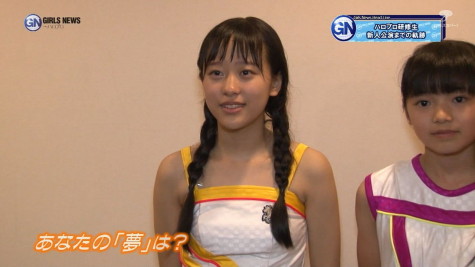 (Subtitle: "What is your dream?")
847: 名無し募集中。。。 2014/01/22 07:04:34
Oda's an academic.
27: 名無し募集中。。。 2014/01/21 18:33:28
Putting Oda-chan into the group was the right call.
Henkka: I didn't have a good thread about Tsunku in my backlog to mark this unfortunate occasion. Instead, here's just another fine example of him knowing talent when he sees it.

Source: http://hellohellotime.doorblog.jp/archives/51916202.html (jp)