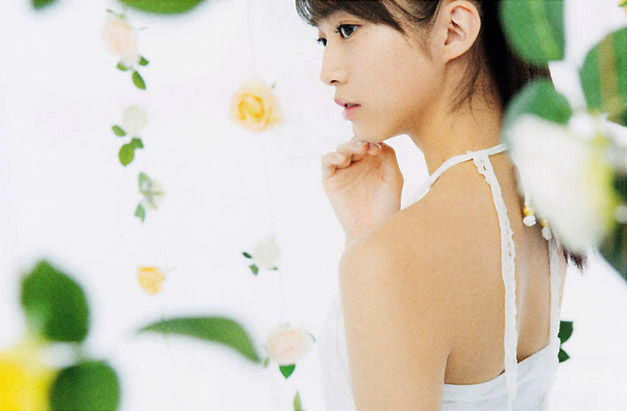 Makino Maria
February 2, 2001 — Aichi
2014/09/30 ~

Makino: I always thought of it only as a dream that was never going to come true, but I really wanted to become a Morning Musume. So when I was accepted, it felt like I was in a trance. Everything was so new; anything and everything seemed like a dream. For a while, it didn't actually feel like I had become a Morning Musume — it was just pure bliss. For the longest time it literally felt like my feet weren't touching the ground, like I was floating on cloud nine.
The Sparkle of the OG's
— You first took part in the 10th generation auditions and joined the Kenshuusei. Later, the third time was the charm and you became a member of Morning Musume. When did you first begin to so strongly hope to join the group?

Makino: I liked "Kirarin☆Revolution" so much that I came to admire Morning Musume. Then, after I'd applied for the 10th generation auditions, I had an experience that made me come to love Morning Musume even more. That experience was seeing Dream Morning Musume in concert.
— What drew you to Dream Morning Musume?

Makino: I'd heard the songs on the CD, but this was the first time for me to be seeing my seniors in concert. They were all sparkling so much that it moved me. I instantly became so hooked that I was listening to the CD again in the car on the way home.
I especially love their version of "Joshi Kashimashi Monogatari" — I've listened to it so much that I could probably sing all the parts. I was a member of the Broadcast Committee in school so I'd always be broadcasting Morning Musume songs during lunch, including Dream Morning Musume's "Joshi Kashimashi Monogatari," of course!
— As it is the 20th anniversary, you also received the opportunity to appear alongside many of your great seniors.

Makino: We had a revival of the "Hello! Morning" corner "H!P News" where I got to appear together with Nakazawa Yuko and Ishikawa Rika. It felt like a dream. After we finished shooting it and I went back home, I was still grinning about it. I never expected to be able to do something like that, or to be given a character like "Marilyn Makino."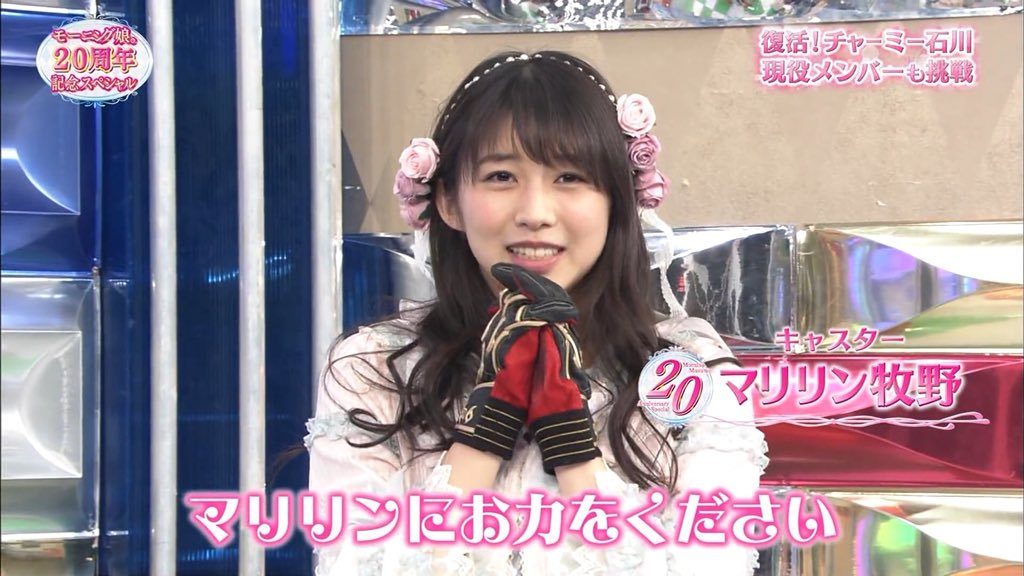 — Was it exciting to be appearing with the OG's?
Makino: First and foremost, I just felt happy. Being a part of Morning Musume in its 20th anniversary and getting to appear with my OG seniors, it really did feel like I was in a dream. And even though I hadn't been active alongside the OG's, it still felt so warm — like a family. When we were singing "Ai no Tane" together, I remember thinking how that feeling was something I wanted to pass on to my successors.
— How was it, getting to see in-person the same sparkle you'd seen at the Dream Morning Musume concert?
Makino: Nakazawa is older than my mother, but even so when she dances she really does just sparkle. They become so charming and they give you feelings of fun and happiness. I was able to feel in a real way how we are what we are today because our seniors first made Morning Musume, and I thought about how I want to follow my seniors' example in being an idol who can give happiness and love to others.
The Diligent Hard Worker
Who Hates to Lose
— It's often the case that when someone who simply adores Morning Musume first joins the group, they struggle with the difference that exists between their perceived image of the group and what it's really like to be a member of it.

Makino: I didn't experience that at all. Ogata Haruna and Nonaka Miki joined the group through a general recruitment while me and Haga Akane joined through the Kenshuusei, but the starting line was the same for all of us. We started by making a promise to each other that we were all going to do our best. I think it would've been a lot more difficult for me had I joined the group without any Kenshuusei experience, not knowing a thing. I'm glad because I feel like I was able to join Morning Musume at the best possible time for me.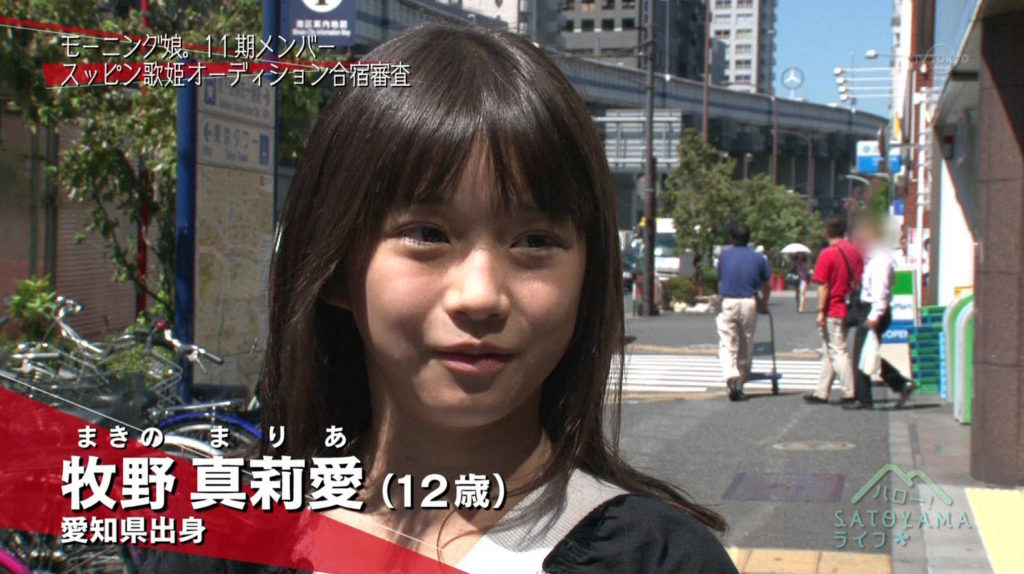 — The 12th generation members were all born one year apart from each other. It really does seem like a group of four sisters.

Makino: In the beginning we'd spend a lot of time by the four of us, so they'd get angry at all of us at the same time — even if it was just one of us who was unable to do it, we were still all held collectively responsible. Being unable to do something meant that I was inconveniencing others, and I just felt so frustrated whenever that happened. I was always telling myself that I could probably push myself just a little bit more. But I wouldn't call that "hardship" or anything like that.
— You don't consider hardship to be hardship?

Makino: I don't think it's difficult when I'm doing something I love. Besides, I was having fun, too.
— Was everything going good for you after you first joined the group?

Makino: There'd be things I couldn't do and people would get angry with me a lot, but even then the rehearsals didn't feel difficult and ultimately the only feeling I would have was that I was having fun. And unlike school studies, when I'd be learning the dances to old songs, it was like absorbing bits of Morning Musume that I didn't know so well yet.
It was fun — I felt like I was becoming more and more a Morning Musume with each passing day.
— It sounds like you're always very positive and that you enjoy being in Morning Musume from the bottom of your heart; like you never have any worries.

Makino: I'm the self-healing type — I mean, I don't worry about things by my nature. (laughs) If there's ever anything on my mind, I'll just consult our leader, Fukumura Mizuki, about it. She has a pure heart and she's so kind. She'll always thoughtfully hear out what I think and give me advice, so I depend on her a lot. Also, she understands all of the members individually very well — she'll see things about us that we haven't even realized ourselves. Even during dance rehearsals, she's always looking at us in the mirror and checking every last detail, which I'm really thankful to her for. That's why it gives me such a sense of security knowing that Fukumura is our leader and how she's always watching over me.
— Even though she's busy bettering her own performance skills as well… She truly is a leader.

Makino: She became a sub-leader when she was only 16 years old. Whenever I watch old videos of my seniors, I'm always surprised to see just what they were capable of after X amount of years in the group. When I compare them to myself, I can't help but feel like I'm still lacking in many ways. Both my dancing and my singing is not yet at the level that it needs to be.
I also have a strong desire to not lose to my many seniors, so I feel that what I have to do is be confident in trying to do my best to the extent where I might even surpass them. Because if I don't do that, when I become a senior like Fukumura, I won't be able to do anything for my juniors. I started feeling this way even more strongly after the 13th generation joined.
— Now you have three juniors of your own.

Makino: Morito Chisaki debuted in Country Girls at the same time as the 12th generation did, so I don't really have an image of her actually being my junior. Besides, she possesses so many things that were taught to her by Tsugunaga Momoko, which has made her become another source of motivation for me. Chii-chan has something that Morning Musume doesn't, and Morning Musume too has something that she originally didn't, so I think her presence makes for a good synergy between the two groups.
— Kaga Kaede was also your generation-mate in the Kenshuusei.

Makino: Kaedy was honestly so reliable even from the moment she first joined. When I'd be about to teach her things that were taught to me by my seniors when I'd first joined, she could already do it all. Kaedy hasn't changed from the time we were in the Kenshuusei together. In those days, many of the girls there were just relatively mellow as far as personality goes — pretty much Kaedy and like Kanazawa Tomoko were the only ones who were super motivated from the get-go.
So after Kaedy joined the group, that fire I'd had in me back then was reignited and now there's so much for me to look forward to. It made me think once again about how I want to be the no. 1 in Morning Musume. While I'm still bad at singing and dancing, I believe I can work harder than anyone else. Now, I'm doing the concerts with the mindset that I'm definitely not losing to anyone in the amount of energy that I release.
— One has to take their hat off to you just because of how strict you are towards yourself and how hardworking you are.

Makino: Rather than the type who improves when they're praised, I'm really the type who improves when people get angry with me. Even back when I was learning ballet when I was little, the teacher was very strict with me. But they got angry with me out of love — they were strict because they wanted me to improve. So now when someone gets angry with me, I always think about how I want try harder; how I want to be able to do it right next time. Of course I'm also glad when I'm praised and it makes me feel good, but if I only get praise, it makes me careless and it doesn't help me improve my skills.
— It might be a kind of skill, being able to direct everything towards working hard and giving it your all like that.

Makino: When I first joined Morning Musume, Tsunku♂ told me: "keep diligently working hard from now on, too." When he said that, that's when I realized: I was chosen not because I'm good at dancing or singing, but because I'm someone who can work hard. That's why I have to do my best to work harder than anyone else.
Her Love and Dreams,
All for Morning Musume
— So it's like Tsunku♂'s words became your "theme" for Morning Musume?

Makino: This one time in the Kenshuusei, when I got my report card from Tsunku♂, it said: "You should work on your rhythm a bit more. Also, you're too serious — you should have a catchphrase of some kind." For the rhythm part, when we were doing our designated songs again at the following "Ability Diagnosis Test," Tsunku♂ came up on stage and personally guided me on the rhythm. And as for the catchphrase, I spent a long time constantly thinking about it before I finally arrived at "Marian LOVErin."
— So even "Marian LOVErin" was born as a result of Tsunku♂'s comment to you.

Makino: Seeing as Tsunku♂ had given me his precious advice, I gave it lots and lots of serious thought and that's what I came up with. One time, Tsunku♂ came to watch our dress rehearsal and he praised me in front of everyone, saying, "I like that certain "stickiness" about your performance, Makino." I had to maintain my composure in that situation, but on my way back home, I still remember crying and happily going, "HOORAY!" It really is something special when Tsunku♂ praises you. In that moment, I decided that I was going to do my best and trust in the people who watch over me.
— So it was from that point on that you became an earnest, hard worker.

Makino: Being praised by Tsunku♂, the person who created Morning Musume, is like being told by Michishige Sayumi that you're "cute" — it's just such an honor. Really, just being told that is enough to make you want to do your best.
— What is Tsunku♂ to you?

Makino: Tsunku♂ is God. If there was no Tsunku♂ then there would be no Morning Musume. And that would mean I wouldn't be in Morning Musume today.
— Aside from Tsunku♂, I presume Michishige is also an important person to you.

Makino: Michishige is the no. 1 cutest person in the world; in the whole universe.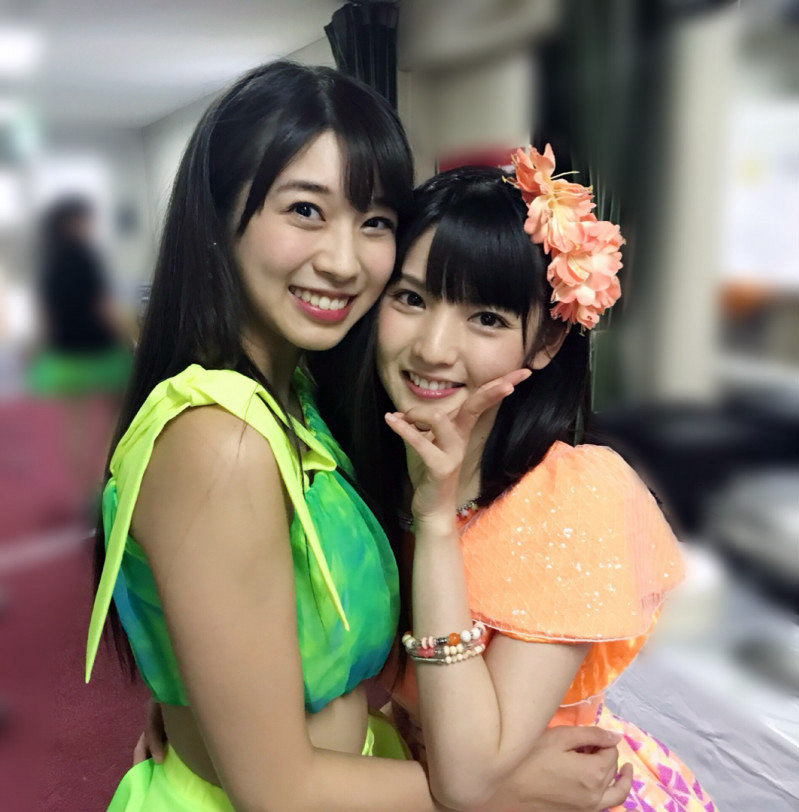 — That's what she herself often says, too. (laughs)

Makino: Not only is she cute, but she's also so kind and she's a person who has so much love. She often tells me to do my best while not forgetting to be grateful towards all the fans, the other members, and the staff. Michishige always gives her love to everyone — she even sends her love to Morning Musume as a group. That's why everyone loves Michishige, and that's why I love her. I want to become like Michishige: an idol with lots of love.
— Finally, what is Morning Musume to you?
Makino: It's my treasure and my everlasting dream. Before I got in, it was my dream to join Morning Musume. Then, once I got in, it gave me my new dream of wanting to become the no. 1 in Morning Musume.
— How do you envision Morning Musume's future?

Makino: When I think of the future Morning Musume, I feel both excited as well as worried about what I'll do if I'm going to be higher up in the group. More and more new girls are going to join the group, and I look forward to them inheriting from us songs like "Seishun Kozou ga Naiteiru" — a song from right after I'd joined the group. I'm doing my best every day in order to hopefully one day have someone join the group because they admire me, just like how I admired Michishige.
— By the way, up to what age would you like to remain a member of Morning Musume?

Makino: Until I get so old I can't physically keep up anymore. I'd like to remain in Morning Musume forever. There exists no Makino Maria now aside from the "Makino Maria of Morning Musume," so I'd like to be here to greet the group's 30th, 40th anniversary. I'm devoting my life to Morning Musume!
My Song
"The☆Peace!"


Makino: This song came out the year that I was born so I didn't get to see it in real time, but I remember singing it a lot in the car when I was little. I loved how cute Ishikawa Rika's spoken words were. Usually it's Michishige's brand of cuteness that I aspire for, but honestly, Ishikawa's cuteness in this song makes me fall for her. (laughs)