Ishikawa Rika
January 19, 1985 — Kanagawa
2000/04/16 ~ 2005/05/07

Ishikawa: I used to be very shy and reserved and I hated being the center of attention. But when I joined Morning Musume, my personality changed completely.
— It's true that there was this "gloominess" about you in the early days.

Ishikawa: I was about to graduate from junior high school, so timing-wise it felt right to commemorate that by applying for the auditions. I had decided that it was going to be my first and only audition — if I didn't make it, I was going to just enjoy my normal high school life. I was of course a big fan of Morning Musume, but never in a million years did I think I would myself end up singing and dancing in public, not to mention doing comedy sketches on variety TV and stuff.
— So you didn't feel confident about passing the audition?

Ishikawa: Not at all. I really wasn't thinking about it that deeply though. Early Morning Musume songs and choreographies were so mature, but with "LOVE Machine" the style suddenly changed and they started doing more dance music that everyone could have fun and dance along to. Basically I just thought, "maybe even I could do that."
— And yet, you ended up passing with flying colors.
Ishikawa: I think it was the first audition for all four of us in the 4th generation. None of us could dance or sing at all; we were all just aiming to become "idols." In that sense, I really am lucky it was the 4th generation auditions I took part in — nowadays, you do need to have some amount of skill if you want to join the group. There's no way I could've passed the audition had I been judged by today's standards.
Morning Musume Member
or Kindergarten Teacher!?
— Did your family have any objections as far as you applying for the auditions?

Ishikawa: They thought there was no way I was ever going to pass, so they just went, "An audition? Sure, knock yourself out!" (laughs) But as I kept progressing further and further along the auditions, they kept telling me things like, "You'll never pass!" "Passing an audition isn't something so easy!" They kept discouraging me. But later on, I found out that they'd said all those things to me on purpose to soften the blow of when I was eventually going to fail. At the time, I just wanted them to give me even the tiniest bit of encouragement… but apparently my parents had their way of worrying about me.
— What's more is that when you went to the training camp, your mother tasked you with a certain assignment…

Ishikawa: Yes. "Being a big sister yourself, you have to look after Tsuji and Kago." (laughs) The two of them were both still elementary schoolers, so when mom saw them on TV she became worried about them.
— Getting told by one's mother to look after your rivals… That's not something you see often.

Ishikawa: Right? I myself was specifically told by the staff: "Remember, you're all rivals." So I told my mom, "No! Those two are my rivals!" So then she said, "well, then you must quit." How ridiculous is that?! Even though her own daughter was trying her very best…! But she just said, "If you're going to kick down your rivals, then I don't want you becoming member of Morning Musume. Go and quit right now!" So I had to make a deal with her in order to resume the auditions, and so I reluctantly started looking after Tsuji and Kago.
— So there was that sort of a tug-of-war going on in the Ishikawa household. And to think that Tsuji and Kago themselves hadn't asked you to look after them…
Ishikawa: At the time I just thought, "my mom's crazy!" I was angry with her. But thinking about it now, it's not like the training camp was necessary if it was only our singing and dancing that they wanted to see. Instead, what I feel like they were actually looking at was how we handled being in a group and also to determine whether or not we could get along with the members of Morning Musume. Had I taken the attitude of acting like a total lone wolf and seeing everyone around me as nothing but rivals, I might not have passed the audition.
— So ultimately we have to be grateful to your mother.

Ishikawa: Well, in saying all that though, I still don't know the actual reason as to why I was chosen. At the time, Tsunku♂ commented how he liked the "character" of my voice… But if I ever get the chance, I'd like to ask him about the real reason he chose me.
— You then ended up becoming a 4th generation member — along with Tsuji and Kago who you had been looking after.

Ishikawa: I was the oldest of my generation, so even after we made it into the group I ended up having to keep looking after them. (laughs) Whenever they did anything wrong, the staff would first get angry with me. "It's your fault for not watching them properly!" I thought that was just unreasonable. "Why do I have to put up with people getting angry with me even though I've done nothing wrong?!" But since I hated getting scolded, I still kept those two under close surveillance. (laughs) But then that would get those two saying things like, "We hate you, Rika-chan!" "You're so annoying, Rika-chan!" It was unbearable.
— Those two really were complete children back then.

Ishikawa: I was brought up always being taught not to cause trouble for others. And now I was in a situation where I was seeing exactly that — someone causing trouble for others — and I had to put a stop to it if I didn't want people getting angry with me. But those two just wouldn't listen… Yossie would sometimes drop these bombs on them and that would help, but really… Those two were just complete problem children. They were toying with us.
— This made you feel dispirited.

Ishikawa: I just couldn't take it. I'd become a member of Morning Musume, and yet it felt more like I had become a kindergarten teacher or something. I was constantly watching those two and getting angry with them. That was my life every single day.
— Have Tsuji and Kago ever apologized to you now that you're all adults? Like, "sorry for all the trouble we caused you back then."

Ishikawa: No, no. Not in the least. I'm sure they've forgotten. Or even if they did remember, they'd probably just go like, "Oh yeah, that did happen! Ha ha ha!" But it's not like I did any of that with the hopes of one day having them go, "it was all thanks to you, Rika-chan!" It's just what our relationship was like. After all is said and done, we're still generation-mates.
— But you being the only one in your generation who was burdened with something like that, did you not feel that you'd been dealt an unfair hand?

Ishikawa: No. I've never really been the type to envy others. I just think of myself as my own person. I accepted how that was my role, and that's probably how I was able to do it. Besides, Tsuji and Kago really were just kids back then — of course there were things they wouldn't understand unless someone specifically told them. And me telling them would give me personally the opportunity to reflect on myself, too. It made me realize how I needed to properly give it my all, too, and so I didn't feel that I was in an unfair position or anything.
— Being able to think that way even though you had only just debuted yourself, you really are a serious person.

Ishikawa: Maybe I just seemed like a serious person in comparison to Tsuji and Kago. (laughs) But really, I'm more… I'm too serious. It's not like, "you're so serious — how great and admirable!" Instead, it's more that I kind of… push it too far? (laughs) I'm the type who perhaps ought to try and be more flexible in my thinking.
I'm the type who will always ask my manager like three times about the following day's location and the time I'm supposed to be there. Back then, getting any kinds of unexpected news would always freak me out, so I would ask to know everything beforehand. And since we were so busy back then, my manager might've thought I was an annoyingly detail-oriented person. But I wanted to take care of all possible preparations in advance. I wanted to feel satisfied in knowing that I'd always prepared as much as possible.
— With the amount of work you had back then, I would think that sort of attention to detail would itself make it too much for one to handle.

Ishikawa: Looking back on it now, I think it was actually a good thing that we were so busy. Just as soon as I'd made it into the group, we had a photo shoot for our CD covers and it was my first time meeting the members. We said hello, and pretty much immediately after that I had my hand placed on Nakazawa Yuko's shoulder. (laughs) Normally that would be something I'd be terrified of doing, but since it was a photo shoot there was no time for hesitation. I just went "whatever happens, happens!" and gave it my all.
— It must be because you were so serious and always facing forward that you could also be so fearless.

Ishikawa: That was true for most things. If I stopped to think about it, I wouldn't be able to do anything. That's the attitude I took with all kinds of things. If I'd had free time on my hands, that might've led to all kinds of worries popping up. We were like a train running on a rail track, with no way to go but forward. I had no dancing experience, so I'd be taking rhythm lessons along with practicing the songs and dances for our debut Budokan performance that was coming up a month after we'd joined. All that, plus having to learn the choreography for our new song… Everything was happening all at once. I really didn't have a single second to stop and think about anything.
— That sounds hectic. Someone who had just been a normal junior high school student, suddenly being throw into this unbelievable busy schedule…

Ishikawa: It nearly got to be too overwhelming. But the only one who was going to get me over that hurdle was myself and somehow I managed to hold out. That's how all of us in the 4th generation did our best. In the beginning, the difference in level between us and our seniors was just so huge. Even if we'd wanted to take some kind of a shortcut to improvement, there were no shortcuts to be found. The only thing we could do was to desperately give it our all. And without even noticing it, time would pass… and then it was time to learn the next new thing. They were chaotic times. Yeah… that period in time sure was pretty amazing.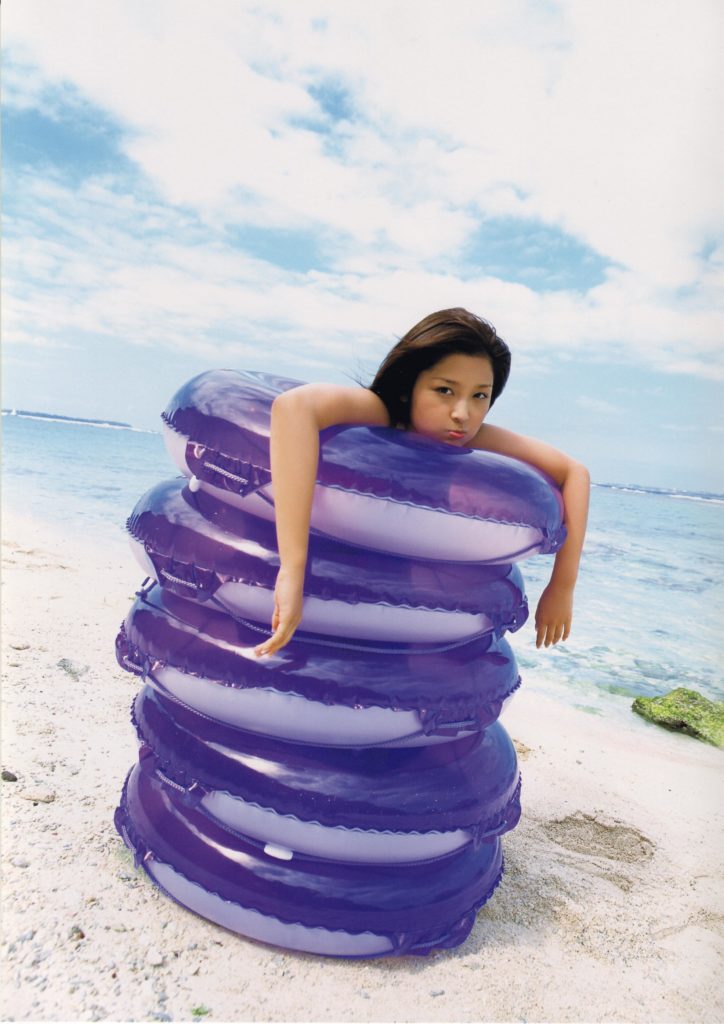 From the Confusion of Being Chosen as the Center…
To Being a Real Morning Musume

— Amidst all that, you gradually started showing more of your "cute girl" character.

Ishikawa: I was accused of trying to consciously act cute. I only felt like I was speaking normally, but I naturally have a very characteristic way of speaking along with a high-pitched voice. My generation-mate Yossie was always very sports-minded and she had a rough way of speaking, so together we'd often be seen as the "boyish character" and the "girly character."
Because of that image, if the outfits for a song included both pants and skirts, I would always be given the skirt and I'd be made to wear lots of pink and red. This one time when they told me I could choose an outfit for one of my photobooks, I chose baggy denim pants and a T-shirt — my modest way of rebelling. I knew I had to play a character because that's what was expected of me, but… I think this was a time for me when I was drawn to do the opposite.
— Your "modest way of rebelling" was cute, too. I suppose with you being so serious, you couldn't go too far outside of that framework you had been put in.

Ishikawa: Yes, but that's because I didn't dislike doing it. It's not like I was faking it — people probably just assumed that I was because of my high-pitched voice and everything. But that was "Ishikawa Rika" all the same. With that said: when I was doing my "Charmy" character, that was faking it. That was something I did for Haromoni, and it was separate from "Ishikawa Rika." There was no character like that in the group at the time and most of our seniors were more sports-minded and "loose," so I just figured that that position was meant for me.
— But then that Charmy character made people see you yourself as being even more so that fake, cutesy character…

Ishikawa: Doing that character would always get me so fired-up. It was just so much fun! I already had a high-pitched voice to begin with, but I'd purposefully make it even higher when doing Charmy. I'd always make sure I was 120% excited when doing it.
— So behind the cute exterior there was also some calculated professionalism. (laughs)

Ishikawa: In the beginning, Charmy was a reporter on a challenge corner to our seniors. My seniors would all be wearing jersey outfits on their corner and I was the only one wearing pretty clothes. So they'd all be going, "why is this girl alone not wearing a jersey?!" That would make me all nervous and I'd be desperately trying to get through my reporting.
I was actually scared of my seniors' quips, so in the beginning I was really holding myself back when I did the character. But through getting to work with my seniors like that and gradually getting used to the spirit of variety TV, I began to understand how I could make everyone laugh. I'd start coming up with my own ideas. Those opening monologues of mine ("challenge — a thing of fleeting beauty…") those were actually something I would come up with myself and propose to the staff.
— It was a confidence boost for you, leading to an even stronger Charmy.

Ishikawa: It was fun to notice myself changing like that. It was me… and yet it wasn't. Becoming a character like that felt exhilarating in a strange way. Haromoni was a show that really allowed me to grow and break out of my shell. It let me challenge so many new things and learn so much. Everything I gained from doing Haromoni — determination, instantaneousness, hospitality, the ability to overcome… It feels like all of that has been useful in my work even after graduating from Morning Musume.
— Was that in large part thanks to having so many seniors whose example you could follow?

Ishikawa: Yes. At the time, our seniors were all so disciplined. Whenever we were appearing on a music or a variety TV show, they were all like, "I'm going to leave my mark!" It was a constant battle for them. Seeing my seniors being that serious, I felt like I had to always at least get a word in somewhere, too. Just like that, I naturally found myself thinking I had to get even a tiny bit closer to the front.
— How did you feel about your seniors?

Ishikawa: I had nothing but respect for them. Thinking of them as my "rivals" would've been absurd. I had no feelings like that, nor thoughts of wanting to "surpass" them. So then when I got the center position in "The☆Peace!," my first thought was to doubt if it was even okay for me to be there. I never expected myself to become the center. I was still no good at dancing and singing, and I never even paid any mind to the ongoing battle for positions where you'd stand out.
— You were chosen for the position a year after you had joined the group. When did they let you know about you being the center for the song?

Ishikawa: We were at the photo shoot for the cover art of "The☆Peace!" and they were announcing where everyone was to stand. "XXX, you go here. YYY, you stand there." They would usually put me in the upper row, so I was going all "huh?" when my name wasn't getting called. So then, finally, they called my name… and my position was in the very middle.
The air in the room left everyone speechless. It's not that I was afraid. It was more like… no one could comprehend what had just happened. Me included. The members all had this huge, "wait, what?" look on their faces. Because up until then, Abe and Gottsuan had always been like the absolute top two of the group. Nothing ever compared to the shock of that moment.
— I would think you need the proper mental preparedness even at photo shoots like that. And yet, I assume they started taking pictures right away. Were you able to pull off the face of the center despite no prior warning?
Ishikawa: If you go back and look at the cover, you'll notice how my expression is rather stiff… (laughs) After we'd all finished recording the song one-by-one and it was done, we listened to it together. Up until then, my parts had basically consisted of like the occasional "hai!" and other random shouts, spoken lines, or backing vocals. But suddenly it was… "Huh? I'm constantly singing during the verse. Huuuh? And in the chorus as well? Wait a minute. It's me for the entire spoken line bit in the interlude, too? Whaaaaat?!" I'm sitting there saying stuff like that to myself, getting all panicky… But everyone around me was pretending like they hadn't even noticed. No one said a thing. But that made it all the more frightening for me. (laughs)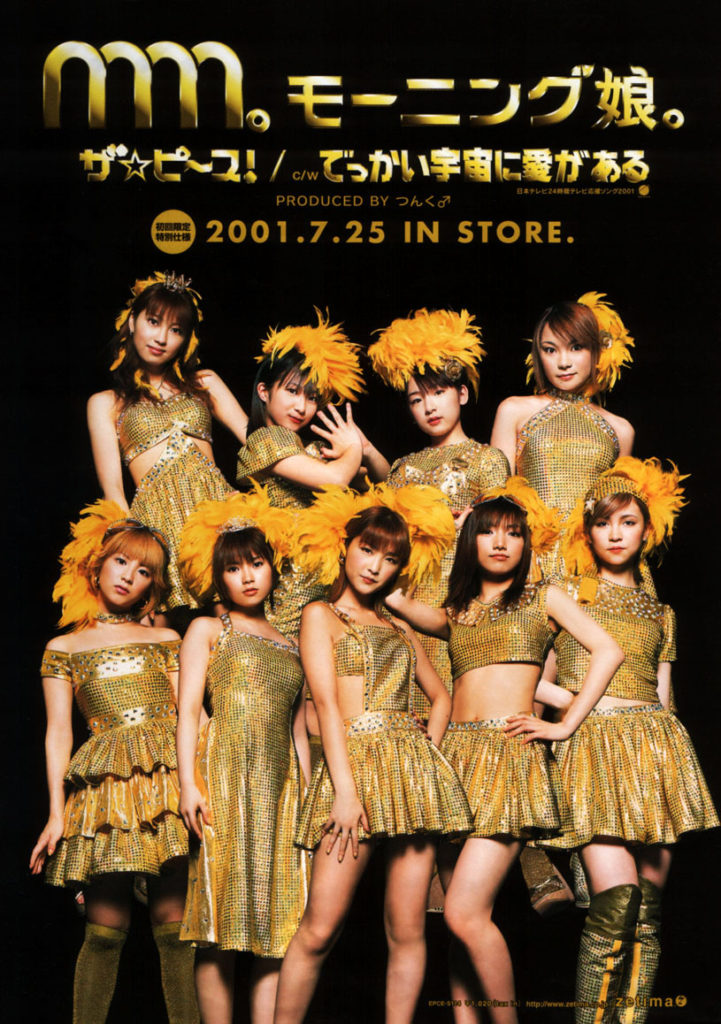 — Someone serious like you who always wants to be fully prepared… And yet they didn't let you prepare for the most important thing. That must've bothered you.

Ishikawa: Tell me about it! All of a sudden they started placing me in the center, and I'd been someone who was always simply doing like I was told so I felt in no way confident about my new position. There was also so much pressure because I'd be scolded — obviously — if I couldn't sing my parts properly. But that would make me strain my voice even more, making me even less capable of singing anything properly. It became this vicious cycle.
But then I went to Tsunku♂ and he heard me out. "Just so you know, I didn't make the decision to make you the center all by myself. Everyone in the staff agreed that we should have you do it. It's okay for you to feel confident."
— Hearing that must've been reassuring and encouraging.

Ishikawa: My favorite phrase always used to be "I'm no good." I always had a tendency to think negatively. But if people around me were saying "it's okay — be confident!," then I wanted to live up to their expectations. That's how I was able to do my best.
— Did anything change for you after you experienced what it was like being in the center?

Ishikawa: Little by little, I started to believe that maybe I, too, was necessary; that I had been acknowledged as a member of Morning Musume. I think before that point I had never been able to confidently say it. "I'm Ishikawa Rika of Morning Musume." But thanks to receiving all those many opportunities, I took on that responsibility and gained the confidence to be able to say it.
— Even the song itself was very fitting for you — all poppy, bright, and cute.

Ishikawa: I really love the song itself, and not just because I'm the main singer. I mean, what other song out there is as happy as that? It's a constant chant of "peace." It's so awesome. "Seishun no 1 page tte chikyuu no rekishi kara suru to dore kurai nan darou?" ("where does a single moment of youth stand in the entire history of the earth?") I thought about that line a lot back then. I was smack in the middle of my own youth at the time, and so I'd wonder: just how important is a single moment of youth indeed? I think thoughts like that are something that every teenage girl will have. It's something every girl goes through.
— It's almost scary how well Tsunku♂ understands the feelings of young girls.

Ishikawa: That's why it hasn't grown stale even after 16 or 17 years after its release. Even now it doesn't feel old at all when the current members sing it. I guess the reason it hasn't lost its freshness for me is because even now, as an adult, I can listen to it and feel nostalgic reminiscing about it.
— You were blessed with a lovely song.

Ishikawa: I really am so lucky. I have nothing but gratitude for having been able to grow with the help of such an amazing song.
Joining and Graduating at the Nippon Budokan

— Was your fans' support also a factor in your development?

Ishikawa: The fans would always give me energy. I have so many memories, but I suppose my most vivid one would still have to be my graduation concert at the Nippon Budokan. Everyone doing the "Rika-chan" calls and me being surrounded in pink from all directions… It really did look like something out of a dream.
I have a connection to Nippon Budokan: my first performance took place there, too. It was also the group's first-ever performance at the Budokan, and the second performance was my graduation concert. It feels strange how we never performed there during the five years that I was a member, but it's deeply satisfying to think how the first stage I stood on was also where I graduated.
— It must've looked completely different during your first performance compared to your final performance.

Ishikawa: I was of course nervous at my graduation performance, but I also had the composure to be able to enjoy myself and try to burn that image into memory. But at my first performance, I was able to think nothing except, "Oh wow, there's so many people! I'm so embarrassed!" That's all I remember about it. But one thing that didn't change was the warmth of all my fans. I'll never forget how I first stood on the stage of Budokan, still incapable of doing anything, and yet there were so many people calling my name. It was that experience that allowed me to do my best with my activities in Morning Musume.
The stage is addictive. So few people out there will ever get to have a taste of that feeling, and yet I was able to experience it for five years in Morning Musume. Those years really feel like they're the treasure of my life.
— Five years sounds like a long time. Did it feel that way to you?

Ishikawa: On the contrary. It was like, "Huh? It's already time for me to graduate?" It went by in a flash. In my case I was told, "You're turning 20 soon. What do you think about graduating in a year or so?" In those five years I had also been a part of many other units, so I was made a proposition. "We think you would really shine in a unit. What do you think about doing that after your graduation?" And since they had produced me into who I was, if they felt that that was what they wanted me to do, then I was going to do it. And that's when v-u-den was formed. I started doing v-u-den concurrently with my Morning Musume activities, and my thinking was that after my graduation I would devote myself fully to that unit and try to show a new side of myself.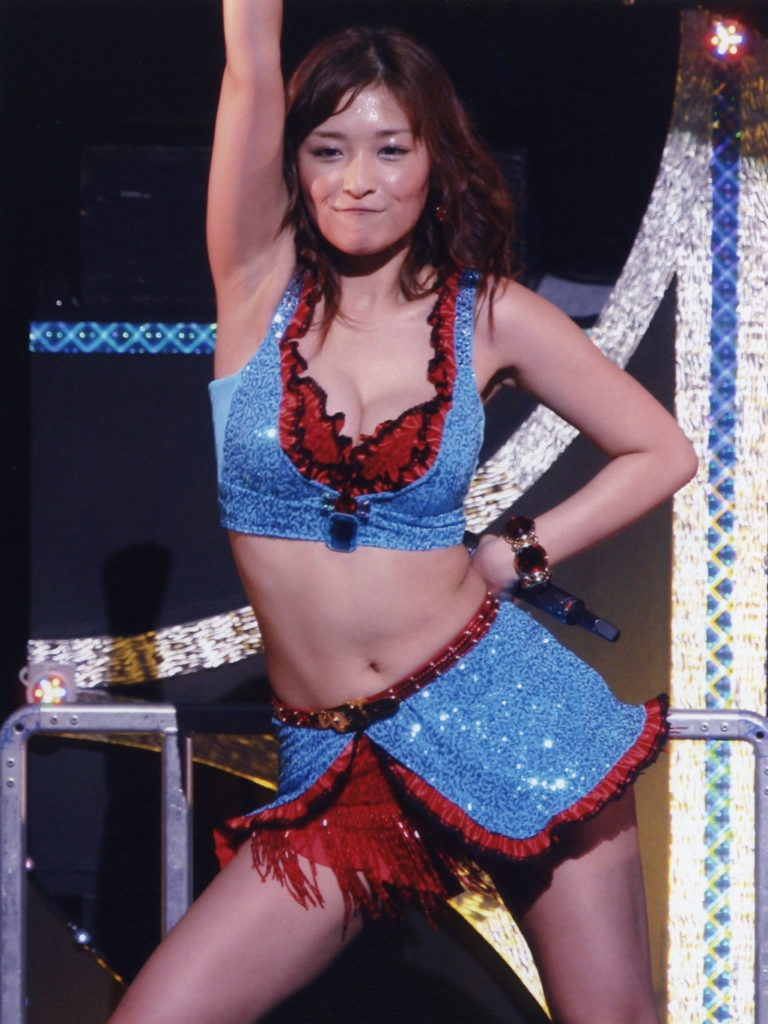 — You said it felt like your time in Morning Musume was over in a flash. Does that mean you would've maybe wanted to remain in the group for a little while longer?

Ishikawa: No. When I got into Morning Musume, they very clearly told us, "Think of Morning Musume as a training ground. One day you will certainly graduate, so please use your time in the group to learn about as many things as you can." So I just thought, "oh, so now is my time." It felt like the office was telling me that my training had ended; like they were handing me my diploma. I was actually rather quick to accept it.
And looking back, everything in Morning Musume really was about training. I learned everything I needed to know about being who I am today. Singing, dancing, expressiveness, how to be a person. The ways of the world, and how to act like an adult. Everything that one wouldn't learn in school was given to me by Morning Musume.
— Looking at Morning Musume more objectively after your graduation, it must remind you of all those feelings.

Ishikawa: Very much so. When I first went to see Morning Musume in concert after my graduation, I remember just thinking how cool of a group it was. I remember how proud it made me feel when I thought about how I had been a part of that same group. I'm sure I'll always be a fan, and while in the past I used to feel that I wanted people to say the group was at its best when I was a member, now I wish for it to keep forever evolving and becoming an even greater group.
— Did you not feel lonely about the group at all? Like, "I wonder if they're going to be okay without me"?

Ishikawa: Not at all. I don't think any of the graduating OG's feel that way. Sure, I was curious about who would be singing my parts and stuff, but it wasn't loneliness. On the contrary: when I go see them in concert and they perform songs from when I was a member, it makes me really happy. They even perform lots of coupling songs and stuff, so sometimes I'll go see a concert without checking the setlist first. Or, even if I don't go see a concert, fans will let me know if the group performs something that they feel I would want to know about.
I was watching Kuduu's graduation at home on the TV, and they performed this really nostalgic song and I was going all "OOOH!" at home. (laughs) They recreated it exactly like we'd done it back then, so I was getting super excited all by myself. Their new songs keep evolving but they still perform the old songs too, so I'm sure the graduating members and all the OG's feel happy about that. And the longtime fans probably enjoy it a lot, too.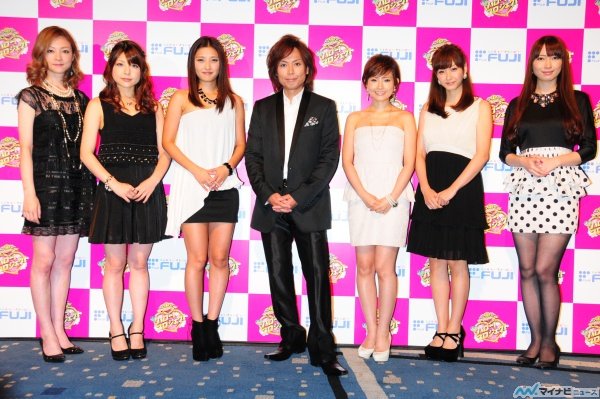 Morning Musume:
Where Everyone Shines

— After you began your solo activities, did you ever feel like the image you'd had back then had now become a crutch for you; like you were being tied down by it?

Ishikawa: I wouldn't say it was really a "crutch," but I also didn't want to do too much to ruin that image. A few years back, I was starting to be labelled as this "big drinker" character on variety TV. I was already 30 by that point and it's true that I like alcohol and I do drink often, so I feel that it's okay for me to make jokes about it. But then I start to think about how my fans from back then possibly wouldn't like that kind of thing. Also, if I'm labelled with an image like that, I run the risk of making people mistakenly think that all Morning Musume members must love alcohol, and I wouldn't want that. So I think it's something I have to be careful about.
But then that's true for a lot of things. Before I disclose something about myself in full honesty, as a former member I always have to think about how it might reflect on Morning Musume before I speak. I'm not just Ishikawa Rika — I'm Ishikawa Rika, former member of Morning Musume.
— That kind of professionalism is something I see in all of the OG members. It must be something that is cultivated in all of you through your activities.

Ishikawa: It's because we all love Morning Musume. I'm here because of Morning Musume. I'm offered work because I'm a former member of Morning Musume. But I don't see that as a burden or as a negative thing. If you think about it positively — like how it's all thanks to Morning Musume — that's much more constructive. And yes, I do feel like that's something I learned during my time in Morning Musume.
— All your many successes in Morning Musume changed your personality — you became a much more positive person.

Ishikawa: But fundamentally, deep down, I haven't changed. I'm still the same, overly cautious person. (laughs) When something good or lucky happens to me, I can't just feel unreservedly happy about it. It's like I'm constantly watching my step, thinking "I can't let myself get too carried away." Even the fact that I get offered work is not something I can take for granted. I always bear in mind the important things like that. I've always been this way, and I feel like it's something I shouldn't change about myself.
— There are some things that change and others that never do — just as with Morning Musume itself.

Ishikawa: Yes. Fundamentally, Morning Musume itself also hasn't changed in the last 20 years — even though they do continue to evolve. It's thanks to Morning Musume still evolving even now that us OG members can get on stage as Dream Morning Musume. The current members doing their best is something that shines the spotlight even on us OG members, and the OG members doing their best allow the current members to feel the importance of the group's history. Everyone gets to shine and that motivates everyone, which in turn presents everyone with new opportunities. The great thing about Morning Musume is how it's this place where everyone gets to shine together.
— Looking back, how do you feel about the past 20 years of the group?

Ishikawa: Morning Musume is the greatest idol group ever. Just 41 people in 20 years — that's actually not a lot. I really think they were all "chosen" people. This thing called "Morning Musume" has itself slowly, little by little, been built with care by these 41 people, and I feel the group is just going to keep becoming bigger and stronger.
— Those connections remain strong even after your graduation.

Ishikawa: As active members we would spend more time with each other than even our families, but in private we would mostly keep our distance. But now because of that, what's happened is that we're great friends. (laughs) Whenever we meet up in private, we're always talking about the married life or about mom stuff and so.
But when it's work, it's like this switch is flipped and there's suddenly this nervousness in the air again. It's like we're all in 100% work mode again; our faces all saying, "I'm a member of Morning Musume." (laughs) It's this feeling of tension, but in a good way. It actually makes me happy how I feel like that. Like… "this is it!" It makes me realize how none of us have forgotten how we felt back then, and how I'm personally still the same.
— What is Morning Musume to you?

Ishikawa: It's the foundation of my life. Those five years I spent in the group were what created the basis of "Ishikawa Rika." I was just talking about this a minute ago, but the fact that I'm a former member of Morning Musume is something that will, for better or worse, follow me forever. If I did something bad it would reflect badly on everyone else as well, so I'm living my life in a way that hopefully doesn't result in that. I'm going to keep trying to lead a life that lets me state who I am with full confidence. "I'm Ishikawa Rika, former member of Morning Musume."
My Song
"Happy Summer Wedding"


Ishikawa: It's the song where it all began for me. I'd always dreamed of one day getting to sing it for my parents, and last year that dream finally came true. I was so moved when my big sister told me, "it's so great how you got to marry the person you truly fell in love with!"