1: 名無し募集中。。。 2016/01/23(土) 23:13:19.28 0.net
It's been a year since she debuted and her singing and dancing has improved so much. She now has so much potential. I'm going to say Ayacho is partly to thank for it since she's the leader.
10: 名無し募集中。。。 2016/01/23(土) 23:25:17.10 0.net
I couldn't take my eyes off of Aikawa-chan from the very beginning.
87: 名無し募集中。。。 2016/01/24(日) 00:28:07.41 0.net
Hmm. Rather than a "why this girl?" reaction, it was more like everyone was going "who is this girl?"
9: 名無し募集中。。。 2016/01/23(土) 23:24:23.31 0.net
Aikawa-san has become essential for ANGERME.
12: 名無し募集中。。。 2016/01/23(土) 23:27:13.71 0.net
Aikawa-san's love towards S/mileage is the real deal.
11: 名無し募集中。。。 2016/01/23(土) 23:26:25.43 0.net
People in the Kenshuusei thread predicted her rise in popularity.
30: 名無し募集中。。。 2016/01/23(土) 23:51:44.69 0.net
I guess I'm not the only one who thought the same way.
Honestly, she's currently the biggest presence of 3rd gen.
32: 名無し募集中。。。 2016/01/23(土) 23:53:30.85 0.net
Nakanishi, too, seemed completely hopeless in the beginning, but turned out exceeding everyone's expectations.
38: 名無し募集中。。。 2016/01/24(日) 00:00:36.03 0.net
At first Aiai didn't have any self-confidence and everyone thought it was only a matter of time until she quit, but lately she looks like she's really enjoying herself.
58: 名無し募集中。。。 2016/01/24(日) 00:14:48.60 0.net
Aikawa-san: "I like you a lot."
46: 名無し募集中。。。 2016/01/24(日) 00:04:37.15 0.net
The first time I saw the three of them with Sawayaka, I knew she would be my favorite.
"Please convey your current feelings to the viewers in a four-character idiom."
"相川茉穂!" ("Aikawa Maho!")
She had me with that.
53: 名無し募集中。。。 2016/01/24(日) 00:11:05.86 0.net
Here's how the group looked when they were told about the new members and name change. Yet, they still welcomed the new members to the group with open arms. They all deserve credit for that.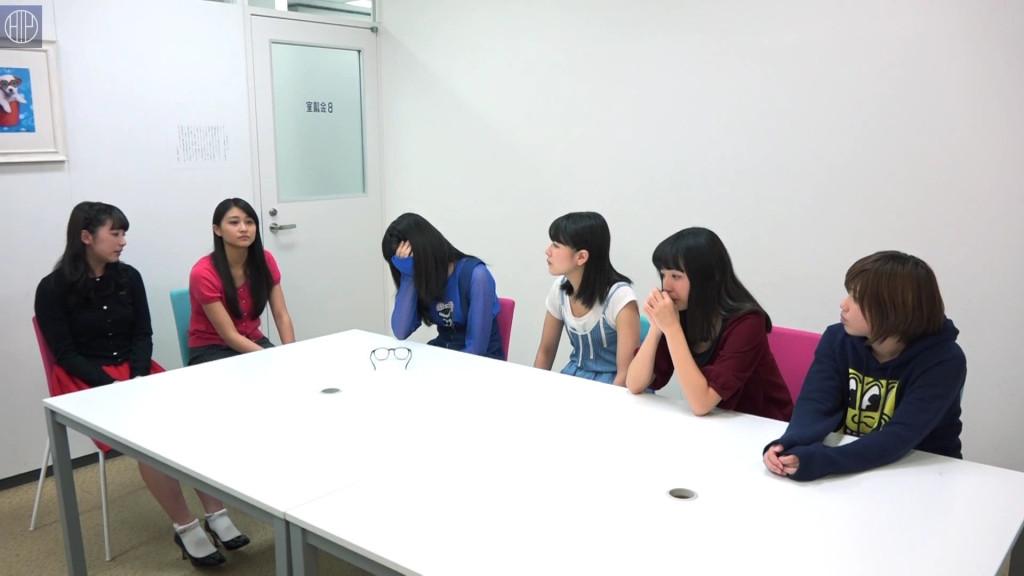 61: 名無し募集中。。。 2016/01/24(日) 00:17:23.70 0.net
Seeing Kamiko on stage at the Countdown Live, I remember thinking how great the members are for backing up new members who can't quite stand on their own feet yet.
67: 名無し募集中。。。 2016/01/24(日) 00:19:33.50 0.net
Sorry for going off-topic, but what did Kamiko actually screw up make at the Countdown Live? She sounded really frustrated about it on radio as well…
70: 名無し募集中。。。 2016/01/24(日) 00:21:15.75 0.net
>>67
She didn't know where she was supposed to stand on stage. She got lost. (laughs)
69: 名無し募集中。。。 2016/01/24(日) 00:21:15.06 0.net
The atmosphere within ANGERME is great, so there's space for the new members to grow, too.
84: 名無し募集中。。。 2016/01/24(日) 00:27:23.33 0.net
Still though, I bet they're pretty strict to the members behind-the-scenes, even with a group like ANGERME.
71: 名無し募集中。。。 2016/01/24(日) 00:21:23.26 0.net
The members of ANGERME are all kind and welcoming, but I feel like this girl created her popularity all by herself — through her personality. And I suppose it also doesn't hurt that she's always smiling and that she's good at singing and dancing and all that stuff.
74: 名無し募集中。。。 2016/01/24(日) 00:23:34.32 0.net
I like it when Aiai teases Oden.
91: 名無し募集中。。。 2016/01/24(日) 00:29:58.83 0.net
I feel like in ANGERME, the senpai-kouhai relationship isn't that important. It's more like they're just comrades all trying to create the best stage they can together.
94: 名無し募集中。。。 2016/01/24(日) 00:31:29.49 0.net
She has a pretty nice voice as well. Her singing doesn't have any weird quirks and it's just pleasant to listen to. It seems that in the beginning Meimei really made her work on her singing. I hope she keeps giving Aikawa-san advice until her graduation.
113: 名無し募集中。。。 2016/01/24(日) 01:21:17.22 0.net
I don't think she's calculating or anything, but I do feel like she purposefully gives out little things about herself that help draw attention to her.
118: 名無し募集中。。。 2016/01/24(日) 02:02:58.50 0.net
I just like how she's so honest in various ways.
78: 名無し募集中。。。 2016/01/24(日) 00:24:41.43 0.net
Remember also that she's the oddball who took part in Musume's audition just because she wanted to get into S/mileage. She was saying that if she actually made it into Musume, then at least she'd get to stand on the same stage as S/mileage.
115: 名無し募集中。。。 2016/01/24(日) 01:27:44.00 0.net
>>78
I love this story about her. I'm glad she made it into the group she loves so much.
116: 名無し募集中。。。 2016/01/24(日) 01:30:09.31 0.net
It's funny how it's like she didn't seem to realize that the people who don't get through in Musume auditions may be put into the Kenshuusei or just other groups altogether. I guess for this girl S/mileage really is the top group of Hello! Project.
Source: http://helloprocanvas.ldblog.jp/archives/47610224.html