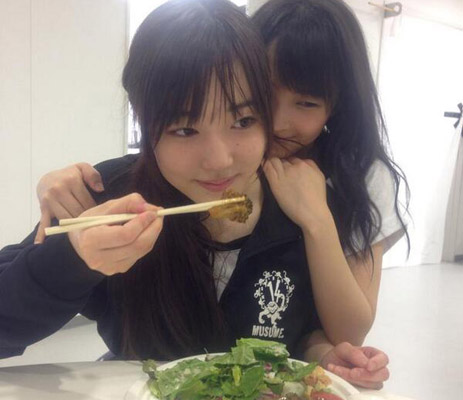 1: 名無し募集中。。。 2015/05/08(金) 14:35:51.57 0.net
Sayashi: As of late I really like Fuku-chan's bo– skin.
Kudo: … You were about to say "body" just now, weren't you?

── She changed it into a softer wording. (laughs) You especially like Fukumura-san's arms, right?

Sayashi: That's right. Rather than a normal junior high schooler, I'm turning into more and more of a perverted old man.
Kudo: Oh no.
Fukumura: That's not good.

── Why is that? Is Fukumura-san that cute?

Sayashi: S-she is. I find that recently I'm able to be true to myself and admit that I think Fuku-chan's skin is nice, or that I think (Shimamura) Uta-chan is cute and so on. I used to try and deny it, but not anymore.

── That must be totally because of Michishige-san's influence, right?

Fukumura: It all started with Michishige-san's kiss.
Kudo: That's it!
Makino: Noooo!
Sayashi: … Now when I think Makino-chan is cute for example, I'm able to express it out loud.
3: 名無し募集中。。。 2015/05/08(金) 14:40:23.54 0.net
I've been waiting for this.
2: 名無し募集中。。。 2015/05/08(金) 14:39:03.87 0.net
So she's finally awakened.
22: 名無し募集中。。。 2015/05/08(金) 14:51:31.33 0.net
Hey, I, too, like Fuku-chan's body and think she's cute.
5: 名無し募集中。。。 2015/05/08(金) 14:41:09.60 0.net
Even her figure has been getting closer to that of an old man as of late.
6: 名無し募集中。。。 2015/05/08(金) 14:42:12.48 0.net
On Young Town she used to say things like "I'm often called a pervert," but these days she just flat out says "I'm a pervert."
75: 名無し募集中。。。 2015/05/08(金) 15:44:53.57 0.net
Having her first kiss stolen by Michishige poisoned her mind.
81: 名無し募集中。。。 2015/05/08(金) 15:54:45.79 0.net
The Michishige virus, huh… If only she'd properly disinfected her mouth that time, this could've all been avoided…
93: 名無し募集中。。。 2015/05/08(金) 16:25:21.67 O.net
Hey Sayashi: less talk, more perverted actions.
94: 名無し募集中。。。 2015/05/08(金) 16:26:23.62 0.net
One of us! One of us!
Tamura Meimi:
"Salarymen all over the world have
my utmost admiration and support."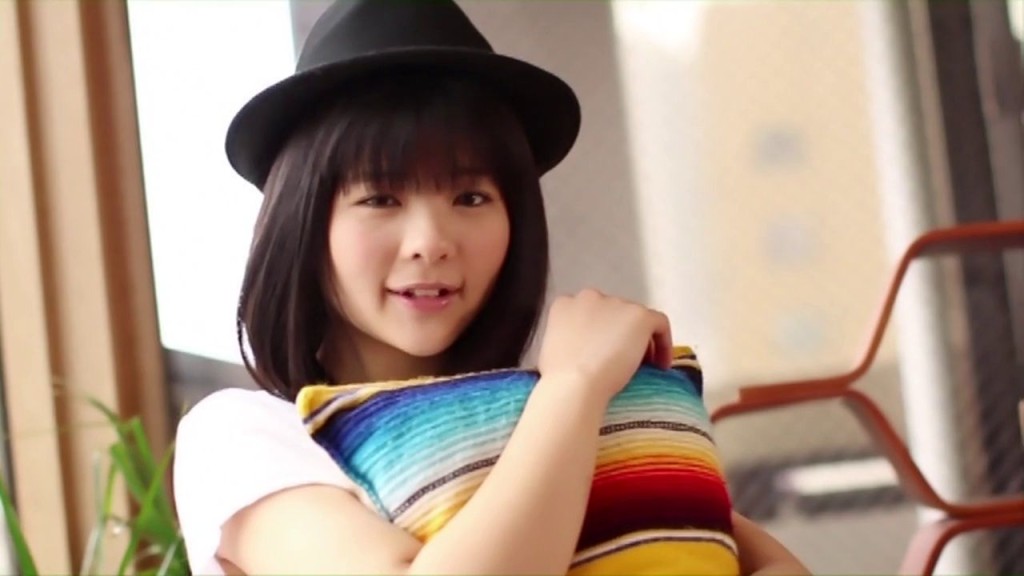 1: 名無し募集中。。。 2015/06/10(水) 00:13:28.03 0.net
I often see men wearing suits on the train. I really respect them!

It's like, I just begin to think about how I myself am nothing compared to them… When I see some of those men even sleeping while holding onto the hanging straps, it's like I start to think more deeply about life in general. I feel like the world would be a happier place if everyone got to do work that is enjoyable; work that has meaning, but I know that's easier said than done…

I wish salarymen all around the world would be filled with more hopes and dreams.

I support each and every salaryman around the world from the bottom of my heart!!!!!
41: 名無し募集中。。。 2015/06/10(水) 00:31:44.74 0.net
The feeling of being pitied by a 16-year-old girl…
2: 名無し募集中。。。 2015/06/10(水) 00:15:36.14 0.net
If only I could date Meimei, my life would be filled with hopes and dreams…
19: 名無し募集中。。。 2015/06/10(水) 00:24:05.01 0.net
She's said stuff like this before, too, right?
Meimei really is an angel.
5: 名無し募集中。。。 2015/06/10(水) 00:18:23.80 0.net
Who says the salarymen sleeping while holding onto hanging straps aren't doing meaningful and enjoyable work?
6: 名無し募集中。。。 2015/06/10(水) 00:19:12.54 0.net
I wish she'd respect us jobless guys, too.
9: 名無し募集中。。。 2015/06/10(水) 00:20:44.38 0.net
She was saying the same thing during Tsunclub. Apparently she even loves her dad who is just a normal office worker. What a good girl, this Tamura.
28: 名無し募集中。。。 2015/06/10(水) 00:29:42.18 0.net
Any girl who is close with their dad is by default a good girl.
13: 名無し募集中。。。 2015/06/10(水) 00:22:00.96 0.net
I want to slump my head against Meimei's shoulder as I drift off to sleep on the train.
31: 名無し募集中。。。 2015/06/10(水) 00:30:18.62 0.net
Meimei seems like she's popular among the staff, too.
50: 名無し募集中。。。 2015/06/10(水) 00:33:47.49 0.net
Hey, even salarymen who look exhausted can have hopes and dreams as well. (Though Meimei might be a little too young to understand that yet.)
39: 名無し募集中。。。 2015/06/10(水) 00:31:35.34 0.net
Well, it's pretty much like Meimei says. 90% of salarymen just do not enjoy their jobs.
95: 名無し募集中。。。 2015/06/10(水) 00:50:55.82 0.net
Hey Meimei. Please know that some of us are such low level salarymen, we don't even wear suits.
98: 名無し募集中。。。 2015/06/10(水) 00:53:08.28 0.net
That's it. I'm heading to the employment center tomorrow.
109: 名無し募集中。。。 2015/06/10(水) 01:00:40.64 0.net
On an off-topic note: Meimei seems like the type that's favored by train gropers.
Henkka: The evolution of Sayashi Riho as I see it:

↓ ↓ ↓
↓ ↓ ↓
 Sources: http://hellohellotime.doorblog.jp/archives/51959193.html, http://helloproject-sokuhou.doorblog.jp/archives/44373099.html