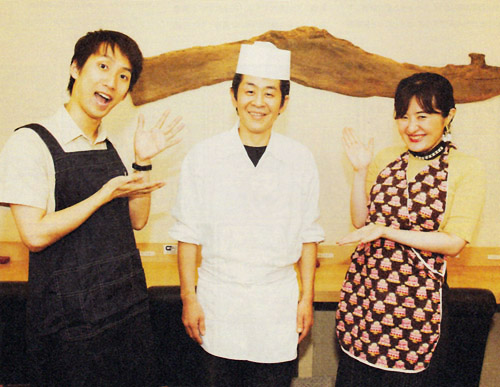 Part Seven: "TOUCH ME, Kurokki"
Writers Yuzuki Asako and Asai Ryo
profile the lyrics of Hello! Project songs!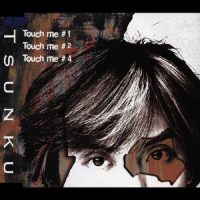 Song #1: Tsunku♂ – "TOUCH ME"
(Tsunku/Tsunku)
Yuzuki: The last time we spoke, our heads were in the clouds because of how excited we felt thanks to "Utakata Saturday Night." But at some point, we came back to our senses and that excitement was once again replaced by this… emptiness.
Asai: Our hearts that had been taken with "Utakata" became quiet once more.
Yuzuki: But right around then, what took our hearts by storm next was Maa-chan's sexiness in "Aishite Aishite Ato Ippun." She was just so alluring there, it was almost suffocating.
Asai: I must've watched that video like 50 times. Those 10 seconds or so before the last chorus when she's just spinning around and rotating her mic to the beat of the music… even the expression on her face is constantly changing.
Yuzuki: It could be that Maa-chan is actually a sexy girl.
Asai: It certainly feels like an avenue she's been starting to explore more and more as of late.
Yuzuki: Sexiness in H!P isn't about exposed skin or whatever. A good majority of the sexiness in other idols is them presenting themselves to the audience, going "this is the kind of thing men like, right?" But H!P sexiness is simply the girls saying: "look at me!"
Asai: It's a one-way street: they're not adjusting it based on the people watching; it's something that comes purely from within.
Yuzuki: That's what makes it good. They look like they're having so much fun doing it. With other idols it's more sadistic. They're reluctantly trying to be sexy, and the viewers enjoy seeing them looking all embarrassed. I hate watching stuff like that.
Asai: In Maa-chan's case it's something she discovered by herself. "Hey, I can do sexy."
Yuzuki: They enjoy being sexy. That's why it often happens that H!P's dances can go a little too far. (laughs)
Asai: That turn she does before the last chorus and stuff, or the way she tears at her chest when she's singing, I think that's just her body reacting to the music. That is, I don't think any of that is part of the actual choreography. That's why it's so good.
Yuzuki: "Watch me be sexy!" So great…
Asai: And how awesome is it that that very same Maa-chan names "TOUCH ME" as her no. 1 favorite song? Everything about that song from beginning to end is cool. The music video and the live footage, too!
Yuzuki: I've often felt that Tsunku♂'s lyrics tend to feature a lot of sexual double entendres. This song has the line: "kono te de oku no hou made tashikametekitashi / suki na kakkou datte shitteru" ("I determined your deepest depths with this hand of mine / I even know your favorite position"). When I first heard that, I was going "Wait, what? You mean that in the lewd way? No, it couldn't possibly be that…" But then when you see how Tsunku♂ moves when he sings those lines…
Asai: … You realize that it wasn't a double entendre at all. Those lyrics only had one meaning.
Yuzuki: ♪ Oku no hou made… ♪ (mimics Tsunku♂'s movement of extending right hand; wiggling fingers towards self) It's like a sex joke! He looks like some Las Vegas male stripper!
Asai: In the first verse it's "doshaburi anna ni nureta ano yoru na no ni" ("even though you were so wet that night in the pouring rain"). You could still interpret that as a double meaning. But in the second verse, it's suddenly all "…your deepest depths with this hand of mine" — it becomes single meaning. It's kind of like a real-life date. You go to the first place for dinner and you're just eating, and then you move on to next place, a bar maybe, and suddenly you're only thinking about what's going to happen after…
Yuzuki: I first thought the "nude" in "Egao YES Nude" was just a metaphor, but now I realize that no, that really was just… nude.
Asai: And once again the male protagonist is nice and uncool. He's easy to love.
Yuzuki: Once men get into their thirties the way they approach women becomes really annoying. It's like they put up this safeguard around themselves. "You're the one who likes me, remember? I'm only spending my time with you because you want me to. Don't get the wrong idea." But what's great about Tsunku♂ is that often the guys in his lyrics get seriously dumped, and they get hurt. It's not all pretty. It's never like… "she disappeared like a breeze of wind" or something. All guys who can acknowledge being dumped to the extent that Tsunku♂ does are great.
Asai: "Hoshigatteta ano yubiwa wo yoyaku shiteta kedo / cancel nante dou yatte sun no? / chotto yuuki ga iru ze" ("The ring that I'd ordered for you because you so wanted one / how does one cancel such an order anyway? / this is going to take a bit of courage.") I love these lines. More than actually having to cancel, the protagonist is embarrassed over what people are going to think of him when he has to walk into the store and cancel the ring because he lost his chance to give it to someone. It's such a life-like kind of uncoolness. And right after that, the lameness of the lyrics that are all basically saying… "even though we had that much sex; even though we did all those pervy things together!"… as if that is somehow supposed to make a difference. Man, I want to go out drinking with this guy. Oh, and before those lines, he sings "ore datte tada no futsuu no otoko" ("I'm just an average guy")… You can sense that he doesn't really think he's average at all. He's just trying to play it cool by saying that. But in doing so, that's what he ends up revealing: he is, indeed, just an average guy.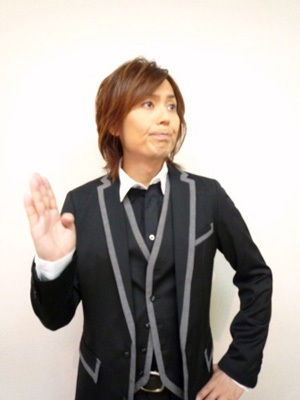 Yuzuki: This is the first time that I've seen someone of the opposite sex who is this open about showing what it is about them that makes them so hopeless.
Asai: I think the protagonist is someone who has a lot of friends though.
Yuzuki: Just… "angel gao de yosotta koi no devil" ("you're a devil of love pretending to be an angel")… (laughs) I feel so embarrassed when I sing this line.
Asai: Coupled with that lameness… there's just that sense of realism with this song.
Yuzuki: You know how lately we've started seeing more guys who like to always go on about how they're not popular with girls; how they don't even like interacting with girls? That all just seems so fake compared to this.
Asai: The guy feels embarrassed because in cancelling the ring the shop assistant is going to find out that the protagonist broke up with his girlfriend. Have you ever read something so real yet lame in the realm of song lyrics?
Yuzuki: They were probably just friends with benefits to begin with.
Asai: He took actual pride in how he could make her come.
Yuzuki: And the song itself is so cool, beginning with the intro.
Asai: The way he moves becomes addictive. Like how his body jerks after the "mitsumete yo baby" bit.
Yuzuki: It's a very 90's music video.
Asai: Girls with super short hair dancing around him…
Yuzuki: Everyone was putting on airs in their 90's songs so they wouldn't feel embarrassed. There's no song that's more embarrassing than this one, but it's also so cool. There are lots of songs about guys with broken hearts, but compared to this one, they all come across as them trying to act cool.
Asai: Ultimately, though, he's saying "touch me." He still hasn't given up on all hope. He still thinks he has a chance. "Maybe if I come across her somewhere, I could sleep with her one last time."
Yuzuki: How can the protagonist be so… hard to hate? This could even pass for an idol song, right? A good break-up song.
Asai: I definitely want a female version of this.
Yuzuki: Who should sing it?
Asai: Maa-chan.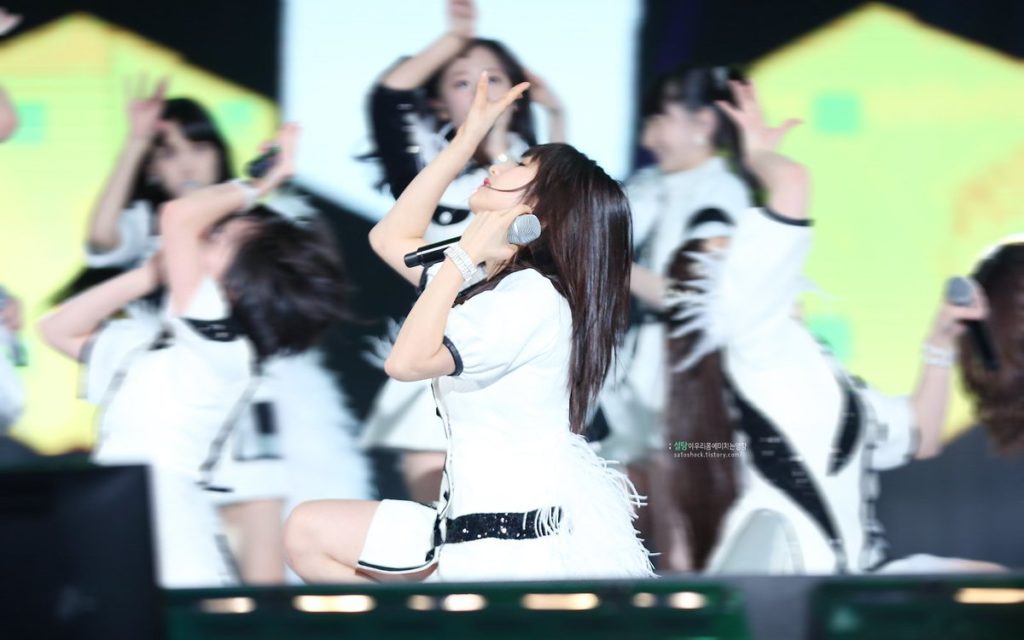 Yuzuki: Maa-chan? Doing this choreography? (laughs) I think someone like Namata would do a cool job with this song.
Asai: At the end of the day though, I'd want Taiyou to Ciscomoon to do it.
Yuzuki: You sure do love Inaba Atsuko.
Asai: I do. She's such a good singer and dancer. Too good, even. She dances so hard, it looks like her limbs might go flying off.
Yuzuki: You love the members who overdo it.
Asai: Lately, that member for me is Murotan. I saw the footage of "Itoshima Distance" from Idol Yokochou Natsu Matsuri! 2016, and I had to rewatch the ten seconds or so of her solo near the end. She's just too intense to be human. She declared at Meimei's graduation concert that she would be inheriting Meimei's ways of overdoing it, but it could be that she not only inherited something from her but even went a level higher in some respects.
Yuzuki: You mean that whole "Gyaru Feeling" of hers?
Asai: That adds to her strength, too. There's like this "BOOM!" sound in "Tsugitsugi Zokuzoku" after her second spoken line where she always does some kind of a movement, and it's just incredible each time she does it. It's almost scary! Those sexy moves Maa-chan sometimes does? Murotan will suddenly do the same kinds of movements even in songs that aren't at all sexy! Every time it's like, "what just set her off like that?" You never get bored of watching her.
Yuzuki: I first thought that song was like about a 16-year-old girl who'd had something go slightly wrong in her love life. But when I see the way Murotan moves in it, it starts to feel like something out of Mishima Yukio's "The Sound of Waves." It's like she's saying… "if you want to sleep with me, you better be ready to walk through a sea of flames for me."
Asai: That's why she might also do a good job with "TOUCH ME" — Tsunku♂ himself overdoes it in this song.
Yuzuki: He's just being crazy and outright weird — but it's to the point where he comes full circle and it becomes cool. I wish I could've been an OL from around the Kitashinchi area of Osaka so that I could've gone to see Tsunku♂ live.
Asai: Let me guess: some self-important colleague of yours would've dragged you along to one of their shows after work, and…
Yuzuki: "Tsunku♂? You mean that Tsunku♂?" And then I'd have become hooked. I think lots of people are actually secretly fans of this song.
Asai: That could be said for a lot of Tsunku♂ songs. Considering that writing those songs is a person who got to stand on such amazing stages in his career… It's not just sexiness either, but like. A lot of his songs are a release for the people performing them; not just the people watching them.
Yuzuki: When you ask some older guy who now thinks he's all high and mighty to talk about his experiences of being dumped, they always try to play it cool. Do you know what I mean? "Oh, I wasn't dumped — I dumped her." But Tsunku♂'s is an honest kind of lameness. The cooler someone is, the more pitiful the experiences they've gone through. Those are the people who don't have to play it cool.
Asai: Just like how the works of H!P depict realistic women, this song depicts a realistic man.
Yuzuki: I've been constantly listening to Sharan Q as of late. Twenty years ago, they aired this drama called "Age, 35 ~Koishikute~"…
Asai: What a meaningful title. Nakazono Miho was the screenwriter for that one.
Yuzuki: And it was based on an original work by Saimon Fumi. Anyway, "Iiwake" was its theme song.
Asai: Sharan Q just appears out of nowhere.
Yuzuki: You have Shiina Kippei, Seto Asaka, Tanaka Misako and Nakai Kiichi just drinking at a club, and behind them is Sharan Q, melancholically performing "Iiwake." It was such an unsettling opening. That's why I tried showing it to you — I figured you're too young to have seen it.
Asai: I found the video… aggressive.
Yuzuki: ♪ CHARA-CHACCHACHA! ♪ Nakai Kiichi and Tanaka Misako were happily married, but then Nakai had an affair with Seto Asaka, a secretary from his office who he also got pregnant. So then there's this one scene where Asaka is at the guy's home wearing but a single towel wrapped around her when suddenly the wife comes home — their two kids by her side — and you see Kiichi there just staring at his wife with his mouth agape… ♪ CHARA-CHACCHACHA! ♪
Asai: Stop iiiiit!
Yuzuki: Tsunku's voice comes in… ♪ Samishii yoru wa gomen da… ♪

Asai: Only Tsunku♂ could've ever sung it like that.
Yuzuki: And then later when Tanaka Misako — the wife who had once sworn to be the mother; the protector of their family — suddenly gets into a relationship with Shiina Kippei, in effect becoming a "woman" once again… ♪ CHARA-CHACCHACHA! ♪
Asai: The versatility of that song's intro is quite something.
Yuzuki: They couldn't have picked a more effective song for the drama.
Asai: Whenever I hear the beginning of "Iiwake," I get a feeling of like… being in complete mental distress at a gambling den or something. You could probably even use this song in training dogs or something.
Yuzuki: People used to be able to hear Sharan Q's songs in TV dramas like it was nothing. What a luxurious moment in time that was.
---
Song #2: Juice=Juice – "Dream Road ~Kokoro ga Odoridashiteru~"
(Tsunku/Tsunku/Egami Koutarou)
Asai: If Karin-chan was to visit here, I wonder what she'd order? (Note: this interview was conducted at restaurant Kyosuzu.) In "Kokoro ga Odoridashiteru," they're singing how "suru beki koto wo yarioeta yoru / choko no gohoubi" ("the night I finished doing what I needed to do / rewarding myself with chocolate")…
Yuzuki: For someone who works as hard as Karin-chan? Let's see… She deserves at least a big Jamaican Rum Ball from Ueshima Coffee. Me, I'd get a Demel Sachertorte. But when these girls are talking about rewarding themselves with chocolate…?
Asai: They probably mean something like Hershey's Kisses — maybe two of them.
Yuzuki: The kind of cheap chocolate that just melts away instantly. I wish to take this opportunity to object to Karin-chan's eating habits! You might be okay with that kind of stuff right now… but you need the right kinds of calories to become an adult!
Asai: Getting worried about Karin-chan's eating habits for no fault of her own… I actually quite liked "Summer Madness" by J Soul Brothers from EXILE TRIBE. Not singing during the chorus — that's what kings do! I just feel like their confidence was through the roof in that song, and that's the song they performed at Kouhaku, too. Don't you feel like there's something resembling "Summer Madness" in this song? The part without any vocals that follows "Go! Yume wo oe," that's the part that actually sounds like the chorus. So I was going… "Juice=Juice! Acting like kings!" Also, it really is very much a Tsunku♂ song. It's so intense.

Yuzuki: Isn't the instrumental just so stylish too? I could see it being played at some fashionable furniture store or something.
Asai: It could totally work at a store like Seijo Ishii, too.
Yuzuki: I bet it'd sound super cool at like some club out in Shinsen, visited only by people in the know.
Asai: It has such a pretty melody.
Yuzuki: Right, even though the lyrics are on the topic of willpower. I love H!P lyrics that deal with that theme. I agree: I believe you can make dreams come true if you really give it your all, and that's what I try to do. But I just don't feel that way about Karin-chan… I don't wish for her to do work any harder than this.
Asai: Yeah. That's how hard she works. During the verse, they sing "watashi no jinsei / sou watashi no ne / dareka no mesen ya / uwasa toka / kankei nai yo / dou demo ii" ("it's my life / that's right: mine / I don't care about the rumors or the probing eyes of others / they mean nothing"). That makes it sound like she's someone who really stands out. But right after that, it goes: "nee motto jishin motte / nee motto jibunrashiku / nee motto kagayakeru / nee watashi" ("hey, be more confident / hey, be more like yourself / hey, you can shine more / hey, me")… Ultimately that's what she's saying to herself. Isn't that so frightening?
Yuzuki: It is.
Asai: It's like, in reality, that's how little confidence she has in herself. When Karin sings lines like that, it just kicks my writer's brain into full gear.
Yuzuki: I bet that even when she has some time off work, she tries to take that time off with all her might. Like, she's trying her hardest to relax.
Asai: I'm worried she might break down…
Yuzuki: I wonder how she felt when acting in her role in "Budokan."
Asai: Oh, I don't think that did anything to change her convictions or her state of mind.
Yuzuki: They always talk about the romance aspects in "Budokan." But it's not like that story is trying to say that love is unquestionably fantastic and that all idols should go out and experience love. It's simply saying you should choose for yourself. Like, don't ever do anything because everyone else says it's great, but because you choose to. If you really want to wrap sarashi around your chest, then do. If you hate doing so, then how about you don't?
Asai: Exactly. I wrote that story to highlight the importance of choosing for yourself and not letting society do so for you. When I got to talk to Karin-chan, I said this to her too; how there are times when people have chosen something for you before you've even realized it.
Yuzuki: I get that. That's not limited to just idols either.
Asai: But Karin-chan told me in her own words that she is where she is now because she did choose everything for herself. So apparently there's nothing to be worried about. But when you're a wota with too much time on their hands like us, one can't help but think about these things…
Yuzuki: It's presumptuous of us to try and give advice to Karin-chan. But I just don't want to see the whole Sayashi thing happening again with her… (laughs)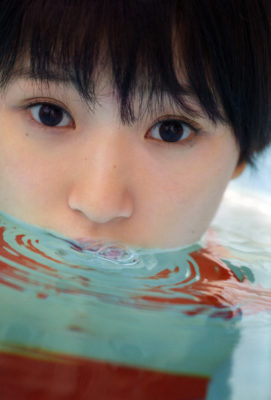 Asai: She's going to tell you how you just "don't understand a thing" about her.
Yuzuki: But she's working so hard and yet in the lyrics she rewards herself with just one piece of chocolate… You can have a couple more!
Asai: You finished "doing what needed to be done" — at least treat yourself to some yakiniku or something.
Yuzuki: And what is that anyway? Her thing that needed to be done? "Chuutohanpa nara naki wo miru" ("if I leave things half-finished, I'll regret it"). That line is so painful.
Asai: It is. And she's saying all that to herself. Ultimately, it comes back to "hey, me." The point-of-view keeps switching.
Yuzuki: Listening to these kinds of songs about having guts, they used to make me feel revitalized. Maybe I've just gotten old though, because now when I listen to them I only feel sorry for the girls. Like, it makes me think about if it's really okay to make these young girls sing songs that are so unsparing.
Asai: I feel like Tsunku♂ definitely wrote this song with the thought of Juice=Juice heading towards the stage of Budokan in his mind. They're currently in the midst of their 220-performance trial which they must undergo for their concert at Budokan. I guess that's their "dream road"…
Yuzuki: It must be tough. Obviously it's something that's worth doing, but still. It can't be easy.
Asai: I don't think they even find it particularly tough to be honest.
Yuzuki: It looks like they're doing just fine. But for some reason I just can't help but think about how it must be tough on them. Maybe I'm just remembering how tough it was for the members of NEXT YOU in "Budokan." Maybe it's because they're all so earnest.
Asai: Even the choreography of this song is intense, how they're like running in slow-motion. Like Sudo Genki.
Yuzuki: Karin-chan running slowly…
Asai: After they announced this single, fans have been confident in predicting what the other two songs will be like. "The song by Maro ("Ashita Yarou wa Bakayarou") will be rock…" That kind of thing. But for this song, everyone was a bit unsure. "Um, well, it's probably going to be like EDM-ish with strange dancing…?" I wonder if this will be the A-side of the single. Not that "Ashita Yarou" and "KEEP ON Joshou Shikou!!" aren't good songs as well.
Yuzuki: Right. I thought "Ashita Yarou wa Bakayarou" was very H!P-like. I bet Maro was reminded of herself when she first came up with that title. (laughs) And it's not wrong, either. She had good taste with her words in these lyrics.
Asai: Yeah. I think it's her best work so far.
Yuzuki: I wonder what Maro gets up to each day? On Twitter she's constantly going "I'm not cute" and stuff — you see average college girls who say the same thing. (laughs)
Asai: She tweeted something like "I'm glad I graduated" — even though no one had asked her about that. Now, I'm always reminded of Reina when I think about Maro. I mean, for the longest time Maro was going on and on about how she was going to become a lyricist, whereas Reina just suddenly did it out of nowhere and she was able to write "Kimiiro tomorrow" whose lyrics represent her very well. The difference between those two is interesting.
---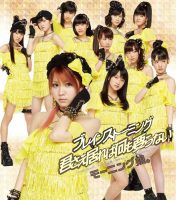 Song #3: Tanaka Reina – "Rock no Teigi"
(Tsunku/Tsunku/Ookubo Kaoru)
Yuzuki: Remember the time the two of us met Reina? I couldn't sleep that night because of how scared I was. (laughs)
Asai: Someone introduced us. "This is Yuzuki Asako and Asai Ryo. They're writers." When I told her how I thought it'd been a great concert, it felt like she was glaring at us. I was thinking "oh crap, what do I do?!" My editor who was with us actually dropped his cup that still had tea in it.
Yuzuki: She didn't think anything of it. "Oh, it's just some authorized personnel." But for us, it was different. "We're sorry. We apologize for even being born." She was seriously so scary. When I tried thinking about why I felt that way, I think it might have something to do with what she said on her recent appearance on the TV show "Konya Kurabete Mimashita." She said she was fierce in her elementary school days.
Asai: A real delinquent.
Yuzuki: Not just the gyaru type — an actual delinquent.
Asai: She was someone who really stood out by the time she entered junior high school, but she was friends with an older boy who went around telling people at the school: "don't you dare even put a finger on Tanaka Reina." And so apparently no one ever bothered her. The way she described it was so real, I don't think I've ever heard anything like that on TV before. And then when they showed a picture of the guy… he was the real deal.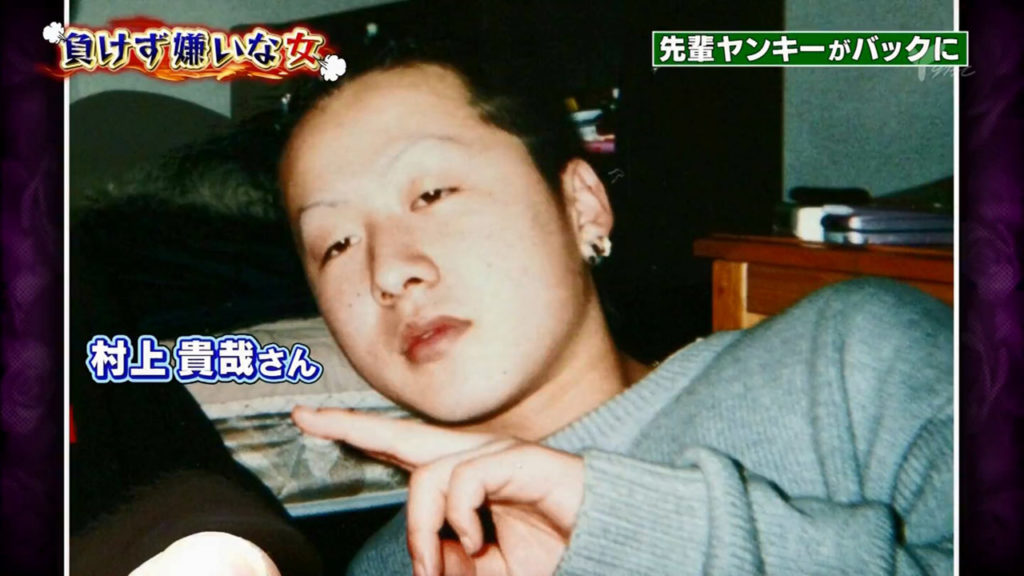 Yuzuki: It seems like the guy apparently had a crush on Reina. He even gave her a love letter. But on the show, Reina was talking about him like "but he was ugly, so…" That actually hurt me. (laughs) It made me realize that Reina probably sees most people as being ugly…
Asai: That Reina Gaze…
Yuzuki: When you're a delinquent who's winning, you can be ruthless. I mean, try reading about some of those powerful entertainment production agencies and the stories of their power and moral harassment… that's some scary stuff.
Asai: I feel like Reina could survive even at LDH.
Yuzuki: I think it's completely natural to feel scared when you look at Reina. After all, what you're feeling there is a direct threat against your life. (laughs)
Asai: But that's also why she's so good at gaining the trust of others — because she's unafraid. Even on "Girls Night Out," she was the first person to be able to get some private details out of Chef Kuroki; how he was born in Omiya and how he likes rockabilly and stuff.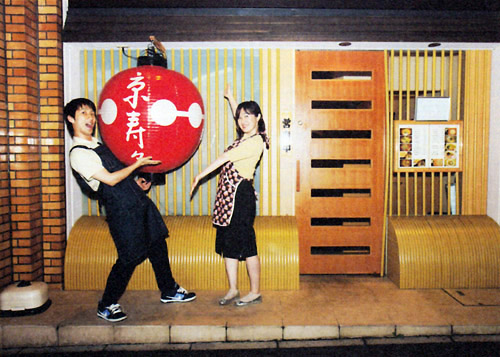 Yuzuki: I was surprised the first time I saw the music video to "Rock no Teigi." She's at like this weird, school-like place and she's wearing this modded, shocking pink jersey… She couldn't look more like a delinquent if she tried. (laughs)
Asai: They look like clothes she would wear when going to the convenience store in the middle of the night.
Yuzuki: I think that fashion is called a "setup."
Asai: And she'd be wearing Hello Kitty sandals.
Yuzuki: That's the kind of fashion she means when she's singing about it in the lyrics?
Asai: One of my favorite things about the lyrics is the out-of-the-blue, "otoko ni furimawasare ikiru nante zettai arienai" ("I refuse to live a life of being manipulated by men"). She wasn't talking about that kind of thing at all before that line.
Yuzuki: That's a cool line. You know, I like Kitagawa Keiko's face, but I was watching the press conference when she was getting married and there were one or two things she said that kind of didn't sit right with me. So then the other day I was reading an interview of hers and they asked her for the definition of a "good woman." Her answer? "I think what makes a good woman is being able to have the man wrapped around your finger, yet doing it in a way that he doesn't even realize it, thus not hurting his pride." When she said that, that's when I realized what was bothering me. I don't think Kitagawa is wrong in saying that; I think it's more that women have made it into part of some sort of an etiquette that women must always take a backseat to men. So when a beautiful lady like Kitagawa says something like that, there's this pressure — like a social imprinting — that all women must act that way. But then on the flip-side you have scary women like Reina, saying "I don't want to be manipulated by men"… I really liked that.
Asai: Also, I can't help but love all the songs whose lyrics include the word "konbini."
Yuzuki: Agreed.
Asai: It's a word that comes up a lot in H!P songs. But I've been thinking… what if it's just one particular convenience store that appears in all of Tsunku♂'s songs? Because if that were the case… man, there's a lot of variety in the type of customers that go there. If we assume that the young lady from "Otome Pasta ni Kandou" and the girl from "Rock no Teigi" both go to the same convenience store, that right there would be enough material for us to write another anthology book. The word also appears in Sheki-Dol's "Zentaiteki ni Daisuki desu," and even in "The☆Peace!" they sing "imi nai kedo konbini ga suki" ("I like convenience stores for no reason in particular").
Yuzuki: "Konbini de obentou katte mo" ("even when buying lunch at the convenience store") ("Iroppoi Onna ~SEXY BABY~")… That right there is exactly why you're unable to become a sexy woman!
Asai: Even the girl in "Kuchizuke no Sono Ato" buying snacks for her father… these girls all go to the same convenience store. They might even be passing by each other — wouldn't that be funny? The last story in the book would have Reina coming in at the middle of the night. She wants to live her life with enough confidence to be able to go to the convenience store in the middle of the night, wearing comfortable clothes.
Yuzuki: "Kakkoii ikikata wa dekinai ga ima wo donna fuu ni ikiru ka mayou no mo watashiryuu" ("Although I'm unable to lead a cool way of life, constantly trying to figure out how to live is also what makes me me").
Asai: If you try to really sit down and analyze that line though, you quickly become unable to tell what she's actually trying to say.
Yuzuki: Right. But that's the sign of a real yankee.
Asai: The way she declares it is so powerful, it sounds convincing.
Yuzuki: For better or worse, the way young delinquents speak is so simple.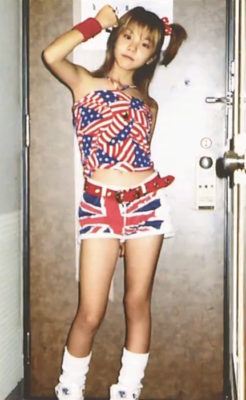 Asai: Some of the stuff they say is so powerful, they'd make for good slogans or something.
Yuzuki: Someone like Yukkiina is often bashed for her mamadol way of life on the net, right? So then at some point she changed her profile text on her Instagram page: "The only thing I care about is if my daughter thinks I'm the best mama ever!! Anything besides that doesn't affect me. That's the Yukina method of raising a child." I saw that and I was going "I don't really get it, but man, that's so cool!"
Asai: There's something about when someone declares something, full of confidence. It throws you off-balance. That's why someone like Hosoki Kazuko became so popular.
Yuzuki: There aren't a lot of idols that are able to make statements with full confidence like that. But Reina definitely does. (laughs) And it works. She must be really strong when it comes to arguing.
Asai: She's also physically strong. I don't think it's just emotional strength — I'm pretty sure she believes she could win against anyone even in a fist fight.
Yuzuki: "Dare ni mo wakaru you na kantan na toi demo sunao ni kotaetakunai" ("I don't want to give a straight answer even to a question whose answer anyone would know"). What does that line mean? What would she say if someone asked her "what's one plus one?"
Asai: "Huh? Shut up, hearing your voice pisses me off." Probably something like that.
Yuzuki: But the protagonist is sometimes also surprisingly lacking in confidence. "Ofuroagari no suppin sugata de kirei ni nare tte jibun ni iikikaseru" ("I get out of the bath and tell my makeup-less self: "become pretty"").
Asai: Tsunku♂ never forgets to include things like that in his lyrics, too. He depicts characters as the three-dimensional people that they are.
Yuzuki: "Kakkoii ikikata wa dekinai ga dare to donna fuu ni ikiru ka wakaranai no mo ii wa" ("Although I'm unable to lead a cool way of life, not knowing how and with whom I live isn't bad either"). "Zenshin kimekime de iru yori mo g-pan de ii, hontou wa / dakedo konya mo kimeru wa yo" ("Rather than dressing up, I honestly prefer just wearing jeans / and yet, I'm once again going to dress up tonight"). What does that mean? I don't get it!
Asai: I have no idea. The harder I try to listen, the less I seem to understand it.
Yuzuki: Why did I even think this was a good song to begin with? (laughs) But she's so threatening, I have no choice but to listen.
Asai: Right. It feels like she's right there in front of you, staring at you while telling you to listen to it.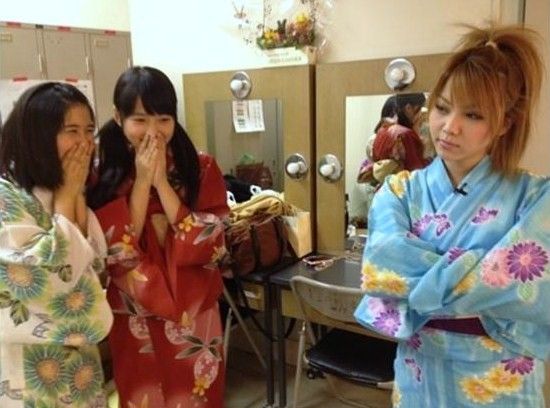 Yuzuki: Staring you down with that Reina Gaze. "100% jishin ga nai no wa maegami no nuance dake de nantoka suru wa" ("when I'm 100% out of self-confidence, I somehow make do with the nuance of my bangs"). It always comes back to the bangs!
Asai: Oh, bangs are super important in H!P! Maybe that could be the final scene in our Hello! Project Convenience Store Anthology: the girls all standing side-by-side, using the convenience store window as a mirror while they fix their bangs.
Interview & text: Takaoka Hiroshi
Photography: Katano Tomohiro
English translation: Henkka
Asai Ryo on the web: Twitter
Yuzuki Asako on the web: blog, Twitter