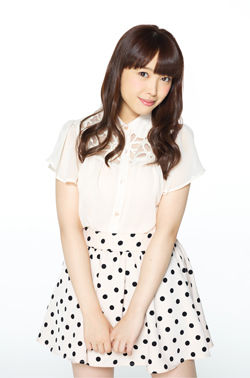 1: 名無し募集中。。。 2013/08/18(日) 00:15:31.42 0
It's cute how it's always flapping its mouth.
4: 名無し募集中。。。 2013/08/18(日) 00:17:28.55 0
If you talk to her too much every day, she's going to think you're no longer just friends and she'll become cold towards you. But if you talk to her too little you're going to make her cry, so watch out for that, too.
5: 名無し募集中。。。 2013/08/18(日) 00:21:56.31 0
Sounds like way more of a bother than I'd expected.
6: 名無し募集中。。。 2013/08/18(日) 00:22:41.81 0
Where'd you find it? I want one, too.
7: 名無し募集中。。。 2013/08/18(日) 00:23:52.22 0
It's recommended that you get one as a set with an Okai-chan.
8: 名無し募集中。。。 2013/08/18(日) 00:24:39.17 0
It's a nuisance how she's timid at first but when she gets used to you, she'll start acting spoiled.
9: 名無し募集中。。。 2013/08/18(日) 00:25:46.51 0
She actually grows seaweed as her forelocks so you can harvest some from her every morning.
10: 名無し募集中。。。 2013/08/18(日) 00:27:26.79 0
Sometimes she says things like "come on!" when she wants to be fed, so at times like that you have to remember to slap her so she doesn't grow up to be too spoiled.
20: 名無し募集中。。。 2013/08/18(日) 01:59:59.80 0
I used to have one, too, but I threw it in the ocean when it became an adult.
29: 名無し募集中。。。 2013/08/18(日) 02:10:00.88 0
It runs away when you try to talk to it, and it gets lonely and starts to cry when you leave it alone. What a bothersome animal.
37: 名無し募集中。。。 2013/08/18(日) 02:40:29.19 0
Not many people know this, but you don't necessarily have to raise it underwater. We keep ours in a birdcage.
40: 名無し募集中。。。 2013/08/18(日) 02:42:31.34 0
It can gain weight unexpectedly fast, so make sure not to give it too much to eat.
42: 名無し募集中。。。 2013/08/18(日) 02:45:06.09 0
It will die if you don't pull its lower lip once a day, so be careful about that.
44: 名無し募集中。。。 2013/08/18(日) 06:16:34.38 0
That's way too bothersome. (laughs)
46: 名無し募集中。。。 2013/08/18(日) 07:16:23.70 0
It sometimes goes out to get things from the McDonald's morning menu even though no one asked it to, so be careful.
47: 名無し募集中。。。 2013/08/18(日) 07:38:16.42 0
Yeah, if you take proper care of it, it grows up to be spoiled. Our Nakajima is like that, too.
50: 名無し募集中。。。 2013/08/18(日) 07:43:06.78 0
It's funny how it starts moving about all confused in its water tank when it hears the chirps of a Tsunkubird.
51: 名無し募集中。。。 2013/08/18(日) 07:45:01.87 0
Never put one in the same cage with a Maimi.
53: 名無し募集中。。。 2013/08/18(日) 07:48:59.99 0
The other day I went out looking to buy one but was surprised to find none. Then I noticed it'd just gone over to mingle with the Berryfish. (laughs)
54: 名無し募集中。。。 2013/08/18(日) 07:50:09.58 0
When it goes "Say! Come on!", be sure to respond to it no matter how bothersome it may be. Otherwise it'll get sulky.
56: 名無し募集中。。。 2013/08/18(日) 08:54:17.19 O
When you put a Maimi near it, it'll start to camouflage herself to resemble Maimi to the point where it becomes difficult to tell them apart.
57: 名無し募集中。。。 2013/08/18(日) 09:05:17.55 0
If it hides and refuses to come out, start talking about something exciting near the place where its hiding and it'll be all "what's that, what's that?!" and come out by itself.
60: XXXXXXXXXXXX 2013/08/18(日) 10:17:53.21 0
It's such a bother to get the license for keeping one as a pet. That girl at the government office, Yajima? What the hell is her deal anyway? She's so thorough about asking what you plan to do with it.
61: XXXXXXXXXXXX 2013/08/18(日) 10:24:04.41 0
It's annoying how it's always asking for hamburgers or Chinese food. Even though it's nothing more than a Nakajima…
63: 名無し募集中。。。 2013/08/18(日) 10:43:35.12 0
Please don't release any more Nakajimas into the wild.
64: 1 2013/08/18(日) 11:19:17.09 0
Thank you all for your advice. She was getting annoyingly loud so I gave her some snacks and now she's fast asleep. Just one more thing: how do I determine if it's a male or female Nakajima?
65: 名無し募集中。。。 2013/08/18(日) 11:40:58.64 0
Didn't you know? 99% of all Nakajimas are female.
68: 名無し募集中。。。 2013/08/18(日) 11:50:13.13 0
When a Nakajima transforms into a male, it becomes a Yaji.
74: 名無し募集中。。。 2013/08/18(日) 14:29:11.69 0
Ours is shouting "yurushite nyan nyan nyaaan!" all the time… I wonder if it's okay? Plus, it's face is really pale, almost like an albino… could this be a new species?
75: 名無し募集中。。。 2013/08/18(日) 15:06:35.83 0
>>74
That's probably a Momoko from the Berry family. It should look completely different from Nakajima of the Cute family.
76: 名無し募集中。。。 2013/08/18(日) 15:22:23.55 0
>>75
Thanks! Man… and I kinda thought its legs were strangely short, but I guess this explains it… orz
78: 1 2013/08/18(日) 16:42:24.06 0
Mine seemed as if it was exhausted by the hot summer, so I played it this song "Dance de Bakoon!" by a group called °C-ute and it began moving the lower half of its body.
82: 名無し募集中。。。 2013/08/18(日) 19:38:20.18 0
While we're on the subject, can someone tell me how you take care of a Kumai-chan? I almost bought one at the pet store the other day, but I decided to go for a Nakajima after all.
83: 名無し募集中。。。 2013/08/18(日) 20:50:33.57 0
Keeping a Kumai-chan in a Japanese-style house is impossible. I can't even believe you found a Japanese pet store that had one on display to be honest.
84: 名無し募集中。。。 2013/08/18(日) 21:15:29.33 0
You'd need a multistory mansion style house with an atrium to be able to keep a Kumai-chan.
85: 名無し募集中。。。 2013/08/18(日) 22:33:52.54 0
When I bought my Kumai-chan, I had no idea it was going to get that big. With tears flowing down my eyes, we had to go the forest where I then released it at the Rock River. It traumatized me for life.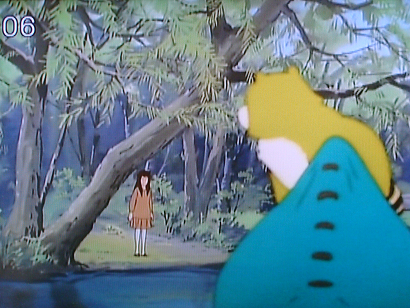 Henkka: Man, keeping Hello! Project members as pets sounds like such a pain in the ass. Maybe it's best to just stick with holding captive children not involved with the entertainment industry.

Source: http://helloprocanvas.ldblog.jp/archives/31797922.html (jp)