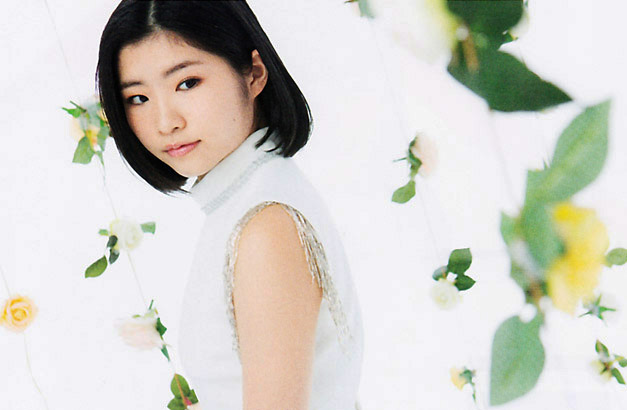 Kaga Kaede
November 30, 1999 — Tokyo
2016/12/12 ~

Kaga: I'd already spent four years in the Kenshuusei — I thought that by this point, there was no longer any chance of me getting into Morning Musume. So in all honesty, when they made that surprise announcement there was also a part of me thinking, "…why now?" Still, regardless of the timing, I was glad to have made it into Morning Musume — the group I so loved — and ever since my activities in the group started it really has been so much fun.
Me? In Morning Musume?
— The 9th, 10th, 11th, and 12th generations have all had Kenshuusei members join the group. Still, you had no idea that you would be the next one in line, right?

Kaga: Yes. I'm the same age as Kudo Haruka and Sato Masaki. I was nearing the limit of how long one can be in the Kenshuusei. Once I got in, I felt that I had to seriously think about why I had been chosen and to do my best to catch up to my seniors.
— Was there any of that sense of being the "newbie of the group" in your case?

Kaga: I had no time to depend on others or act like "the new member." I wanted to immediately be an asset for Morning Musume and my seniors. I wanted to make myself useful. But in reality, even now when I'm talking to my seniors I still find myself holding back, and there are things I don't know how to do in terms of our performances.
— Well, it's only been a year since you joined the group.
Kaga: But singing and dancing are not issues that have anything to do with seniority. I want to do things that my seniors can't yet do, and I feel that it's okay for me to even steal things from them if possible. I don't mean that as in disrupting the balance within Morning Musume… I'm just bursting with energy, in a good way.
— In order for you to think that way, you first had to break out of your Kenshuusei shell.

Kaga: In the Kenshuusei, everyone stands on the same stage, everyone dances in a uniform way, and ultimately you're all rivals. It's a competition to see who can grow the fastest in order to debut. The only thing on my mind back then was wanting to stand out. But Morning Musume isn't like that.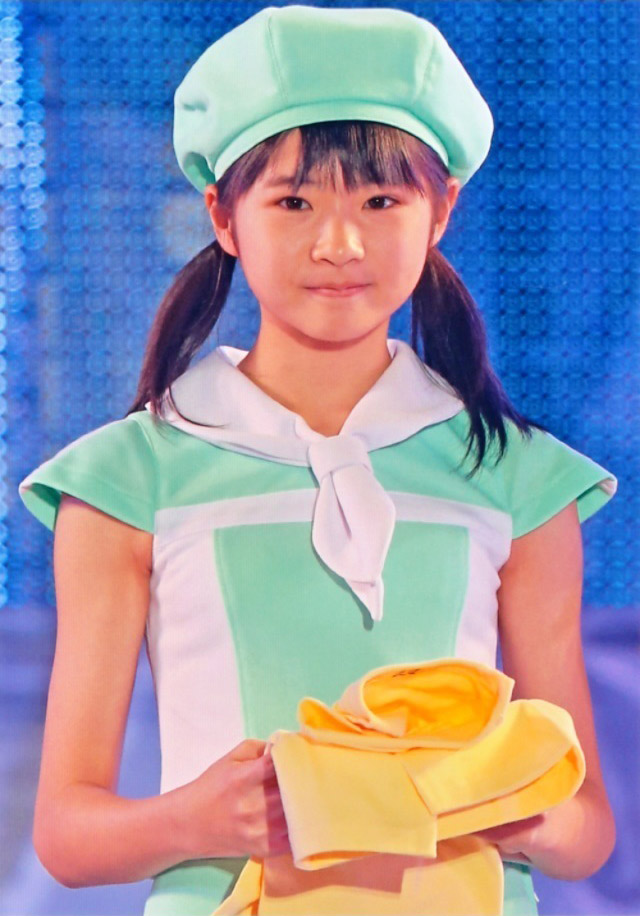 — It's a group, after all.

Kaga: The members are all rivals, yes. But first and foremost we're members of the same group so there's mutual trust — we wouldn't be able to do the formation dancing without it. When you move, you have to always be conscious of where everyone else is. That's a feature of a group with many members like Morning Musume, and it was something I struggled with in the beginning. But seeing all my seniors who could handle being in those situations, I felt that I had to become that way, too.
— So being by yourself versus being in a group are two completely different things.

Kaga: Yes. It really is challenging. But every day I'm finding new challenges for myself, and as I practice, time keeps passing. That makes me glad. Discovering new challenges makes me glad, and overcoming those challenges and feeling myself improve is so much fun.
1/20th of 20 Years

— When did you first come to like Morning Musume?

Kaga: Back in elementary school there were kids around me who liked other idol groups. But I myself had only ever cared about Morning Musume. They always had those intense dances… They'd get all sweaty and fired-up and their singing was so forceful. I liked "un-idol-like idols," and to me Morning Musume was the culmination of that.
— Might this have been around the Morning Musume '14 era perhaps?
Kaga: The very first thing that drew me in was Sayashi Riho's dancing, but then I went digging for even more videos and I got totally hooked on Takahashi Ai. I bought her graduation concert DVD and watched it, and her aura was just so overwhelming. But just when I'd started thinking they were this super cool group, I saw the choreography to "Renai Hunter." It was kind of weird… but also kind of cool. It was those kinds of unexpected things that attracted me to them.
— If that's the case, then you must have felt like you were dreaming when you got to perform with the OG's.

Kaga: My mother had been a fan of Morning Musume before I was even born. Their songs would always be playing in the car — that's why I'd always be naturally hearing their songs from the time I was born. So yes, I was definitely nervous when I first got to meet those very same people. It wasn't just an "aura" — it's like there was this light emanating from them. It hurts to admit, but when I perform alongside my seniors… it's my complete and utter defeat. I'm just a normal person. I feel like any other regular person when I'm around them.
— They were there in the beginning of Morning Musume's history, after all.

Kaga: Selling 50,000 copies of "Ai no Tane" in five days… If we tried doing the same today, there's no way we could succeed. I regret not having experienced that in real time.
— Would you have wanted to oversee their history from the beginning?

Kaga: Yes. Also, just the fact that we're now singing "Ai no Tane" feels so strange and mystical to me. We get to sing the song all thanks to our seniors who came before us. We have to feel grateful for that. It's amazing how the colors of songs never fade — they always remain a link to history.
— It's great that you got to experience the 20th anniversary.

Kaga: As someone who has only experienced 1/20th of the group's history, it's rude of me to even talk about said history. Even me singing praises about how amazing the group is would just be all talk. It fdoesn't feel real. I think the only thing I can do at the moment is to try and give something back through my performances.
When we did all those great old songs on our last fall tour, I'd gather data to try and figure out every little detail about them. The other members too felt the same way as me, and we all spent so much time on every single song. And the same thing for our spring tour. I'd figure out what all my seniors were thinking about when they first sang those songs and I'd make time to think about them and put even more power into them.
— Did you make any discoveries through that process?

Kaga: Rhythm. That unique Morning Musume rhythm was ingrained into the group because Tsunku♂ was so strict when he would make the past members learn it. I already knew this from before, but listening back to the songs, I was having trouble fully understanding the rhythm.
Although I was never taught about rhythm directly by Tsunku♂, my seniors told me how the soles of your feet should never be stuck to the ground because then you can't keep the beat. That's something that was taught to them by Tsunku♂, and I see it as a teaching that has continued to be passed down from one member to the next. That's how conscious you have to be of rhythm when it comes to the songs of Morning Musume.
— It's one of Morning Musume's most important characteristics.

Kaga: I think Tsunku♂'s teaching are at the center of Morning Musume's 20-year history. That's why it's an honor to be rigorously taught those things by my seniors — who were themselves directly taught by Tsunku♂. Because if it wasn't for that, when our seniors above Oda Sakura had all graduated there would be no more people left in the group who could understand that rhythm. Morning Musume wouldn't be Morning Musume anymore. I'm very worried about the prospect of that, and so I want to properly inherit the rhythm in order for that to not happen.
— Tsunku♂ is responsible for having created so much — not only the rhythm.

Kaga: Our way of singing, too. Morning Musume has expressiveness and ways of singing that other groups don't. And our spirit as well. Considering how our seniors were fighting it out under much more difficult circumstances, I wonder what they think of our performances now that Tsunku♂ is no longer teaching us. I'm a bit worried about that.
— Have you received any advice from the OG's themselves?

Kaga: When Takahashi Ai came to see our performance at the Nippon Budokan, she told me, "it'd be great if you could learn to express things with your eyes." I was happy to be told something like that directly by her. I was all in high spirits and stuff. But afterwards, I realized just how difficult the task was — "expressing with your eyes." But since it was something I definitely wanted to learn, I was more conscious of it during our following fall tour.
— How did you take on that task specifically?

Kaga: First, I'd read the lyrics over and over again and think about how I would link my singing to my dancing. Then, I'd think about how I could go about expressing the lyrics with my eyes. It was so much fun noticing how I'd become more aware of the "vision" of the song and how my way of expressing it would change. Had it not been for Takahashi saying that to me, I don't know when I would've been able to change like this.
We have so many seniors who give us advice. This is the good thing about ours being a group with a 20-year history. It's one of the strengths of Morning Musume — a group that has had 41 members.
Morning Musume is Morning Musume
— Being a current member of the group, how do you see the present situation of Morning Musume?
Kaga: Our fans really are so kind. There's so much more that we wish to convey, and yet it feels like all we ever get to say is "thank you." It's thanks to their kindness that the group has been able to go on for 20 years. And I'm so grateful to our seniors, too. I want to pay them back somehow, and the first thing we can do is to keep Morning Musume going. But of course I don't just want to keep going — I want us to do things that we can't yet do. It's important for us to always be creating new forms of Morning Musume.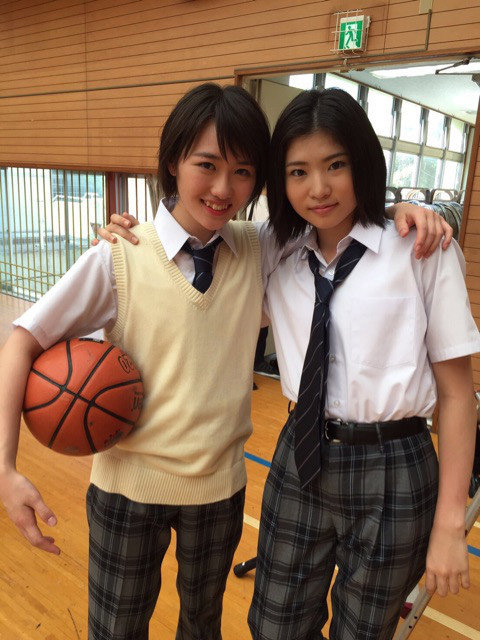 — How do you want to go about creating those new forms of the group?

Kaga: For example, following Kudo's graduation last year, the other members shouldn't aim to simply fill the hole left by her, but to find a personality and a role different from hers and push their way to the front. That's a first come, first served kind of thing, so I myself want to find something new as soon as possible.
— It can be difficult to find those new things.

Kaga: Makino Maria is tall and pretty and so her dancing really stands out — your eyes just go to her naturally. Sato's singing draws you right in, and I could never imitate her expressiveness. I'm not making excuses — I'm just saying that, instead of competing with them on those fronts, I'd rather watch them for inspiration to try and stand out in some other area. I think if I could find my own strong suit, then I could really start showing my individuality.
— Mutual encouragement is good — you just have to make sure to do it right.
Kaga: I'll steal good things from them and make them my own. Of course I do — that's a privilege we get to have as the juniors. But I think you can also grow through trying to be more individualistic, and if you keep doing that, you end up raising the performance level of the group as a whole.
— If you were to keep improving yourself like that, what sort of a future do you imagine awaiting you?
Kaga: I don't know what kind of a group it's going to be in the future, but I do think the current group is the way it is because Kudo graduated. It's a group with graduations and new members joining, so whenever someone graduates, it changes and evolves. That's how it's going to be in the future, too. Whenever someone leaves or joins the group, it always changes.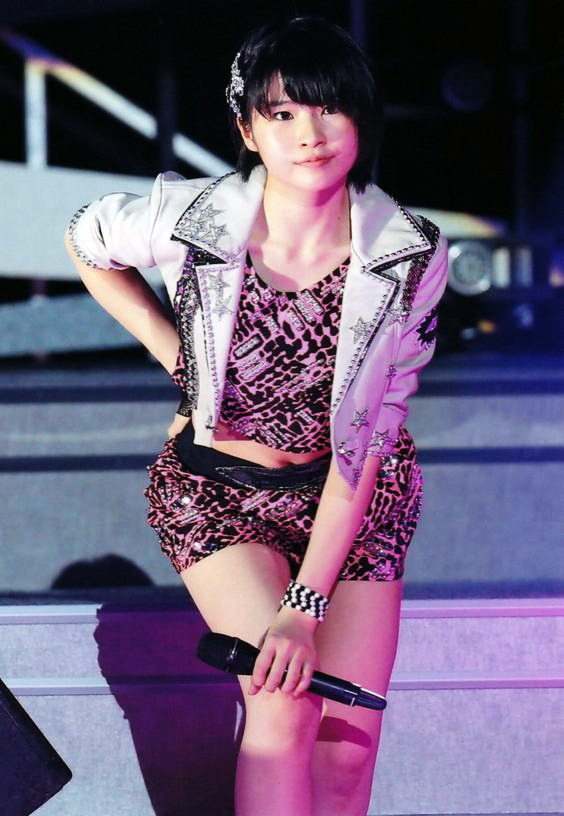 — So it's always an opportunity for change.

Kaga: Yes. Right now, we're pouring all our energy into our dancing, our singing, and our performing. But if someone who was really good at comedy joined, we might instead become a group that can make people laugh. Or if a member who was great at singing was to join, it's possible we might just abandon the dancing and become a singing group.
That's how flexible of a group Morning Musume is, and it's because it's always kept changing that the group is 20 years old. The strength of Morning Musume is how its members can handle any and all possible changes. That's how mentally prepared we all are to keep it going. The one thing I can say for sure is: no matter what form it takes, I'm always going to love Morning Musume.
— It's hard to believe that you've only witnessed 1/20th of the group's history considering how passionately you talk about your love of the group. Lastly, what is Morning Musume to you?

Kaga: It's the sustenance of my life. I get to sing songs as a member of Morning Musume and I do my best, but the part of me that's simply a fan of Morning Musume is definitely still there, too. I should be the one giving courage to the people listening, but the truth is that I still receive courage from the group myself. So right now I'm just doing my best to try and get closer to that ideal.
Morning Musume is part of my life every single day, and I get to have a happy life thanks to that. So what I want to do is try to convey this feeling that I now get to feel through the songs that I'm a part of. I want to become the sustenance of life to everyone who loves Morning Musume.
My Song
"One Two Three"


Kaga: The first time I saw Sayashi, it was in the music video to this song. The choreography and the dancing was so cool that I still can't forget the excitement I felt after I'd finished watching it. I'm happy how I now get to sing this song myself, and I want to do my best to get even more lines and present the song to everyone that way!