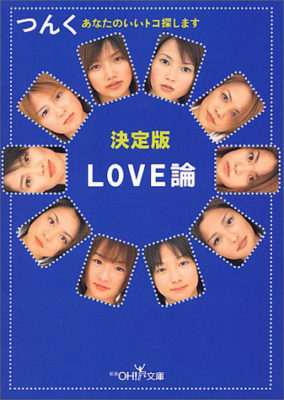 Countryside calm or metropolitan bustle?
I think quite a lot of girls who don't live in the very busiest suburban cities — even if they're not from a complete countryside area, but just somewhere where people lead even slightly more laidback lifestyles — might've been surprised upon first seeing Goto Maki, one of the additions to Morning Musume.
Goto is someone who entered the world of show business quite literally out of nowhere. Yet, from the very beginning, she's had the freshness and the looks of someone you could line up with other celebrities and she wouldn't look out-of-place at all. Sure, some of it is thanks to her naturally lovely facial features and her nice figure. But frankly, I think a lot of it has to do with the fact that she's a Tokyo girl. In addition, she has older sisters who are quite a bit older than her, making her seem mature for her age — but not in a bad sense of the word, mind you: she's just your average Tokyo girl who became fashionable thanks to the influence of her big sisters.
Someone like Goto might go, "well, summer vacation's started and all — I guess I'll try dying my hair blonde!" But if it was a girl from the countryside, dying your hair blonde would be a momentous decision. People all around town would be rumoring about you. "Did you see what the girl from that house did?" Her parents would be crying, begging her not to go through with it. This is something that would be a non-issue for Tokyo girls.
Assuming your parents weren't the abnormally bossy type, they'd think nothing of it if you showed up one day, going "I decided to change my hairstyle!" To a girl like that, it might be similar to something like the countryside girl simply getting her nails done. This might sound unthinkable to anyone from the more rural areas. I can see it being an issue even for someone living in a larger suburban city like Osaka. I really think it's something you can only get away with if you're one of the big city, Tokyo girls.
To Tokyo girls, places like Harajuku and Shibuya are part of their everyday lives. Even the girls who live further away from the city center will still feel inclined to go to places like that for fun on weekends or on days when school ends early, like it's no big deal. When girls from the countryside witness sceneries like that — things like the Shibuya Crossing or the signboards around Center-gai — they'll be going "oh wow, it's just like on TV!" The whole city is filled with places like that. Those girls would feel euphoric. "That's the store I saw in that fashion magazine the other day!" "I'm getting a haircut from that great famous hairdresser everyone's talking about!" "That's a real-life ganguro high school girl walking over there!"
Just walking around the city, they'd see countless of ordinary people who looked ridiculously cute; girls who looked like models with impeccable fashion taste. While checking out some random boutique, it wouldn't be anything out of the ordinary to come across some celebrity. There are people out there in swarms; all kinds of events happening concurrently; TV crews filming things. To a girl from the countryside, it'd seem like there's some kind of a festival taking place in Tokyo every single day. But to the average Tokyo girl? It's just another day in Tokyo.
In Goto's case, she's been accustomed to daily life in a place like that — that place called the "center of Japan," the "Great Tokyo." It's only natural for her standards to be higher. I would guess that, to someone like her, that refined fashion sense and the blonde hair must feel completely natural. That, paired with her innate curiosity as well as the influence of her big sisters, must've been what shaped her in a very natural way to become what she is today.
That's why even when she wears something she'll have just thrown on without a thought will still be relatively fashionable. It's not the kind of fashion sense you would see in someone who reads a lot of fashion magazines or goes to a vocational school to learn about Western-style clothing — it's something more natural; something effortless. Even when it's something her mom happened to buy for her because it was cheap, it'll probably still be something quite fashionable.
I feel like most girls from around the Tokyo area are like that. I bet if you got five or six of Goto's friends together, they'd all be somewhere around her level. They'd look so refined together, if a countryside girl was to see them she'd probably think it was some group of celebrities. Goto, especially, was born and raised in the Shitamachi area of Tokyo, in a neighborhood where many successive generations have lived for many, many years, so it's fair to call her a "true" Tokyoite. Among the people living in Tokyo, many of them are people living in new residential areas, with parents who originally came from the countryside who now take special pride in living in Tokyo, acting like they're a part of some elite group.
Goto couldn't be the furthest thing from that. She's a true Tokyoite. Perhaps that's why she gives off an air like she isn't even particularly aware of it.
It could be that even prior to her debut, she never considered the world of entertainment to be some unreachable thing. She probably took part in these auditions without much thought. That's not to say that she was carefree about it, but rather that the entire idea of taking part in an audition wasn't that big of a deal for her. If it was a girl from a more rural area, she'd have to move to Tokyo and live by herself if she passed the audition. That's no easy thing for her parents to accept. To her, not only would Tokyo and the world of entertainment be these far-off, distant places, they'd also feel like frightening places. Her parents would be worried sick. I can easily picture the mother calling for a family meeting and shedding tears while begging her daughter not to go.
When I think about it like that, I can see that it takes a lot of courage for someone from the countryside to take part in our auditions. It's a big decision to make. But to someone from Tokyo, they're already in an environment where it's easy for them to do so, and even mentally it's probably no big deal at all. That's how I think it was for Goto, too.
I don't know if this quite works as a supporting argument for what I'm saying, but even after Goto had passed her auditions and society as a whole all had their eyes on her, she still didn't have a sense of something amazing having happened to her.
She was at a McDonald's with an older, relative boy of hers and his friend, munching on a burger while sitting in a seat by the window, in full view from the outside. Also right outside was apparently a huge Morning Musume billboard. Even when a crowd of people started forming outside, with everyone going "hey, that's Goto Maki!," she was wondering what was going on. She had no idea it was because of her. Even after she'd gotten into Morning Musume, she had no self-awareness as far as how much attention was now placed on her and how big of a thing that was — nor did she care very much, for that matter.
But although Goto may be a very calm person mentally, there are times when even she feels pressured, and she never fakes it to seem like she doesn't. There was a bit like that aired on ASAYAN. When Goto was about to get on stage for her first live performance, she was crying so much right up until the beginning, she was actually shaking. She has a great poker face so you don't often see it, but she can feel very stressed-out at times, too.
But even though she'd been crying so much, she managed to get up on stage exactly on schedule. Even when you assume she's just going to get curled up in a ball and keep crying, she'll be able to break out of it with confidence. In a way, when I see her doing so, she strikes me as someone who is actually very much the right kind of person for the world of entertainment. She has that certain star power about her.
---
Goto, the stereotypical Tokyo girl. Aside from her talents, she also possesses this appeal often seen in Tokyoites which I've described above. But just like how people from Tokyo have that appeal about them, people from more rural areas have a bunch of charm points about them as well. Thus, not being from Tokyo is not something to have any weird complexes about.
While the kids in Tokyo grow up as they do, the kids in the countryside will live their lives experiencing all kinds of things which the kids in Tokyo never will. There are lots of great things about that lifestyle which you will surely have acquired. Thus, if you feel somehow inferior to people from Tokyo, I believe it's simply a matter of you not having discovered those great things about yourself yet.
When someone from the countryside first starts living in Tokyo, it might be easy to start to feel all kinds of complexes popping up. However, you can rest assured that most of the people actually living in Tokyo are originally from the countryside themselves. All those people you see walking around, thinking how fashionably they're dressed? Many of those people, too, came from the countryside. All those Tokyo people creating the leading edge of things in fashion or in the music industry or in the media, many of them are from the countryside. Even the average, stylish Tokyo people you see on the streets are often actually from somewhere else. Ultimately, it's often us people from the countryside creating and supporting new trends. You could say it's our strength.
The way you should think about it is: you're coming to Tokyo to create Tokyo. Forget about any inferiority complexes: just live in Tokyo while maintaining those good, country bumpkin bits about yourself.
I, for one, am a big fan of country bumpkin girls. It's often the case that when I go to the apartment of a girl who came here from the countryside, I'll be wondering why on earth she doesn't have any curtains. Then it becomes my job to educate them. "You're living on the first floor of a Tokyo apartment. Do you realize that people can see you?!" When you see them being so defenseless, it's easy to see that they must've grown up in a community of great people. Surely she's never had an experience like having her bicycle stolen just for leaving it unlocked somewhere for a while.
To tell you the truth, I'm actually originally from a busy part of Osaka — like the Shitamachi of Osaka — and I feel very proud of my town. So you could say I might not fully understand the feelings and complexes of a true country bumpkin. Among people like that, there are some who absolutely refuse to state the name of the place they're originally from, even if it's just their friends asking. Perhaps they're from somewhere way worse than I can even imagine.
However, I really do wish people wouldn't try to hide where they're from, even if just for the sake of their hometown. People should be proud of their hometowns. They should love the place where they're from. That's one of the big reasons I wanted Morning Musume to sing the song "Furusato."
When we were recording this song and I was doing my demo vocals, Abe was weeping as she listened. "Uwaaahhh!" When I asked her what was wrong, she said there was something about the song that just touched her. Abe, having moved from Muroran to Tokyo to live all by herself… she herself must've felt stressed about all sorts of things.
Moritaka Chisato has written songs like "Kono Machi" and many others where she sings about her hometown. To people who become stars like her, I'm sure writing songs like that is of great help to them on a personal level.
Morning Musume has several girls who have something that's a bit awkward about them; members who aren't quite as honest about their feelings as they could be. I've always told them they don't have to force themselves to appear cool or refined, and I've told them there's no need for them to try and hide their dialects. But whereas Vivian and Marcia are funny for their weird Japanese, I've warned Nakazawa Yuko to not think it's the same thing as one's dialect. "Don't think you'll be funny because of your Kansai dialect. Because if you do, and you are well-liked, you're going to go in a different direction than the others in the group." And yet, I still encourage her to speak in her Kansai dialect.
If you have a natural dialect and you're able to have a normal, flowing conversation, I think you should keep speaking like that. There's something lovable about dialects and how you can convey nuances that you just don't get with standard Japanese. That's why I really enjoy hearing them.
Maybe it's just that I personally really like dialects. When I get to go to rural areas on tour, I always make it a point of listening to how the locals speak. But if I happen to go to a slightly more high class club in the area, it's often the case that the girls there will be speaking in standard Japanese. I hate that. I've chosen to go for drinks at that place specifically, so I want to hear their strange dialects and get all excited, going "Huh, what was that? What'd you say?"
I really want to be spoiled by those warm, lovely dialects of those countryside girls.