1: 名無し募集中。。。 2016/01/04(月) 19:11:57.90 0.net
"It's all thanks to my husband that I'm able to enjoy a fun day-to-life life. He's very careful about money, and it's thanks to him that for the first time ever I've been able to put aside some money into savings. (laughs) In our household, it's more like it's the husband playing the role of the wife. (laughs) I'm incredibly thankful to him!"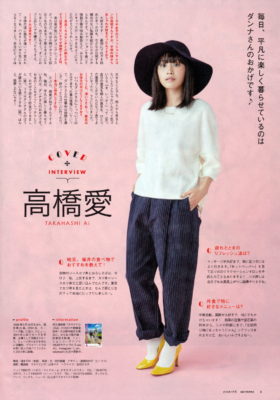 5: 名無し募集中。。。 2016/01/04(月) 19:14:03.06 0.net
It's well-known how Takahashi is with money. She's been known to order every single item on the menu at family restaurants and stuff.
8: 名無し募集中。。。 2016/01/04(月) 19:15:01.78 0.net
Even Junjun once told her she spends too much money on shopping.
4: 名無し募集中。。。 2016/01/04(月) 19:13:05.74 0.net
How on earth was she living her life before?
13: 名無し募集中。。。 2016/01/04(月) 19:17:40.66 0.net
Well, she spent a lot of money in clothes — that investment is now paying off nicely.
16: 名無し募集中。。。 2016/01/04(月) 19:18:32.70 0.net
To think that someone like Reina is able to keep control of her finances whereas Takahashi is a big spender… It's like they got the roles all wrong!
21: 名無し募集中。。。 2016/01/04(月) 19:19:42.96 0.net
>>16
Takahashi was always bad with money even when she was a member.
18: 名無し募集中。。。 2016/01/04(月) 19:18:50.25 0.net
Someone said Takahashi always had a different wallet every time they saw her.
31: 名無し募集中。。。 2016/01/04(月) 19:21:31.71 0.net
She used to buy clothes that she ended up never even taking out of the shopping bag.
37: 名無し募集中。。。 2016/01/04(月) 19:23:16.32 0.net
Making X times more money than the average person and never setting any money aside for a rainy day… yeah, she's a shopaholic.
41: 名無し募集中。。。 2016/01/04(月) 19:23:50.45 0.net
Niigaki exposed Takahashi's wasteful habits when they were still members.
51: 名無し募集中。。。 2016/01/04(月) 19:25:58.36 0.net
I bet now she just gets all her clothes free from WEAR or the brands themselves.
56: 名無し募集中。。。 2016/01/04(月) 19:27:27.44 0.net
2011 Tanaka Reina Presents Bus Tour (Tanaka, Michishige, Mitsui)
At the fan gathering:
Tanaka Reina: "Ai-chan is so wasteful with money, no amount of it would ever be enough for her. It'll be bad if she ever gets married."
92: 名無し募集中。。。 2016/01/04(月) 19:36:26.63 0.net
I'm worried about her husband.
70: 名無し募集中。。。 2016/01/04(月) 19:32:41.04 0.net
Well, that's women for you. If anything, we should be praising her for not being in debt up to her ears.
72: 名無し募集中。。。 2016/01/04(月) 19:33:16.12 0.net
In this thread: "not saving money = bad."
No wonder Japan is in recession. (laughs)
79: 名無し募集中。。。 2016/01/04(月) 19:34:03.72 0.net
Thinking about it now, someone like Mitsui probably didn't make even a fourth of what Takahashi did, and she still had enough to go study abroad no problem.
85: 名無し募集中。。。 2016/01/04(月) 19:35:14.56 0.net
Stress relief through spending money. That's something I wish she would've taught Sayashi.
Source: http://colorhello.blog.jp/archives/1049191126.html