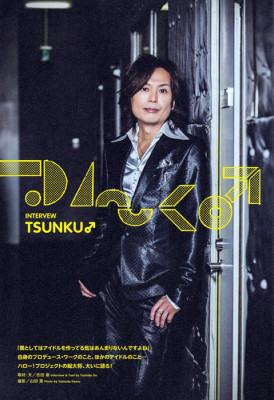 — I've heard so much about you from Lily Franky, who helped organize Sharan Q's concerts.

Tsunku♂: Lily is the first celebrity I met after moving to Tokyo. Well, I don't know if celebrity is the right word to describe him, but he was the only person I could depend upon. He was like my life coach. Lily Franky was the one person who would listen to whatever was on my mind.
— Lily's told me you'd force him to watch Minami-Aoyama Shoujo Kagekidan's videos with you.

Tsunku♂: That's right. (laughs) He liked idols, too, but mostly just the older ones. So I'd show him those videos and be all, "you have to get to know some of these newer idols, too!"
— Later on, you had Canary Club and Tokito Ami cover their song "SWEET & TOUGHNESS." What made you get into that group in the first place?
Tsunku♂: Not to sound like the lyrics of "Single Bed," but at the time I was really actively trying to resist being exposed to society's trends. Before we made it big, I never watched TV, never listened to the radio, and whenever I happened to hear a song that was popular those days, it made me so annoyed. Like, "why is crap like this popular?!" Anyway, our record label, BMG Victor, ended up merging with Fun House, Nanshou's (Minami-Aoyama Shoujo Kagekidan) record label. They had a bunch of samplers laying around so I just grabbed one, not thinking about it. I checked it out without knowing what I was even looking at, and I just got so hooked. It was something even Nanshou themselves were saying back then: "we have cute girls, but we also have ugly girls!" There was something so funny to me about that balance of the group. I thought that was pretty groundbreaking for an idol group. The group had members that made you think they'd be much better off without them!
— I see!

Tsunku♂: But having those girls gave the group flavor. I think it's similar to what you have now with AKB. There are both hits and misses, but that's what gives them their balance. That kind of thing was rare those days.
— So you're saying that idol groups shouldn't have just the cute girls.

Tsunku♂: Well, Nanshou never did end up becoming hugely successful themselves, but still, I thought that was a good idea they had, and their music was interesting. I didn't follow other idols that much, but I was very into them.
— Would you say they influenced how you yourself produce idols?

Tsunku♂: Subconsciously perhaps. But it was through them that I became friends with the president of Space Craft, and he was a guy who put 100% into producing the group. He had a similar definition of idols as I did, and he'd talk about stuff like the age when girls "bloomed." That really struck a chord with me, and that's what later led to Canary Club and stuff.
— I'm pretty sure you're the only person I've ever met who retrospectively praises Nanshou this much.

Tsunku♂: Really? (laughs) They were great.
— You actually inspired me to start listening to them.

Tsunku♂: Seriously?! What'd you listen to?
— I bought their two albums for starters, and I have to say you're right: it's good stuff.

Tsunku♂: That liveliness, right? Especially with today's recording systems, it's a piece of cake to record the individual parts of 30 different people in one go. But back then — especially with their many members — I bet they just did it by having two or three members record their parts properly, and then for the other 20 or 30 girls they'd go "okay, just sing it kinda like this" and they'd hit record. That musical-like vibe, as if the mics were all turned off, that was really fun. You can almost hear how hard the recording directors must've been working. These days you have limitless tracks to record on, and even a group with as many members as AKB can record songs no problem.
— So you've basically always liked idols.

Tsunku♂: Well, I wasn't an otaku at all — idols weren't like a be-all-end-all thing for me. if anything, Lily was the bigger idol fan in that sense. But I was from the generation of Momoco and BOMB magazines, and the former gave birth to lots of new idols. For me personally, though, no idol was ever greater than Kikuchi Momoko.
— Komuro Tetsuya was an avid reader of Momoco, too, and he's always professed to being an idol lover.

Tsunku♂: Yes. If that wasn't the case, it's hard to believe he would've ever discovered Tomine Arisa (Tomomi Kahara).
— Looking back on Komuro's produced artists, it's like his "style" is to take second-rate idols and turn them into full-blown artists.

Tsunku♂: Right. It's like he brings them back to life. He isn't that interested in working with new talent, that man. He prefers girls who've already shown that they can deliver results. He did the same thing with Mizuki Alisa as well.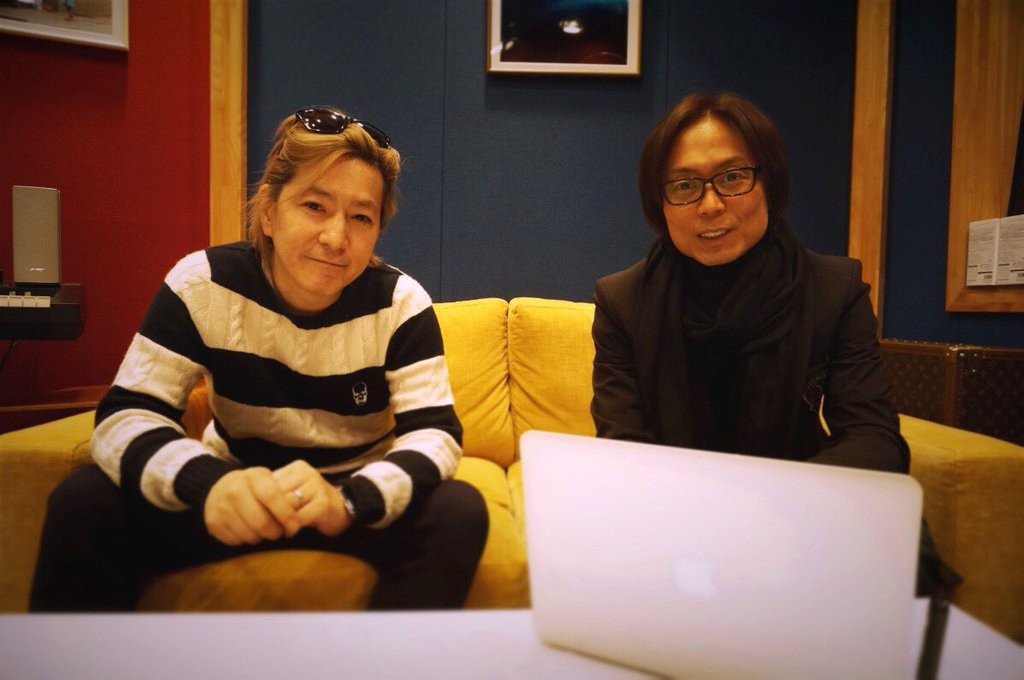 — Would you say that you're like his opposite? Are you more drawn to complete amateurs?

Tsunku♂: Yes, I'm completely okay producing girls even if they have zero previous experience. That makes it feel fresher for me personally, too.
— Was it originally your goal to be producing idols one day?
Tsunku♂: No, I don't think so. I don't believe I ever thought of it even as a distant career possibility. I didn't expect to ever be someone like Aku Yuu — I never found myself watching Star Tanjou and thinking "I want to be that guy!"
— Hahaha. So you never felt like being one of the judges on the show. (laughs)

Tsunku♂: Right. I didn't see myself as the Aku Yuu or Tokura Shunichi type. And actually, it was really only with Komuro that the word "producer" first became widely used in Japan.
— Similar to that, though, Hello! Project and Morning Musume also originally started as just a part of a bigger project. I bet you never expected them to get this big, or that you'd still be involved with them today.

Tsunku♂: That's true. I'm very lucky. I love music and I obviously want to keep creating it, too.
— So let me ask you: for you, what does the word "idol" actually mean?

Tsunku♂: Well, I think the definition of the word "idol" is constantly evolving. Even I myself wonder what the profession of "idol" actually entails these days. When people from my generation were in elementary school, we had Star Tanjou and we basically just thought that the girls who came forth from Star Tanjou were idols. They'd sing, they'd maybe develop a little, and you felt like cheering them on. But I think everyone felt that you needed that something to make a proper idol, whether it was that she was a good singer, or that she was just out-of-this-world cute, or something else that was unique about her. But then that all changed with Onyanko Club, and suddenly it was like it was better if there wasn't something unique about the girls. It's after this point that what's now called the "Ice Age" of idols started. But actually, it's not like the idol culture was completely dead even during that era.
— There were great groups out there even around that time.
Tsunku♂: Yeah, there were — amidst all the confusion. It was thought that groups like CoCo and ribbon weren't popular at all, but even their singles were selling in the hundreds of thousands.
— And they were touring big concert halls.
Tsunku♂: Exactly. It's just that the "pie" at that point had become so big. Even idols like Matsumoto Iyo were selling in the 100k range around then. The concept of idols was prominent until the time people in my generation started middle or high school. But after that the landscape changed and idols just disappeared completely for a while. Wink was one of the few exceptions. They were one of the only groups kids would still mimic and look up to. But that's when the band boom happened.
— Bands pretty much completely took over the idols, right?

Tsunku♂: Indeed. But interestingly, girls like Watase Maki (LINDBERG) could've pretty much been called idols themselves in their own right. It was like musicians and idols were the same thing for a while there. Same thing with PRINCESS PRINCESS and Moritaka Chisato. They were like idols within artists. Then came the super stars like Amuro Namie who had it all — the dancing, the singing, the looks. The "uniqueness" was again in demand. SPEED was another group who answered that demand.
— I felt like Morning Musume was sort of like a counter-attack to this development.

Tsunku♂: Yes. I just wanted to bring something completely different out there. Well, back then they were probably just called the "little sister" types — though maybe Nakazawa was like the elder sister watching over her relatives. But with girls like Abe Natsumi, it felt like you were cheering on your little sisters. I guess what I'm trying to say is that the average age of people who were into idols wasn't any lower then than it is now.
— It certainly looked like it was the old Onyanko Club fans who'd been unable to let go of them, now suddenly moving on to Morning Musume. (laughs)

Tsunku♂: Right, the people who hadn't been able to let go. Like there was a kind of frustration there. "What the hell is going on? Our idols have all become impure!" And suddenly, "bam!" — they had someone new to cheer on. However, I personally feel like idols aren't something you can "make."
— That's right — you've repeatedly denied the claim that Morning Musume are idols.

Tsunku♂: "So you're an idol maker, right, Tsunku?" I'm often asked that question. But I've personally never felt that that's what I'm doing. I think people are free to call them whatever they like. Like, I don't know if the guys making K-pop think of what they're doing as "making idols," but to me, it simply strikes me as them creating their works and doing a good job of it. I like to think that I similarly just create works, and if the world sees the groups as "idols," that's fine. But to me personally, it certainly doesn't feel like I'm making idols.
— So they're just referred to as idols coincidentally. On that note, as this interview is for a single guide, I'd like to talk to you about the songs themselves. First off, throughout Morning Musume's long history, are there any songs in their discography that hold a special place in your heart?

Tsunku♂: There are so many. But, I guess after the beginning with "Ai no Tane" and "Morning Coffee," when "Summer Night Town" was completed, I think that song felt like I'd cleared one obstacle.
— It changed the group's direction.

Tsunku♂: Suddenly there were a lot more female fans in the audience. And I don't mean the "otaku" as they're known today — I mean regular, everyday girls who were going "you know what, I think I could like these girls." That continued with "Daite HOLD ON ME!" I really felt like I had something that would in time be thought of as their representative song with "Memory Seishun no Hikari," but in the end, it didn't quite get there. Personally, I believe that the vocals just weren't quite there yet. I suppose the big turning point really was "LOVE Machine." I wanted to rid myself of the frustration of not having been able to pull the song off with Sharan Q, and I really felt that I had something good with that song. The timing was right, the stars were aligned, and it just exploded.
— By the way, did you personally choose the arrangers you wanted to work with?

Tsunku♂: Until that point, we'd been working with people who'd previously worked on Moritaka Chisato. People like Maejima Yasuaki and Kono Shin, and people introduced to us from Sharan Q's Warner producer. They'd be teaching me their craft as they worked, but what with me being so busy with Sharan Q, Morning Musume, and later Tanpopo, Taiyou to Ciscomoon, Pucchimoni… There was just so much, we just didn't have enough arrangers to keep up with the pace anymore.
— And you needed more also to widen the range of the music.
Tsunku♂: Yeah. So there we were, going "what are we going to do?" Every week I'd be reading the Original Confidence magazine out of habit, and for some months they'd been running this ad for the CD of some guy called "DANCE☆MAN." I was looking at it, going "hey, there's someone's still doing music like this today. That's interesting." But strangely, it felt like I'd seen the guy before somewhere. Then a couple of months later, they were running another ad for a cover album of his, and I felt that I just had to go out and buy the CD. At this point, it wasn't that I was looking to get him to arrange something or anything like that. I just wanted to hear what he sounded like. When I finally did hear the album, it was so interesting. There was this… rottenness to the sound.
— A "rottenness"?! (laughs)

Tsunku♂: A rottenness. Or, a burnt quality. The compressor was turned to 11, to the extent that the average producer would've figured it was a botched recording. I was in love with compressors at the time so I was impressed how someone was able to do stuff like that. So I got curious and I wanted to find out who was actually behind that sound. "Was this DANCE☆MAN or just his mixer? Whose idea was this?" I wanted to meet the guy. But our schedules weren't matching up, and pretty soon in it was already the beginning of August and the deadline for recording "LOVE Machine" was coming up, and we absolutely had to meet the deadline if we wanted to release the single on September 9th as planned, and even that was pushing it. Then suddenly DANCE☆MAN comes running into the studio after a concert of his, going "alright guys, here I am!", still wearing his outfit and stuff. I was going "hey, it's DANCE☆MAN! The guy on the CD cover!"
— Hahaha. And then you immediately started recording?!

Tsunku♂: Well, we got talking, and since his own music is disco-type stuff, I guess he sort of assumed I wanted him to arrange something for Ciscomoon. "Well, no, I actually want you to arrange this thing for Morning Musume. This is the song, and this is the deadline for the arrangement." I handed him my demo arrangement of the song. "So I want it to sound kinda like this, and I want the arrangement to be kinda like that, and I want it to be played by a live band." And he just said "alright, let's do this." And this was around '99, I think, right? Most arrangers at that point would already be making demo arrangements on the computer, but DANCE☆MAN handed over this demo tape he'd made on an 8-track cassette recorder. He'd played the drums, bass and guitar all by himself. So there he was, going "okay, all done, this is the arrangement," but I couldn't make out his intentions from the demo at all.
— That must've been quite worrying.

Tsunku♂: For the brass parts and stuff, it was just him humming them. But it just sounded authentic and it felt right, so while everyone was listening to it with their mouths hanging wide open, I said "alright, we'll use this!" We started recording it right away. We did the live drums, bass, guitar, horn section, and everything else, and the song was done. And it had all started with me just flipping through the pages of a magazine.
— And that's all it took for you to ask him to arrange the song for you.

Tsunku♂: Well, see, I liked his sound. I thought it'd be just fine if the guy could create a sound like that — a guy who gets a sound like that. I was surprised to know there were even people like that left alive in Japan. Anyway, when I told him about how I felt like I'd seen him somewhere before, that's when he told me he'd been a member of JADOES. "Oh, well that explains it — I have two of JADOES' albums!"
— You'd already bought his albums!

Tsunku♂: Back in high school, yeah.
— JADOES — now there was another group with a very saturated sound.

Tsunku♂: Yeah. But every now and then they'd also appear on a show like Owarai Star Tanjou and do impressions. Like the one of Komori-granny (Komori Kazuko).
— Ah, like the "Chaka Khan rap." (laughs)
Tsunku♂: Right. They were a fun group. They were always messing around with their music, too. They'd make you wonder what on earth it was they were trying to do. "Are they trying to be like a new INGRY MONGRY or something?" That could be another reason I was drawn to him.
— I think the amazing thing about you is that even though the feedback to your work together with him had been so positive, you decided to change the group's direction anyway.

Tsunku♂: Well, we did do something like six singles together with DANCE☆MAN. But eventually it was time to move on and do something new, and then when "Chokotto LOVE" sold well, I realized programmed arrangements could be just as interesting. Matsubara Ken said he'd enjoyed working on that song, too.
— I love his work!

Tsunku♂: Yeah. He's doing nothing these days though. (laughs) The next song I really liked was "THE Manpower!!!"
— In terms of pop music, you almost went too far with that song.

Tsunku♂: Yeah. The sound on that song is pretty amazing, too. After that, my favorite song was probably "Resonant Blue."
— That's a great song!
Tsunku♂: Of recent songs, "One Two Three" marks another turning point for the group. Well, that song wouldn't have come about if it hadn't been for "Renai Hunter" coming before it, though.
— So how was Matsubara Ken appointed for the job?
Tsunku♂: Hmm, I wonder who introduced me to him. I'm not sure who it was, but someone told me they knew this guy who really couldn't sing for the life of him, but who nevertheless sang on his own demo tapes.
— Wait, so that was their entire assessment of him? That he can't sing? (laughs)
Tsunku♂: He'd fill his own demos with his harmony vocals. They just implied that he made really rough, unusual sounds. The first song I worked with him on was Taiyou to Ciscomoon's "Gatamekira," and I noticed how he doesn't use a lot of sounds. I thought it was interesting. I really don't remember how we first met though.
— Right, you just remember that he was a terrible singer. (laughs) I personally love "Egao YES Nude," and I was surprised when I first learned that it was arranged by Matsui Hiroshi.

Tsunku♂: Now that happened through me hearing a MISIA song on the radio, wondering who the arranger was, and finding out it was Matsui Hiroshi. So I brought him the song and said I wanted him to arrange it. I told him I wanted it to sound funky — not exactly like Earth, Wind & Fire, but kind of like that kind of spacy disco. I'd never known him previously, but I personally set up an appointment with him — not the other way around.
— So most of the time you'll discover the arrangers you like by chance and look them up.

Tsunku♂: Right.
— There have been plenty of sub-units throughout the years. When you created those sub-groups, did you consciously think about how you wanted to differentiate their sound from Morning Musume?

Tsunku♂: No, not really. I could be writing a song for Morning Musume, but then when it was done, I'd feel like giving it to Tanpopo or Pucchimoni instead. And the reverse of that, too. Or I could be writing a song for Melon Kinenbi only to realize that it's actually better suited for Matsuura. Sure, at the beginning I have a mental image of who I'm writing the song for, but sometimes it can change. I might sometimes have to rewrite the lyrics when that happens, though.
— Are there any Tanpopo songs that are especially memorable for you?

Tsunku♂: With Tanpopo, perhaps "Otome Pasta ni Kandou."
— I knew it! That song is perfection.

Tsunku♂: But even now I also like their debut song, "Last Kiss," in all its sadness and simplicity. Of the album songs, when I finished writing the song called "Sentimental Minamimuki" — which, if memory serves me correct, was arranged by Kono Shin — that's when I realized I could take the group in that sort of direction, too, and… Wait, how'd I first even meet that guy? Nagai Rui, I mean. How'd I first meet him? Well, anyway, here was this guy who knew how to produce this really Queen-like sound. And the coolest thing about him is, he made it all happen with this rubbish-looking effector — everything was recorded directly through it, so it was basically like an amp simulator. He'd be there in the booth, playing bass and guitar through that thing, and we'd be asking him "are you sure you're gonna get something usable out of that toy of yours?" and he'd be all "oh, you just wait, this thing sounds like the best thing ever." And the results would be exactly as promised. "Oh damn, that really does sound like Queen!" Queen, and what was the other band that guy loved…?
— He's pretty much a Beatles guy, right?

Tsunku♂: Yeah, The Beatles, too, but there was another band whose chord progressions he loved… Pilot! That's right. I loved the Pilot and Queen-type stuff he brought to the arrangements. I thought he was insane.
— Well, this is the same guy who ripped off Queen so much, he nearly got sued by them. (laughs) His songs were so similar to theirs, he actually had to pay royalties to Brian May for them.

Tsunku♂: That just goes to show you how much he loves them. He's really good at what he does. He's someone who can really emulate certain bands and that's why it was so fun working with him. When I first heard his arrangement of "Otome Pasta," I was just amazed.
— Upon first hearing the song, though, I was equally as surprised by how drastic the sudden change in Tanpopo's music had been.

Tsunku♂: That change was all thanks to Kago joining the group.
— Do you have any personal Taiyou to Ciscomoon favorites?
Tsunku♂: I really worked my butt off writing those songs, you know… I still remember how we put some Chinese in the intro of "Tsuki to Taiyou" just because RuRu was there. But at the end of the day, I'm going to say "Uchuu de La Ta Ta." That bass line seriously sounds so good to my ears. I sang all the demo vocals for that song, and even singing those felt so incredibly good.
— They were a super cool group musically, but I felt like their lack of idol-like qualities might've been an obstacle to their success.

Tsunku♂: Yes. Who knows, maybe it would've been different for them had there been a bit of eye candy. But on the other hand, maybe the lack of it allowed them to learn more, too. They really did work hard and their singing was definitely better than the norm.
— How about your favorite Melon Kinenbi songs?

Tsunku♂: Melon Kinenbi, I'm going to have to say it'd be their debut song, "Amai Anata no Aji." At the time of their debut, Melon Kinenbi may have been the group with the poorest sense of rhythm in the entire history of Hello! Project.
— Hahaha. Is that right?

Tsunku♂: You'd be surprised if you knew how poorly they danced. Some of them couldn't even sidestep on time. In that sense, Shibata was the perfect center for the group — while she learned to vocalize better in the later days of the group, in the beginning she couldn't sing to save her life. It's not that she was a bad singer perfect per se… she just couldn't put any feeling into it. But that was kind of their appeal then. They were like everyone's favorite "talentless idols" and that's what made them great. We were already using Pro Tools at the time, meaning we could fix pitch issues if we wanted to, but with their debut song, "Amai Anata no Aji" I purposefully avoided editing Shibata's vocals much. I wanted it to have that "Tsukasa Ito feel."
— You left it sloppy on purpose.
Tsunku♂: It was just too adorable to pass on. Ootani was a good singer, so I'd use her vocals as a support and leave untouched the Shibata lines where she didn't quite reach the right notes.
— You love doing that kind of stuff, don't you?

Tsunku♂: There's something about that kind of thing that tugs at my heartstrings. I think their turning point came with the song "Kousui." The group felt instantly more refined with that song.
— The rock direction that Shindo Atsushi took them in was great, too.

Tsunku♂: Yeah, the crazy rock type stuff. That was a building block for a new style of group within Hello! Project.
— Melon Kinenbi was the first idol group ever to have the kinds of live shows where everyone was always that fired-up.

Tsunku♂: Back then, yeah, definitely. They were like the prototype for idol groups like BiS nowadays, groups who do stagediving and stuff. Well, they were still a Hello! Project group so obviously there wasn't any stagediving, but the mood was something similar.
— It was actually due to Melon Kinenbi that moshing and crowd-surfing was banned at Hello! Project concerts. Was it your idea to push Melon Kinenbi in a more of a rock direction?

Tsunku♂: Shindo was just really good at writing those types of songs for them. Thinking about their place within Hello! Project, the members, too, thought that route clearly set them apart from the rest of the groups. Whenever it was their turn at the summer and winter Hello! Concerts it was guaranteed that everyone would be fired up for those couple of songs, which gave me a peace of mind. My role was basically just saying, "okay, let's have maybe them pursue this rock angle for a while longer."
— Getting back to the units: how about Pucchimoni?

Tsunku♂: With Pucchimoni, their debut song "Chokotto LOVE" is my favorite.
— Another perfect song.
Tsunku♂: Morning Musume had "LOVE Machine," so when Petit Morning Musume came about, I figured "Chokotto LOVE" ("just a little bit of love") was fitting — kind of like everything was in a much smaller scale. But then that song ended up becoming a million-seller, too. It was going to be a song sang by these cute girls, so at first I thought of making it something so simple even little kids could sing along. Thus, the original title for the song was "Konya wa Chicken Rice." But when I recorded the demo vocals, it just didn't sound quite right. Since I'd just written "LOVE Machine," I then thought of renaming the song "Chokotto LOVE" instead. There's one bit of lyric from that song I still really like: "I looked up the word "love" in the dictionary / And added your name to it." It's not quite shoujo manga-esque, but still, I thought it was good. I remember at the time thinking about what that actually meant. I thought that lyric came out quite well.
— How about Minimoni?
Tsunku♂: Minimoni was like this group of girls who I envisioned as "defenders of justice" — by day they were the eyeglass-wearing honors students of the class, but then something would happen that would cause them to morph into the girls of Minimoni with their plaid clothes and all. That was like my hidden concept for them. I made a sketch of that Minimoni logo, too, and got the staff to trace-draw it. We teamed up with Oha Star and the story was that Yaguchi had formed this new unit without even telling me. Then I thought I'd put a foreigner in the mix, too, and that's where Coconuts Musume's Mika came in. It was all good, light-hearted fun like that. Then I wrote this song for them, "Haru Natsu Aki Fuyu Daisukki!", that was basically about teaching kids all kinds of new words, and then a coupling song for which I figured a theme of rock-paper-scissors worked as good as anything else. I heard Kago-chan saying something like "what's injan?" (Osaka dialect for "rock-paper-scissors") at the backstage area of a Hello! Project concert, and was like "hey, that's good!" and threw that in the lyrics. I then made it into a complete song, but just before the its release, I thought "hey, why not make this song the A-side after all?" Well, it was actually a double A-side single to be accurate, but we changed the order of the songs. And then the song just exploded, selling over a million copies. I got lucky with that one.
— I don't think there's ever been another idol group that was as well-received by children.

Tsunku♂: But the funny thing is, "Haru Natsu Aki Fuyu Daisukki!" was arranged by Nagai Rui and "Minimoni Jankenpyon!" by Konishi Takao, I think it was. I didn't have kids myself at the time so I never watched Oha Star even if I did have a general idea of what the show was like — I was pretty much always asleep when it was airing. So in other words, sound-wise, I wasn't actively trying to write the songs with children in mind at all. But just seeing how the fans — as well as Kago and the others — reacted to the group, the morphing hero concept just seemed to fit them so well. It was fun. Well, they ended up going a different route eventually. But still.
— So in other words, that group was aimed much more towards the wota, right?

Tsunku♂: Well, not so much the wota — maybe more like the music nuts. Like, the idea was to get listeners going "Hey, wait… why the heck does Minimoni of all groups have a sound like this? Why is their sound so chunky? Why is all their stuff this funky?!"
— That is exactly what all my wota friends were saying at the time! "Why is Minimoni doing stuff like this?!"

Tsunku♂: Yeah. I also wanted them to wonder why we were using real musicians on the songs and notice the coolness that brought. It's like what happened when we were in the mixing process of "Chokotto LOVE." Matsubara Takeshi just happened to be around that day, and since he has a lower voice than I do, I was like "hey, could you go into the booth and just do a "WA-HA-HA-HA-HA" for us?" Then we recorded him saying so and I said "alright, thanks!"
— So that's Matsubara Takeshi's voice on the song?

Tsunku♂: Yes, that's his voice — although lowered even further.
— I feel like another unit that really changed the overall trend within Hello! Project was ZYX.

Tsunku♂: Right. That group pretty much marked the beginning of this current style.
— That's where the current style's origins are.

Tsunku♂: They were more disco — or dance music — rather than rock. It was my intention to keep ZYX going for a while longer, actually.
— Both of their two singles are just amazing!

Tsunku♂: I do think those songs both came out good. They had a cool sound. Yeah, I think what I was trying to do there is what really started the style I'm currently doing with Morning Musume.
— ZYX was obviously the starting point for Berikyuu (Berryz Koubou, °C-ute), too.
Tsunku♂: Yes, of course. I felt that I did a good job with those songs. I was actually pretty busy when I had to write them, too.
— Wait, who were the arrangers for those songs again?

Tsunku♂: Kono Shin arranged the first one, "Iku ZYX! FLY HIGH," whereas Hirata Shoichiro arranged the second one, "Shiroi TOKYO." I've been working with Shoichiro for about ten years now.
— Next: how about Berryz Koubou?

Tsunku♂: Their debut single was arranged by AKIRA. I filled it with my own backing vocals — none of the members were particularly good singers or dancers at the time. I wanted to do something overly grandiose with their first song — sort of like SPEED. So that's what I did, and they got a real flashy debut single, one that makes you wonder why it has a sound like that even though it's a bunch of elementary schoolers singing it. I still feel like that song has a kind of power to it.
— I remember how everyone around me at the time was going on about how cool the song is, but also feeling conflicted as to if it was really okay for them to cheer on a bunch of elementary school kids. (laughs)

Tsunku♂: Yeah. But it was just so much fun, that whole awkwardness they had about them. Maybe it's just me, but I feel like that corniness of theirs may have been a bit similar to that of Melon Kinenbi. But in return, they have a stockpile of all kinds of songs of different styles and genres. There's so much variety, including all the B-sides.
— That holds true for the songs, but also the members themselves.
Tsunku♂: Yes. Anyway, while it really just happened by sheer coincidence, compared to °C-ute, Berryz Koubou does tend to get the stranger songs.
— You aren't consciously making it so?

Tsunku♂: Nowadays I am, but back in the day with songs like "Yuke Yuke Monkey Dance" for example, that one ended up becoming a Berryz Koubou song only because it was their turn for a weird one.
— °C-ute does strike me as a more orthodox kind of idol group compared to Berryz Koubou.

Tsunku♂: Yeah. I mean, I'm always trying out all kinds of new things with °C-ute, too, but I understand that it might not look that way. I thought I was doing something pretty different with a song like "Bye Bye Bye!" for example. Then you have songs like "Dance de Bakoon!" which started out as just this fun song that instead came out all cool for some reason. I had no idea it would become such a popular live song. So it's kind of like the song betrayed me, but in a good way. That kind of stuff is fun when it happens.
— Speaking of °C-ute: which of their songs mean the most to you?
Tsunku♂: The debut songs always tend to fit the groups really well. "Massara Blue Jeans" — the word "massara" ("brand new") may sound ordinary for you and me, but then I started to wonder if it might've actually been just Osaka dialect. It was only when I came across the term "massara blue jeans" that I realized it really is just standard Japanese. Anyway, theirs was a good debut. We didn't have much of a budget for the video, so they just hung up a bunch of blue jeans on a clothesline and it was like "I guess we'll just have them dance in front of them or something." The group had such simple beginnings, yet now they've suddenly grown so much. Okai already became a pretty good singer during their early years, so she and Suzuki became, in the real sense of the word, the heart of the group as far as singing goes. To me there's a sense of security with °C-ute — like, I can throw anything their way and I'm sure they'll manage just fine. Also: the songs "Bye! Bye! Bye!" and "Dance de Bakoon!" I suppose. Though, like I said, I really didn't intend "Dance de Bakoon!" to become the way it did.
— To think it'd become one of their staple songs…

Tsunku♂: I was like, "I'm going to have them sing the riff like "ja ja jaa, ja ja jaraa" — like "Smoke on the Water"! This will sound so silly!"
— So that's how non-serious you were about it. (laughs)

Tsunku♂: I thought it was going to get way more laughs than it actually did.
— It came out sounding just cool, without any of the silly.

Tsunku♂: They were all singing it like nothing was out of the ordinary, while I was thinking "come on — at least you could act surprised!" I was also unsure if anyone would ever get that the "bakoon!" meant "bakuon" (loud/explosive sound), so I decided to write an explanation on that. It was kind of similar to when I wrote "Koi no Dance Site" and during the "koi no juuteion" ("love's low register sounds") bit the members are going "oo, ha!" in an allusion to those low register sounds.
— Yeah… I don't think that kind of thing is going to get across to anyone unless you specifically explain it to them. (laughs)

Tsunku♂: Yeah. Well, in any case, I just put a kind of joke like that into the song title, but I don't think °C-ute's fans think much of it. I think it's funny though.
— How about Matsuura Aya?

Tsunku♂: As for Matsuura, it'd have to be the first original song I wrote for her: "100kai no KISS." In the beginning she really couldn't dance even if her life depended on it. She did have a sense of rhythm, but none of it actually made it all the way to her body.
— And that's why you initially thought of having her make her debut with that kind of safe, tried-and-true style?

Tsunku♂: That's what I thought, yes, but then I thought the song might've been a little gloomy for an April debut song and so I hurriedly changed it to "Dokki Doki! LOVE Mail" instead. I liked Shimokitazawa, so I made it a bright song with that as the theme.
— That song is certainly very different compared to "100kai no KISS."
Tsunku♂: Yes. I did worry about if she was going to be alright. I mean, here's this girl from the sticks who now has to take the subway and stuff… and that song was me sort of trying to envision how she was going to get settled into her new life. I just wrote some of those thoughts down while thinking about Shimokita. But the song actually fit her perfectly, didn't it? Following that, she kept releasing these very idol-like singles. I think had it been the right era, a song like "Yeah! Meccha Holiday" would've gone on to becoming a million-seller — that is, you know, back when CD's used to still sell like crazy. By then that era had already passed.
— Regardless, there was still a sense of a very special solo idol having been born in Matsuura Aya.

Tsunku♂: Yeah. She was someone you could just pass the song and dance choreography to, and she would really get it and turn it into something else entirely — even though she was so somber and subdued in the beginning!
— Which is why "100kai no KISS" was the first song you wrote for her.

Tsunku♂: But then I noticed that if I gave her an upbeat song, she could perform it in a likewise upbeat manner. She really does strike me as someone very capable, down to how she handles her MC's and all.
— At the time, there were people calling her things like the second coming of Matsuda Seiko.

Tsunku♂: Yeah. And she was a good singer, too. The thing is, there was a kind of modernness about her voice. It didn't have the Matsuda Seiko-like softness to it. Her voice rose more sharply. "Whoosh!" Just like that. Someone like Fujimoto Miki had a much more Showa-like voice — it rose more faintly, which made it sound warm. Whereas Matsuura, her voice sounded like it was whizzing on by, you know? It was something similar to Nishino Kana's voice. She was a new type of singer altogether.
— Fujimoto's solo material was great, too.

Tsunku♂: Fujimoto was good, too. I tried all kinds of different things with her material as well, and there are some pretty good songs in there, aren't there? "Romantic Ukare Mode" is good, and I like "Boogie Train '03" and "Aenai Nagai Nichiyoubi" as well. I have a feeling some of those songs were like must-sings in karaoke for a time.
— I was glad Fujimoto was put in Morning Musume, but on the other hand, I would've also liked to hear some more of her own solo material as well.

Tsunku♂: I get what you mean. However, at the time I felt that I'd done all I could with her solo career.
— Jumping to more recent times: how about S/mileage?

Tsunku♂: While I do think "aMa no Jaku" is a good one, "Yume Miru 15sai" is a song unlike any others at that time. It was one of those minor-key songs that still had the echoes of those ZYX songs.
— What kind of a group did you want to make S/mileage into?
Tsunku♂: At the beginning, when Maeda Yuuka was still there, I felt they'd do just fine going down the orthodox idol route. But now with the new members in there, they've become a lot more varied and now my thinking is more along the lines of wanting them to become like the Kanjani8 of Hello! Project.
— We're running out of time soon, so let's move on to even more recent events. What are your feelings on Juice=Juice?

Tsunku♂: Otsuka Aina ended up withdrawing from the group, but as a result, I feel like Miyamoto Karin is going to stand out even more prominently.
— She does have the skill.

Tsunku♂: I have to say, though, that lately Kanazawa Tomoko and Miyazaki Yuka are the ones holding my interest. Kanazawa especially has such an interesting voice and distinctive dancing style. Uemura Akari, too, has gotten so much better just as of late — and she's someone I thought would never in a million years become a good dancer.
— You did? (laughs)

Tsunku♂: It's only recently that I noticed how hard of a worker she is. It's interesting to see how she develops, so for now I'm just going to let her go at it and see how it plays out.
— By the way, how about EE JUMP?

Tsunku♂: A lot has happened to the two since then, but they were just great back then. Sonim was doing her best, and Yuki, while not exactly a great singer… but hey — it was Goto Maki's little brother!
— They were a fun group.

Tsunku♂: It was always a good challenge when Wada Kaoru (Harmony Promotion) brought me his ideas and tasked me with turning them into something tangible.
— So everything was mostly based on Wada's ideas?

Tsunku♂: Yes, all of it. They did have some fun songs — songs like "Ottototto Natsu da ze!" especially seemed to be well-liked. For me they were a group that allowed me to try anything I wanted. Like, "wait, it's okay for me to do that in a song of theirs?" Even people like Kuwata Keisuke praised them as interesting.
— It really is a waste how their album never ended up being released.

Tsunku♂: Yeah. That was a fun album.
— I felt that you later did a great job recovering from that trouble with Sonim's solo career, though.

Tsunku♂: Ah, yes. You know, even now I still get people telling me they liked "Curry Rice no Onna."
— Are you the type who looks for singing ability? Or are you not very concerned about it at all? "If they're bad, they're bad," that kind of thing?

Tsunku♂: Nothing beats a good singer. We're doing auditions for Morning Musume right now and even now I'm always searching for good singers. But if they're just not a good singer? Well, that just means we have to work extra hard. But yeah, it's always a welcome surprise to come across someone like Suzuki Airi. It's exciting. Same thing with Oda Sakura as she keeps improving. Matsuura, too, back in the day. They are the ones who make me feel like I really need to teach them all I know.
— They, as in the ones who can already sing from the get-go?

Tsunku♂: Right. Those are the girls to whom I want to teach everything I know.
— Do you look for dancing ability as well?

Tsunku♂: Good question… Sayashi Riho really was a unique find. She's seriously amazing. Anyway, it is of course better if they can dance, what with the Hallyu wave and all.
— It's almost funny, seeing the difference in ability between H!P groups and non-H!P groups when they're appearing on music shows.
Tsunku♂: Especially for °C-ute and Morning Musume, yeah.
— You're always left with a sense of having just witnessed something incredible. Anyhow, as this interview is being conducted for a single guide of Hello! Project specifically, I really do think it's a shame we can't include in the book some other works done by you, such as the Tokito Ami albums. Tokito Ami, THE Possible… all those other groups had great debut albums, too.

Tsunku♂: Hahaha!
— I feel it's those releases especially where one can hear how you personally perceive idols.
Tsunku♂: Yeah. They're a bit out there, right?
— Especially so with your selections for the cover songs and such.

Tsunku♂: I tend to pick very unconventional songs to cover. There have been so many idols in the past that made me think "they had such a good sound, and yet…" or "they had such good songs, and yet…" And yet they didn't sell. There was just something about them that didn't quite click with the audience. So covering those songs myself is a learning experience for me personally as well. "Ah, so it really was a good song after all. I knew my ears weren't lying to me." That sort of stuff is important to me.
— I just loved those two Tokito Ami albums.

Tsunku♂: She was a reasonably good singer, too. It was good that she wasn't too good though — thanks to that, the finished product had a kind of enjoyable half-bakedness about it — one of the merits of B-grade idols. AKB wasn't around yet at the time either. It was really just this thing I wanted to do for fun in my free time, but looking back, the fans seemed to have really enjoyed it.
— The idol landscape has changed quite a lot since you first started producing Morning Musume. As I understand it, you've never paid much attention to what everyone else is doing, but now since you're doing projects like TsunTube♂ — in other words, working with underground idols — I wonder if that has changed your outlook on idols in any way.

Tsunku♂: Well, we're now living in an era when a group like BiS can have a major debut and actually become a pretty big deal. I think the members of Bakusute (Sotokanda Icchoume) are kind of similar in a way. I mean, you have a member like AD Nagisa — who's funny and can actually dance pretty well. But just having someone like her in there sets them apart from all the other groups with equally large numbers of members.
— So you're saying that rather than having nothing but cute girls in a group, it's better to have a bit of "noise" in there, too.
Tsunku♂: Right, exactly. It makes it fun, and it makes the other girls in the group look even cuter. I learned a lot from seeing others do that sort of thing — I did learn from watching other groups.
— Have you gotten the chance to listen to the music from other idol groups, too?
Tsunku♂: I think the one thing creators of B-grade, C-grade idols have to be careful about is not making low-quality music. These days, it's so easy to just make a so-so arrangement and finish something resembling a song. Then they'll have the group debut the month after or something — everyone's always talking about "debuting, debuting, debuting." And then they manage to sell ten thousand copies, or 5,000 or 6,000 copies. And the songs are all the so-so, halfway-decent, happy-go-lucky kind of thing. The way I see it is, since I'm working under the "Tsunku♂ brand," there's no need for me to write those halfway-decent songs. If I'm going to write some "alright, let's go!" type positive song, then I think I prefer to make something that stands out for being obscure or different, you know? Though I guess perhaps it's not good to mix the two things. In any case, listening to those groups, the songs are all so-so and I guess they're fun enough, but they're just not memorable to me. I know there are underground idols out there who can sing but who just aren't able to display their true ability. I feel like that's such a waste.
— So it's thanks to so many groups like that being out there today that makes Morning Musume so different.

Tsunku♂: Maybe so. It's obvious to me how amazing girls like Sayashi or Oda are in today's landscape. Ishida Ayumi and her dancing, too. Even my kids only have to listen to the songs twice, after which they'll already be watching the video and dancing along with the members. And to them it doesn't matter if the song was written by their dad or not — even if it is by me, if they don't care for the song, they simply don't want to listen to it.
— Is that right? (laughs) Which of your songs have gotten the best response from your children so far?

Tsunku♂: As of late, they really love Morning Musume. Also, S/mileage's "Choto Mate Kudasai!" They like that one. And I do, too. I felt like that was an important song for S/mileage. Also, this coupling song I wrote for Sharan Q called "Come on! Bokutachi no Mirai." The kids are always dancing along to that one.
— So they "get" Sharan Q, too? (laughs)
Tsunku♂: Yes. Apart from that, they also listen and dance along to a lot of Berryz Koubou songs.
— In hindsight, I feel like a big part of why Hello! Project has survived this long with you as their producer is because Sharan Q wasn't what one might call a "normal" rock band.

Tsunku♂: Now what with Sharan Q having restarted its activities, there have been times when I've thought to myself "man, how crazy is it that a band like us could have hit singles back then?" There were so many bands back then, and most of them were average, making very "band-like songs." Though there were, of course, some greats among all those bands, like Spitz or Mr.Children.
— But mostly it was just very average bands.

Tsunku♂: Right. There were so many, and everyone was aiming to get to the top. So we had to think about how we could beat everyone else, so we wrote all kinds of different songs in an attempt to do that. Plus, I had my biggest rival in the group with me — Hatake — and I felt an urge to try and outdo him with my songs. It's thanks to working under those kinds of circumstances that has since allowed me to cope with all kinds of styles with Morning Musume's songs, too.
— Right. I feel that had you been just the average band man, you might've played it safe within that one genre, and that would've been the end of it. I think it's because it's you that you've been able to try so many different things.

Tsunku♂: Perhaps. I'm truly a jack of all trades, master of none. (laughs) I feel like everything is worth giving a shot, but my knowledge of most things isn't that deep.
— That's why you've been so open to trying all kinds of different music and being able to call upon the right arrangers to help you do it.

Tsunku♂: Maybe. It could be that I just have good instincts when it comes to this kind of thing.
Interview & text: Yoshida Go
Photography: Yamada Kaoru
English translation: Henkka
Tsunku♂ on the web: website, blog, Twitter, Facebook