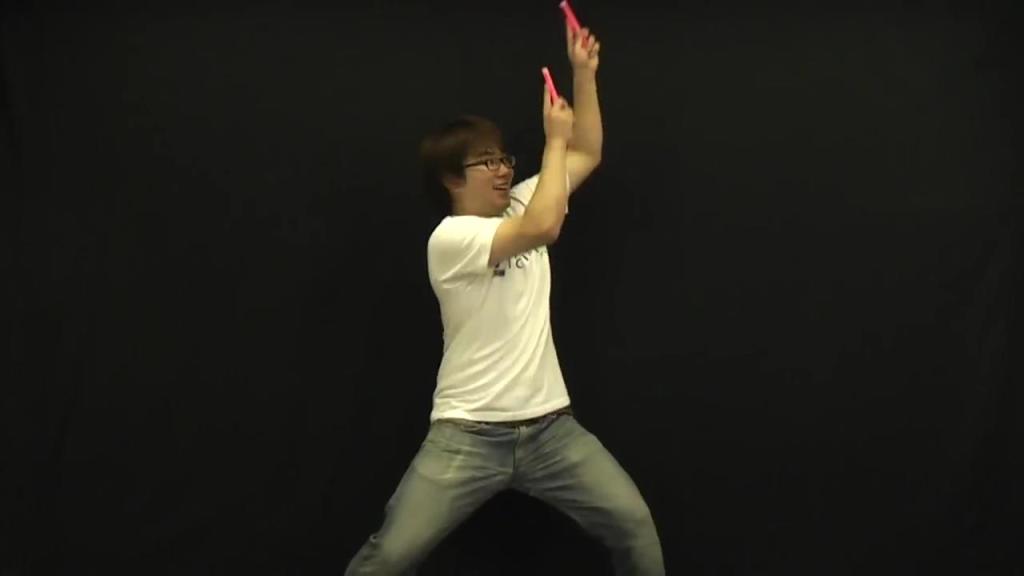 No matter which way you look at it,
people who do wotagei at concerts
are not right in the head
1: 名無し募集中。。。 2007/09/27(木) 00:36:02.49 O
Why even come to the concert if you're not looking at the stage? You're also a nuisance to the people around you. Leave that stuff to when you're in karaoke or something.
19: 名無し募集中。。。 2007/09/27(木) 00:43:23.08 0
It's obvious someone who's never done wotagei would assume we don't watch the stage…
12: 名無し募集中。。。 2007/09/27(木) 00:42:31.02 0
I don't do wotagei as of late. It's not like I got bored of it or anything… I just started feeling embarrassed doing it all of a sudden, so I stopped.
14: 名無し募集中。。。 2007/09/27(木) 00:43:04.89 0
What goes through your head when you're doing wotagei? Is it like, "woohoo, I'm supporting them way more than those guys who are just silently watching"?
25: 名無し募集中。。。 2007/09/27(木) 00:44:18.26 0
I once heard some dude say "we're not here to see the members — they're here to see us."
33: 名無し募集中。。。 2007/09/27(木) 00:47:05.99 0
I don't watch the stage a lot to be honest. I'm usually just doing my wotagei way in the back so it's not like I could really see there well even if I wanted to.
41: 名無し募集中。。。 2007/09/27(木) 00:51:24.21 O
Guys who just stand still and watch the stage are gross, and guys who just go crazy at concerts are idiots. That's all.
62: 名無し募集中。。。 2007/09/27(木) 04:49:36.41 O
Personally, I think doing PPPH or calls during songs is much worse.
69: 名無し募集中。。。 2007/09/27(木) 08:43:55.25 O
If you don't do wotagei, then why not just stay home and watch them on DVD or something?
76: 名無し募集中。。。 2007/09/27(木) 13:14:46.22 0
What do you call that thing again… "MIX"? God, that's annoying.
77: 名無し募集中。。。 2007/09/27(木) 13:17:50.96 0
As a tigerist, I find all other wota annoying.
135: 名無し募集中。。。 2007/09/28(金) 08:14:26.57 0
You're attending a concert in a closed space. If everyone worried about what others might think about them there, then it'd be the same thing at all other types of concerts, too. "It's gross how everyone at punk rock concerts gets so fired up" or "it's disgusting how visual kei fans all swing their hands forward like that"… no one could enjoy themselves how they want at any type of concert.
136: 名無し募集中。。。 2007/09/28(金) 08:16:03.51 0
>>135
Idols and rock stuff are entirely different.
140: 名無し募集中。。。 2007/09/28(金) 08:17:47.67 0
>>135
We're talking completely different levels of grossness. There's nothing more disgusting than wotagei or PPPH.
163: 名無し募集中。。。 2007/09/28(金) 08:29:25.53 0
Furicopy is way more annoying than wotagei. Just seeing 30-something guys dancing is gross. It's scary to think about them silently practicing alone in their homes. (laughs)
164: 名無し募集中。。。 2007/09/28(金) 08:29:46.97 O
Furicopy — the grossest form of wotagei of them all.
170: 名無し募集中。。。 2007/09/28(金) 08:32:08.86 0
>>163-164
Guys who are able to pull off furicopy perfectly are cool though. It's the guys who do a half-assed job of it that are gross.
173: 名無し募集中。。。 2007/09/28(金) 08:33:47.25 O
Furicopy is acceptable if it's at least a cool type of dance, but I really wish the middle-aged guys would stop trying desperately to mimic the overly girly dances.
216: 名無し募集中。。。 2007/09/28(金) 08:51:10.85 0
To me it feels like the guys who just stand motionless at concerts are the grossest of them all.
217: 名無し募集中。。。 2007/09/28(金) 08:52:04.61 0
>>216
But there's also the third option of everyone just waving their glow sticks. That's visually the best alternative, too. Even normal people can enjoy that without being grossed out.
220: 名無し募集中。。。 2007/09/28(金) 08:53:24.02 0
>>217
There are hardly any "normal people" at concerts.
247: 名無し募集中。。。 2007/09/28(金) 09:43:53.40 0
It feels like wotagei is on its way out now and furicopy is the new cool thing to do. Guys with no talent for dancing trying their best to copy cute girls' choreographies is indeed gross, and there's so many of them, too… I guess all we can do is wait for the boom to end.
142: 名無し募集中。。。 2007/09/28(金) 08:21:17.34 O
It's time you understood already that it's not wotagei that's gross — it's you guys.
248: 名無し募集中。。。 2007/09/28(金) 09:44:31.46 O
The fact that you're even attending an idol concert makes you gross.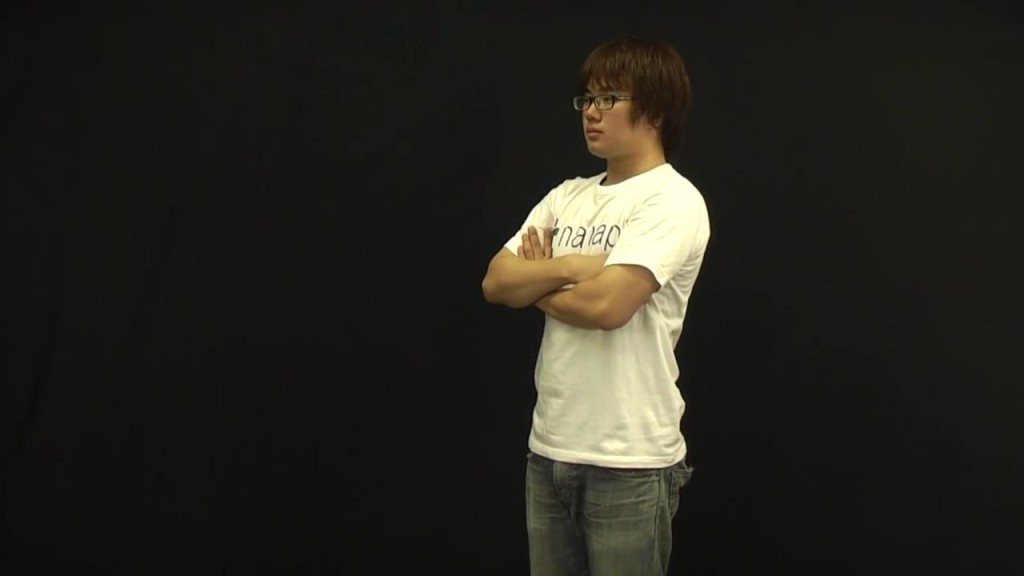 What is with the people who
come to concerts and just stand still?
1: 名無し募集中。。。 2009/01/21(水) 22:14:55.23 0
What, do you people think you're somehow better than us? (laughs)
9: 名無し募集中。。。 2009/01/21(水) 22:16:58.33 0
Yeah. Or the guys with their arms crossed, just swaying around a little.
2: 名無し募集中。。。 2009/01/21(水) 22:15:22.65 0
Why not just let everyone enjoy themselves how they want?
10: 名無し募集中。。。 2009/01/21(水) 22:17:03.13 O
I'm there to listen to the music.
18: 名無し募集中。。。 2009/01/21(水) 22:18:04.69 O
>>10
Dude, they're idols. (laughs)
16: 名無し募集中。。。 2009/01/21(水) 22:17:54.80 0
I have a wota friend who I sometimes go to concerts with who just stands still the whole concert. I wish he'd at least do some calls. (laughs)
19: 名無し募集中。。。 2009/01/21(水) 22:18:14.83 O
Everyone's free to enjoy concerts how they want. However, if you don't participate in the encore call, then do leave before it starts.
24: 名無し募集中。。。 2009/01/21(水) 22:19:34.75 0
One time I gave this guy a glow stick as a present and he didn't use it even once. He just kept it in his pocket all through the concert. I admit, that did piss me off.
27: 名無し募集中。。。 2009/01/21(水) 22:19:59.35 0
What makes this board creepy is the fact that there are guys here who seriously think there's nothing wrong with furicopy. It's one of the biggest things that keeps people away from H!P.
44: 名無し募集中。。。 2009/01/21(水) 22:23:33.68 O
Hardly anyone did any furicopy up until about 2005, so even I as a non-hardcore wota could attend concerts without hesitation.
53: 名無し募集中。。。 2009/01/21(水) 22:25:47.67 0
There was this guy in the seat in front of me who was jumping around so much, I thought he'd lost his mind. He got told by security to stop so I was like "thank God," but wouldn't you know it, I then had to listen to him as he actually started an argument about it with the security guy. It's fine to do what you want at concerts, but only as long as you're not an annoyance to anyone else.
56: 名無し募集中。。。 2009/01/21(水) 22:26:29.38 0
Silly people, don't you realize that standing in place will actually get you noticed by the members more? If you want to be acknowledged by them, then get a good seat and just stand motionless.
113: 名無し募集中。。。 2009/01/21(水) 22:52:40.33 0
There was this unreasonably fat lard-ass at the January Nakano concert and when he started dancing for his life during Milky Way with his headset + Kirarin tambourine, I seriously felt like killing him.
206: 名無し募集中。。。 2009/01/21(水) 23:54:30.49 0
I've seen guys doing wotagei during the 3nin Matsuri song where at the "chu!" one of them suddenly plays dead and the other one pretends to nurse him back to health. (laughs)
212: 名無し募集中。。。 2009/01/21(水) 23:56:09.41 0
>>206
I've done that. (laughs)
319: 名無し募集中。。。 2009/01/22(木) 19:24:12.71 O
I wish the guys who want to stand still would just go to the family seating area. It dampens my mood when there's a guy next to me standing around all gloomy.
323: 名無し募集中。。。 2009/01/22(木) 19:35:51.69 0
Well, there are two types of people who just stand still.
1) Is just concentrated on watching, doesn't want to dance.
2) Seems completely disinterested, like he's on the verge of death.
225: 名無し募集中。。。 2009/01/22(木) 00:02:33.17 0
There was this popular form of wotagei of falling from the third floor of the venue.
229: 名無し募集中。。。 2009/01/22(木) 00:05:06.27 0
That guy's lucky he didn't die.
227: 名無し募集中。。。 2009/01/22(木) 00:04:23.47 0
>>225
Ah, the "human stardust." Not recommended for amateurs.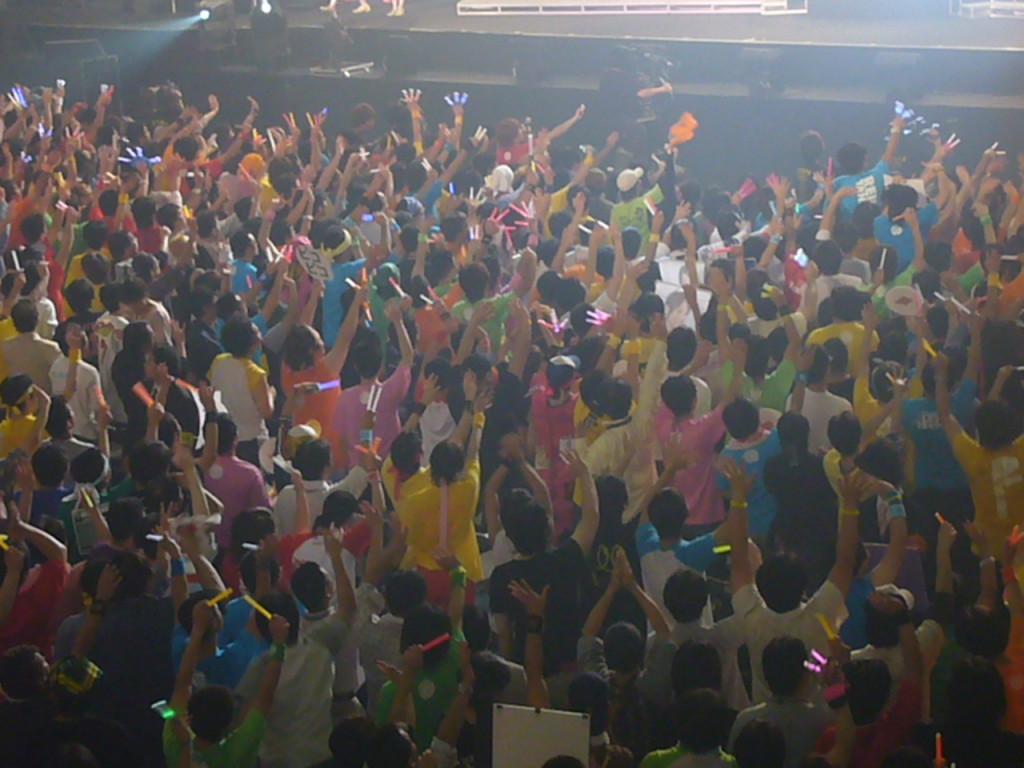 Who would you say are the
"annoying wota" at concerts?
1: 名無し募集中。。。 2009/12/31(木) 22:47:35.24 0
I really wish the guys who stink of garlic would just… stop.
3: 名無し募集中。。。 2009/12/31(木) 22:48:48.96 0
Let's see. The fatties, the fatties… oh, and the fatties.
5: 名無し募集中。。。 2009/12/31(木) 22:53:18.27 0
The ones who turn to around look behind them.
2: 名無し募集中。。。 2009/12/31(木) 22:48:26.44 0
Body odor.
7: 名無し募集中。。。 2009/12/31(木) 22:54:21.15 0
The tall wota.
30: 名無し募集中。。。 2009/12/31(木) 23:08:49.03 0
People in aisle seats who are obstinate about not moving an inch out of their seats into the aisle.
32: 名無し募集中。。。 2009/12/31(木) 23:11:12.69 0
>>30
What? There's nothing wrong with that.
34: 名無し募集中。。。 2009/12/31(木) 23:13:04.21 0
It's default to be halfway outside of your seat into the aisle unless you get told not to.
35: 名無し募集中。。。 2009/12/31(木) 23:14:57.09 0
People who have constant unsteady landings after their oshi jumps.
58: 名無し募集中。。。 2010/01/01(金) 09:33:13.71 0
People who go to the toilet during the concert.
74: 名無し募集中。。。 2010/01/01(金) 15:47:38.75 0
Guys who do MIX. You're all complete lunatics. (laughs)
80: 名無し募集中。。。 2010/01/01(金) 18:10:19.27 0
People with happi coats that stink because they never wash them. I wonder if the people who wear them don't realize it themselves?
85: 名無し募集中。。。 2010/01/01(金) 18:18:35.66 0
Not sure "annoying" is the right word for it, but I got the rare good seat for the Berryz Sendai concert and I noticed that the people at the very front don't do anything at all. They don't even participate in the encore calls.
209: 名無し募集中。。。 2010/01/01(金) 23:41:23.97 0
I wish people who stand still at live house shows would just die. That, and the guys just standing with their arms crossed right around in front of the PA.
121: 名無し募集中。。。 2010/01/01(金) 21:59:41.64 0
There was this guy shouting "let me shake hands with Sekkii!" at a staff member at Shinjin Kouen. People around him had a hard time holding back their laughter. Is he famous for being a troublemaker wota?
123: 名無し募集中。。。 2010/01/01(金) 22:02:52.69 0
Asking for a handshake at Shinjin Kouen? Is he completely out of his mind? (laughs)
124: 名無し募集中。。。 2010/01/01(金) 22:05:25.81 0
>>123
He sure looked that way. He was holding this gross hand-made Sekkii fan. (laughs) In the end after he (naturally) didn't get his handshake, he just sat down and started crying. (laughs)
165: 名無し募集中。。。 2010/01/01(金) 22:53:13.49 0
I did feel a little frightened when I saw a guy changing his trousers in front of people.
170: 名無し募集中。。。 2010/01/01(金) 22:55:03.63 0
I saw a guy changing clothes with his dick hanging out in the Zepp parking lot. Not even inside a car; outside.
173: 名無し募集中。。。 2010/01/01(金) 22:57:09.95 0
I'd get it if it was a T-shirt, but why would anyone need to change their underwear?
178: 名無し募集中。。。 2010/01/01(金) 23:01:50.11 0
Maybe he was equipping himself with his wota underwear? Ones that say "Takahashi Ai = Life" or something.
205: 名無し募集中。。。 2010/01/01(金) 23:31:58.13 0
When I'm feeling into the show myself, I'll start getting a little nervous if I notice the person behind me being all quiet. On the other hand, if that person is doing calls and stuff, that makes me feel more pumped up, too.
214: 名無し募集中。。。 2010/01/01(金) 23:46:51.56 0
All the guys who raise their hands and go all "heeeeere!" with their deep voices when the members ask if there are kids in the audience, I wish you'd all fucking break your arms.
218: 名無し募集中。。。 2010/01/01(金) 23:49:57.74 0
Guys who do oshi jumping during their MC's (Kamei especially has lots of wota like this.) One time Junjun started mimicking the wota when she saw that, but Kamei immediately made her stop.
59: 名無し募集中。。。 2010/01/01(金) 09:33:40.07 0
People who refuse ticket exchanges without even hearing what I have to offer.
60: 名無し募集中。。。 2010/01/01(金) 09:34:53.59 0
People like >>59 who approach me about exchanging tickets.
21: 名無し募集中。。。 2009/12/31(木) 23:02:59.63 0
Let's just end the year by agreeing that anyone and everyone who comes to concerts is annoying.
Henkka: Not being seen as just another annoying dipshit at an idol concert has never been easier! In short, here's how you do it:

– Don't do wotagei.
– Don't not do wotagei.

Sources: http://blog.livedoor.jp/morningcoffee_blog/archives/51349859.html, http://blog.livedoor.jp/morningcoffee_blog/archives/51580693.html, http://blog.livedoor.jp/morningcoffee_blog/archives/51702915.html