Henkka: Just to clarify: this thread is about the male fans in particular — in most cases the word "gay" in Japanese is only used for men. Sorry to disappoint any gay female fans!

1:名無し募集中。。。:2012/07/16(月) 04:14:46.31 ID:0
Why is it?

2:名無し募集中。。。:2012/07/16(月) 04:15:44.31 ID:0
More than Japan, it's strange how many foreign gay H!P wota there are.

4:名無し募集中。。。:2012/07/16(月) 04:16:29.08 ID:0
There's lots of gay fans even among foreigners? (laughs)

5:名無し募集中。。。:2012/07/16(月) 04:18:41.68 ID:0
Now that you mention it, AKB doesn't have many gay fans. Instead they have plenty of young offenders.
8:名無し募集中。。。:2012/07/16(月) 04:21:53.61 ID:O
I'm bi myself and I do think H!P really has lots of gay fans. They're easy to admire and look up to.
I want to be Sayu.

10:名無し募集中。。。:2012/07/16(月) 04:24:25.39 ID:0
Well? Why is it?

13:名無し募集中。。。:2012/07/16(月) 04:26:24.38 ID:0
Amuro-chan has lots of gay fans, too. Is it because of how orthodox they are?

29:名無し募集中。。。:2012/07/16(月) 04:45:17.91 ID:0
>>13
H!P has just so many gay fans, I don't think it could be simply because of how that.

14:名無し募集中。。。:2012/07/16(月) 04:26:24.69 ID:0
I personally recognize that I have many gay characteristics, but I'm trying to hold back from turning gay all the way…

16:名無し募集中。。。:2012/07/16(月) 04:26:43.99 ID:0
Is it not just because of H!P's traditional idol image?

22:名無し募集中。。。:2012/07/16(月) 04:31:32.75 ID:0
Could there be something about Tsunku's songs that's only conveyed to gay people?

23:名無し募集中。。。:2012/07/16(月) 04:33:50.75 ID:0
Ten years from now, this same topic is going to made about AKB. Gay people only follow fads, but once they get into something, they feel obligated to stick with it for a long time. With music that supported you when you were going through a rough patch of trying to figure out your sexual identity, you're going to feel even more attached to it than you normally would.
26:名無し募集中。。。:2012/07/16(月) 04:37:42.86 ID:0
>>23
That just shows how you don't understand gay people. Gay people don't just follow fads — they wouldn't even touch AKB because of their unique world view. Maybe this is something that straight people just can't understand.
31:名無し募集中。。。:2012/07/16(月) 04:46:34.17 ID:0
It's weird, right? I think so, too.

33:名無し募集中。。。:2012/07/16(月) 04:49:06.43 ID:0
They're popular amongst Thai, French and Spanish gay people.

34:名無し募集中。。。:2012/07/16(月) 04:49:07.63 ID:0
You'd have to be gay to come to like H!P.

35:名無し募集中。。。:2012/07/16(月) 04:49:17.12 ID:0
Since there's so many of them, could it be that those gay fans are actually Tsunku wota? Let's hear it, fans of Tsunku music! (Well, there's also surprisingly many who aren't though.)

37:名無し募集中。。。:2012/07/16(月) 04:52:14.94 ID:0
It does feel like H!P has a lot of gay wota. (laughs)

41:名無し募集中。。。:2012/07/16(月) 04:54:49.87 ID:0
Haven't popular idols always had lots of gay fans?
47:名無し募集中。。。:2012/07/16(月) 04:57:31.54 ID:0
>>41
No. Of course with increased popularity the amount of gay fans will increase, too, but that has nothing to do with percentages. I do think the ratio of gay H!P wota is high.
50:名無し募集中。。。:2012/07/16(月) 05:02:02.47 ID:0
Many of them are also surprisingly good dancers.
57:名無し募集中。。。:2012/07/16(月) 05:13:56.87 ID:0
http://hayabusa3.2ch.net/test/read.cgi/morningcoffee/1342332832/
"One・Two・Three made Morning Musume a lot of new fans in Japan, but overseas even more so (4th thread)"

I made a list of all the male dancers from the above thread. Foreigners:
Japanese:
60:名無し募集中。。。:2012/07/16(月) 05:22:42.69 ID:0
Tsunku's music secretes pheromones that attract gay people.

61:名無し募集中。。。:2012/07/16(月) 05:24:48.73 ID:0
The world view in H!P lyrics fits gay people perfectly, down to the verbal expressions and everything. AKB lyrics to me have an image of being more for the everyday straight people, although these days you have people singing even their songs at Nichome's gay bars just because they get everyone fired up. But songs like Renai Hunter, Kimagure Princess or SEXY BOY are just really popular.

63:名無し募集中。。。:2012/07/16(月) 05:25:45.45 ID:0
The expressions are indeed really queer. (laughs)

65:名無し募集中。。。:2012/07/16(月) 05:27:06.77 ID:0
I like Suki Sugite Baka Mitai. Even now when I'm walking home at night I feel like copying those dance moves. I like the lyrics, too.

62:名無し募集中。。。:2012/07/16(月) 05:25:45.09 ID:0
Nowadays the only people who end their sentences with "~da wa" are either gay or in H!P.

102:名無し募集中。。。:2012/07/16(月) 06:00:54.68 ID:0
Nowadays the only people who can with a straight face say "suki sugite baka mitai" are either gay or in H!P.

66:名無し募集中。。。:2012/07/16(月) 05:27:44.78 ID:0
Why are there so many queer expressions in H!P lyrics?

74:名無し募集中。。。:2012/07/16(月) 05:31:47.84 ID:0
>>66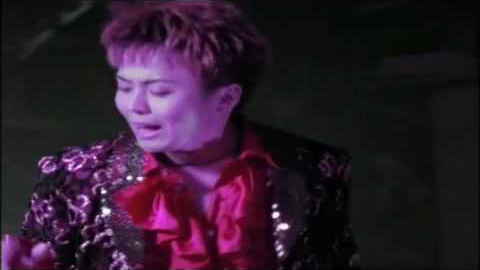 This is the man who writes those lyrics.
67:名無し募集中。。。:2012/07/16(月) 05:28:08.39 ID:0
Last year at ageHa Gay Night, everyone got super fired up the instant that Yume Miru 15sai was played. (laughs) Everyone had the choreography down, too! You would've thought it was a million seller judging by everyone's reactions. (laughs)

69:名無し募集中。。。:2012/07/16(月) 05:28:50.47 ID:0
So basically what's happening is that Tsunku's writing songs with lyrics that should appeal to junior high girls, but now they're getting the attention of all the gay guys instead? (laughs)

71:名無し募集中。。。:2012/07/16(月) 05:30:36.38 ID:0
Junior high girls? You must be thinking of some pretty old songs.

70:名無し募集中。。。:2012/07/16(月) 05:29:31.51 ID:0
H!P members have an exceptional quality about them that tickles the fancy of gay people.
They're good at picking all the irresistible uglies.
73:名無し募集中。。。:2012/07/16(月) 05:31:24.84 ID:0
>>70
You don't care about the cute or beautiful girls at all?
79:名無し募集中。。。:2012/07/16(月) 05:35:57.15 ID:0
>>73
Of course I like them. There are lots of gays who really liked Gomaki. There's also many fans of Takahashi, Kamei as well as Michishige. But what's best about H!P are the ugly supporting members who can never become center. That's one thing that's different from AKB and such.
72:名無し募集中。。。:2012/07/16(月) 05:30:41.93 ID:0
The lyrics of Yume 15 were meant for gay wota.

84:名無し募集中。。。:2012/07/16(月) 05:37:48.26 ID:0
Seiko, Akina, Ayu, Amuro and H!P. Those are some of the biggest draws for gay fans.

85:名無し募集中。。。:2012/07/16(月) 05:40:23.60 ID:0
I'm as gay as they come and I have to say, AKB's stuff is so chock-full of cajolery towards men, I just can't stomach it.

87:名無し募集中。。。:2012/07/16(月) 05:43:52.03 ID:P
I went to Nichome to see what it was like and it felt weird with Gaga, Madonna and H!P playing everywhere.

92:名無し募集中。。。:2012/07/16(月) 05:49:28.69 ID:0
Onyanko wasn't popular with gay people either, even though the other early idols like Seiko, Akina and Momoe all have large gay fanbases. It feels like there's something about Akimoto-produced idols that just doesn't sit well with gay people.

95:名無し募集中。。。:2012/07/16(月) 05:56:14.87 ID:0
So gay people hate AKB. How come?
97:名無し募集中。。。:2012/07/16(月) 05:57:31.91 ID:0
>>95
It's not just gay people. The whole country hates them.
104:名無し募集中。。。:2012/07/16(月) 06:02:28.94 ID:0
The people in the gay board are all "How can you be both gay and an AKB fan?! You have no style!"

109:名無し募集中。。。:2012/07/16(月) 06:05:21.45 ID:0
They still hold regular H!P Gay Nights.

114:名無し募集中。。。:2012/07/16(月) 06:08:18.07 ID:0
There's many gays who like Kojiharu for her airhead personality. Those types of fans also mostly liked Kamei.

122:名無し募集中。。。:2012/07/16(月) 06:12:44.14 ID:0
H!P is so uncool in a good way that I can't help but be drawn to them. More than parental love it just tickles my gay fancy. They're cute and their songs are the kind that gay people love, but their clothes, hair and makeup are so uncool that I feel like I just have to give them my support.

123:名無し募集中。。。:2012/07/16(月) 06:13:49.15 ID:0
How popular are the new members among gay people? I'd think Suzuki, Iikubo, Ishida and Kudo might be well-liked. Ikuta and Sato, probably not. But I can't imagine how they'd rate Sayashi or Fukumura.
132:名無し募集中。。。:2012/07/16(月) 06:18:13.97 ID:0
>>123
Well, for the most part your guess is pretty accurate. Lately everyone's worried about Suzuki. (laughs)
127:名無し募集中。。。:2012/07/16(月) 06:15:45.90 ID:0
The cheapness of the PV's is like Nichome itself in a nutshell.

133:p4201-ipbf2505funabasi.chiba.ocn.ne.jp:2012/07/16(月) 06:18:14.95 ID:0
My gay friend who likes Musume (or Kamei to be exact) says that Ookii Hitomi is his theme song.

144:名無し募集中。。。:2012/07/16(月) 06:32:04.57 ID:0
How come this board is now full of women, gays and lolicon? The swimsuit photobooks don't have an audience anymore.
149:名無し募集中。。。:2012/07/16(月) 06:39:58.00 ID:0
I think the growing ratio of girl wota is directly related to the presence (or absence) of sex appeal. I mean, AKB spends the whole year in bikinis.

150:名無し募集中。。。:2012/07/16(月) 06:41:50.21 ID:O
Gays are tough: once they bite into something, they'll follow them all the way to hell and back if need be. The fact that Seiko is still able to sell out Tokyo Dome is thanks to gay people and women with menopause.

158:名無し募集中。。。:2012/07/16(月) 06:51:19.14 ID:0
Tsunku's lyrics feel like they're from the point of view of a middle-aged man who's turned into a 13-year-old girl.
Akimoto's lyrics feel like they're from the point of view of a middle-aged man who's looking at a 15-year-old girl as a sex object.
163:名無し募集中。。。:2012/07/16(月) 06:59:27.66 ID:0
>>158
Yeah, true. The whole concept of AKB is Akimoto going "You guys want a taste of this 15-year-old idol, the girl of your desires? I'll let you have it."
179:名無し募集中。。。:2012/07/16(月) 10:17:43.22 ID:0
>>158
Indeed. Tsunku's point of view is similar to that of gay people.
193:名無し募集中。。。:2012/07/16(月) 11:56:15.22 ID:0
>>158
You might be a genius.
167:名無し募集中。。。:2012/07/16(月) 07:19:58.01 ID:0
It feels like Gaga or Madonna don't have many straight male fans either. You wouldn't call them idols in Japan, but it feels like H!P is in the same kind of genre with them.

174:名無し募集中。。。:2012/07/16(月) 10:06:07.52 ID:0
Do you guys have gay wota friends? If the percentage is really that high, you might have some without even realizing it.
177:名無し募集中。。。:2012/07/16(月) 10:15:40.76 ID:0
>>174
I have around 20 of them. One time we went drinking after a concert as a group of 18 gay guys plus me as the only straight guy.
181:名無し募集中。。。:2012/07/16(月) 10:23:27.92 ID:0
>>177
Seems fun. (laughs)
176:名無し募集中。。。:2012/07/16(月) 10:13:31.15 ID:P
A gay friend once took me to Nichome.

189:名無し募集中。。。:2012/07/16(月) 10:55:48.38 ID:0
AKB's excessive flirting is like how you'd be treated at a kyabakura.
218:名無し募集中。。。:2012/07/16(月) 14:45:58.19 ID:0
Is this person a lolicon, gay or straight?
235:名無し募集中。。。:2012/07/16(月) 17:42:58.01 ID:0
H!P's lyrics are popular with gay people. Stuff like Onna ga Medatte or Kimagure Princess is like it was aimed at the gay audience. AKB has lots of songs like Kachuusha or Ponytail that are from a straight guy's point of view. There's no way that kinda thing would be a hit among gay people.
238:名無し募集中。。。:2012/07/16(月) 18:01:41.60 ID:0
Akimoto's lyrics are all about middle-aged guys looking at young girls as sex objects. Skirt Hirari, Seifuku ga Jama wo Suru, or, going further back in time, Sailor Fuku wo Nugasanaide or Banana no Namida. It's always been stuff like that. On the other hand there's Tsunku who's just genuinely writing about the feelings of young girls.
239:名無し募集中。。。:2012/07/16(月) 18:17:04.23 ID:0
>>238
That's why gay people aren't drawn in by Akimoto's songs. The target audience are unpopular guys and jobless shut-ins.
256:名無し募集中。。。:2012/07/16(月) 21:35:45.59 ID:0
>>238
Terada's trying to write not so much about the feelings of young women as he is about the feelings of adult women. But he fails at it, which leads to the members all going "I don't get the girl in these lyrics…"
260:名無し募集中。。。:2012/07/16(月) 23:54:12.53 ID:0
>>256
Showa era girls are sure to identify with them, I'd think. (laughs) Stuff like Shouganai Yume Oibito must be incomprehensible to someone born in the Heisei era. (laughs)
240:名無し募集中。。。:2012/07/16(月) 18:21:19.50 ID:0
I honestly feel like wanting to sing Terada's songs. There's lots of songs where I just want to become the protagonist of the story in my mind as I sing them. I don't feel that at all with Akimoto's songs.

242:名無し募集中。。。:2012/07/16(月) 18:41:23.06 ID:0
Right now the most popular H!P song at gay bars is Please! Miniskirt Postwoman. The lyrics and sound of it are so perfectly girly, it's just wildly popular.

243:名無し募集中。。。:2012/07/16(月) 18:42:32.26 ID:0
I so get what you guys are saying. (laughs) Does this mean that I have the characteristics of a gay person? (laughs)

244:mcn-ud04087.miyazaki-catv.ne.jp:2012/07/16(月) 19:14:31.33 ID:0
I like how down to earth yet sophisticated H!P is, and I like how they do their thing in TV and other media. I don't have an interest in amateurs just playing celebrities. Lately I've also finally come to appreciate Berikyuu and now I like them even more than Musume. Just a while ago I thought they were too loli for my taste, but now I think they're interesting. I want to be held by Risako or Maasa.

261:名無し募集中。。。:2012/07/17(火) 02:24:31.04 ID:0
If only Kudo was a boy…

264:名無し募集中。。。:2012/07/17(火) 03:10:14.21 ID:0
Akimoto may be able to stimulate the crotches of middle and high school boys, but he does nothing for the heartstrings of gay people.
名無しさん : 2012/07/28 (土) 05:24:18 (TL note: this is a comment from the source site)
I'm a girl but I hate AKB and like H!P for exactly the reasons everyone listed above.

It's just gross how AKB is so flirty towards men. I can't come to like them at all. For me, even the kyabakura girls who do their work with pride are cooler than AKB. Being an idol is supposed to be about chasing your dreams and doing your best, but all they're doing is handshake events and cajolery towards wota. It's disgusting. It's like how it'd be fine if you tried to curry favor with your teacher as long as you were still studying properly, but in their case they're studying nothing at all.
If you're a girl, it's so easy to tell what sort of type other girls are. AKB's members — while maybe not quite all of them — for the most part there's no one amongst them whose character or personality I could come to like. Even the environment is one that doesn't make it any easier to become friends with anyone. I think the environment in AKB will even ruin girls who were originally nice. Their management doesn't seem reliable either.

Compared to other idols, the environment in H!P seems good and it feels like many of its members are reliable. And as far as I can see, that seems to be the case, too. There are no obvious ill-natured personalities. I'm sure they have their bad sides, too, but on a human level none of them seem like the type who I wouldn't want to become friends with. (I can't speak for the newer members yet, though.) Their characters and personalities seem fascinating and genuine for the most part. They're fun and interesting. Plus, the office are stupid: they probably couldn't tell a proper lie to save their lives. That childlike innocence makes them trustworthy in my eyes.
I used to just have fun enjoying the performances of the Platinum Era, but that in turn has made me hopeful about Berryz, C-ute and S/mileage's new members as well.
Henkka: Well then. If there's one thing the H!P board of 2ch does well, it's turning any and every thread into one about AKB bashing. In any case, while last time we heard from the fangirls, I think it'd be fun to hear the gay male fans' views on H!P, too. (Though the gay females are of course free to respond as well.)

So let's hear it: why are you gay folks fans of Morning Musume and Hello! Project? Is it the lyrics that are reportedly full of "queer expressions"? Is there some exquisite quality about the girls themselves that is only visible to gay males? Are there really "pheromones" in H!P's music that do nothing for straight people? Or is it simply because Tsunku is just that damn handsome?
Let us know in the comments!

Source: http://oha2.blog.fc2.com/blog-entry-314.html (jp)