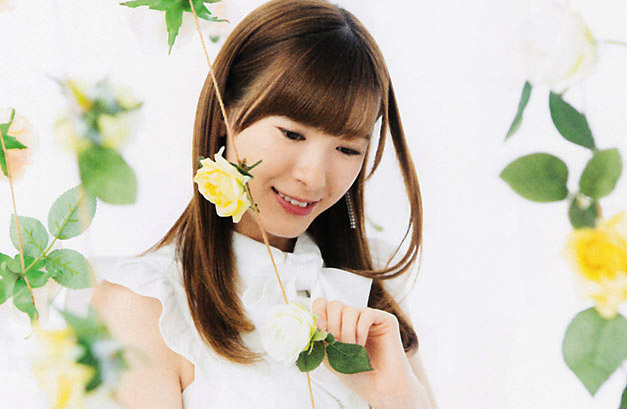 Ikuta Erina
July 7, 1997 — Fukuoka
2011/01/02 ~

Ikuta: I wrote a message in my kindergarten graduation album that said, "I want to join Morning Musume together with my friend." Morning Musume was very popular at the time of course, as was Minimoni. I especially loved Yaguchi Mari.
— Minimoni did indeed have the support of many kindergarteners and elementary schoolers at the time.

Ikuta: What I liked about Yaguchi was how happy and bright she was, but it was also her eye-catching looks — she was like a cartoon character in how easy it was to spot her. I had a huge collection of Minimoni merchandise. One of the more rare things I had was this Minimoni PC software… It was like this, "let's get good on the keyboard together with Minimoni!," type thing. Minimoni was pretty much guiding my whole life back then.
Looking Up to Morning Musume

Ikuta: To me, Morning Musume were always big stars — someone I looked up to. There were lots of kids around me who also liked them, and there was this one friend especially with whom I made a promise that we'd join Morning Musume together. We both loved them to the point where she would wear like boy's clothes and I would wear a dress and we'd dance to "Go Girl ~Koi no Victory~."
It's not that there was one specific thing that made me like Morning Musume — it was more like, before even noticing it, Morning Musume was already there in my life… and I was a fan.
— Seven years later, you finally got the chance to take part in their auditions.

Ikuta: I later came to like all kinds of idols aside from just Morning Musume, but I always felt like if I was going to join an idol group myself, Morning Musume was my only choice. And just then, they happened to be holding auditions for the 9th generation members, and I had this impression that many of my seniors had joined the group when they were in the first grade of junior high school.
As I was in first grade, too, I applied for the auditions not taking it too seriously, just thinking to myself, "I might actually pass!"
— You weren't taking it seriously even though it had been your dream to join the group ever since you were little? (laughs)

Ikuta: Yes, but I also felt that if I failed the auditions, I was never going to apply again. Most likely, I would've been thinking of a different path in life by then. I had this vague feeling of wanting to go to Tokyo while I was still in junior high school, so it was also a good opportunity to make that dream come true.
— So you weren't taking it seriously, and yet at the same time you were betting your life on it… The mind of a junior high girl sure is complicated. What did you like about Morning Musume at the time?

Ikuta: The 6th generation. I loved their song, "Ookii Hitomi." It wasn't all about Niigaki Risa for me until I actually joined the group…
— Now it's like she's your life.

Ikuta: After I was accepted into Morning Musume, whenever I was troubled over something it was always the 5th generation members who were there for me. Since there were so many of us, it'd often be the case that we would be split up in multiple dressing rooms, and I would often share one with the 5th generation members. One time, Niigaki noticed how I had a Takahashi Ai keyholder so she began a conversation with me, and from that point on the two of us started talking more often.
The thing that finally really won me over was after Takahashi graduated when we did the "Reborn ~Inochi no Audition~" stage play. Niigaki's portrayal Joan of Arc made me fall in love with her. (laughs) Ever since then, I've dedicated myself to her.
— I suppose rather than looking up to her, it was more that you came to like her as a person once you formed a connection with her.

Ikuta: I can't put it into words well… I love her, but I also look up to her. And this isn't something I say lightly — I'm very serious about my feelings for her.
As a Subleader…

— Now, seven years after that, you've gotten to experience what your admired Niigaki experienced as well: you've become a subleader of Morning Musume.

Ikuta: When I was still a new member, I was taught all kinds of things by many different people. So now what I try to do is pass on to my juniors all that I've learned, using methods of teaching that suit them the best. For example, sometimes we might get told we couldn't afford to sleep so much because we had to practice. But I think if the next day you're so tired you can't even focus, then you should just sleep instead. Some girls will have dark circles around their eyes, but since our job is one where we have to appear in public, girls like that should prioritize sleep. I try to figure out what kind of a person I'm trying to help and give them advice that suits them the best.
— I definitely think it's an important job to convey to your juniors your experiences.

Ikuta: This was true for myself as well, but when you're lacking in something, it's difficult to know in that moment what that something actually is. It's easy to misunderstand. But when you check the footage after the fact, you can plainly see where you weren't able to do it so well. It's the same with my juniors: when they go back to watch the footage after some time has passed, they'll clearly see why we'd get angry with them. But if they're still at a point in their lives when they can't even see where they've gone wrong, instead of getting angry with them I try to have a different approach in getting them to understand.
— Even with a different approach though, I bet some of them don't get it even then…

Ikuta: That's okay. We're idols after all. We're girls who debut when we're just trying to learn something from zero, and I'm sure the fans enjoy getting to see that process. It must be a reason they cheer us on. It's not like we're actual singer-songwriters or something — if that was the case, then yes, it'd be no good if our singing was all over the place. But that kind of personal development makes for a good story, and a good story must be something that people seek from idols.
— Rather than a subleader, you almost sound like a manager! You have a unique viewpoint on things.

Ikuta: That's why it's like I mostly leave it all up to the leader… I generally don't speak up much when it comes to dancing or singing — that's not my area. (laughs) The role distribution is: Fukumura Mizuki has lots of things to say about singing, Ishida Ayumi handles the dancing, and then me and Iikubo Haruna are the ones who think about speaking technique.
— The "big sister team" is in charge of leading their juniors — just the way Morning Musume should be.

Ikuta: The four of us who are over 20 will often go for dinner together, and that's where we talk, mostly about Morning Musume. Each of us says our piece and then we discuss it. But for me, I'll often take what has been said with me and chew on it for a while. Even if it's something where I feel like I should speak up, or like if we reach a conclusion I don't agree with, I hold my tongue and take it with me. I sort out my thoughts about it, and if even then I don't feel good about it, I try to bring it up at our next meeting.
— There's a surprisingly calm and composed side to you as well. It feels like the fact that you're able to observe and analyze both yourself as well as others makes you well-suited for group activities.

Ikuta: I wonder? I think one of my good points is how I'm so free-spirited by nature, so I kind of feel like I shouldn't show the more measured side of myself too much… (laughs) Mizuki and Harunan are often the members selected for MC's, but I think that's good — this role distribution is good. I'm more suited for that backup role, and ultimately it leads to more well-balanced MC's. And just like with the MC's, in public it's those two who unite the group. If there's something that's bothering me about some member, I talk to them about it behind the scenes.
Again, I feel like having our roles set up like this is the best way of keeping the group balanced.
— Those kinds of unsung heroes who support the group in the shadows are actually the members who play the most important role. Morning Musume has had other OG's in the past who have been that way, and they have been a big reason for the group being so "complete."

Ikuta: It's not that I was advised to do this by any of my seniors… I think it must be something that I just naturally feel inclined to do because I want to protect and keep the group connected. So it's weird to think about it, but I'm glad if I've become like one of those OG's.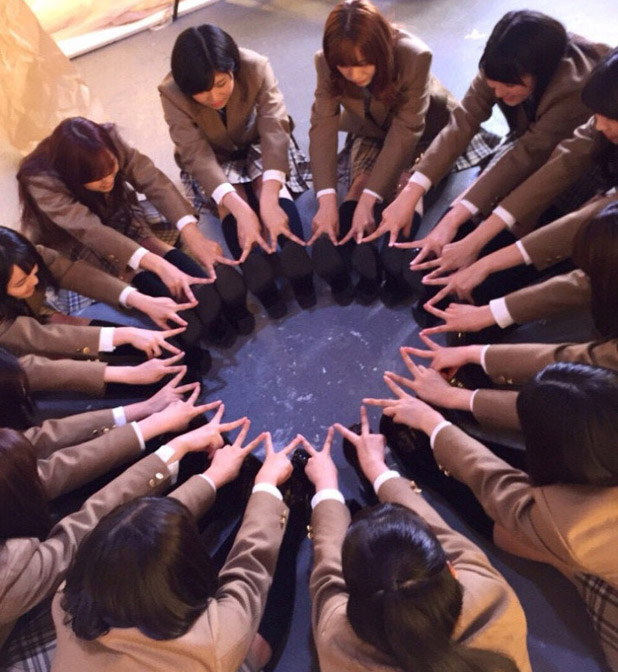 Because I'm a Morning Musume

— I wonder if Tsunku♂ could predict the way you were going to develop?

Ikuta: I've never asked him that, but I do talk to him and exchange emails with him quite a lot. Before, he would come and see our dress rehearsals for example, and at times like that he'd give me advice… But a lot of it would be so unexpected. I was always surprised by the advice he gave me.
— What kinds of advice would he give you specifically?

Ikuta: On the day they first introduced the 9th generation to the public, Tsunku♂ told me I should cut my hair. My hair was almost down to my waist at the time, and the hair and makeup person said it was quite damaged, so Tsunku♂ said, "alright, let's cut it then!" But for me, cutting my hair wasn't even an option. I didn't want to cut it.
But since it seemed unavoidable, I told them, "Wait! Please call my dad and check with him first!" So they did. Somewhere in my heart I was hoping that my dad would stop them. But when they called him, he just went all, "Sure, go ahead!," like it was nothing. (laughs) And so they cut my hair.
— Oh no…

Ikuta: But apparently, when Tsunku♂ heard that, he started thinking, "Wait a minute. Why did this girl want us to call her father and not her mother?" He reached the conclusion that the reason behind it was because I had been raised in a very loving family. Apparently, it was a big thing for Tsunku♂ how a junior high school girl would want to call her dad about her hair. He was able to figure out my family background from just this one tiny thing I did without even thinking. He found it funny. It made me think about how amazing Tsunku♂ is. He really looks at things from a completely different perspective than other people. It surprised me.
— Yes, it definitely seems like the more important thing would be whether or not you're going to cut your hair — not whether you want to call your mother or your father.

Ikuta: But there's more to that story. There's this song called "Otome no Timing," which was the first album song we recorded after the 9th generation had joined the group. On that song, I received the lines: "yappa papa wa yasashii na / zutto suki datta / papa dakara sunao ni hanashi dekinai na" ("my dad really is so kind / I've always loved him / but because he's my dad, I can't speak to him honestly"). Tsunku♂ took that episode about me cutting my hair and turned it into a lyric. It'd been over half a year since it had happened, and it made me think about how he still remembered it. Just the fact that something that involved me had become a lyric made me genuinely happy. So that's why "Otome no Timing" is an important song to me. It's a good memory between me and Tsunku♂.
— Tsunku♂ really does watch over everyone. You can just feel the warmth of his affection towards the members of Morning Musume.

Ikuta: To Tsunku♂, it's not about whether someone is a good singer or not. He's able to detect when a girl has something special about her. Even if you're no good at dancing or singing, he'll still notice the good in you. He doesn't specifically tell you what it was about you that Morning Musume needed and why you were chosen… but he can see it, so you should just go with it.
— What sort of a group do you feel Morning Musume is?

Ikuta: Before I became a member, Morning Musume was this thing that was both close and yet so far away from me. It's this dream for a lot of girls — me included. It's a group that has the appeal where we all aspire to be in it. But after actually becoming a member, I realized that we're all just the same as any other girl. It's this group of normal girls, working hard to be able to show just what we can do, although we have the help of a bunch of other people, and you get to enjoy seeing the individual development of these members that are all necessary to the group.
— You too have shown remarkable growth in these last seven years.

Ikuta: I hope so…
— What is Morning Musume to you?

Ikuta: It's my life. I became a member of Morning Musume at 13, and I loved them even before I joined. So that means that overall, the amount of time Morning Musume wasn't in my life is actually less. Had I remained only a fan, I might've been doing like "let's dance" videos to "LOVE Machine" or something…
— But you are a member of Morning Musume, right?

Ikuta: Yes. I am a Morning Musume. That's why I have to do my very best to try to get closer to the level of my seniors — to surpass them. I definitely feel that way very strongly.
— So whether you stayed a fan or became member was a defining moment in your life.
Ikuta: The way I look at things, the way I listen to my seniors, the words I use when speaking, adjusting the way I talk to people according to how they talk to me… After becoming a member, I've grown in so many ways that it just wouldn't have been possible had it not been for Morning Musume. Thinking about it like that, I feel like Morning Musume is something indispensable in my life. Morning Musume is my life.
My Song
"Shouganai Yume Oibito"


Ikuta: This is a song from when I was still only a fan. Among Tsunku♂'s lyrics, this one has a lot of very straightforward expressions — I was able to understand the lyrics even at the age of 13. It's so cool, but at the same time there's this sadness to it as well. I love it. It's also a memorable song for me because I got to perform it on my very first tour.