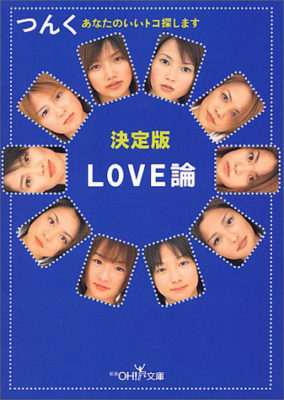 The gradual appeal of a highly self-conscious woman
You probably know this already, but I happen to like women who are exceptional.
Even when I was in kindergarten, I would spare no effort in trying to attract the attention of girls around me. I would be challenging all types of different girls. But even for someone like me there's one type of girl who I'm not very good at dealing with, and that's someone who comes across as being highly self-conscious. That's not to say I dislike girls like that; it's simply that I'll find myself arbitrarily deciding, "someone like her probably wants nothing to do with someone like me."
I feel that Abe is most likely that type of a girl.
What sorts of things would make me think that a girl was highly self-conscious? First of all, one characteristic of girls like that is that most of the time they're very serious in nature. Even when they're with their male friends they never get too crazy — they never forget to remain at least somewhat graceful and mild-mannered.
Also, they have an air about them that makes it feel like it wouldn't be okay to lightly whack them on the head if they were being silly. If the members were all just ordinary friends of mine, I could easily picture myself giving a head whack to girls like Yaguchi or Iida for example. But with Abe, I just don't think I could. Someone like Moritaka Chisato is like that, too — no matter which way you look at it, doesn't it just feel strange to even think about giving a whack to someone like Moritaka Chisato? To give another example: I could see myself whacking Utada Hikaru's head, but the bar would be set much higher with Amuro Namie's head. I could probably give Hamasaki Ayumi a poke — not an especially strong one, just something to convey that she was being silly.
I wonder where these individual differences between girls come from?
Whatever it is, it's not that I have any special feelings towards girls like that. I believe it's simply that the seemingly self-conscious girls like Abe and Moritaka all have the same, peculiar air around them — an air that says, "it would be awkward if I whacked them on the head." There's this indistinct sense of distance between me and girls like that. It's like a veil between us that makes it unacceptable for me to come too close; to become overly friendly with them; to tease them when they make a silly joke.
For the girls like that, it could be that they themselves don't feel that way at all. Maybe they're actually thinking of their guy friends, "I wish they'd try to be closer friends with me." Perhaps they feel strangely envious of their other female friends when they see them getting whacked on the head by guys in a friendly way.
But to us guys, we feel that if we were to try that kind of thing on them, they would stop what they were doing and ask us in a gravely serious tone: "why did you just whack my head?" There's a fear that, even though we were only doing it in jest, they could not just roll with it because of how dead-serious they are, and so they'd ask "why?" It simply isn't possible to make even the slightest physical contact with girls like that. In a way, we feel like girls like that are always on their guard.
Another thing that self-conscious girls will do is question you in regards to just about anything and everything you might say to them, making it difficult even to make stupid jokes in front of them. If they ask "wait, what did you mean by that?," you'll suddenly find yourself in the rather unfortunate position of having to explain your own joke.
---
Abe definitely has that kind of serious-mindedness about her, too, but fundamentally it could instead be that stubbornness of hers that makes her come across as someone who is self-conscious. It's not that her stubbornness causes her problems in her work life or in her personal relationships, but if you ever hear her saying "I get to make that decision" or "I'm going to do it myself," you can be sure that she means it — she isn't going to yield to anyone, no matter what they say.
Here's an example. Abe isn't a very technically oriented person, and so some time ago she was saying how she didn't understand how to record things using the video deck she has at home. A clever girl would go up to a friend and say "I just don't know how to use it!" and make the friend say "no problem, I'll come over and take care of it." But if it was Abe? She'd say "no thanks, I can do it myself"… and then half a year would pass and she still wouldn't know how to do it. If it was me I'd just rely on someone who knew how to do it for me, but Abe doesn't handle that sort of thing well. Surprisingly, Nakazawa is actually quite the girly type in that if she was put in the same situation, she would just ask "would you mind helping me with this?" Iida on the other hand probably isn't as hopeless with technology, so she might observe the person as they set up the recording, making sure that she knew exactly how to do it on her own the next time.
Naturally, none of the above is the "right" or "wrong" answer. Abe being overly careful not to rely on others might be a kind of defensive mechanism similar to how children are taught not to go along with strangers. On the flip side, relying on others like Nakazawa is fine, too. Something as insignificant as setting up a video recording is probably no big deal to most, and some might even feel glad about being depended upon like that. Iida's pragmatic way of dealing with it is good, too.
Abe is someone who is overly serious and somewhat stubborn, and that's the foundation for her being such a self-conscious person. When she's appearing on TV and she's talking with the host, she'll often speak up in protest even at times where I'm sitting there thinking, "just be quiet and let the host make their damn joke." She does have the right to speak up of course, but I do sometimes think there's no reason for her to be so stubborn and uptight.
Usually when one becomes an entertainer they get used to taking some hits and they learn to just let it slide. Abe, however, does not. She has that protective veil covering her, like she's saying "I won't let you get away with saying stuff about me."
However, if you have an air about you that broadcasts to the people around you that you don't allow people complaining about you, that's something you might have to pay a price for. When people around you can't criticize or poke fun at you directly, they can sometimes take the resulting stress and talk about it behind your back. "That woman Abe…!" If they could just tell you how they felt in-person, it'd be a load off their mind and it wouldn't have to become a problem. But when they start to talk about you behind your back, that's something that will make life difficult for you, too.
---
So then the question becomes: is being a self-conscious person a bad thing?
The answer is no.
The seriousness and stubborness that are behind it are worthwhile assets in themselves, and in no way does someone being self-conscious make them a cold person, nor does it mean that they look down on others. Morever, just because someone is self-conscious doesn't mean they can't be close to other people. In reality, Abe for instance has this certain clumsiness about her, and I believe even that alone is enough to make everyone feel a huge sense of affinity towards her.
Say we were back in school and Abe was to suddenly transfer into class. In April, when school had only just started, the boys would be taking an immediate interest in a girl like her. This would in turn cause all the girls to revolt and be constantly glaring at her. But by May or June, everyone would've recognized her clumsiness. Summer vacation would roll around, and by the time the second semester started, she'd be good friends with everyone in class.
In April, the girls would still be going "who does this girl think she is?" Spending time around her, however, they'd be constantly noticing things about her. "Look, Abe dropped her lunch box again!" Abe is the type who would be raising her hand at the wrong times during class and making all kinds of little mistakes like that. Everyone would be relieved upon making this discovery about her. "Oh? Abe is surprisingly clumsy…" That's when the girls would start approaching her more.
And there's no need to fear that the boys would shy away from Abe either. You'll know this just by looking at girls like Abe or Moritaka: boys will never be turned off by girls who give them this "fresh" feeling of distance, or girls who have a serious, straightforward personality.
I, too, am very much fond of girls like that. I would always be trying my hardest to try and make girls like that become interested in me.
During break time, us guys would always be loud and messing about, standing up on our desks and stuff. Even if the self-conscious girls would initially look disinterested in us, they'd still be occasionally catching quick glimpses in our direction. I'd try saying something stupid, and just as I did, I'd notice one of those girls secretly letting out a tiny chuckle and I'd be thinking "YES!!!" It made me so glad to know that she'd been listening; that I'd made her laugh.
---
I don't know what prompted it, but recently that same Abe has been showing some signs of change. Previously she would always be on-guard, almost as if she was constantly thinking "I am doing my best — don't even try starting something with me." But lately, it feels like she's actually started welcoming a bit of that sort of thing.
For example, the other members can now freely tell her things like "Nacchi, you're doing that part wrong" or "hey, your singing is totally off-key." She's become confident enough that she can allow others to set her straight. Now it's like she's thinking, "It's okay. Tell me. Let it all out." She's probably still the same self-conscious woman at heart, but she's become so much more relaxed about it. It's like there's now one less layer of protection around her.
But while Abe herself may have taken this change in direction, thinking about things in the long run I would say that all of you highly self-conscious girls out there in society are fine just the way you are. If you can't help but feel that you'd enjoy your youth more if you could just be silly and have a good time with your friends, it's of course alright to do your best in order to change. But there's no need to go through the trouble just because you happen to be self-conscious, and it's certainly not a personality trait that's going to get you in any trouble.
These used to be this girl in my class who was just perfect. She was good at studying, good at sports, had cute looks, her dad worked at a trading company or something, and people were saying she even went to an English conversation school.
At the time, I just couldn't manage to befriend this particular self-conscious girl. But surprisingly, now that the both of us are adults, we've since become good friends. Having seen that girl grow up to be such a wonderful person, I'm convinced that self-conscious girls have bright futures ahead of them.