The latest interview based on a questionnaire
submitted to Tsunku♂ in March 2018!
Questions by:
Asai Ryo, Tsurugi Mikito, Naka G,
Yuzuki Asako, Yasuda Kenichi & Yoshida Go
— Please tell us: in all honesty, how do you feel now about having left your position as the overall producer of Hello! Project?

Tsunku♂: Right. Well, I worry about the members in many ways. For example, I worry about them reaching their limit as singers, mentally speaking… That kind of thing. For better or worse, my producing method was… I would talk to them as someone who had also stood on the live stage. I'd talk to them about what I'd learned from having performed both at the tiny clubs as well as places like the Budokan or the Domes. I'd talk to them about both my failures as well as my successes. Sometimes I could be a bit strict with them when explaining their responsibilities as professionals, whereas other times I would deal with the problem simply by joking about it. I realize that it's a different time and there are no right or wrong answers…
But yes, I would talk to them about those kinds of thing. I do at times worry if they're having fun or not. I'm always praying for the happiness of my beloved disciples.
— Seeing you producing the group Love Cocchi on "Last Idol" was another chance for us to think about what exactly makes something "H!P-like." How do you yourself define that word: "H!P-like"?
Tsunku♂: I struggle with the definition of "H!P-like"… If the word is in reference to what people have called my "Tsunku♂-isms," well, that's something that's never changed. It doesn't matter if it's May J., or Beverly, or Morning Musume, or Love Cocchi — I'm always trying to draw out their natural "ingredients." That's all. If they're exceptionally good at singing or dancing, I think about how I can get that across to the world. If instead they're not very good singers or dancers, but they still have that something special about them, how do I get society to recognize that about them? The members of Love Cocchi, the members of Morning Musume and Hello! Project, they all have good ingredients. And it all starts with me trying to get everyone to notice those things about them.
Say you've got some fresh fish that you've just caught. You wouldn't make it into canned fish and only eat it then, would you? That'd be a waste. No, it's going to be much more delicious if you just have it as sashimi. But these girls see all these manufactured products in the media that are already perfect. And of course they believe that those people have something exceptional about them so they start trying to imitate them, copying their hairstyles or the way they dress. They don't have confidence in their own ingredients yet, so it's like they're trying to mask that imaginary lack of flavor with loads of sauce or dressing or something. The end result is that their entire personality fades and they start to resemble a ready-to-eat instant meal. It'd be a shame if that happened.
So at the very least, if the person already has those good ingredients about her, what I first try to do is to draw them out. Then, once they get some more experience under their belt, that's when I can start adding a bit of color. That's how I try to handle them. With that said, if your singing has technique and persuasiveness, you could be sitting down, wearing jeans and a T-shirt, and you would still come across as a professional.
Having performed live myself, I've come to realize that the hairdos, the makeup, the costumes… That's all secondary. In my experience, when you get on stage in your flashy costume or whatever, the "woah!" factor is only going to last for about the first minute of your performance. Ultimately, what determines if it's a good show or not is the music and your performance. The audience takes it all in… and if they accept it, then that means it's been a good show.
Back when I was first trying to build up Hello! Project — or even now with Love Cocchi — my intention with the costumes or their hairdos was never to try to have the members "stand out" or have people learn their names. My intention was only to show the members' faces, to show their personalities, and I would give them only the smallest bit of direction. And honestly, if you had fresh ingredients like those girls, and you had a hundred people like that but they were all wearing shorts and T-shirts, you'd still be able to easily recognize them as being something special. You could see it on their faces and in the look in their eyes. But say you instead had a hundred people all wearing full-face helmets and different kinds of anime cosplay outfits… Sure, they would have impact, but you'd get bored of them in no time. Later, you would only remember them as "that group wearing the red Naruto helmets or something." You'd have a hard time remembering any of their personalities. And that'd just be a waste.
— Speaking of Love Cocchi: despite the distance between Japan and Hawaii, it's immediately obvious to the people watching how the members trust you completely. As you have a lot of experience in the field, can you reveal to us any secrets when it comes to producing girls that age?

Tsunku♂: I treat them all equally. I tell them what I know about being a singer and I teach them ways they can improve even slightly beyond where they are right now. I don't let my personal taste cloud my judgement; I value only their motivation, their power of concentration, their desire to improve. The girls that have that, those are the girls I cheer on.
Also, when I'm explaining something to them, I don't think of them as singers when I do. Rather, I'm urging them to think about when they aren't idols anymore; when they've left behind the world of entertainment. I'm trying to give them advice as their senior in life. "Try thinking about it from this angle." I'll often be talking to them about that kind of thing.
— There's a lyric in Love Cocchi's song "Seishun Symphony" that goes: "watashi ga iru / watashi ga iru / watashi ga koko ni imasu" ("I'm here / I'm here / I'm right here"). That phrase started trending on social media. As people find careers and they gain more and more life experience, everyone tends to get stuck in their way of thinking about things. And yet, the stories you depict in your lyrics keep getting updated and you've come up with lots of phrases that resonate even with present-day girls. What's the key to being able to do that?

Tsunku♂: It's not really something I do consciously. These days, I feel that young girls especially are more honest with themselves. They're earnestly pursuing what they want to do in life.
What I've been trying to do is to write songs about what it is they're thinking about on the inside. Things they're embarrassed to speak out loud. Their true selves, hidden deep within their hearts, the existence of which they haven't admitted to themselves. Their innermost desire to be free to be as happy as they once were in their childhood. Their sincere feelings towards love. How they feel after an unrequited love. How they feel about facing the future. How they feel about their past selves. I feel like that struggle is all a part of youth.
— I'd like to ask you a little more about your writing methods. I always pick up on this intense fear of loneliness in your work. That downward spiral of falling deeper and deeper into the hole of loneliness the more you feel afraid of being alone. Simultaneously feeling both uncomfortable yet happy when someone shows you warmth. Honestly admitting to yourself that you're lonely. Hitting rock bottom but realizing that that is when you finally, truly, grow as a person, even if just a tiny little bit. And not being able to talk about any of this to anyone around you because you're embarrassed. These are all experiences people have when they're young. Then, once you grow up, you realize that there's really nothing embarrassing or scary about being alone… My question is: why are you able to so accurately portray that feeling? The feeling of being afraid of being alone?

Tsunku♂: Why? I couldn't tell you. Although there's something I've been thinking about lately. You know the people who are extremely good dressers? Or the people who are great at preparing food… Or the people who are just awesome at decorating their rooms… I mean, say you had a set of items you'd bought at the 100 yen store and you'd both try decorating the room with those same items. And from the very start, you could just tell that this person was on a whole other level in their room decorating techniques. No matter how hard you were to practice, no matter how hard you tried to learn, you could tell that you're never going to be that good at decorating rooms. Because that's their domain. You notice things like that about other people, don't you?
Similarly, when it comes to one's sense towards words and lyrics… For better or worse, I think everyone has a different amount of storage space for that sort of thing. Whether that feeling is really loneliness or just the flip side of "fun," I don't know. But whatever it is, I simply have an assortment of words when it comes to that peculiar feeling, all neatly filed inside my mind.
— Furthermore, in your lyrics, I always sense a love of girls who eat a lot. If you have any unforgettable stories in regards to "girls who eat," please do share them with us.

Tsunku♂: I suppose you're asking me that in a deeper sense of the idea. Well, for humans, eating is a physiological phenomenon. You screw up and it could easily turn into something very embarrassing for you. Because eating leaves you vulnerable. The girl who eats a lot when she's with her family… but when she's with her boyfriend, her pace of eating slows down. She wants to eat more, but she's worried about what her boyfriend might think…
But really, what I want to convey through my lyrics about eating is: if you're still only a student, stop worrying and just eat as much as you like. No one cares even if you gain a little weight. Instead of being so afraid to eat you end up getting sick, choose happiness in being able to eat.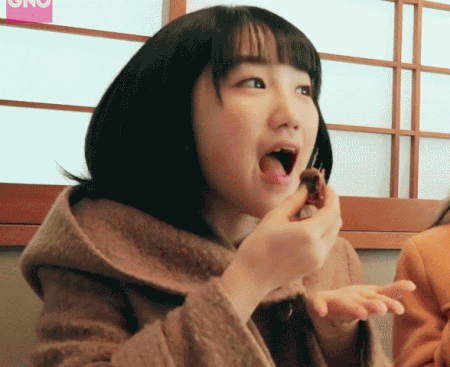 Even in a date setting, the girl who eats will most definitely be much more popular than the girl who doesn't. She leaves a much better impression. If you want to be popular with guys, be sure to eat to your heart's content even when you're at the mixer party or whatever. I feel like this might just be the biggest secret to being appealing to guys.
I mean, even when you go to the zoo or the aquarium, what is it that you want to see the most? You want to see the animals when they're eating! There's something in the human brain that gives us a sense of security about someone when we see them happily eating. It's like flipping a switch — it makes them instantly likable. I think that's the reason that I so often make the protagonists in my songs struggle with eating.
— "NIGHT OF TOKYO CITY" recently made its way onto Morning Musume '17's concert setlist. It received a big response from young fans, many of whom were most likely only small children themselves when the song was first released. Which songs do you personally feel might receive positive reactions from fans if the current members were to sing them today?

Tsunku♂: Having written something like 1800 songs… I wonder how many of those were Morning Musume songs? While I have all kinds of ideas myself, I'm sure that "the times" is a big factor in determining whether a song is popular or not. So, honestly, I might have to ask the senior Morning Musume members to list their top 10 favorite songs from when they were members and choose from those. I wouldn't have a clue otherwise.
I wonder why "NIGHT OF TOKYO CITY" got such a positive reaction? That's interesting. Oh, but I do want some girls to pick up where Taiyou to Ciscomoon left off.
— I'm sure it's difficult to choose from 1800 songs, but are there any songs you personally feel especially satisfied with?

Tsunku♂: I've always produced all the artists and groups as separate entities. I'd think about how a certain song feels right for them because it's coming after this song, or how a certain song might suit them best because it's going to be on this specific album… "This artist just did that song a while back, so now I think they should do this." I always think of it as this ongoing balancing act, so it'd be very difficult to pick just one song I'm especially pleased with…
Well, one song I like is Morning Musume 20th's "Otenki no Hi no Omatsuri."
— There's been an abundance of serious songs as of late. But personally, I'd really like to hear songs like Morning Musume's "Pyoko Pyoko Ultra" every once in a while…

Tsunku♂: When it comes to the singles, these days I really just don't get any orders for the "happy" or "cute" or "excited" or "in high spirits" type songs, so it does feel like my material has been kind of unvaried as of late. The fact of the matter is that it was because there was "Pyoko Pyoko Ultra" that "Renai Hunter" was born… and that song is what then led to "One Two Three." I would love to be involved in a creative process like that again.
— Do you have a message to the current leader and subleader of H!P, Wada Ayaka and Fukumura Mizuki?

Tsunku♂: Don't fall into the trap of thinking that you must always be in-character as "the leader." Don't forget that you're an individual. Be free.
— Do you have any H!P members that you've been paying special attention to as of late?

Tsunku♂: I feel that Danbara Ruru is quickly growing into a great woman. The only question is: how will she attain a sense of rhythm? That's the challenge awaiting her next. I look forward to seeing how she does.
English translation: Henkka
Tsunku♂ on the web: website, blog, Twitter, Facebook