1: 名無し募集中。。。 2017/01/23(月) 23:49:36.36 0.net
I went to karaoke! […] Tsunku♂-san is the best!!!

Song history:

Nakidasu Kamoshirenai yo
Mikan
Yowamushi
Motto Aishite Hoshii no
Tsuugaku Ressha
Kataomoi no Owari ni
Itsumo to Onnaji Seifuku de
53: 名無し募集中。。。 2017/01/24(火) 00:31:02.43 0.net
"Tsuugaku Ressha" and some of the others are pretty nerdy choices.
4: 名無し募集中。。。 2017/01/23(月) 23:51:39.39 0.net
I haven't heard "Yowamushi."
8: 名無し募集中。。。 2017/01/23(月) 23:53:46.19 0.net
>>4
It's a Gaki-san and Sayu song. It's amazing.
47: 名無し募集中。。。 2017/01/24(火) 00:28:14.30 0.net
Ikuta's playlist of songs as chosen by herself on a radio show:
Ookii Hitomi (Kamei Eri, Michishige Sayumi, Tanaka Reina)
Jounetsu no Kiss wo Hitotsu (Takahashi Ai, Niigaki Risa, Tanaka Reina)
My way Joshikou Hanamichi (Morning Musume)
Kaiketsu Positive A (Morning Musume)
Nakidasu Kamoshirenai yo (Morning Musume)
Ano Hi ni Modoritai (Takahashi Ai, Niigaki Risa)
Yowamushi (Morning Musume)
Shanimuni Paradise (Morning Musume)
Give me Ai (Morning Musume)
Onnagokoro to nan to yara (Morning Musume)
Dokusenyoku (Morning Musume)
Motto Aishite Hoshii no (Morning Musume)
Itoshiku Kurushii Kono Yoru ni (Morning Musume)
Tsuyoki de Yukou ze! (Morning Musume)
58: 名無し募集中。。。 2017/01/24(火) 00:47:24.53 0.net
My first time even seeing the title "Kataomoi no Owari ni."
Haven't heard that one.
61: 名無し募集中。。。 2017/01/24(火) 01:00:04.04 0.net
>>58
It's a Kamei solo song. It's this really good, bittersweet song that perfectly encapsulates Kamei's simplicity.
77: 名無し募集中。。。 2017/01/24(火) 07:08:50.58 0.net
I love Yowamushi.
That's a nice setlist, Eripon.
81: 名無し募集中。。。 2017/01/24(火) 07:11:56.86 0.net
I, too, prefer the coupling and album songs.
1. カラフル名無しさん 2017年01月24日 20:42 ID:o450l61p0
Didn't Eripon sing Yowamushi at a solo event before?
3. カラフル名無しさん 2017年01月24日 22:40 ID:RXFOXPtT0
They're all such simple yet good songs. Ikuta must like singing. I hope she keeps slowly but surely improving her singing skills even further. It'd be nice if one day she got to showcase these songs not at an event but at a proper concert.
Source: http://colorhello.blog.jp/archives/1063932753.html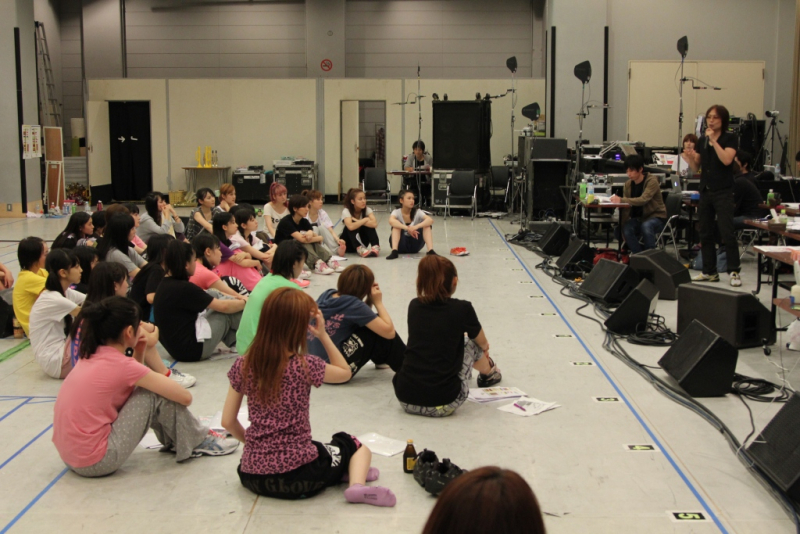 Sudo Maasa:
"Tsunku♂ is a genius."
1: 名無し募集中。。。 2017/01/24(火) 21:32:45.37 0.net
Genius
http://ameblo.jp/sudou-maasa-blog/entry-12241179043.html

I've been to karaoke four times this past week. ♪ Just singing anime songs, watching the videos, singing songs from my favorite artists… changing up the genre depending on the day. And so today I went in full Berryz Koubou mode! And, I've just got to say this again…

Tsunku-san is a genius. I got to spend half of my life with Berryz Koubou and I got to sing so many wonderful songs… I have only gratitude. ??

Tsunku-san is the best!
Berryz is the best!
38: 名無し募集中。。。 2017/01/24(火) 21:44:39.98 0.net
Another Tsunku oshi, huh.
8: 名無し募集中。。。 2017/01/24(火) 21:38:06.35 0.net
A guy who the descriptors "god" and "genius" seem to fit really well.
33: 名無し募集中。。。 2017/01/24(火) 21:43:48.30 0.net
Berryz was, in a very real way, the personification of Tsunku.
50: 名無し募集中。。。 2017/01/24(火) 21:50:24.84 0.net
As expected of the mother of Berryz Koubou.
182: 名無し募集中。。。 2017/01/25(水) 00:09:28.16 0.net
Those early Berryz B-sides were so awesome.
195: 名無し募集中。。。 2017/01/25(水) 00:16:53.69 0.net
>>182
Yeah, the B-sides were amazing. Not that the singles and album songs weren't.
167: 名無し募集中。。。 2017/01/24(火) 23:58:04.40 0.net
I'm so late, but I've only just recently gotten hooked on Berryz.
It's made me realize once more that it really is just no good without Tsunku.
73: 名無し募集中。。。 2017/01/24(火) 22:06:40.58 0.net
Tsunku♂! Tsunku♂!
116: 名無し募集中。。。 2017/01/24(火) 22:51:54.19 0.net
It doesn't even have to be specifically stated that Tsunku is a genius.
123: 名無し募集中。。。 2017/01/24(火) 23:10:17.72 0.net
Whether it's Ikuta or Sudo or Maa-chan, they're all longing for Tsunku♂ as of late.
It's not just the wota — the H!P members themselves long for him.
145: 名無し募集中。。。 2017/01/24(火) 23:43:20.44 0.net
Berryz is Tsunku's masterpiece.
Henkka: Not only does "Tanjun Sugi na no Watashi…" have a great arrangement by Takahashi Yuichi, I nominate it as also having one of the most memorable and overly sweet Berryz lyrics ever:
"Kimi ga suki de / Kimi ni naritai kurai kimi ga suki de"
("I love you so / I love you to the point I wish I was you")
This fuckin' guy, I swear. I want to take Tsunku on a cake shop date.

Source: http://colorhello.blog.jp/archives/1063955408.html