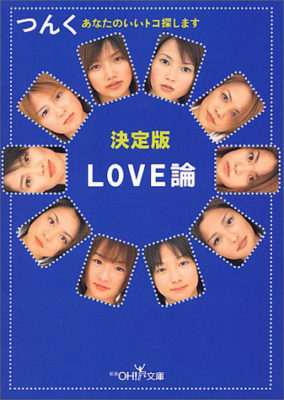 Never underestimate an incomplete woman!
I have a minor problem that I've been trying to figure out.
It would seem that my taste in women is quite removed from the standards of most people out there. Whenever we hold auditions and I say about someone, "alright, this girl is going through!", I can always hear the booing from the studio and the general public.
Thinking back, I've always gotten similar reactions even from my juniors. Whenever I had a girl I fancied in school, I'd mention it to my friends. "What do you think about that one? She's pretty cute, right?" My friends would then look at me as if I was kidding. "What? Her? There are so many girls that are cuter than her. Why her of all people?" Even though in my mind this girl was absolutely the number one.
It's true that I do have a large "strike zone." I mean, I even like girls who aren't cute. There were cases where I suppose it was no wonder my friends would dismissively call the girl I fancied by just "her." Quite often, though, when I'd ask them what they thought of a specific girl, I'd be thinking about her not as she was then, but about how she might turn out in the future. As proof of that, there have been many examples of me setting my sights on a specific classmate or an idol who didn't get any appreciation to speak of, who then went on to change into someone completely different. The more I hear people saying I have bad taste in women, the more confident I feel that I'm making the right choices.
I'll give you an example.
Back in junior high, there was this one girl who was one of the smartest girls in school. Looks-wise, however, she was only average. Overall, she was just very plain. She wasn't well-endowed — in fact, she was pretty much skin and bones. It probably goes without saying that none of the guys besides me had any interest in her. But I declared to my friends: "make no mistake: one day this girl is going to shine." By high school, the girls around her had gotten her to wear contacts and she'd started to wear a bit of makeup. Just like that, she was like a completely different person, to the point where I felt like going "I told you so." In my mind, I was jeering at my junior high friends who'd doubted my theory about this girl. "I was the only one! The only one who knew!"
I have another example. Also in junior high, there was this one gloomy girl who was bullied. She was harassed to the extent that they'd even kicked around her pet dog. She got treated just awfully. "Say something!," they'd scream at her as they kicked her. "Tell us how much it hurts!"
Sometimes, I would be in the group bullying her along with the rest of them.
One day, I suddenly saw her in a new light. "Huh? Wait… Could it be that this girl is actually… cute?" After that, the way I saw her changed. From that day on, I never attacked her again. (You don't have to tell me how self-centered of a boy this made me.) While the others kept attacking her as usual, I started giving her words of encouragement. "We'll be high schoolers soon. Just try to bear it for a while longer."
Then, perhaps around two months into high school, I encountered her again — this time with a boyfriend by her side. She'd become incredibly cute. She looked so cheerful as she brazenly walked with her boyfriend by her side. There I was again, happily thinking about how my prophecy had come true. When she saw me, she looked me in the eye and gave me this smile as she walked past. It made me so glad for her.
Thinking about these two past instances still fills me with confidence. I have a better sense about these things than others, or perhaps it's just been sharpened in my case. I was right about those two girls. "That girl will be so beautiful in the future, you're going to doubt your eyes when you see her." Now it just sounds like I'm bragging!
Ever since then, I never forgot to keep polishing this special skill of mine. Well, it was more of a hobby than anything else. I'd flip through the pages of idol magazines, thinking to myself "ah, this girl is going to make it big one day." I was just talking to myself — I never shared my opinions with anyone. But a year or two would pass and my premonitions would come true. I'd be grinning to myself, feeling all smug. "I knew it! Man, I'm good." But I never imagined this skill would become something that is useful for my career.
Nowadays, that instinctive sense of mine is being put to use in my work as a producer. It's no longer just this silly thing I do to pass the time. It's become something more serious: I now have to judge girls who come to the auditions, being careful not to miss anyone who has future potential. But to people who don't know that I judge these girls with that instinct of mine, whether they be staff or television viewers, they apparently complain. "Huh? Why did he let that girl through? This other girl is way cuter than her!"
To the average person who is judging them based on their values as they are, they tend to rate highly the flashy girls; the stand-outs; the cute ones. Those are the ones who seem to them as "worthy" of passing. But for me, I see no need at all for someone to be perfect and "complete" at the audition stage. They could be unrefined, their faces could still be in the midst of development, they could be short or tall; chubby or skinny. I don't care how many flaws or complexes they might have. Anything goes — as long as they have that one thing about them that stands out. It could be their looks or their presence. It could be their personality. It could be their voice or their sensitivity. What I do is to try my best not miss it if they show me just that one thing that makes me believe they could shine in the future.
---
Morning Musume only had five members when we held the auditions for additional members. At the time, the person who gave me the strongest feeling of "this girl is going to shine one day!" was Ichii Sayaka.
Ichii was 14 years old at the time. Five years could pass and she wouldn't even be 20 yet. That alone made me think it wouldn't hurt to have a girl like that in the group. 14 is an age when girls are undergoing change on a daily basis. I felt it would be great if we could show that period of huge changes for her in the songs and the TV appearances. In addition, Ichii's face was not yet fully developed. However, she had one of those faces that you could tell was going to change drastically — and you just knew she was going to grow up to be a beautiful woman. That was the hunch I had, which was of course based on the confidence that I had developed through the past experiences I talked about.
People with these types of faces tend to have very childlike looks when they're young. They often couldn't be further from having "glamorous" looks. But when they become adults, they look absolutely beautiful. And I don't mean some half-baked prettiness either. They have very very unique faces, and that means they aren't proportioned in the same way as with average people. That's what gives them that "flavor" when they reach adulthood.
Girls typically tend to wish for faces that are very balanced and evenly proportional. "I hate my nose." "I wish my eyes were a little bigger." But I feel there's really no need to despair about your looks in that way. If anything, having something that's "off" about your face means that there's potential for you to look unique and special. Why not think of it that way instead? If you look at all the cool actresses, artists and models that are currently popular, so many of them have faces like that. Similarly, when Ichii is around the age of twenty, I bet she's going to be absolutely stunning. Even if she is no longer a member of Morning Musume when that day comes, I'm sure that with that face of hers she would have no problem remaining an active singer or an actress who's constantly busy filming commercials or something.
When I saw Ichii at those auditions, somewhere in my mind I could visualize that sort of future for her. If, however, Ichii had come to those auditions looking as pretty as she does today? I probably wouldn't have picked her. Girls who are already cute like that tend to get pampered by everyone around them — I feel like had I let someone like that through, she would've thought "I got accepted because I'm cute!" If you compare people like that to the ones who get into the group when they're still wondering why they were even accepted, the amount — as well as the type — of effort they put into their work is completely different. I feel like I want everyone in Morning Musume to be working their hardest like that. Later, when they're looking back, I hope they realize: "I became cute and loved because I kept doing my best up until now." When a girl reaches that point in their lives, they will be well-equipped to take on anything in the future. No matter what happens to them, they'll keep forging their own path in life.
On the other hand, every once in a while you'll get girls who don't just look pretty but who are complete in every imaginable way, right from the get-go. They're the type who have already been taking all kinds of classes for three years or so, perfecting their speaking abilities, their dancing, their acting — everything. People always have more weaknesses and than they do strengths, but if you're someone who has been training with a theater troupe for years and years, you acquire the skills that allow you to guard against those weaknesses very well. When girls like that show up at auditions, I bet that sort of thing earns them quite a lot of points on average.
And why wouldn't they? They have nothing you could fault them with. However, that means they'll often also have nothing that they're exceptionally good at. They're limiting even the parts of themselves that might come to be their most shining elements. To me, it feels like it's often difficult to find anything unexpectedly great about people like that. "This girl is no good at X." "That girl can't do Y."  If the judges at the audition were judging their applicants based on their shortcomings like that, they might pick these types of "perfect" girls. As for me? I don't think I would.
To me, it doesn't matter how many shortcomings a girl might have — like I said, it's OK as long as they have that one thing about them that stands out. When you're working in a genre where you're trying to find girls who want to sing their hearts out, or girls who want to become rock stars, I think it's perfectly alright to accept girls who have weaknesses or complexes — the girls "in-development."
In the two years that have passed since those days when Ichii's looks were still "in-development," I feel that she's really evolved nicely. Just as I'd expected, her facial features have changed drastically. Not only that, but Ichii has found her own way of expressing herself. She's found her position in the group and she's become so much more interesting. It's not like she's one of the centers of Morning Musume, and yet, it's like your eyes are always drawn to her. She's climbing in the popularity rankings fast. There is a good reason for Ichii having changed like she has.
---
I think it's fair to say that in order for a person to change, they first need to have had a number of different experiences: they need to have went through sad things; feelings of misery. You can't change without those experiences. But some more clever people are able to step up and change just by listening to what others tell them. In other words, they take the value system of someone other than themselves, and they introduce it to their own thinking.
If you want to change, you can't just stick to your own sense of values. You look at certain things about yourself and you go "that's cute" or "that's cool," thinking that it suits you. The first thing you need to do is to get rid of that way of thinking.
For example, in junior high school you might have rules that tell you to "always keep your bangs cut above your eyebrows so they don't get in your eyes," or "only bowl cuts allowed." You want to break those rules, so you grow out your hair, or perhaps you dye it. But thinking about it purely in terms of fashion, it's not like it's impossible to cut your hair in a way that's cool and fashionable even when your bangs are still cut above your eyebrows. Similarly, boys might try wearing baggy pants. But that's not necessarily because they think baggy pants are cool — they're doing so just because it's not allowed.
What I'm trying to say is, even if you happen to be under those kinds of circumstances, if instead of simply going against the rules you become able to think "hey, I can become cooler while still staying within the bounds of these rules"… If you find that new type of value system within you, I feel like that will be a major step in you being able to change into a different you. And even if you can't manage a change in thinking as drastic as that, even just listening to the opinions of someone else and adopting them to your thinking — that's something you can do, isn't it?
However, it's also not good to absorb the opinions of too many people. If you do, you're going to have a hard time of ever perfecting that new you. It just so happened that I became the producer of Morning Musume where it's my role to watch them over in all that they do, and thus they never had to hesitate about anything. But if they had the dancing instructors, the lyricists, the composers, and everyone else all telling them different things, it's very possible they wouldn't know who to listen to and which way to go.
But while I don't think the members of Morning Musume ever had to hesitate about things in that way, it's entirely possible that they've all felt more or less puzzled over what I've said to them. "Fukuda, you don't have to smile so much. Abe, you need to smile more." When I tell one of them one thing and the other one something else, I'm sure some of them think "why does that girl get a pass and not me?" But I'm only saying what is necessary for me to say to each one of them individually. That's all they need to understand. Or, if they can't understand it, if they can at least somehow accept it through a bit of humility or faith. Or, if necessary, even a certain level of just "not thinking about it" if that's what it takes.
Ichii was always very good at that sort of thing. She's always done what's been asked of her without a hint of hesitation. Sometimes there will be a song where she has an unexpected part and I'll tell her: "just so you know, they're without a doubt going to show you on TV during this part." If one didn't know better, they might say "but I don't want to sing the harmonies — give me the main melody!" or "I want to stand out — I want the cameras focused on me throughout the entire song!" But not her. I'll tell her: "Listen, here's what's going to happen during this bit in the song. Yes, you're singing the harmony part. But I swear: it's you they're going to be showing here." And Ichii will take my word for it, feeling that she's gotten a sweet deal, and she'll play her part.
In "Manatsu no Kousen," Ichii really only appears during one specific part of the song: that being the "highway konde mo~" bit. She pops up out of nowhere, and then she's gone. But to the TV viewers, Ichii in that one moment leaves a bigger impression than the members who are constantly shown throughout the rest of the song. I didn't explain any of this to Ichii beforehand, but eventually when she saw their TV appearances for the song, I would think that she, too, realized what I had been aiming at.
Ichii is the most calm and collected member of the current lineup. She really came into her own following Fukuda Asuka leaving the group. In a way, it feels like Ichii was always quietly watching Fukuda from the sidelines before she came to fill her shoes once she was gone. Since then, she's put a lot of thought into how she should act in her newly-found position. She has a great sense of purpose and she's a very bright girl, and so she has managed to find the answer to that question by herself.
When thinking about how to best make herself stand out, she's the kind of girl who will go for the "boyish candidness" — as opposed to something like the "fairytale-like candidness" of girls like Yaguchi Mari. She's constantly trying to better herself in the highly competitive arena of Morning Musume. Just look at how she's doing in Pucchimoni and you should see that she's still making constant progress. Ichii is not yet "complete." She's still "in-development," and the day that we find out Ichii's true greatness still lies in the future.