Note: read the Prologue first!
An Omen
I had an anxious feeling in my chest prior to the start of Sharan Q's 25th anniversary live tour.
When my throat was in good condition, I could go into the studio and have my demo vocals recorded in no time. But when it's a tour you're talking about, you're expected to maintain your physical condition so that you can sing over 20 songs in succession per concert.
Demo vocals, by the way, are something I did when I was writing a song for an artist I was producing, like Morning Musume. They're guide vocals meant to help the girls learn how to sing the song. I would always record the whole melody along with the finished lyrics. In the idol scene these days, the norm is having a hired professional vocalist sing the guide vocals, but in my case, I want to have the girls learn proper breath control and sense of rhythm, so I would always record the guide vocals by myself.
At the Sharan Q 20th anniversary concert at Nippon Budokan in 2008, I was already having trouble with my throat and I was worried whether or not I'd be able to sing properly. But that was just one concert, and somehow I managed to get through it. But this time around, while the performances weren't that many in number, it was still a tour spanning several locations. I would have to look after my physical condition.
As it happened, the condition of my throat was constantly changing around this time, going from good to completely useless and back. There were times I'd wake up and think my throat seemed to be in good condition, only to find that I wasn't able to get the sounds I wanted and feeling irritated.
I would be seeing artists like Mr.Children or ULFULS on music shows — artists who debuted around the same time as I did — and not being able to suppress my emotions upon seeing how effortlessly they were singing. "Why do they get to sing, looking like they're having such a good time, when I'm not even able to make the sounds I want?!" I was shouting things like that, punching myself in the throat while my wife would frantically try to stop me…
Eventually I just stopped watching music shows altogether. If Morning Musume or other Hello! Project artists were appearing, I would watch their parts, and their parts only. Nothing else. I believe my family picked up on those feelings, because they gradually stopped watching music shows as well.
When it came to singing, the thing I had the most trouble with was my falsetto voice. I was never sure if I'd be able to sing the "sa" in the "bye-bye, arigatou, sayonara" part of "Zurui Onna." We'd try things like lowering the key of the song, but I still couldn't hit the "sa." I'd get impatient, unable to understand why I couldn't do it.
I would pay regular visits to the hospital to get endoscopic checks of my throat. What I had wasn't the regular vocal cord polyps that many singers develop. Rather, a portion of the left side of my vocal cords was slightly deformed and swollen.
The left and right sides of your vocal cords collide and vibrate together to create sounds. That's how your voice works. What was happening with my throat at the time was that when I would try to go down from a high falsetto voice down to my natural voice, there was a range where a part of my vocal cords would not vibrate. In other words, no sound would be produced.
Still, it all comes down to technique, so even though that part of the left side of my vocal cords wouldn't vibrate, I sang while making up for it by using more of the right part of my vocal cords for about ten years. Even the left side would still vibrate for the most part, and there were some days and periods when I was able to sing properly.
I'd never spoken much about my work at home up until then. Perhaps I just wanted to take my mind off those things when I wasn't working. I don't think I started opening up until my youngest was around a year old or so. However, when this live tour was approaching, I would unconsciously be mumbling about my voice, like "I wonder if my voice will be okay today… will it work out?" and "no sound came out again… why is this happening?"
My wife overheard this. When she saw just how worried this matter made me look, she said "are you okay going forward with this tour in your current condition? Do you really have to go through with it when your throat is that bad…?"
Thinking back on it now, she was right. It might have been irresponsible of me to go forward with the tour. Honestly, I sometimes think it may have been a mistake to do it with my throat in that state. I think about if I would've flat-out said I was in no place to go on a tour in that condition, if instead I would've rested for a good three months or so, maybe it would've all ended differently.
"But I am Sharan Q's only singer. If I can't sing, then Sharan Q isn't complete. The other members are all looking forward to the tour, and besides, I have to think about the financial side of things as the president of TNX, a company of over 40 people. Moreover, it's our 25th anniversary! I am a professional vocalist. We have many fans waiting for us."
Yeah, looking back, there was no chance I would've chosen to neglect my work or run away from the fans. No way, no how. We overcame our amateur years with the fans beside us. Through both the happy times and the painful times, the fans were always there. That's how we managed to survive. I don't believe I'll ever forget that. Keeping those feelings of gratitude in mind, I simply don't think it would've been possible for me to run away from that live tour.
With that said, it's also true that I felt nervous, not knowing if my voice would actually last until the end of the tour. In order to not lose to this pressure, I started to get ready for the tour by getting not only my regular check-ups at the hospital, but also doing things like seeing acupuncturists and chiropractors, doing qigong to get my body and mind in tune… all kinds of things to try and strengthen my health.
But whereas someone like an athlete might only have to worry about managing their physical condition, I also had my duties as a producer on top of my job as a performer. So as I was doing all these things for my health, naturally my schedule started to get very packed, and suddenly I no longer had any time to actually rest. I found myself in a vicious cycle where I was putting the cart before the horse.
If it was possible, I would've done anything to just sing without having to worry about my throat. I hoped my vocals would please our fans. I wanted to have my children see me singing up on stage. I wanted to go on forever creating with my voice. A big part of me was thinking this.
At this point, I had no idea I would get cancer, or that I would end up having to have my vocal cords completely removed. I couldn't even imagine a scenario like that. And yet, deep inside, I somehow knew this might end up being the last time I would get to stand on stage as the vocalist of Sharan Q.
But while I wanted to answer my fans' expectations as a professional singer, my body was no longer cooperative. Getting ready to go on tour, not knowing whether or not you would have a voice each show was both mentally as well as physically exhausting. Besides, it's not like I could just wait until the day of the concert and then go "yeah, my voice isn't coming out today so that's that then, sorry." We also couldn't plan for any long-term work as a band with my voice in the condition it was in. It felt like I was losing my professionalism.
Still, as it was Sharan Q's first tour in quite some time, we were grateful to accept invitations to appear on a number of TV programs. If it was just a talk show, I could somehow get by even if my voice was a little hoarse. I could let the other members talk and avoid speaking as much as possible. But this wasn't the case for music shows — the pressure I felt doing live broadcasts in particular was immense.
Speaking in TV terms, if a 1% viewership translates to something like a hundred thousand viewers, you can imagine the kind of pressure one might have singing on a TV program that has a viewership of 10% to 20%. It was completely different compared to when my voice was still fine and we were appearing on TV doing a new song for the first time.
Each and every time I would be thinking about nothing besides how my singing would be conveyed to the audience in front of their TV's. The other members would be there chatting around me, but I was in no place to be joining the conversation. All I could think about was the new version of "Single Bed" that we'd re-recorded for our 25th anniversary and were now promoting on TV — what if my voice wouldn't come out like I wanted it to…?
I'm sure the members of Hello! Project were watching, too. What if their producer who was always preaching to them about self-management was singing all weird on TV? My words wouldn't carry any weight with them anymore. I was sure there would be messages like "Tsunku♂ is done for" on places like Twitter and 2channel.
"Done for." I was afraid of those words.
Well, no, that's not right. It's more that no matter how much work we did in preparation, if I wasn't able to sing properly on-air, then not a speck of our hard work would be conveyed to the audience. I knew perfectly well from experience that the only thing that mattered was the end result. "Bleh, this guy's got nothing anymore." I hated the thought that some people might be thinking that about me. "Tsunku♂'s singing is great as always!" That's what I wanted to have everyone think.
Each time it was our turn to go on, I was worried whether my voice would come out or not.
Each time I was praying it would.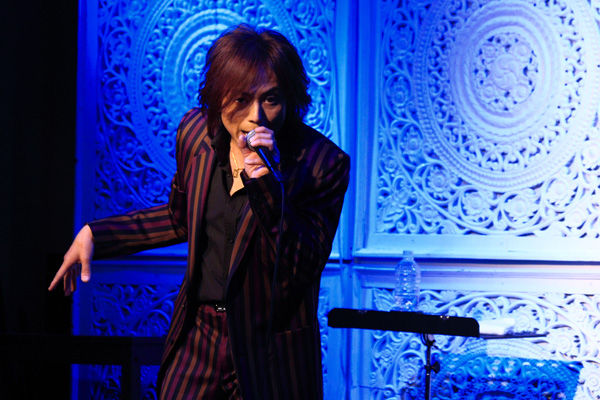 ---
My Final Stage
Finally, on August 31st, 2013, Sharan Q's 25th anniversary live tour "2013 Aki no Ran ~Shihanseiki Densetsu~" began at Zepp Tokyo. As the title suggests, it was a tour celebrating 25 years of Sharan Q. It had us going through Tokyo, Nagoya, Osaka and Sendai, with a final added performance at Nakano Sunplaza on September 21st concluding the tour.
We had a rule in Sharan Q ever since we were an amateur band: "no girlfriends at the venue." Thus, even after I'd gotten married, I'd hardly ever brought my wife along to work. But around the time we had our children, my stance on this started to change. "Why did it change?", you might be asking.
Our thinking had always been, "the fans would hate it if there were all these women and kids running around at the venue — that's not rock'n'roll!" Well, that line of thought seemed reasonable to me at the time. But as time went on, I started to think "just who am I trying to please in this one go I have at life? Isn't it only natural for a man's wife and his children to see him working hard? If they're my fans, then surely they'll understand my thinking on this!" That's the current theory I go by — the law of John and Yoko. I wrote more on why I came to think this way in Chapter Four, so I hope you read it.
In any case, I now wish it to be seen as a completely natural thing that I have a family. Foreign celebrities can be seen waving to the cameras at airports with their girlfriends or wives, even kids, and that's totally a rock'n'roll way of life, too. In other words, when we first set the "no girlfriends rule," we weren't confident in our work and our skills yet. We must've been worried about how we were perceived, and, in the case people found out about us having girlfriends, losing fans.
Had it not been for my throat being in such poor condition, I don't think I would've brought my children along to the shows, seeing as I understand how it would tire them out — especially when it wasn't summer vacation or even a weekend and some of the concerts were in faraway locations. But on this tour, my family was with me to see every single show.
Whereas usually I'm just "dad" to my children, this time I had to appear in front of them as a professional vocalist. I wanted to give the best time to our fans who had taken time out of their busy lives to come see our 25th anniversary tour. I wanted our fans to go home only after passing on to them my feelings of gratitude, and that special kind of happiness only Sharan Q can produce. We'd certainly made them wait a while since the last time we'd played live. I'd finally be meeting again with the fans who had supported Sharan Q through both the good times and the bad. I was very excited. "Wait for us!", I thought, as I kept building up my strength.
I wanted my family, too, to experience this important happening every step of the way. I wanted my children to know about all our fans. "See, your dad has this many friends always looking out for me! They're always supporting me!" Finally, a part of it was my professional spirit. I wanted them to see what their father looked like at work. Perhaps I wanted them to see just how far a professional would go in a battle against himself when he had to.
The way I saw it, the troubles with my throat had nothing to do with the fans. If the fans thought "ah, that was fun. I'm glad I came!" — only then would the tour have been worth it. I felt like I still had to entertain the fans some more.
That's why we in the band, too, had to enjoy that moment in time to the fullest, because our mood would be conveyed to the audience as well. Sure, I was still quite worried about my throat, but thanks to my family being there, I must admit I felt quite relaxed. My kids took it upon themselves to listen to Sharan Q's songs and learn them beforehand, new songs and all, and by the time they were sitting there in the audience, they were waving at us like fans.
"Ah, I'm so happy!" I felt grateful from the bottom of my heart. They were all there.
I bet was thinking about things other vocalists with no throat problems would trouble themselves with. I always need to get ready and concentrate before a concert, so if, say, one of my kids was to suddenly run up to me and go "daddy, I need to go to the toilet!", I would've probably said something along the lines of "your dad has a very important concert to do and needs to concentrate, so be quiet!" I can see myself saying that in my mind's eye. That said, I don't think my kids would've ever said something like that to me at a time like that.
In any case, I had no idea if I would be able to sing well forever, and that's why I wanted my family to see it all. Sure, I could sit here theorizing all day, but I'm sure that's the real reason. I've said this many times in the past, but at the time I hadn't the slightest idea I would get cancer, much less me losing my voice entirely. The thought never even crossed my mind.
Seeing my children sitting in the audience, waving at me and yelling "Tsunku~! Do your best!"… Their smiles along with the smile of my wife sitting next to them is what supported me and what enabled me to be a professional singer. They are the reason I could have that exchange of energy with the fans. It was truly fun.
And so, despite my throat being in such unstable condition, it performed almost miraculously well throughout the tour. I could sing just like I'd always wanted to. I hoped my voice would continue to improve after that. Each day I wanted it to sound better than the last. "Keep resounding forever!" I found myself thinking these things as I sang, during each and every performance.
There's this one scene imprinted in my mind that I still can't forget.
I was singing this song, "Come on! Bokutachi no Mirai," that we'd recorded as the coupling track to our newly recorded version of "Single Bed." It's an energetic rock number. As I was taking in the sight of the audience, there was this woman and her children quite far in the back, and they had such wonderful expressions on their faces as they waved at the stage. I still remember that scene the way I saw it from the stage that evening in Sendai. It's become a treasured memory for me.
My wife knew well the pride I held as a professional vocalist. That's why at the end of each performance, she would come up to me and say "you did good. Your singing sounded very good. Your voice was coming out great!"… and she looked so relieved. In that sense, she could've been even more nervous about each performance than I. At the end of each performance when she would see the audience looking happy as they were starting to leave, and overhearing their chatter and hearing how pleased they sounded, it gave my wife a huge peace of mind.
My eldest son was interested in the instruments and he would be asking questions about them, whereas my daughters — seeing their dad singing up on stage — were curiously all clingy with me whenever we were together. Even as I was telling them to let go, I felt glad as a father.
After making a brief detour to a Kishidan-organized outdoor festival, the tour finally ended with the added Nakano Sunplaza performance on September 21st. My throat held until the very last song of the very last performance without any problems at all, and my voice came out very well. Of course, it didn't ring quite like it did in my twenties, but it was a good, strong voice.
Since I'd been having all those problems with my throat even before the beginning of the tour, I suddenly felt that it was very important we film a performance from the tour, and at the last minute my request was fulfilled when our tour finale at Nakano Sunplaza got recorded. This concert footage ended up capturing the final time my singing voice would be heard with Sharan Q.
I'm very glad we were able to make our 25th anniversary tour a reality with all of you, and I'm very glad I was able to experience it together with my family. To all of you who attended this tour, and to all of you who cheered on us from home: thank you so much. I'm so happy I was able to meet all of you.
November — two months after the tour had ended.
Looking at a picture taken with an endoscopic camera, I could see a visible swelling on my vocal cords. My wife was looking at it as well, going "what's that bulgy thing?" I, too, intuitively knew right away it wasn't something normal.
Until then, I'd been told that there was something inside my vocal cords that got in the way of them vibrating properly, thus causing my hoarse voice. My doctor's medical opinion was that if he was to cut out a part of it, he would probably find some foreign substance, or a lump of fat, or perhaps I'd had a little too much steroids injected into my throat to suppress the swelling, causing a keloid scar. Yes, it was something to worry about, but he assured me that there was a 99% chance that it wasn't a malignant tumor — in other words, cancer. And so, because I didn't know what kind of effect cutting out the swollen part would have on my voice afterwards, I didn't want to have the surgery.
It was entirely possible that it wasn't even a benign tumor, and my doctor wasn't recommending surgery either. My doctor told me it was okay, and I trusted that it was. But I also realized that leaving this weird thing in my throat couldn't have been a good idea either, so my doctor and I agreed that I should take it easy for a while and let my throat and body rest, and surely it would get better soon. That's what I wanted to think. "Maybe I just overdid it a bit on the tour…"
Three weeks passed, and my throat still wasn't getting any better. It felt like I'd gotten a fair bit of rest so I didn't understand why. We went to see the doctor again to get another endoscopic check, and the weird swelling was still there. In fact, it looked like it might've even gotten a little bigger. Plus, the hoarseness of my voice had gotten worse. Yeah, something wasn't right.
And yet, my doctor was still saying there was a 99% chance it was nothing. "Oh, so I'm fine. Phew." But I was beginning to feel that if we didn't have the swollen bit removed, it wasn't going to heal up by itself either.
It's at this point I should have realized to get a second opinion and think about the options I had. That's what the professional singer in me should have done. And yet, all I could think was "well, it's a specialist from a reputable hospital telling me it's okay, and he doesn't even think it's necessary to do a biopsy, so surely there's no problem. Why travel to some faraway hospitals for a second or third opinion when there's a hospital that's this accessible by commute."
Looking back, it's obvious my body was giving me all the signs. No one knows your body better than yourself.
To everyone who's reading this book, I want to say this: if you ever find yourself thinking you don't feel well, or something about your body feels strange, or something doesn't feel like how it's supposed to, then please don't choose what to do based on someone else's opinion — trust your own instincts and act accordingly. I truly believe that's what everyone should do. People around you might say you're worrying too much, or that it's just your age catching up to you. But if you intuitively feel that something is off, then surely you're not mistaken. "Trust your own discomfort" is a good mentality to have.
Even though I had doctors and specialists telling me I was fine, if only I'd just trusted my own instincts and intuitions more, I believe that I would've at the very least had a biopsy done as soon as possible. And yet, even though it was such an important decision I had to make, I decided to trust the doctor's opinion over my own intuition.
A biopsy is cutting a small piece of the affected area of your body and then closely examining its cells. The surgery itself is not difficult, but since it's done under anesthesia, you do have to be hospitalized after the procedure, and I was told it would take about three weeks for me to be able to speak again. In my case, they would've taken a scalpel to the swollen part of my vocal cords, cut out a small part from the inside, and done a medical examination on it.
So in other words, I would've had to clear up three weeks on my schedule. "Just where on my schedule could I clear up a three-week slot?!" I was thinking that to myself as I flipped through my schedule book, obviously not having much luck finding such a slot, and I found myself shying away from the biopsy. And yes: in the back of my mind I had convinced myself that there was nothing wrong with me.
Around this time, I was appearing in au commercials with Morning Musume, and my voice was so hoarse and difficult to hear that I actually had lots of people contacting me afterwards, asking me if I was okay. My wife, too, had people contacting her, telling her that I definitely needed to have my throat looked at, and people who were offering to introduce me to a good doctor.
At the end of the year, the producer of a program I was appearing on introduced me to a certain hospital, so I talked about it with my wife and we agreed I should give it a shot.
The doctor, upon seeing my throat for the first time, said "yes, it's quite swollen indeed. I can't tell just by looking at it how good or bad it is, but if you say it has been like this for over a month, then I strongly recommend performing a biopsy. At the very least, CT and MRI scans. I think it's exactly because you're a singer that you should get this examined as soon as possible." He gave it to me straight.
I'd just had an MRI taken a year earlier that showed there was nothing wrong with me, but now when I had another doctor urging me to get further checks, I reached the decision that that was what I needed to do. My wife agreed.
I started with the easy one: the CT scan. The result was what I'd hoped: they found nothing wrong. "Ah, so I really am okay after all." Still, I knew I shouldn't leave it at that and I decided it was time to go all the way. But I had my work cut out for me in January, with scheduled concert tour planning, a couple of TV appearances, filming for commercials, and several interviews, so I decided that I'd get the biopsy done in February — looking back, I wasn't giving the matter nearly the amount of seriousness it demanded.
If only I'd had the courage at the time to say "sorry, I don't feel well. Please cancel all my appearances in the near future." Oh, how I wish I would've said that.
But whether it was because of my sense of duty or because of my inherent seriousness, I just wasn't able to say those words.
---
It's Happening To Me?!

2014. Even after the holidays at the beginning of the year, the hoarseness of my voice still wasn't showing any signs of improvement.
After tying up various loose ends at work, I was finally going to have my biopsy performed on February 12th. I discussed things with the staff who made it so that for about three weeks following the biopsy, I wouldn't have any work that would put stress on my throat. After the procedure I could focus on composing and writing lyrics so the songs could meet their deadlines. Rather than it being me taking any time off from work, it was more just me doing what I could in the hospital and pushing back work that required me to be physically present.
Since I wouldn't be able to speak for three weeks following the procedure, I took my children on dates on three separate days before then. With my eldest daughter, we dressed up and went to a dance party only fathers and daughters could attend. My youngest daughter wanted to ride a ferris wheel, so we went over to Venus Fort in Odaiba. I took my eldest son to our favorite ramen shop per his request. "Your dad is going to get some surgery done to have his voice fixed, so I won't be able to talk to you for a while. In the mean time, you have to take care of yourself, okay?" I had a talk like that with all three of them, and they were brief but happy moments.
It was explained to me that a biopsy had to be performed under general anesthesia, but that otherwise it wasn't a difficult surgery. I'd previously undergone surgery for vocal cord polyps and figured it would be pretty much the same thing, so I didn't feel very worried. On the contrary, I felt relieved that after this operation we'd finally know what was causing me the problems with my throat. Maybe a lump of hardened fat would plop out and that would be the end of it, and a couple of weeks later I'd have forgotten all about ever having had any such problems. I hadn't even the slightest inkling that I might have cancer.
I did, however, feel very worried about my family while I was hospitalized. I got into the hospital the day before the operation. My children visited me in my room that day after they got out of school. We drew things, watched TV, and just spent time together until visiting time was over for the day.
On the morning of the operation, my wife came in to see me the first thing in the morning. She was watching over me, looking so worried, with tears in her eyes. "Don't be silly, it's just an examination. I'm fine. You just take care of the kids, okay?" I waved my wife goodbye as I was taken to the operating room.
The procedure was over in an hour or so. I was still asleep when the surgeon had a chat with my wife afterwards. "The swelling on his vocal cords ended up being a little different from what we'd expected. Once we made the incision, we found some spongy mass inside. We took out everything we could, but we couldn't get all of it. Even if it turns out to be the worst case scenario, meaning a malignant tumor, we still have plenty of options available to us. The cells we obtained are now being examined, but I really can't tell you anything definitive until we get the results."
But until recently, I actually had no idea the surgeon had had this discussion with my wife. I believe she kept it a secret from me as to not cause me any mental stress. That evening, the surgeon who had chatted with my wife came over and went over the details of the surgery with me. According to my wife, the words the surgeon used on this occasion were considerably milder compared to when he'd talked to my wife earlier. "Claiming he couldn't say anything definitive until the results came in, and yet telling me things that only made me worry… that was awful. It's not like there's anything we can do to help the situation. Weren't they telling us there was a 99% chance of it being nothing special just a while ago?!"
My wife had become very worried, but since I didn't know about what the doctor had told her, all I could do was wonder why she looked so worried, while thinking about how I wanted to be released from the hospital as soon as possible. I didn't think I was sick, and while I couldn't use my voice, I felt pretty good for the most part. Being hospitalized was awfully boring, but since my attending physician had asked me to stay until the results came in, I promised to stay hospitalized for three or four days until then.
My kids were visiting me pretty much every day. Well, rather than them coming over to see me, they were more just playing around, excited about being in a hospital. Pretty soon I'd just tell them to run along and go buy something at the cafeteria. My kids may have thought of the hospital as just a place where they were treated to lots of desserts and candy.
On the fourth day after the surgery, I'd finished eating dinner and the kids were playing around as usual when my doctor walked in along with a nurse.
"We just received the results. Ah, could you take the children out of the room for a minute? Sorry. Please play with this lady here for a while." The nurse then walked out the room with my children. I felt like I'd gotten used to being in the hospital at that point, but once the children left the room, the atmosphere changed entirely. "Oh no. Something's not right," I immediately thought to myself. As I had a bad feeling gnawing in my mind, me and my wife's eyes met for a second. In the next moment, the doctor gave me the news straight away.
"The results indicate a malignant tumor. I'm afraid you have laryngeal cancer."
He continued. "It hasn't progressed that far along yet. It can still be cured."
"There are ways of treatment that allow us to still preserve your voice."
"Let's get you to another hospital and begin treatment right away."
But my mind wasn't understanding the doctor's words.
"What do I do?!"
"Cancer = death?"
"How many more years do I have?!"
"What's going to happen to me?"
"What about my children?"
Those were the things running through my mind. The doctor went on. "We discovered it early. It's at stage T2, perhaps even T1." I couldn't get my thoughts in order to ask him any questions. Even if I'd tried, I wouldn't have been able to ask them without a voice anyhow. I took the hand of my wife who looked scared, like a ton of bricks had been dropped on her. The doctor went on one-sidedly for a long time, but none of it was registering in my brain.
"I have cancer."
"In my throat."
"Even though we did so many checks and I took good care of my health?"
"It can't be."
"This is a lie."
"I'm only 45 years old!"
"They said there was nothing wrong with me!"
I was unable to think at all about what was going to happen from here.
All I could do was hold on to the hand of my trembling wife.