April 4th, 2015.
The weather forecast for Osaka had promised rain, but it was a cloudy day. By the time the ceremony was about to begin, there were even hints of sunlight.
I was in Osaka with my family where I was producing the 2015 entrance ceremony for Kinki University, my alma mater.
I woke up at half past five and had the breakfast I'd prepared for myself earlier. Today would be the first time in a while that I would be getting up on stage. "Huh, it's been a year and a half since I last had to put on makeup." That's what was running through my mind as I started to get ready.
From the window of my hotel room, I could see the Osaka Castle along with the Osaka-jo Hall. I looked down upon the street that stretched from Osaka-jo Kouen Station over to Osaka Castle — my starting point as a band man. It was Sharan Q and our friends who used to turn parts of this ordinary street into a live venue.
When Sharan Q was still an amateur band, we would play there every Sunday of every week. I was singing as if my life depended on it, thinking about how I wanted to fire up the audience and how I wanted to become a professional musician. "Don't worry, just keep on doing what you're doing — you're going to become a professional, a million-seller!" If I was to go back in time and tell that to my younger self, I'm sure I would've gotten cocky and not achieved anything at all.
These were the sort of pointless thoughts going through my head that morning.
My kids appeared to be a little bit excited seeing their dad putting on makeup and trying on outfits. Me, I was mainly just concerned about getting through the entrance ceremony I was producing without a hitch. To new students, it's a once-in-a-lifetime event. I thought to myself: "please let this entrance ceremony make the new students feel glad they chose this university, and let it give them a sense of something new in their lives starting!"
The ceremony was starting at ten o'clock, so I made my way up to the Kinki University Memorial Hall at a little past eight. I had produced the entrance ceremony the previous year as well, but I couldn't personally attend it because of the cancer treatment I was receiving at the time. (By the way, the year before that I appeared as a guest and sang the school's anthem.)
The entrance ceremony began on schedule. The opening VTR played, and after that, the KINDAI GIRLS — made up of students new and old — had their performance.
I was watching them with my family from the side of the stage. They performed "Koko ni Iruzee!", a song I wrote for Morning Musume in 2002. The TV monitors had the lyrics pop up. As I was reading those words I had written more than ten years earlier and watching the KINDAI GIRLS perform the song with 100% smiles, their frantic energy reminded me of my amateur years, of a certain something I felt like I'd forgotten, and I suddenly felt tears welling up in my eyes.
They all did such a good job!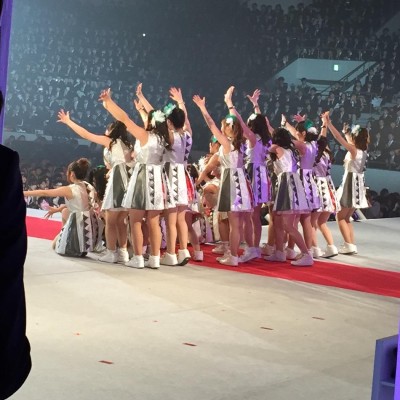 And then their performance ended. After they stopped dancing, the members returned backstage. They were all crying as well.
They were good tears.
Sure, had they been some professionals who cried after every single live performance they did, I would've probably told them off about it. "It's only obvious you're getting passing scores every time — you're professionals!" But that day's performance was completely different. There was a sense of deep emotion they could achieve because they were amateurs.
"So go ahead and cry as much as you want — you've earned it," I thought to myself.
When the KINDAI GIRLS first came on stage, my kids were eyeing them suspiciously, going "they're not the same girls as usual." But perhaps their performance was enough to convince even my kids: when it was over, they walked over to the girls to give them all high-fives. The KINDAI GIRLS had certainly done something right.
I still had over an hour to go until my appearance, so I returned to my dressing room to wait.
It was planned so that there would be no announcement specifying exactly when I was appearing, not until moments before I was to get up on stage, so I was busy dropping little hints on Twitter as to when I would be making my appearance. I purposefully kept the tweets far apart so eventually some students were beginning to have doubts, thinking I might not appear at all.
I was interrupted by my eldest son — who was going to turn seven soon — who complained that he was hungry, so I got him the lunch box that had been prepared by the university. Meanwhile, I was also busy looking after my eldest daughter (twins with my eldest son) who had been as if glued to me for some reason since that morning, as well as my second-born daughter who had just turned four.
The ceremony proceeded without any delays, and before long it was time for me to get up there. I checked my appearance one more time, and double-checked what I was supposed to do until I walked up on stage.
My family joined me as I waited in stand-by mode at the side of the stage. This was the first time in my life I got to be with them in the moments prior to going up on stage — they would always move over to the guest seating area ten minutes before showtime at the latest. But this time was different. They weren't there as guests; they were there at the side of the stage, sharing in that feeling together with me.
If it was any other day I might've been nervous, but this time I was feeling none of that even as I waited for my turn.
---
Looking back, I realize now I had been preparing for this day for a long time. It was in the autumn of 2014 when I was made an offer to produce the 2015 opening ceremony, in succession of the previous year's edition. This was right after I made the announcement that my laryngeal cancer had gone into remission. Afterwards, they found out that it hadn't healed after all, and I had to have my vocal cords removed, so I had a conversation about the matter with my wife. We then decided that I would do my best so I could announce my comeback on stage at Kindai's¹ entrance ceremony.
In my case, I'd developed a severe stiffness in my neck and my back as a result of radiation treatment before my surgery. Because of this, eating had become very difficult for me to do. I weighed about 62 kilograms before my illness. By the time I had my vocal cords removed, it had dropped down to between 52 and 53 kilograms.
After the removal of my vocal cords, I was warned that if I tried to eat something too solid, it might tear the seams on my esophagus, causing a risk of leakage into my system. Well, I didn't have to worry about accidentally eating something too solid: I couldn't even swallow a piece of boiled broccoli.
Immediately following my surgery, I was on a diet of strictly liquid food. Some days after that, I could move on to eating soft but solid foods, but even then, I had to chew everything over and over and over again until it was completely formless in my mouth before I could attempt to swallow it. Once even a little bit got lodged in my throat, no more food would go down and it would quickly come up through my nose. Had I tried to shove something in by force, it would've torn open the stitches.
Honestly, the act of eating was a huge hassle. I felt I would've preferred just drinking Weider in Jelly forever rather than going through the trouble anymore.
Seeing me in that state, my wife said this to me. "Aren't you going to be appearing at Kindai's opening ceremony in April? Are you planning on going up on stage looking like that, all skin and bones? Who is going to feel happy being cheered on by someone who looks so weak? Rather than it being about you cheering them on, they'd probably feel worried sick about you instead. Doesn't sound like much of a joyous occasion to me."
She gave me a proper scolding.
She continued. "Don't tell me you can't eat. You have to eat. You have to do your best and eat more! Can't you see that you're never going to get better if you don't?"
And so I ate, starting from when I was still in the hospital.
Every day, my wife would bring me homemade carrot juice and healthy, bittersweet chicken soup with lots of garlic and ginger. The kayaku-gohan onigiri were delicious, too. It took an enormous amount of time to get through just one meal, but I thought of it as my job, and so every day I would eat.
Even after I was released from the hospital, my wife would try to have me gain weight and get me looking even a little bit more healthy. Every morning she would have something nutritious prepared for me, and she would make meals that looked inviting to try and raise my appetite.
But no matter how hard I tried, even my youngest daughter of three years would finish her meal before I did. Up until now, I had repeatedly scolded her for taking too long to finish her meals, but now she was a much, much faster an eater than I. Seeing their dad like this, my kids would all cheer me on. "Daddy, I finished my meal before you!" My son looked so cute as he would say that, boastfully.
In any case, I kept on eating to gain more weight, to gain more strength, so I could send my message of support to the new students while looking positive and cheerful. No matter how hard it was, I ate. And strangely enough: little by little, I started to get better. I even felt excited about the idea of going to eat out again. Once I'd gotten enough of my strength back, I even took up kickboxing.
It's because I did my best to take care of my body through that time that I am here today.
---
It was a feeling unlike the usual nervousness before a live concert. It felt like something was about to begin. There was even a bit of excitement.
Just as I was about to go on stage, my eldest daughter suddenly refused to let go of my hand. "I don't want you to go somewhere all by yourself, daddy. I want us to be together no matter what." It was perhaps because we'd been spending so much time together since my illness was discovered that when she saw me getting my makeup done and then making my way towards the stage, she might've figured I was going someplace far away.
"You just watch over your dad, okay? We'll always be together, no matter where we are." I told her that as I hugged her tightly.
And thus I began to head towards the stage.
"This is the starting point. This is where it begins once more. This is where I become the next me — the new me that was made by my wife and my children. So that's why it will go just fine. Don't back down now. Go out there and do it!"
That's what I was telling myself as I walked up on stage, accompanied by incredible excitement and applause from the audience. I walked over to stand at the center of the stage, and before long the song I'd written right after the Great East Japan earthquake, "Love is here ~Kibou no Hikari~", began to play in the background as my message appeared on the screen.
Congratulatory Address
Congratulations to all of you who have been accepted into Kinki University! My name is Tsunku♂ and I am a graduate of this university.
Let's be honest. Some of you had to work yourself to the bone to get accepted to Kindai. Some of you set your sights on this university specifically and got in, whereas for others this place was just a back-up plan. There are as many stories here as there are students. Was this university the right one for you? No one can tell you the answer to that question.
However, the one thing I can say is this. It is in your best interest to proceed on a path in life where eventually you'll be able to think you're glad it's this university you got into.
Some of you may be wondering why I'm not speaking aloud to you today. The reason for that is because I had to have my vocal cords removed. I had been receiving treatment for my throat since last year, but in the end the cancer never fully went away so I had no other option besides removing my vocal cords.
I had to give up my voice, the thing I most treasured, and choose life.
Prior to that, I had gotten an offer to produce this year's opening ceremony for your university. That's when I found myself thinking, "ah, I'm so glad I graduated from this university. If I can be of some use to them, then I'll do my absolute best!" I genuinely felt that way.
I had been emailing back and forth with the university staff since the end of last year in preparation for this day. Everyone from the KINDAI GIRLS, the brass band club, the cheerleading club, and many other students all gave their utmost to practice and get ready for this day, wanting to give a warm welcome to the new students.
Some of you may have been leading very passive lives up until now. Doing things because your parents told you to… taking advice your teachers gave you… But soon enough, you, too, will all be adults. You will have to start taking control of your own lives. There's no use holding on to any regrets — think only about going forward from here. I believe that if you decide the path you're going to take and you keep at it, some good will definitely come out of it, and it will lead to new opportunities in life for you.
I, too, have only just started my new life after losing my voice. I'm standing at the starting line, just like all of you. I must keep thinking about what I can do — what only I can do. That's the kind of life I hope to lead from hereon. You, too, need to think about what you can do — what no one else but you can do. If you try to pursue that, things like your education or your grades won't matter. You will live a life for which there can be no substitute.
Kinki University will let you challenge anything you wish. It's all up to you: if you choose to do nothing, then you will have a life full of nothing. But if you choose to forge a path for yourself, then you will surely have a university life that will allow you to grow up to be a great adult. Go out there, make lots of acquaintances and friends, and take the world head on as you begin your new life. I, too, will do my best to not lose to any of you in my new life!
Please allow me to say this once more: congratulations once again for being accepted into Kinki University! Please self-produce your university life in a way that will make you glad you chose this place!
Finally, I'm grateful I was able to meet all of you today. Thank you!
2015.4.4
Kinki University Opening Ceremony Producer
Tsunku♂
By the time the ceremony had ended and I'd made my way out of the venue, the clouds had parted and the weather was beautiful.