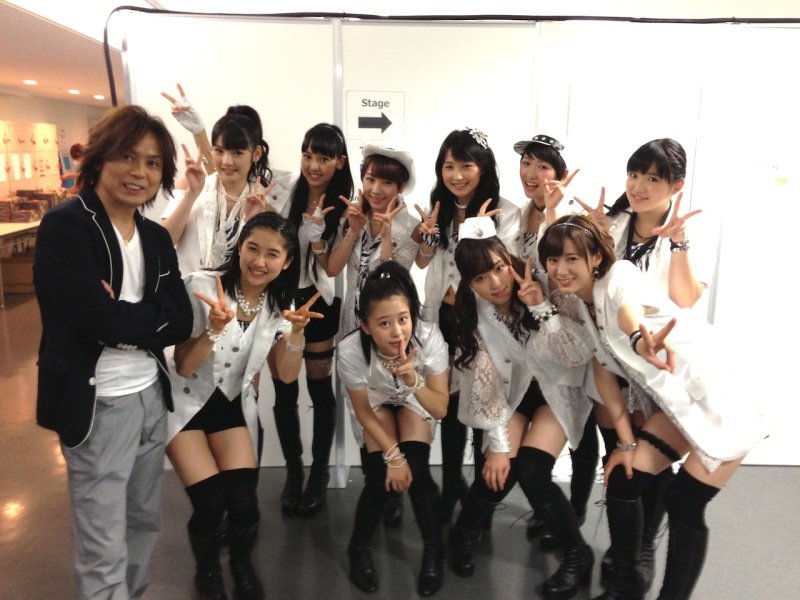 1: 名無しさん@黒豹 2016/05/14(土) 14:04:29
Tsunku (47) previously stepped down from his position as the producer of H!P. Morning Musume's new song, "Utakata~" was composed by Tsuno Maisa (24), guitarist of 4-piece girls' band Akai Kouen. The song has received much praise from people in the music industry for its bright disco sound. As a source in the record industry told us: "People were worried when Tsunku♂ stepped down as the producer, but it actually looks like things are now going very well indeed."

"Tsuno has a lot of respect for Tsunku♂, and she understands all the "Tsunku♂-isms" very well. It now feels like other creators are taking the seeds planted by Tsunku♂ and watering them with their talent, and the flowers are now starting to bloom. By stepping down as the producer, Tsunku♂ himself has become free to collaborate with other artists. With Tsunku♂ now able to contribute music to artists outside of H!P as well, it's something that motivates both parties. When that motivation circles back to H!P, too, it'll create an even more virtuous circle between all parties."

It would appear that Momusu has entered yet another new era for the group.
http://www.tokyo-sports.co.jp/entame/entertainment/539886/
2: 名無しさん@黒豹 2016/05/14(土) 14:05:19
It kinda feels lonely when they state it that plainly…
3: 名無しさん@黒豹 2016/05/14(土) 14:20:58
They're taking us H!P wota for complete idiots. Sure, to someone looking in from the outside, Utakata might sound like a kind of "successor of Tsunku-isms." But in reality, that couldn't be further from the truth. Yeah, Utakata is a fun song, but that's really all it is — a fun pop song. Besides, when you force a comparison with Tsunku, it's only obvious that you'll instantly split the listeners in two camps.

Forget about all the light fans and the newcomers who can't tell X from Y for a second. For all the people who were addicted to Tsunku songs before, their opinion of this song is basically this: "It's weak." "It's so ordinary." "I've heard this before." "It's lacking." "It gets boring so fast." "There's no substance."
I mean, look, here's what I'm saying. It'd be fine if they just released it as its own thing. But now they're specifically saying "Look, isn't this so Tsunku-like?! We're still catering to all you people who liked Tsunku! See!? This is the kind of stuff you guys like, isn't it? Isn't it?! We even got good old Suzuki Shunsuke to arrange it~!"
It just feels to me like they're taking all longtime Tsunku fans — and their ears — for absolute idiots. It pisses me off.
4: 名無しさん@黒豹 2016/05/14(土) 14:37:56
>>3
You have wota with their "Hoshibe Shou = Tsunku♂" theories; wota who deny those theories; even wota who think "Hoshibe Shou = Hashimoto." Whichever one of those theories is correct, it just means that at least some wota are wrong. So when people talk about "Tsunku♂-ness," I have to wonder: what does that word actually even mean? Can it really be as simple as you put it: that the new fans are all wrong and the old fans can all see through the facade?
5: 名無しさん@黒豹 2016/05/14(土) 15:29:08
Any self-professed wota is going to have some prejudice. Tokyo Sports is still a newspaper (even if it is a lousy one) — you'd be foolish to expect them to take your prejudices into consideration. No one would be able to write an article who both ordinary people and the wota could equally appreciate, praise, and agree with.
6: 名無しさん@黒豹 2016/05/14(土) 19:46:13
While that might've been an overly positive article, I agree that you can hear a level of respect towards Tsunku in Utakata. Vision and Tokyo, too, are of the usual excellent Tsunku-quality, so I really don't think it's a bad lineup of songs at all.
7: 名無しさん@黒豹 2016/05/14(土) 20:48:32
It's been quite a while since Tsunku stepped down as the producer, and yet they're still writing such positive articles. That's something to be grateful for.
8: 名無しさん@黒豹 2016/05/14(土) 21:53:15
>>7
When you think about it… that's totally true. Tokyo Sports have always been extremely positive towards H!P. No doubt they have a fan in their staff.
1. カラフル名無しさん 2016年05月16日 23:24 ID:HUudtpD.0
I, too, thought it was a good article.
2. カラフル名無しさん 2016年05月16日 23:48 ID:oUiO5KNe0
There was a time when you had lots of people bashing Tsunku and saying they need to bring in someone new. Now there are people saying it's not even H!P if Tsunku isn't there. I guess it's different people saying those things, but the thing that both parties have in common is that they're both arrogant enough to be saying "I don't like it, so they need to change!"
Either things change when they do, or they don't. If you like it, you should enjoy it while you can; if not, you should probably leave it for a while. And yet, so many people seem to think that their opinion is the only correct one…
Well, to be fair, this isn't just an issue with H!P but with the whole otaku industry in general.
3. カラフル名無しさん 2016年05月16日 23:57 ID:mJz.pniaO
※2
I agree, while also admitting I'm guilty of this, too.
4. カラフル名無しさん 2016年05月17日 00:12 ID:9HYlLnZy0
I don't think the arrangement of Utakata is very good. Both how the beat is constructed, and the genre as well… They should've just made it into a straight-up ska song. I'm a little bored of the pseudo-funk songs as of late. The person in charge of choosing the direction of the songs is taking the easy way out as of late.
5. カラフル名無しさん 2016年05月17日 00:16 ID:yR.J4GSQ0
"Composition & lyrics: Tsunku"
As long as those words are there, it feels like people will think even non-Tsunku songs suddenly sound Tsunku-like. (laughs)
Having been here since when people were bashing Tsunku, going "This is boring!" "Write something that will actually sell!" "Get someone else to write their songs!", I can say that it feels like wota always want what they can't have, no matter what.
Personally, I've preferred the non-Tsunku songs since '15 so I'm fine with how things are right now. I certainly don't think you can't have an H!P-like song if it's not written by Tsunku.
7. カラフル名無しさん 2016年05月17日 00:26 ID:o6d1j0OY0
The thing is, with Tsunku stepping down as the producer, the biggest loss in terms of intrigue isn't actually the music. It's the concerts. Having Tsunku♂ personally making appearances, making all those big announcements and seeing the H!P members' reactions… all that was so fun. The sad truth is that right now there's no substitute for Tsunku♂.
9. カラフル名無しさん 2016年05月17日 00:33 ID:yR.J4GSQ0
※7
For the big announcements, I think if they just brought out Sayu that'd achieve pretty much the same level of excitement. But when it comes to producing concerts, I really think no one does it better than Tsunku.
12. カラフル名無しさん 2016年05月17日 00:58 ID:lZXLBCCa0
I feel like Tsunku was like the catch-all up until now. Like, when he made that statement about how there's a member in S/mileage who "isn't motivated enough," that could've only been thought by a member of the staff who spends a lot of time with the group. I'd think Tsunku discussed it with the staff, and then took responsibility as the producer and made that statement.
Now when the staff make decisions like S/mileage's name change or J=J's 220 concerts thing, they make the members themselves announce it. "It's something we decided ourselves after talking it over with the staff." Everyone knows it's the adults behind the scenes making these decisions, so don't try to make the members carry that responsibility on their shoulders. Have someone from the staff just step forward and let them be responsible.
14. カラフル名無しさん 2016年05月17日 01:33 ID:YMksZgwI0
It can't be helped that Tsunku is no longer there. It's just a sign of the times. But what I don't like is the label managers and people like that acting like they're the creators; pretending like they're Tsunku and talking about the music side of things. That's the real reason all the recent stuff is so boring. All I'm saying is: leave the creative stuff to the creators.
16. カラフル名無しさん 2016年05月17日 03:47 ID:N5gCPmWw0
>>14
But Hashimoto has arranged several songs to date. It's nothing mindblowing, but surely he's at least the better arranger and instrumentalist when compared to Tsunku.
15. カラフル名無しさん 2016年05月17日 02:43 ID:6H6KqHKP0
Back when Tsunku was writing pretty much all of H!P's songs, he was bashed all year round.
Time just makes people recall memories through rose-tinted glasses
18. カラフル名無しさん 2016年05月17日 09:04 ID:w872roJe0
At the end of the day, what's happening right now is that we're paying the price of having Tsunku work alone all those years while not training the next generation of talent.
20. カラフル名無しさん 2016年05月17日 10:07 ID:usTTsmsP0
It's not that he's completely gone from the picture. I think it's fine. Besides, people were constantly complaining when every song by every unit was composed by Tsunku. Especially in the later stages, the quality of his songs was just…
Oh, and besides: did all of you people forget that the guy was diagnosed with cancer?
28. カラフル名無しさん 2016年05月17日 19:40 ID:QNaMUlvA0
Guys, this was just a PR article they paid money for.
Why are you getting so up in arms about it? (laughs)
23. カラフル名無しさん 2016年05月17日 11:19 ID:g0XqrQVF0
Up until '14, it was the Tsunku Order. From '15 and onward, it's been the Hashimoto Order. Since '15, they've graduated the ace, and it's like right now they're busy dismantling the Musume created by Tsunku. They're trying to wipe off all colors of Tsunku and replace them with their own.
27. カラフル名無しさん 2016年05月17日 18:15 ID:cyay3J6Y0
I, too, feel lonely and worried without Tsunku there as the producer. But still, he keeps writing these amazing songs, and you also have these young creators like Tsuno and Hyadain (as well as Maro) who have been influenced by H!P and who are all beginning to produce good works for them, too. I think this is quite a fun time for H!P.
Aside from all the creative stuff, though, it kind of does feel lonely no longer having that one leading figure at the helm.
Source: http://colorhello.blog.jp/archives/1057426292.html