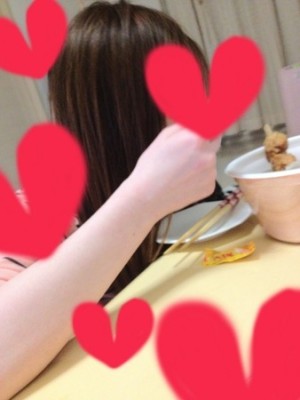 1: 名無し募集中。。。 2009/03/14(土) 18:05:23.88 0
Name: Aneshige
Source: Ookami Hyakkajiten (Wolfpedia)
Michishige Sayumi's older sister.
Was a second year student in university as of 2007. (According to Sayu, it is a private university.)

(Note: As revealed by Sayumi, Aneshige was unemployed as of April 2012, though apparently as of 2014 that may no longer the case.)

Born 1987/11/07 (26yo), height 156cm.
Her nickname is Choi-chan, from the word "occhokochoi" ("scatterbrain"). 

(Note: Her first name is rumored to be Natsumi.)

Sayu had to leave Yamaguchi when she passed the auditions to join Musume. This made Aneshige lonely, so she applied for a high school in Tokyo and followed Sayu there.
Her skin is so light in complexion, it makes Sayu look dark-skinned. Doesn't have black hair.
Her go-to song at karaoke is "Moonlight Densetsu."
Is Sayu's most loved person in the whole world.
Loves "Go Girl ~Koi no Victory~".
According to Sayu, she's quite the heavy drinker.
According to Sayu, she prefers to avoid conflict.
There are so many amazing episodes concerning her, there are even doubts as to whether she's actually nothing more than a figment of Sayu's imagination.
H: What follows is a selection of Aneshige episodes. All of these stories are sourced from Sayumi herself as told on Konya mo Usachan Peace and other places.

Episodes concerning Aneshige herself

Is currently busy with school and her part-time job. She works part-time at an izakaya, but keeps causing problems due to her constant mistakes.
Bathes with Sayu almost daily, after which they stand in front of a mirror and compare their cuteness. Furthermore, Sayu's signature phrase "yoshi, kyou mo kawaii!" originated from Aneshige.
The other day for the first time in her life she left the house without wearing any bra or panties. Often uses the same underwear as Sayu.
Doesn't remember the plots of movies she thought were interesting, even when it's one she just watched earlier that same day.
Whenever someone claps on TV, she claps, too.
Can get so down about her day not going well, she'll start banging her head against a wall.
Offered to pay for everything when she was at a summer festival with Sayu. She had a total of 20 yen in her wallet.
She got lost at a supermarket, so she had to have the staff call Sayu and her mom over with a public announcement.
When Sayu called her on "Futarigoto", she'd woken up at 9 to read manga.

She fell asleep while sitting on the toilet. Her family rescued her by breaking the door with a screwdriver. The next day, Aneshige had no recollection of this ever happening.

Because the earth is round, she believes that if you jump, you briefly go outside (into space).
Made a phone call to Sayu from her university library. She got warned for being too loud, so she hung up the phone.
Is not good at games. She started crying aloud after losing at a video game, and when she lost at a card game, she did an impression of Ega-chan in front of her family as a punishment for losing — while crying.
She was upset to learn that Sayu had told the above story on Konusapi, but she calmed down when Sayu reminded her that none of her friends listen to the show.
Didn't like it when she found out that Sayu had started a new corner about her on Konusapi called "Konshuu no Oneechan" ("this week's big sister"). Sayu easily coaxed her into giving her permission by saying that it was just a joke corner.
Started crying after getting into an argument with Sayu. Her reason? "Sayu-chan's words are too grown-up!"
Her mom, dad and Sayu were having a lighthearted conversation by the three of them as she was watching TV. She suddenly went "why are you excluding me from your conversation?" and started crying loudly.
Can't fix her Yamaguchi dialect.
Likes going to karaoke and manga cafes, especially when she's skipping school.
Comes to Sayu's concerts quite often, but she doesn't get fired up at all and since she can't sit still, she just wanders around the venue.

Tried to insert a DVD along with its package and everything into the DVD tray.

Came back from the supermarket while still holding a shopping basket from the store.
When she was in sixth grade in elementary school, she wrote a letter to her 20-year-old self. In it, she wrote "The me right now really likes the character "か" ("ka"). What do you like now?" Coming of age this year, she apparently now likes "な" ("na").

She was really hungry but there was nothing to eat at home, so she ate a tissue.

She went go-karting but she couldn't successfully finish even one lap, so she had the staff there push her go-kart from behind.
She's surprisingly good at cooking. She can make gratin, spring rolls, etc.
She thought 2007 had already started in December 2006.
She lost her phone four times in 2007 alone. She managed to find one of them, but the other three times she had to buy a replacement each time. She obviously lost everything that was on her phone, so she currently only has the numbers of her five family members saved and no longer keeps in contact with any of her friends back home.
When her character in a video game walks, she starts walking, too.
Something apparently made her sad while Sayu was in the bath, so she got into the bathroom and got into the bath with Sayu while still wearing all of her clothes.
She used to work part-time handing out tissues. She couldn't fill her quota of tissues she had to give out, so she had her mom pretend that she was a passerby and gave them all to her. For a period of time, their whole house was filled with pocket tissues because of that.
She hates going to the dentist so much, she'll be crying all the way there from when she leaves home.

Immediately starts crying when Sayu pulls the tiniest little prank on her (like closing the elevator door in front of her right when she's trying to get in).

Is impossibly good at Tetris, so much so that if there was a Tetris tournament, she'd definitely win the whole thing and become famous, or so she says. However, she's unskilled in all other video and cellphone games.
She dropped her phone in the bath, but she thought chilling it would fix it so she put it in the refrigerator.
Doesn't care at all about personal appearance, so she almost never uses make-up. If she does use some, she prefers to use Sayu's make-up goods that are nearly all used up.
Doesn't use bras lately either. Is pretty much a nudist at home.
When Aneshige visited a botanical garden, she thought everything there was made of plants — including the explanatory notes on the plants themselves. She literally thought the notes were growing from the ground.
Lately she's called "Shige-san" at school. Like Sayu, she hates the nickname and is afraid it's going to stick.
She once tried to tidy up her front hairline with a razor. She failed.
She used to get a nosebleed whenever she cried.
The Michishige family was talking about the Beijing Olympics when Aneshige asked "where are the Beijing Olympics held?"
Always takes peeks at Sayu's diary without permission.
She hates getting injections so much, it always causes her to start crying loudly. She hates seeing the needle go into her arm, so she asks the doctor to give the injection to her buttock instead.
She wanted to go to the beach, so she lied at her part-time work about having school that day so she wouldn't have to work. They started suspecting her about having lied when she came back with a tan. The excuse she came up with was that she'd gotten it from her desktop lamp.
Repeatedly crashed her car into things at driving school. Speaking about it later at home, she was just carefreely saying "oh yeah, I crashed the car today!"

Episodes with other Musume members

Is acquainted with all 5th and 6th gen members aside from Tanaka.
When Sayu goes on trips with the other members, Aneshige tries to tag along for some reason. She's become good friends with the other members and she now even exchanges yearly birthday presents, etc, with them.
When Gaki-san came to hang around at their house, from the very start Aneshige was really arrogant towards her, thinking she wasn't cute. Sayu apologized profusely, but Gaki-san apparently didn't mind.
Is close enough with Ai-chan to sometimes go out to lunch with her, just by the two of them.

Wants Sayu to give her the small toy Ai-chan gave to Sayu as a birthday present.

Episodes concerning job hunting

She kept giving outrageous answers to her questions at a job interview, leaving the interviewer just looking at her with their mouth wide open. The other interviewees couldn't hold themselves back from laughing.
When asked why she had applied for the company in question, she just answered "no reason in specific."
When asked "what's the most moving thing that's happened to you lately?", she answered "When I had to bid farewell to my grandpa at Yamaguchi. Ah, no, not "grandpa" — I mean "grandfather"!"
When asked what her friends say about her, she said "I'm often told that I'm cheerful, honest, always energetic, and cute." (She wasn't expecting the question, so she apparently misheard and thought she'd been asked "what compliments are you most happy to receive?")
When asked "…and when are you called those things?", she replied "I can't answer that right now."
She wanted to seem enthusiastic, so she said "I went and visited one of your stores to see what it was like." When asked which store she had visited, she just randomly said "the one at Sasatsuka." She was told they have no store at that location. She never got a call back from the company.
As hard as it may be to believe, she still received several job offers and found a place of employment.
5: 名無し募集中。。。 2009/03/14(土) 18:08:22.53 0
Aneshige is a grade A lunatic. She's seriously on the level where she'd beat you up even for just going near her.
6: 名無し募集中。。。 2009/03/14(土) 18:09:42.97 0
Aneshige is just a fantasy of Sayu's.
8: 名無し募集中。。。 2009/03/14(土) 18:10:15.02 0
Aneshige and Anishige (Sayu's older brother) don't exist.
10: 名無し募集中。。。 2009/03/14(土) 18:12:56.16 0
Anishige did come to their concert once. The wota were shaking hands with him.
12: 名無し募集中。。。 2009/03/14(土) 18:14:54.17 0
Aneshigeeeeeeeeeeeeeeeee!!!
14: 名無し募集中。。。 2009/03/14(土) 18:15:31.37 0
If Michishige thinks Aneshige's even cuter than herself, she must be really, really cute.
16: 名無し募集中。。。 2009/03/14(土) 18:17:17.10 0
I'm starting to think it's not cuteness in the traditional meaning of the word in her case…
18: 名無し募集中。。。 2009/03/14(土) 18:17:32.73 0
Doesn't feel like she'd ever be able to go out and make it out there in society by herself…
25: 名無し募集中。。。 2009/03/14(土) 18:20:46.70 0
Is she really okay? (laughs) Or is that all just a part of Michishige's imagination?
26: 名無し募集中。。。 2009/03/14(土) 18:21:41.29 0
If this is all just a figment of Sayu's imagination, it's some really high quality fiction.
28: 名無し募集中。。。 2009/03/14(土) 18:22:58.68 O
Is that not Asperger's?
29: 名無し募集中。。。 2009/03/14(土) 18:23:26.80 0
Feels like she's just lacking in intelligence.
31: 名無し募集中。。。 2009/03/14(土) 18:24:28.05 0
Lately I'm thinking… what if Sayu is actually just Aneshige's creation?
It could be that all she does is just her following Aneshige's orders.
42: 名無し募集中。。。 2009/03/14(土) 18:29:38.81 0
I wish Sayu would get more popular so Aneshige could appear on TV alongside her.
56: 名無し募集中。。。 2009/03/14(土) 18:35:52.35 0
Wasn't Aneshige sitting in the audience in a recording of Haromoni or something?
(Note: I assume the below pictures are what >>56 is talking about. It's not proven that the person in question is actually Aneshige as far as I know.)
107: 名無し募集中。。。 2009/03/14(土) 20:05:26.17 0
Kamei's mother has said that that Kame-chan looks like Aneshige.
108: 名無し募集中。。。 2009/03/14(土) 20:09:03.49 0
Apparently Ogawa and her mom are going to Michishige's house a lot lately. They go to karaoke with Ogawa, her mom, Michishige's mom and Aneshige.
90: 名無し募集中。。。 2009/03/14(土) 19:51:06.78 0
Aneshige is actually currently working in public entertainment, posing as Michishige Sayumi.
The real Michishige Sayumi re-debuted under the name of Mano Erina.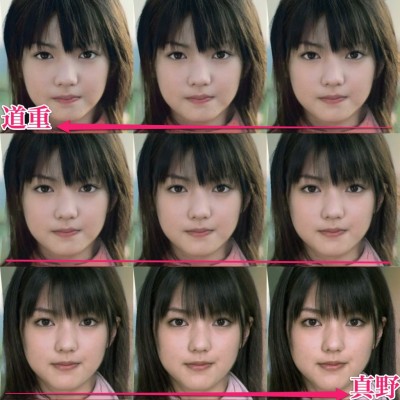 121: 名無し募集中。。。 2009/03/15(日) 02:20:46.62 0
I want to meet Aneshige.
45: 名無し募集中。。。 2009/03/14(土) 18:30:26.10 P
The real Aneshige died when Sayu was five years old.
It's just that even to this day, Sayu hasn't been able to come to terms with her death.
Henkka: My primary thought as I finished reading through Aneshige's episodes was "please, please don't let that girl ever be successful in getting a driver's license…"

Sources: http://wolfhound.sphere.sc/test/read.cgi/wolflog4/1237021523/, http://www42.atwiki.jp/wolfpedia/pages/75.html, http://hellohellotime.doorblog.jp/archives/51898680.html, http://アイドルタレント.com/michishige-sister-neet-1146