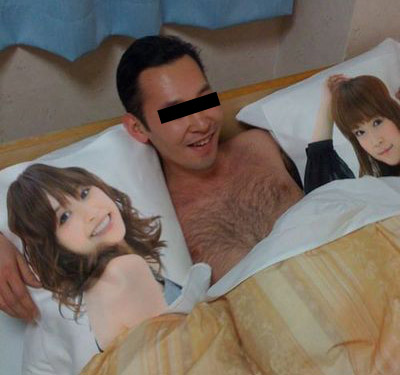 1: 名無し募集中。。。 2013/06/23(日) 09:33:20.88 0
I mean, is there anything as fun as being a wota? I seriously want to know.
6: 名無し募集中。。。 2013/06/23(日) 09:36:22.26 0
Serious reply: you quit being a wota after you find something more fun to do. You have the order wrong.
20: 名無し募集中。。。 2013/06/23(日) 09:40:44.81 0
>>6
But what could be more fun than being a wota?
7: 名無し募集中。。。 2013/06/23(日) 09:37:26.81 0
It's easy to give it up when you get a girl or boyfriend. But the forever single people can go on being a wota forever.
14: 名無し募集中。。。 2013/06/23(日) 09:39:34.06 0
>>7
And, if you're like me, once you've broken up with that person it's just as easy to get back to being a wota again.
10: 名無し募集中。。。 2013/06/23(日) 09:38:01.88 0
Well, there are levels to being a wota. This thread is about the "heavy" wota who read this board. Is there anything that can be more fun for those kind of people?
12: 名無し募集中。。。 2013/06/23(日) 09:39:10.75 0
The serious wota are the type of people who get completely engrossed in what they do. Once they find a new interest, it's easy for them to get hooked on that instead.
16: 名無し募集中。。。 2013/06/23(日) 09:39:54.48 0
The wildly enthusiastic wota are people who aren't satisfied with their normal lives alone, so once they quit being a wota, that's when they've found that satisfaction in their lives.
19: 名無し募集中。。。 2013/06/23(日) 09:40:06.65 0
If I hadn't gotten married, I don't think I'd ever found the right timing to quit being a wota. It's just so much fun.
21: 名無し募集中。。。 2013/06/23(日) 09:41:08.95 0
A lot of my acquaintances have quit being a wota. Whether they got a girlfriend, or they got hooked on prostitution, or they got into AKB instead, or they went back to being an anime wota or stuff.
28: 名無し募集中。。。 2013/06/23(日) 09:44:12.14 0
>>21
The last three didn't quit being a wota! (laughs)
23: 名無し募集中。。。 2013/06/23(日) 09:42:38.21 0
It's scary to think that as long as this board exists and H!P continues doing events every week, I'm probably going to keep being a wota until I'm an old man.
27: 名無し募集中。。。 2013/06/23(日) 09:43:48.66 0
There was a period of time when I drifted away from H!P while I was dating someone, but I came back.
32: 名無し募集中。。。 2013/06/23(日) 09:45:12.51 0
The other day I met this guy at a concert who said he quit being a wota when he got married, but it got so boring he came back. Apparently it's tough having to get permission from his wife each time.
35: 名無し募集中。。。 2013/06/23(日) 09:46:00.66 0
For people who have been a wota for more than ten years, it must feel like H!P is their entire life.
44: 名無し募集中。。。 2013/06/23(日) 09:50:33.79 0
I was a H!P wota for ten years, but I quit to become an anime wota. Sure, the anime Blu-rays are expensive, but it's still cheap compared to going to even one concert. There's no traveling involved either, so you save money and time from that, too.
47: 名無し募集中。。。 2013/06/23(日) 09:51:27.24 P
I probably wouldn't have ever visited Hawaii if I wasn't a wota. (laughs) It was better than I expected though, so now I want to visit again outside of any idol event.
50: 名無し募集中。。。 2013/06/23(日) 09:52:51.68 0
If I hadn't become a wota, I would've probably led a really ordinary life.
53: 名無し募集中。。。 2013/06/23(日) 09:54:29.68 0
I'm into anime, games, figures and idols (I don't care for any groups outside of H!P), so I can't save up money at all.
55: 名無し募集中。。。 2013/06/23(日) 09:55:37.36 0
Five years ago I stopped being a wota and just became a casual fan. I resumed my education in graduate school and last year I finally got my master's degree.
68: 名無し募集中。。。 2013/06/23(日) 09:59:55.15 0
I wonder if getting a child would get me back my will to live.
71: 名無し募集中。。。 2013/06/23(日) 10:00:36.73 0
>>68
More like it would suck up your time and money to continue being a wota.
74: 名無し募集中。。。 2013/06/23(日) 10:00:58.04 0
I'm the type who gets really immersed in his hobbies. I'll probably find something else at some point.
Teens: F-1 and other motor sports
Early and late twenties: professional baseball
Mid-twenties: horse racing
Late-twenties to early-thirties: women's boat racing
From 33 to now at 37: idols (H!P)
78: 名無し募集中。。。 2013/06/23(日) 10:03:24.84 0
I came back to H!P because I realized being an AKB fan was more expensive.
90: 名無し募集中。。。 2013/06/23(日) 10:08:41.26 0
It's weird how there are so many people here who quit being a wota. You guys weren't able to quit this board?
91: 名無し募集中。。。 2013/06/23(日) 10:09:25.42 0
Yes.
94: 名無し募集中。。。 2013/06/23(日) 10:11:07.77 0
Lately people are encouraging me to marry a Thai or a Filipino but I'm trying not to.
109: 名無し募集中。。。 2013/06/23(日) 10:16:02.45 0
While I'll probably quit being a fan of the group when my oshi graduates, giving up on being a wota entirely is impossible. But at least I'll probably spend a lot less money, so in some ways I'm hoping she graduates soon.
116: 名無し募集中。。。 2013/06/23(日) 10:18:50.70 0
I quit being a wota but I'm thinking I might go to Musume's Sapporo concert on their Fall tour. Mostly I just want to go on a trip there, so the concert is my excuse.
118: 名無し募集中。。。 2013/06/23(日) 10:19:29.19 O
When you get married, all the money will go to your wife and all you'll get is a little pocket money. Makes me wonder if I'd be really happy in that situation.
133: 名無し募集中。。。 2013/06/23(日) 10:27:05.84 0
I quit being a wota because I got into taking trips abroad. I originally got into it when I went to Musume's concert in Shanghai though.
141: 名無し募集中。。。 2013/06/23(日) 10:32:07.89 0
I use all my money on the wota lifestyle. Sometimes I think about pointless things like what if I'd saved up all that money instead.
144: 名無し募集中。。。 2013/06/23(日) 10:33:23.80 0
When I was a wota, I couldn't afford many expensive study books or modern jazz CD's. Now I'm able to buy lots of them, so maybe this is for the best.
149: 名無し募集中。。。 2013/06/23(日) 10:36:30.26 O
When you quit being a wota you can still enjoy the music or videos afterwards, but the other goods are really nothing but trash. I really regret buying so much.
188: 名無し募集中。。。 2013/06/23(日) 10:55:15.24 O
>>149
I get that. I haven't quit being a wota, but I have all these goods of members who were previously my oshi. I've tried to get friends into making her their oshi, but it hasn't worked out yet so I still have them.
151: 名無し募集中。。。 2013/06/23(日) 10:37:04.85 0
When you get married, your wife won't let you continue being a wota. I mean, would you let your wife run after Johnny's all year?
161: 名無し募集中。。。 2013/06/23(日) 10:44:34.88 0
You won't worry about not having a family if you brainwash yourself into thinking of the Eggs as your kids and your oshi as your wife. Man, the world is scary.
162: 名無し募集中。。。 2013/06/23(日) 10:45:01.83 0
That sounds like a perfectly happy life.
266: 名無し募集中。。。 2013/06/23(日) 11:15:10.20 O
You better be prepared for all your money to go towards your wife and kids. Just having a wife will make you happy though, so it's okay.
182: 名無し募集中。。。 2013/06/23(日) 10:52:55.63 0
I was a fan for ten years before just recently finally attending my first concert and joining the fan club and stuff. It made me realize that I'll probably never be able to give up being a wota.
183: 名無し募集中。。。 2013/06/23(日) 10:53:28.44 i
I'd be satisfied if I just died right there at my seat after the graduation concert of my oshi… but I always end up finding a new oshi anyway. (laughs)
202: 名無し募集中。。。 2013/06/23(日) 10:58:54.85 0
I once got a girlfriend and quit being a wota, but I found that having a girlfriend was even more expensive. Besides, being a wota is way more fun anyway, so I dumped her and came back here.
254: 名無し募集中。。。 2013/06/23(日) 11:12:28.60 O
I became an anime wota. I love the voice actresses, too.
258: 名無し募集中。。。 2013/06/23(日) 11:13:07.78 0
A wota saying "once (insert name) graduates, I'll definitely quit being a wota" or "I'll definitely follow her forever"… there are no words that I trust less than those. This has been proven so many times already.
265: 名無し募集中。。。 2013/06/23(日) 11:15:09.31 0
>>258
I thought I was reading my own reply. (laughs) Yeah, there are no words I doubt more than my own "I'm going to keep supporting her forever." (laughs)
261: 名無し募集中。。。 2013/06/23(日) 11:14:22.25 0
The guys who really give up do so without saying anything. They'll just suddenly disappear from the social network sites or stop updating them.
271: 名無し募集中。。。 2013/06/23(日) 11:16:09.19 0
The guys who say "I'm quitting being a wota!" always come back. How it actually happens is that they suddenly just disappear without a word and when you talk to them, you find out that they got themselves a girlfriend or something.
277: 名無し募集中。。。 2013/06/23(日) 11:17:54.34 O
You know what I'm really fed up with? Even though I've quit being a wota, when I sometimes go and meet with some old friends, they'll want to brag to me about their latest wota happenings. I don't give a shit how many times you shook hands with whoever.
285: 名無し募集中。。。 2013/06/23(日) 11:19:12.76 0
I used to have an idol I was really hooked on but when I got a girlfriend, I immediately lost all interest.
357: 名無し募集中。。。 2013/06/23(日) 12:39:35.84 P
I used to have a group of friends with whom I went to the Hawaiian tours of Musume and Matsuura. Here's what happened to everyone…
Me → I'm still here. I no longer go to Hawaii but aside from that, I still travel to other cities to catch their events and stuff. Single.
Friend 1 → Married. Completely quit being a wota.
Friend 2 → Married. Whenever Berryz comes to Osaka, he'll attend only to the afternoon performance with me. Sudo oshi.
Friend 3 → After Kamei graduated, he moved on to Kashiwagi from AKB. Single.
Friend 4 → Became a race queen fan because "you can directly hand them letters or presents." Single.
Friend 5 → He moved so we gradually lost touch. Single.
376: 名無し募集中。。。 2013/06/23(日) 16:59:39.14 0
Coming back after traveling abroad for half a year, I found that my wota enthusiasm had cooled down. It was such a change, I couldn't even believe it myself. I was still reading this board and stuff at first when I arrived though.
378: 名無し募集中。。。 2013/06/23(日) 17:11:26.10 0
Fishing, traveling, music of other genres, literary, art… I wonder if I'll find something more interesting than idols. But I'm scared of that, so I try to keep away from other hobbies.
384: 名無し募集中。。。 2013/06/23(日) 20:10:28.05 0
>>378
For me it's the opposite. I did cross-country trips on bicycle, a lot of reading, studying to take qualifications… but then I got hooked on idols and started neglecting all that other stuff. Lately I've finally found a balance though.
385: 名無し募集中。。。 2013/06/23(日) 20:14:21.49 0
For me it was like I started living to work. I got promoted quickly and stuff. But I don't regret spending all that time as a wota — on the contrary, I'm actually thinking of getting back into it.
389: 名無し募集中。。。 2013/06/23(日) 20:23:37.33 0
I quit being a wota when I got a girlfriend and we started living together. I thought about getting back into it after we broke up, but somehow it felt like it wasn't for me anymore. Now I just spend my days off with no hobbies.
442: 名無し募集中。。。 2013/06/23(日) 22:52:27.45 0
I want a wife who will let me go to concerts.
461: 名無し募集中。。。 2013/06/24(月) 00:10:19.15 0
I actually started going to concerts more after getting married. Me and my wife are both wota and we both work.
464: 名無し募集中。。。 2013/06/24(月) 00:37:45.36 0
>>461
Nice. I want a wife like that. (I'm single though.)
423: 名無し募集中。。。 2013/06/23(日) 21:54:25.68 0
With so many trainees and stuff, it doesn't feel like I'll be able to quit anytime soon. I've decided that I'll leave H!P behind only when Terada dies.
Henkka: You have no idea how long I've wanted to share that opening picture with someone.

Source: http://helloprocanvas.ldblog.jp/archives/29724146.html (jp)