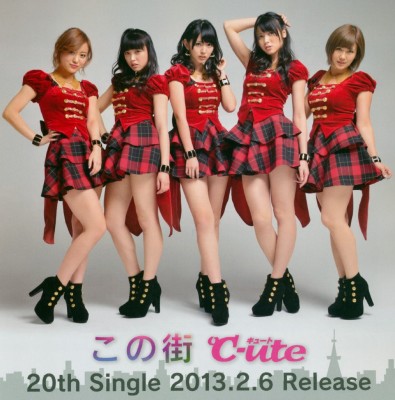 1:名無し募集中。。。:2013/02/17(日) 07:40:19.12 ID:0
I declare this fiscal year to be the one when °C-ute strikes. RT @kitano910: @tsunkuboy °C-ute
http://twitter.com/tsunkuboy/status/302902138927984640
3:名無し募集中。。。:2013/02/17(日) 07:43:06.20 ID:0
You're late. They were all ready for battle last year.

5:名無し募集中。。。:2013/02/17(日) 07:45:20.01 ID:0
Finally!

6:名無し募集中。。。:2013/02/17(日) 07:46:36.39 ID:0
So he breaks it up by year. (laughs)

10:名無し募集中。。。:2013/02/17(日) 08:20:50.20 ID:0
He's saying the same things every year.
11:名無し募集中。。。:2013/02/17(日) 08:21:03.86 ID:0
The year before last it was S/mileage and °C-ute, last year it was Momusu and this year it's °C-ute again. Isn't it Berryz' turn this year?

46:
名無し募集中。。。
:2013/02/17(日) 09:02:23.08 ID:0
>>11


Well, Berryz are sure to sell with Asian Celebration.

14:名無し募集中。。。:2013/02/17(日) 08:22:26.20 ID:O
You're three years late.

15:名無し募集中。。。:2013/02/17(日) 08:22:32.38 ID:0
Just where and how are they going to strike? (laughs)

26:名無し募集中。。。:2013/02/17(日) 08:45:24.82 ID:0
It's not even the fiscal year yet.

28:名無し募集中。。。:2013/02/17(日) 08:48:54.65 ID:0
The fiscal year? So Kono Machi isn't included, right? (laughs)
(TL note: the fiscal year in Japan starts in April)

35:名無し募集中。。。:2013/02/17(日) 08:56:04.16 ID:0
Tsunku: "…I was just trying how it'd sound saying it out loud…"

47:名無し募集中。。。:2013/02/17(日) 09:04:37.36 ID:0
Man, and to think that I actually liked Kono Machi. I didn't realize °C wota were so critical of them. Well, I normally only read the Berryz thread though.

52:
名無し募集中。。。
:2013/02/17(日) 09:06:30.23 ID:0
>>47


I'm not sure, but I think it wasn't the anti-fans but rather the serious wota who were pissed off, thinking "don't start skimping corners with a cover song now that you're finally selling something." I can get that, but being hasty about getting results isn't a good thing either. Feels like they don't have any patience.
68:
名無し募集中。。。
:2013/02/17(日) 09:11:41.60 ID:O
>>52


Taking into account °C's age range, the way Airi did her spoken words, the arrangement and everything, it did feel like a good choice to cover that song, I thought. I was surprised at the harsh reaction to it.

60:名無し募集中。。。:2013/02/17(日) 09:09:43.28 ID:0
I think Tsunku is generally a man of his word, like the time he suddenly threw in like 12 new members to a group. Well, some of his plans fell flat because of the earthquake though.

62:名無し募集中。。。:2013/02/17(日) 09:10:29.10 ID:0
Tsunku hates °C-ute.

65:名無し募集中。。。:2013/02/17(日) 09:10:40.10 ID:0
Getting so hung up on numbers, people like him can't look any further than that. You really need to plan ahead a bit more.

67:名無し募集中。。。:2013/02/17(日) 09:11:12.35 ID:0
It's now been retweeted nearly 200 times already. Tsunku has no option but to keep his promise.

78:名無し募集中。。。:2013/02/17(日) 09:15:23.35 ID:0
If he's saying something that big, that means he must already have something planned.
Either their next song is amazing, or they're going to do a show at Budokan or something.

81:名無し募集中。。。:2013/02/17(日) 09:16:53.06 ID:0
I want to believe that it's just a small minority of °C wota who are being so harsh on them.

106:名無し募集中。。。:2013/02/17(日) 09:28:33.29 ID:0
With Berryz being so highly regarded as pros and Momochi appearing on TV and stuff, it's weird that they still don't sell. Still, I do have a feeling that Asian Celebration will be a hit.

114:名無し募集中。。。:2013/02/17(日) 09:29:42.30 ID:0
There's still people wondering why people are complaining about Kono Machi? Considering how awful the song is and how slow their release cycle is, isn't it pretty obvious? They'd be able to put out songs faster like Momusu if they just had some support behind them.

123:名無し募集中。。。:2013/02/17(日) 09:31:34.64 ID:0
"Strike" = handshake inferno

144:名無し募集中。。。:2013/02/17(日) 09:37:06.13 ID:0
Terada. You were saying before that S/mileage would be selling well right about this time.

175:名無し募集中。。。:2013/02/17(日) 09:45:30.46 ID:0
In relation to CD sales…
Revenue generated from the first concert of a tour (two performances, includes money made from merch) > an album's initial sales.
CD sales really aren't that big of a deal.

199:名無し募集中。。。:2013/02/17(日) 09:50:12.97 ID:0
I'd get it if it was the beginning of the year but what's the point in announcing this now?

206:
名無し募集中。。。
:2013/02/17(日) 09:50:59.14 ID:0
>>199


He's talking about the fiscal year.

210:名無し募集中。。。:2013/02/17(日) 09:51:43.71 ID:0
You guys get way too hyped over Tsunku's tweets.

247:名無し募集中。。。:2013/02/17(日) 09:58:15.60 ID:0
If either Berryz or °C-ute don't begin to sell, it'll only get harder and harder for Momusu to sustain the company. And it's not like I have any hopes for S/mileage either. At least °C-ute are being called the idol group to look out for in all kinds of magazines, so it's the right time to give them a push.

Henkka: In hindsight, thanks to me translating this around two months late, it's now looking more obvious that Tsunku intends to keep his promise about °C-ute, huh?

Source: http://oha2.blog.fc2.com/blog-entry-697.html (jp)